Home > Restaurants >
Best French Restaurants in
Boston
From bistros to haute cuisine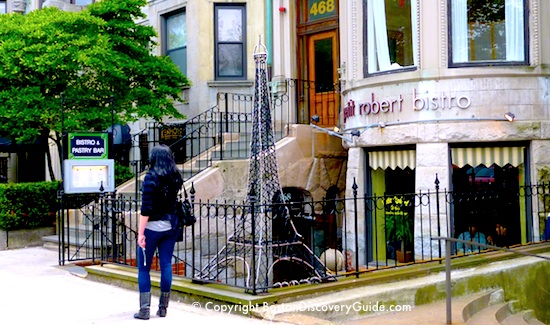 Eiffel Tower outside Petit Robert Bistro, French restaurant in Boston's Fenway neighborhood
Want to experience the perfect French restaurant without leaving Boston?
You can choose from numerous options.
Whether you crave elegant candlelit dining or a cozy Paris brasserie, haute cuisine or Provençal favorites, Boston's best French restaurants and bistros can deliver.
But combine all this with the best New England seafood, freshest local vegetables, and romantic ambiance, and suddenly you have something unique - French cuisine with special Boston flavors.
So check out the choices, and sample Boston's best French restaurants for a taste of France with a New England twist.
Brasserie Jo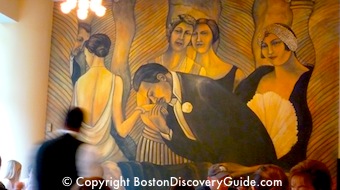 Located in the Colonnade Hotel in Back Bay, Brasserie Jo could just as easily tucked away in a fashionable Parisian neighborhood, attracting plenty of locals as well as visitors.
Brasserie Jo's French chef serves up bistro fare such as coq au vin, paté, and salade niçoise. And the bar's extensive selection of French wines, calvados, armagnacs, and cognacs is guaranteed to delight every bon vivant.
120 Huntington Ave | Back Bay | 617-425-3240 | www.brasseriejoboston.com
Aquitaine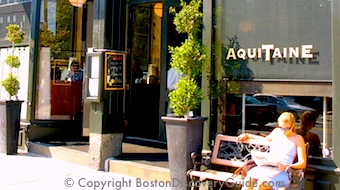 Aquitaine's high-ceilinged space welcomes French bistro fans with light, warmth, and gorgeous gold-stenciled mirrors.
Look for steak frites, lemon sole meunière, and escargots de Bourgogne on the oversized chalkboard, and enjoy the fresh local and New England ingredients - along with plenty of butter, herbs, and other French touches.
569 Tremont St | Boston's South End | 617-424-8577 | www.aquitaineboston.com
Check out more South End restaurants
Troquet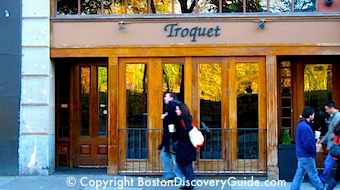 Troquet, a sleek and stylish French restaurant overlooking Boston Common, pairs the freshest New England ingredients with classic French cooking techniques.
Many Boston locals think of Troquet as a wine bar that just happens to have fabulous food, due to Troquet's outstanding wine cellar. Oenophiles rave about rare vintages.
Despite this reputation, Troquet is unpretentious and not the least bit stuffy, so you will have an enjoyable evening even if you can't pronounce anything on the wine list.
On the menu, you'll see suggested wine pairings for each course - too good to pass up!
More Theatre District restaurants
140 Boylston, Theatre District | 617-695-9463 | www.troquetboston.com
Gaslight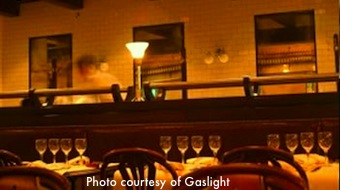 You'll have a hard time remember you're in Boston's South End once you walk through the door of Gaslight, almost a dead-ringer for a Parisian brasserie.
Order your favorite drink, and get ready to enjoy classic bistro fare - onion soup, escargots with garlic and parsley butter, croque-monsieur, duck confit,luscious fruits de mer platters, steak tartare, fondue. And of course, mousse au chocolat.
560 Harrison Street, South End | 617-422-0224 | www.gaslight560.com
Boston Restaurant Savings
Restaurant.com - Save 60% or More on Boston Restaurants
L'Espalier
The multi-course, prix-fixe menus at L'Espalier, a fabulous French restaurant in Boston's Back Bay change frequently - but regardless of what's being served, you can be certain that your meal will be extraordinary.
Recent main course options include smoked organic chicken with grilled mushrooms, baby carrots, and avocado and lobster crostini . . . roasted rabbit with potato gnocchi and peas . . . beef tenderloin poached in port with ravioli and mushroom consomme.
Several menus, including a vegetarian menu and a tasting menu, with and without wine pairings are offered. A la carte options are available for lunch only.
If you're visiting Boston for Thanksgiving, be sure to check out L'Espalier's special Thanksgiving dinner menu with wine pairings.
Address: 774 Boylston Street, Back Bay, Boston
Nearest T station: Green Line/Hynes Convention Center
For more information: 617-262-3023; www.lespalier.com
Attire: Jacket and tie preferred

Check out more Back Bay restaurants
Les Zygomates - Wine, jazz, and food in the Leather District
If you're looking for great wine and music in a superb French restaurant, Boston favorite Les Zygomates in the Downtown Leather District may be exactly what you want.
Dinner options include appealing fish, meat, and game options, cooked nicely and paired with complimentary vegetables. Steak frites with herbed garlic sauce and truffled frites is outstanding. The vegetarian option features crepes with veggies, goat cheese, and bechamel sauce.
The French bistro food is indeed delicious. . . but the wines and the live nightly jazz are the big attractions.
If you're visiting Boston and love great wine, great food, and live jazz, a evening at Les Zygomates could be the best way to end a day of sightseeing.
Directions to Les Zygomates:

Address: 129 South St, Leather District in Downtown Boston
Nearest T: Red Line/South Station
For more information: 617-542-5108; www.winebar.com
The Hungry I - Firelit romance on Beacon Hill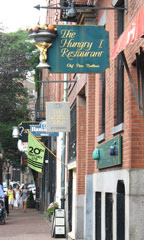 Do you love small but perfect French restaurants?
If so, Boston's Beacon Hill has just the place for you tucked away on fashionable Charles Street: The Hungry I.
You'll love the three cozy candle-lit dining rooms - complete with fireplaces — in this charming 1840s brownstone. Even the table settings are gorgeous.
The dinner menu changes daily, and usually features a half-dozen starters and salads, and about the same number of entrees, each featuring fish, poultry, game, or meat, along with a vegetarian option.
And of course, the wine and dessert choices are also superb.
Address: 71 ½ Charles St, Beacon Hill
Nearest T station: Red Line/Charles-MGH
For more information: 617-227-3524; www.hungryiboston.com
Mistral - Romantic French Food in the South End
Mistral, located in Boston's South End, wowed Bostonians when it first opened, and its romantic interior and great French food and wine continue to make it a top choice.
The chef/owner prepares fresh local and regional products with a Mediterranean flair that has made it a local fave ever since it opened in the late 90s.
Each entrée is paired with something wonderful - roast rack of lamb with green beans, heirloom tomato and feta salad, and oregano, for example - and cooked to perfection.
And desserts are sublime.
Directions to Mistral:
Address: 223 Columbus Ave, South End
Nearest T station: Orange Line/Back Bay
For more information: 617-867-9300; www.mistralbistro.com
Check out more South End restaurants
Petit Robert Bistro - Gaellic Charm in Fenway & the South End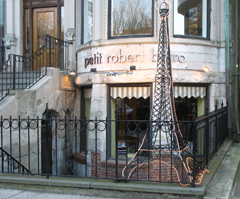 Popular Boston Chef Jacky Robert has several small bistros, aptly called Petit Robert Bistro, scattered across the city.
In Maison Robert, Jacky Robert's previous French restaurant started by his parents, Boston's favorite French chef wowed the city with classic French cuisine.
Now, he celebrates more casual fare in Boston's most affordable French bistros.
Every detail hits the mark, from the crisp white table linens to the cabinets filled with wine bottles to the blackboard with the Menu du Jour. But most important is the food, and that's what draws diners back again and again. . . More about Petit Robert Bistro
Like this Page? Please Share!
Boston Discovery Guide > Restaurants > French Restaurants