Home > Boston History >
Boston Marathon Bombing Memorials
Why We are Boston Strong!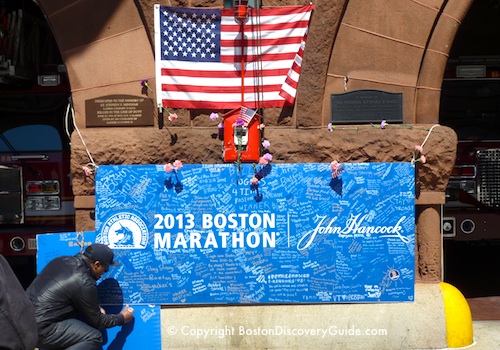 Written messages transform Boston Marathon sign into a memorial at the Engine 33 / Ladder 15 firehouse at Boylston and Hereford Streets
Two bombs exploded at the finish line of the 117th Boston Marathon on April 15, 2013, leaving three people dead and 264 injured. Those responsible later killed a fourth person and injured even more.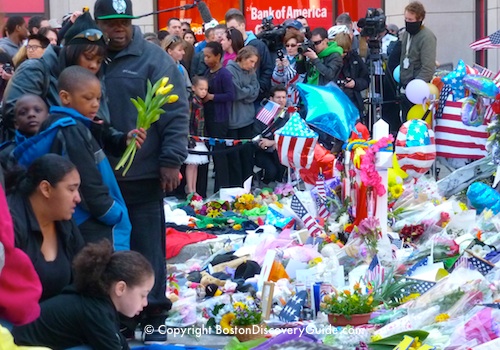 Yellow tulips being added to the memorial at Berkeley and Boylston Streets
In the midst of chaos and grief, people came together to create memorials to commemorate the victims, the first responders, police and other security forces, and Boston itself.
These streets memorial expressed love and caring. They became far more powerful than the bombs.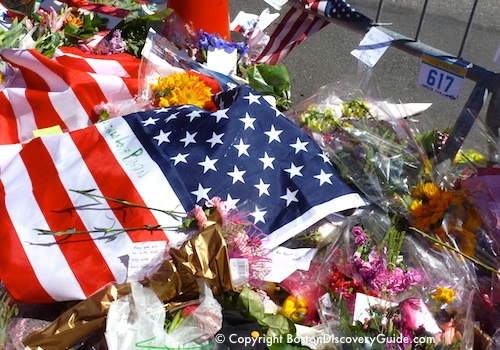 Flags and flowers at Boylston and Hereford Streets
The bombs ripped through the heart of Boston's most special, most inspirational sporting event, held each year on Patriots Day, our commemoration of the beginning of the American Revolution.
Patriots Day is the perfect time to hold the Marathon, which brings people together from all over the world. It's a day when we all cheer for everyone who does their personal best and when we remember and honor those who fought for freedom on the first day of the war back in 1775.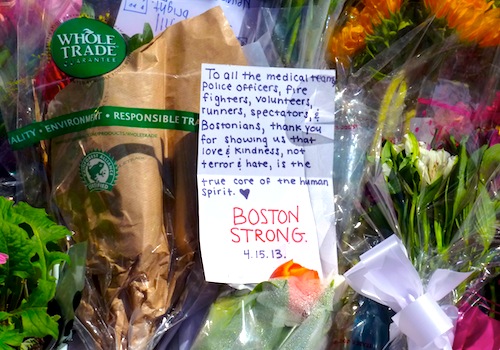 This message, like thousands of others at the memorials, thanks all those who responded and did everything they could to keep us all safe while pursuing the bombers
Yes, the bombs shocked and stunned and horrified and angered us. But we weren't terrorized. The Marathon will continue on Patriots Day every year, and we'll all be there.
Boston Strong is our message.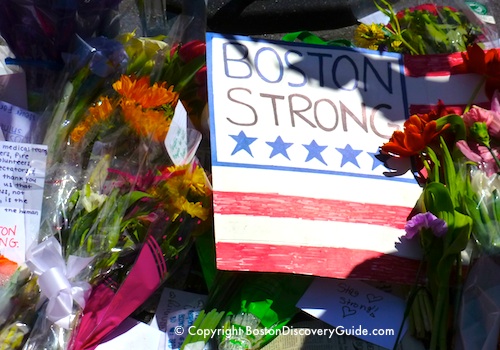 Another Boston Strong sign
The street memorials shown in these photos grew larger every day as locals and visitors brought flowers, messages, running shoes, stuffed animals, balloons, and other personal objects and icons.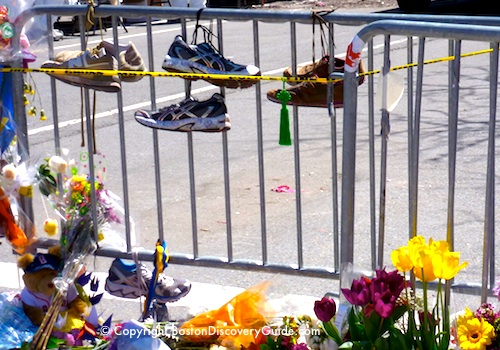 Running shoes on barricade blocking off Exeter Street
However, these memorials to the Marathon tragedy were ephemeral. They existed only in this moment of time.
Memorial to Martin Richard, 8 years old, killed by the bomb explosions
These memorials lined the barricades along Boylston Street where Boston police, the FBI, and other experts continue to collect evidence from the horrific explosions.
After what seemed like "forever," the barricades were finally removed.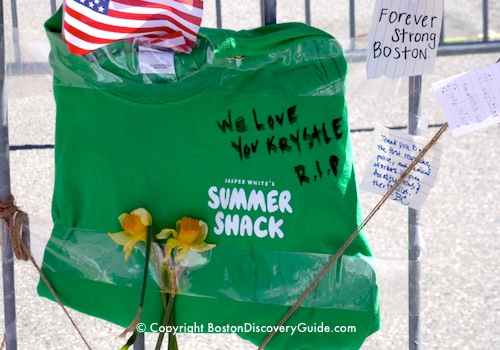 Memorial on Hereford Street to Krystle Campbell, 29 years old, killed in the bomb explosions
Boston's April sun was already wilting the flowers.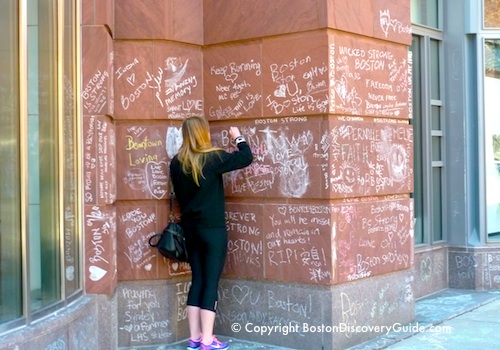 Tributes written on wall outside of Niketown on Newbury Street
Rain inevitably washed away the messages inscribed with chalk on sidewalks and walls.
Copley Square
But the Memorials, transplanted to a corner of Copley Square, continued to live and grow.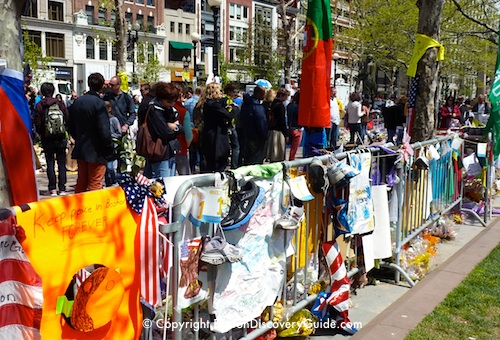 Crowds at the Copley Square site continued to grow too, as the Memorials became a major attraction for Boston residents as well as for visitors from all over the world.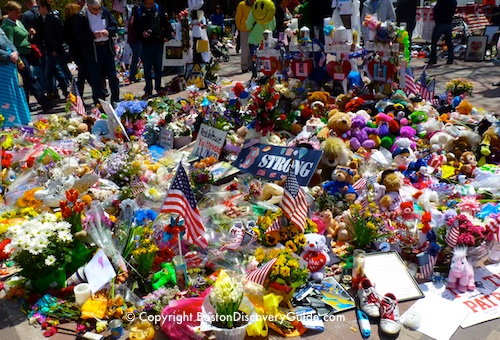 After awhile, the massive numbers of items made even walking around difficult.
Barricades could no longer been seen under the masses of shoes, garlands, balloons, and signs tied to them.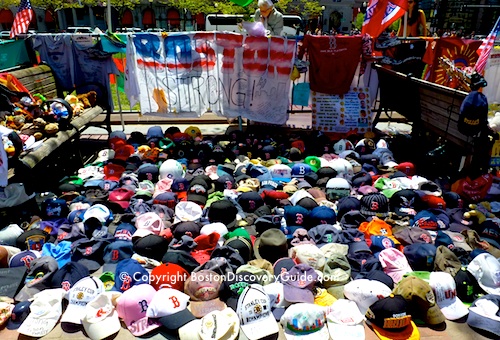 Visitors continued bringing baseball caps, posters, drawings, flowers, photos, candles, and just about everything else imaginable.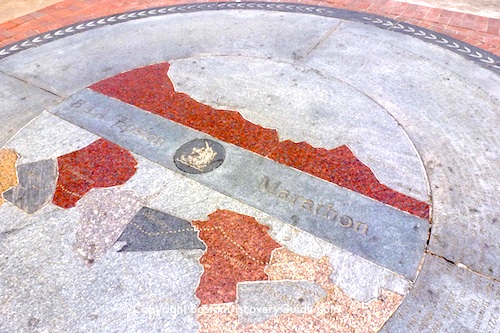 Marathon Marker near the finish line in Copley Square
Finally, not long after dawn on June 25, ten weeks and one day after the Marathon, the temporary Memorial was dismantled by about a dozen city officials, volunteers, and archival specialists, who carefully gathered up items for preservation and storage.
Weather forecasts for torrential downpours later in the day provided the impetus, but the time had also come to move forward.
Memorial items are now stored in City Archives and at an additional storage facility in Northborough, MA. The objects fill 286 boxes.
Memorial to Lu Lingzi, 23 years old, at Boston University's Free at Last sculpture commemorating BU graduate Dr Martin Luther King Jr
Someday a more permanent memorial will likely join all the other Boston monuments that remind us of our city's role in revolutions and wars, achievements and tragedies, heroism and triumph.
From the Boston Massacre site celebrating the first five casualties in the fight for American liberty to the Garden of Remembrance dedicated to all the Massachusetts citizens murdered when the two flights from Boston were crashed into the Twin Towers on 9/11, Boston is a city filled with memorials.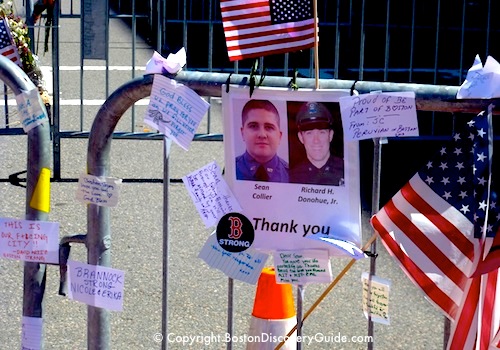 Memorial to MIT Police Officer Sean Collier, 26 years old, killed after being shot multiple times by the Marathon bombers on the MIT campus, and MBTA Transit Police Officer Richard H. Donahue Jr, 33 years old, seriously wounded during a gun battle between the police and the bombers
Will an inscribed piece of stone permanently memorializing the Boston Marathon bombing capture the raw emotions poured into these temporary shrines?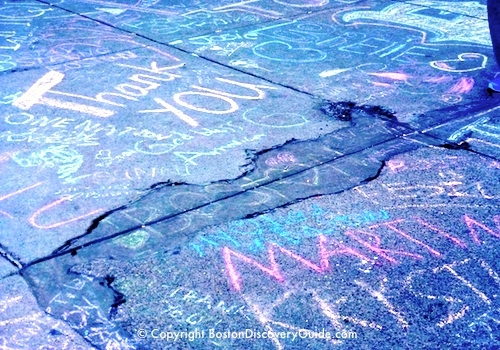 Tributes written in chalk on the sidewalk along Newbury Street
Probably not.
So that's the purpose of the photos on this page - to remember the outpouring of emotions from the most horrific, most surreal week in Boston's history. To remind us of the love and support that flowed into our city from around the world.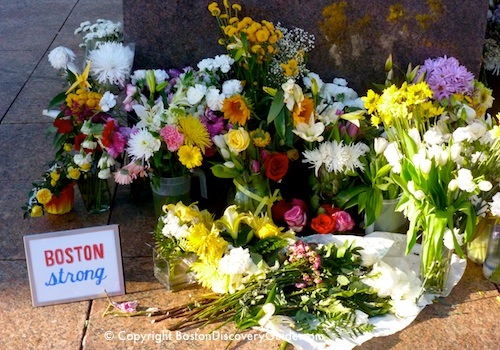 A closer view of the memorial for Lu Lingzi at Boston University
What's do these street memorials tell us?
They're about the caring and strength of everyone who helped those who were injured. They remember those who are no longer with us.
They thank the first responders, who rushed to the injured with tourniquets to staunch the blood. They thank the doctors and medical staffs who made sure that everyone who reached the hospitals alive survived.
They thank those who risked their lives to keep our city safe, who fed and sheltered visitors who couldn't return to their hotels, who reached out from all over the world to those of us who live here to make sure we're all right.
And they remind us why we'll celebrate the Marathon again next year.
Boston Strong!
David Ortiz - Big Papi Says It for Us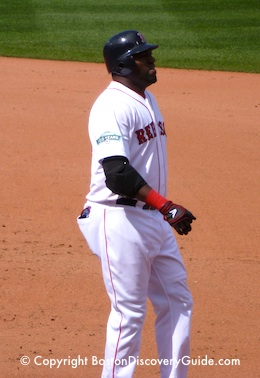 "This jersey that we wear today, it doesn't say Red Sox. It says Boston," David Ortiz told the crowd at Fenway park in a ceremony the day after the second Marathon bomber suspect was captured.
In his passionate address, Ortiz thanked the police and the first responders for all their efforts.
But the moment we'll always remember came as he delivered a defiant statement that caused the crowd to roar even louder than when he hits a home run:
"This is our f . . . . . g city, and nobody is going to dictate our freedom. Stay strong."
As Ortiz explained later:
"I'm from the Dominican Republic and the one thing that I always say is me and my family are blessed by being in this country,'' Ortiz said.
"And I love this country and I would do anything for this country. Everybody was one unit and that's what matters."
. . . .David Ortiz, quoted in the Boston Globe, April 20, 2013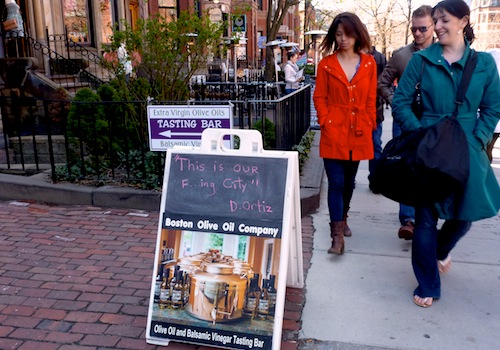 David Ortiz quote proudly displayed on Newbury Street
Like this Page? Please Share!
More Boston Travel Information
Boston Discovery Guide > Boston History > Marathon Bombing Memorials