Boston Hotels with Fireplaces
Stay warm and cozy - and enjoy low winter rates!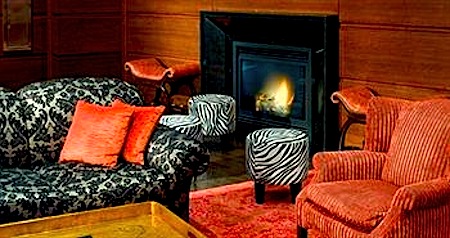 Fireplace in the Millennium Bostonian Hotel
Boston hotels with fireplaces in guest rooms provide a special treat during winter months when you'll love the cozy, romantic ambiance.
You'll also love the bargain rates, almost always at their lowest during the winter months.
Only a few Boston hotels offer real in-room fireplaces.
Not surprisingly, they include several top Boston luxury hotels.
Although most of these hotels get pricey during warm summer months, you can usually find bargain rates during winter months when hotel rates across the city dip to their lowest point of the year.
It's like getting the best Boston hotels on sale for half price or less.
Only the Fifteen Beacon Hotel boasts fireplaces in every room. At the other hotels, be sure to request a room with a fireplace when you make your reservations.
Here's a quick overview of Boston hotels with fireplaces, along with a bit about what else makes each one special. Warning: the fireplaces plus other luxury touches create such a comfortable environment that you may never want to leave your hotel room!
Fifteen Beacon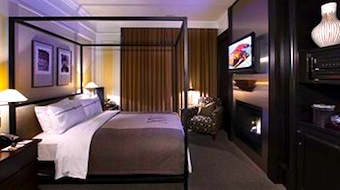 All of the 62 rooms at Fifteen Beacon, a luxury boutique hotel in a historic section of downtown next to Beacon Hill, feature gorgeous gas fireplaces.
Decor here is sleek and contemporary, and the handsome black and stainless fireplaces add to the sophisticated ambiance.
You'll find many more luxury touches at your command: top-of-the-line Frette linens, complimentary WiFi, flat screen televisions, and even complimentary in-town car service - if you can bear to leave your luxurious room.
Quick Links: Boston Luxury Hotels
Fairmont Copley Plaza
The fabled Fairmont Copley Plaza, a grand luxury hotel with many historic features in Back Bay, offers decorative fireplaces in the sitting rooms of its 1-bedroom and Fairmont Gold suites.
You'll love the Copley Plaza's superb location across from Trinity Church in Copley Square.
After a day of sightseeing and shopping along nearby Newbury Street, order room service from the hotel's famous Oak Long Bar + Kitchen and relax in front of your fireplace.
The Lenox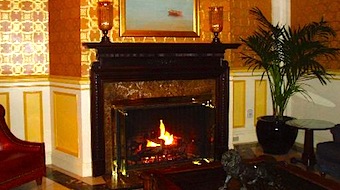 The Lenox, a family-owned Boston luxury hotel in Back Bay, offers wood-burning fireplaces in many of its 214 rooms.
Gracious furnishings such as brass chandeliers, crystal lamps, and comfortable chairs give you the perfect incentive to settle down in front of the fire, perhaps with a good book and glass of wine.
Although the Lenox provides hybrid car service and is also in a superb location for walking, you may prefer to stay in your room.
Millennium Bostonian
Stately gas fireplaces grace some of the rooms in the Millennium Bostonian Hotel, located near Faneuil Marketplace in Downtown Boston.
The pleasure of coming back to your hotel room after a stroll through nearby Faneuil Marketplace or the North End on a cold winter day and settling into a comfortable chair in front of your cozy fire can't be beat!
Other luxury furnishings such as pillow-top beds and Frette linens add to your comfort.
Be sure to request a fireplace when you make your hotel reservations to avoid disappointment.
Taj Boston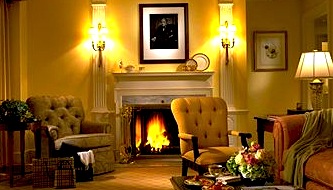 Only some of the 273 guestrooms and suites in the luxurious Taj Boston Hotel have wood-burning fireplaces, so to make sure you get one, book early.
The fireplaces are available for use from October 15th through April 15th. (Fortunately, Boston's winter weather does not extend throughout this entire 6-month period.)
A Fireplace Butler tends to the fire, so all you have to do is place your order from the Firewood Menu, relax in the plush upholstered chairs, and enjoy the blazing fire.
Check for the "Fireside Suite Package" - includes a suite with a fireplaces, services of the Fireplace Butler, and a $50 room service credit so that you can enjoy a special meal in front of your fire. You may never leave your suite!
The Inn at St Botolph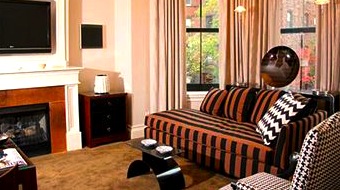 All one and two bedroom suites at The Inn @ St Botolph have gas fireplaces.
Sister hotel to the luxurious XV Beacon, The Inn @ St Botolph's location on a quite residential street just one block from Huntington Ave puts it across from Prudential Center and close to Symphony Hall and the Museum of Fine Arts - all perfect destinations for crisp winter weather.
You'll enjoy returning to your suite after the day's activities, sitting by the fire, and perhaps enjoying a cup of hot chocolate or a glass of champagne.
More Romantic Boston Hotels to Consider
Like this Page? Please Share!
Boston Discovery Guide > Hotels > Boston Hotels with Fireplaces