7 Best Indoor Boston Winter Activities
Loathe cold weather?
Find out how to have fun and stay warm!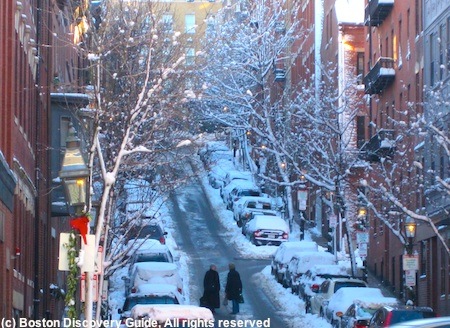 Icy Beacon Hill in January: Why indoor Boston winter activities are important!
If cold temperatures make you shiver, visiting Boston during frigid winter weather may not rank high on your list of fun things to do - until you check out my tips for the 7 best INDOOR Boston winter activities.
You'll quickly see why winter here can be lots of fun - despite the cold.
What are some of the best warm places for fun in Boston during the winter?
Try theaters and shows, Boston Bruins games, Irish pubs such as the Black Rose, museums, and even world-famous wine tasting festivals, to name just a few.
Here's a tip: maximize your enjoyment of these activities and events by minimizing your time outside.
All of these suggestions for Boston winter activities are close to the T (Boston's subway).
Whether you're visiting Boston from afar or just coming from the suburbs for a city "stay-cation," choose a centrally located Back Bay or Downtown Boston hotel for convenience.
For each of these 7 top indoor activities, I've added suggestions for the closest hotels for you to consider when planning your Boston vacation.
7 Best Boston Winter Activities for Indoor Fun
1. Boston Theatre District Shows (& Comedy Clubs) for Winter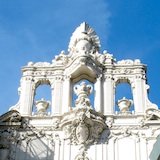 It's no coincidence that winter marks the height of Boston's theater season, as going to a show is one of the most popular Boston winter activities. Although you'll find Boston theaters throughout the city as well as next-door Cambridge, the Boston Theatre District offers the ultimate convenience as well as an exciting location.
Look for shows at the gorgeous Boston Opera House (shown in the photo at the left), the Wang, and Shubert Theatres for Broadway Across America, Boston Ballet productions, and other big-name performances.
For experimental theater, check the Paramount Theatre where ArtsEmerson produces award-winning productions, and Modern Theatre where Suffolk University runs highly-rated performance and film programs.
Nearby, in the Charles Playhouse, you'll find Boston's 2 longest-running shows: Shear Madness, where audiences participate in the pun-filled mystery set in a hair salon, and Blue Man Group, the bald blue comedians who perform an always-changing series of skits and joke routines.
Also nearby, the Wilbur Theatre hosts an eclectic mix of top comedians in its comedy club format.
To decide what to see, check the Boston Theater show schedule
Where to stay: Boston Theatre District Hotels
For practical purposes during winter months, when every step in icy weather counts, think of Boston's Theatre District having 2 sections, each with its own set of closest hotels:
Washington Street,

east of Boston Common (Opera House, Paramount, Modern Theatre) - Closest hotels are

Hyatt Regency

and

Ritz-Carlton
2. Best Boston Tours for Winter
Most walking tours, bus tours, and even the popular Boston Duck Boat tours stop during the winter - usually on the Sunday of Thanksgiving weekend. But no worries, you'll still find 2 excellent tour options:
Boston trolley tours do continue throughout the winter.
You can stay on the bus for the entire narrated trip - about 1 1/2 hours - a good option when the weather feels too cold to make getting on and off appealing.
More about Boston trolley tours


Another fun option, and my pick for the best Boston winter tourbecause you get to see so much while being entertained, is the 3-hour Boston TV and Movie Sites Tour.
A comfy heated bus with video screens takes you on a tour of sites where well-known TV shows and movies have been filmed in several neighborhoods.
An actor-guide amuses you with Boston movie lore and behind-the-scenes trivia, and you even get to see film clips to compare what you're seeing with how it looks in the movies.
More about the Boston TV & Movie Sites Tours - and how to use our discount code
Where to Stay for Boston Tours
Boston Trolley Tours stop at numerous sites in Back Bay and Historic Downtown Boston, and you can join the trolley tour at any stop - so any Back Bay hotel or Historic Downtown hotel will be reasonably close to a stop.
Return to Top - Best Indoor Boston Winter Activities
3. Best Boston Museums for Winter
With 60+ Boston museums appealing to all kinds of interests, you'll find plenty of interesting choices. In fact, a trip to a museum can be the perfect solution to a bad-weather day at any time of the year, but ranks especially high among top Boston winter activities.
But which Boston museums are best for winter?
Two things are most important:
Size

- Should be big enough to occupy you for a few hours - no need to go back outside for awhile!

Logistics

- Should be near a T station and/or a hotel to minimize the need to walk far
Here are several interesting large museums targeted for different interests, along with nearby T stations and closest hotel(s):
- Museum of Fine Arts - Green Line E/Museum - Midtown Hotel (several blocks from the museum - but only 1 subway stop away on the Green Line
- New England Aquarium - Blue Line/Aquarium - Boston Marriott Long Wharf
- Museum of Science - Green Line/Science Park - Holiday Inn Express or Onyx - walk 1 block and take the Green Line from North Station to Science Park
- New England Sports Museum (at TD Garden) - Green and Orange Lines/North Station - stay a block or less away at the Holiday Inn Express or Onyx
- Boston Children's Museum - Silver Line/Courthouse Station (remember, children 11 and under ride free) - Intercontinental Boston - about a 3-4 block walk - use the Moakley Footbridge to cross Fort Point Channel rather than Seaport Blvd - MUCH less windy!
More about these and other Boston museums
Recommended Boston hotels close to these museums
| | | | | |
| --- | --- | --- | --- | --- |
| | | | | |
Boston discount passes for attractions, tours, cruises, museums
If you're planning to visit museums, take a trolley tour, or go up to Top of the Hub as part of your winter visit to Boston, be sure to get a Boston discount card so that you can get free admission.
GoBoston Card

51 ways to save up to 55%

On attractions, tours, cruises

CityPASS

5 top attractions in 9 days

47% savings
4. Best Winter Views of Boston
Winter or summer, the view of Boston from the top of Prudential Center can't be beat! But winter offers a three of advantages:
1. Colder temperatures make the air clearer - and less haze = better photos!

2. If you're timing is right, snow will be falling. Sure, it obstructs the view - but it sure is gorgeous!

3. You're inside, and warm.
Like other times of the year, you have a couple of options about how to experience the view: head up to the Skywalk Observatory for 360 degree views and lots of photo ops on the 50th floor of Prudential Center, or to Top of the Hub on the 52nd for dinner or drinks and live jazz.
Stay near Prudential Center
Sheraton Hotel Boston - Connects to Prudential Center, so you never have to step outside - plus it's a very nice hotel. Look for attractive rates on weekends. The Shops at Prudential Center will also keep you busy!
Mandarin Oriental - Almost as close - and one of Boston's premier 5-star luxury hotels
5. Boston Winter Sports
If you don't mind taking your chances with the weather, hop on the Patriots Train and head down to Gillette Stadium for a bracing New England Patriots game. With all the restaurants and bars at Patriot Place next to the stadium, you can always go warm up at half time. Patriots schedule and ticket information.
But for everyone else, TD Garden offers a climate-controlled way to enjoy sports action. You can take the T right to North Station, and watch the Bruins and Celtics work their magic. Fortunately for Boston sports fans, a game is scheduled almost every day throughout the winter. Check for times and ticket information: Bruins | Celtics
TD Garden also hosts big-name concerts and other events such as Disney on Ice - find more TD Garden information and events schedule.
Closest places to stay near TD Garden:
Return to Top - Best Indoor Boston Winter Activities


6. Boston Wine Festivals
If you visit Boston during January, February, March, or early April and enjoy wine, you should strongly consider attending one or both of Boston's wine tasting events, acclaimed as being among the best in the country.
You'll get to sample wonderful wines from all over the world, enjoy exquisite wine and food pairings, and maybe even meet leading wine experts. More about these Boston wine tasting events and where to stay


7. Boston Irish Pubs
For other types of beverages, stop by one of Boston's Irish pubs. You'll find a warm welcome, excellent (in most places) pub food, perhaps with an Irish twist, and often some stirring Celtic music.
Because local ordinances prevent Boston bars from offering Happy Hour cheap drinks, our local pubs instead offer Happy Hour food specials and compete for customers based on their excellent cuisine at deep discount prices - usually from about 5:30pm - 7pm. Obviously, it's a win-win, and an excellent way to stay warm on a cold winter night. More about Boston Irish pubs
More Indoor Boston Winter Activities

Return to Top - Best Indoor Boston Winter Activities
Like this Page? Please Share!
Boston Trip Planning Quick Links
Boston Discovery Guide > Boston Attractions > Boston Winter Activities