Home > See & Do >Boston Cruises >
Boston Whale Watching Cruises
See Whales & Dolphins Up Close!
Boston whale watching cruise heading out to Stellwagen Bank Sanctuary
Boston whale watching cruises provide you with the opportunity to see some of the ocean's most fascinating creatures up close, just a short distance from the city.
As a bonus, you'll get a fascinating tour past many of the Boston Harbor Islands as you cruise out to see the whales.
You'll even pass by historic lighthouses along the way.
Whale watch trips last 3 or 4 hours, depending on the speed of your tour boat. Cruises depart from the Downtown Boston Waterfront across from Faneuil Market.
Boston visitors and locals alike rave about the whale watching tours. Read our review of the recommended cruises to find the best one for you!
Whale Watch Cruise Options
Two major cruise lines conduct whale cruises departing from the downtown waterfront. Frankly, both deliver excellent value and both will give you a memorable experience.
However, there's one major difference - even though both charge about the same amount for tickets, there may be a significant difference in what you actually pay.
First, the similarities:
Boston Harbor Cruises teams with New England Aquarium and offers tours departing from Long Wharf, located on the south side of the Marriot Long Wharf Hotel (between the hotel and the Aquarium.
Boston's Best Cruises' offers tours departing from Central Wharf, located on the north side of the Marriott Long Wharf Hotel (between the hotel and Christopher Columbus Park).
Both cruise lines use comfortable high-speed, custom-designed catamarans to whisk you through Boston Harbor and out to Stellwagen Bank Sanctuary, the large protected marine habitat about 25 miles east of the city where whales, dolphins, and seabirds congregate.
Similarly, both cruise lines feature on-board naturalists or marine biologists who keep you informed during the tours through Boston Harbor and out to the sanctuary.
The naturalists point out other sights along the way such as the Harbor Islands and lighthouses such as Boston Light on Little Brewster Island, and share interesting facts about the marine mammals and other sea life. You'll be surprised by how much you'll learn!
Both cruise lines even guarantee you'll see whales. If you don't, they'll give you a complimentary ticket for a future cruise. let's examine the differences in the admission price.
Now, let's look at why what you pay (or don't pay) for each cruise may be very different from the "retail" ticket price -
How to Get a "Free" Whale Watch Cruise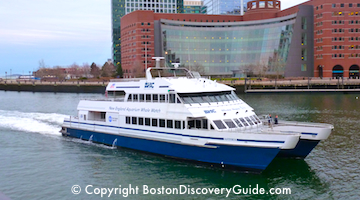 Yes, you read that right - you can get free admission to a New England Aquarium Whale Watch. How? Buy a 3, 5, or 7 day GoBoston Sightseeing Pass and choose the whale watch cruise as your free option.
The cruise usually runs about $45 for adults, so that's a sweet deal. Of course you do have to buy the card but once you have it, you also get free admission to 50+ other attractions, cruises, and tours.
Bottom line: If you're planning to visit other attractions and tours covered by the card, such as Six Flags New England, Plimouth Plantation, and the Museum of Fine Arts, do the math: the GoBoston card can save you up to 55% off the gate admission price.
How to Get a Discounted Whale Watching Tour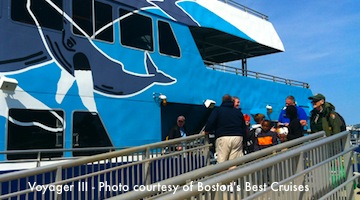 What if all you want to do is go on a whale watch, and a GoBoston card therefore doesn't make sense? Do you need to pay full price?
No, because Boston's Best Cruises often discounts their admission fee - check their website to find their current offer.
Bottom line: If you're not planning to visit other attractions, look for discounted fares from Boston's Best Cruises. Typical savings on the adult fare run about 20%.
Boston Whale-Watching Sights

At least 17 species of marine mammals reside in the Stellwagen Bank sanctuary, a fairly shallow area covering 842 square miles.
When glaciers receeded from here 18,000 years ago, they deposited rocks and other glacial debris that now provide excellent habitat and a rich feeding ground attracts whales, dolphins, seabirds, and more.
On a typical whale watch tour, you'll usually see several types of whales, including endangered Northern Right whales, Minke whales, Humpback whales, Finback whales, and Pilot whales. If you're lucky, you may also spot Atlantic white-sided dolphins, harbor porpoises, and harbor seals.
Humpback whales can be up to 50 feet long and 45 tons in weight. If you're very lucky, you may get to see them "breach" - suddenly jump out of the sea. Needless to say, something this large makes a very big splash! Your boat will rock!
Finback whales are even bigger - up to 70 feet in length and 65 tons in weight.
You'll also see lots of sea birds on and above the water, and perhaps fish swimming beneath the surface. You probably won't see the lobster and other shellfish - but they're there as well, along with a lot of other marine life.
Once you reach Stellwagen Bank, your boat will slow down to protect the whales. This also gives you an excellent photo opportunity.
Boat captains get as close as they can to the whales and other mammals without endangering them.
Both Boston whale watch cruise operations guarantee that you will see at least one whale, or they will give you a complimentary ticket for another day.
In addition to whales and other marine life, look for spectacular views of the Boston city skyline, Boston Harbor, and Harbor Islands.
Whale watch cruise sighting: Boston Light on Little Brewster Island in the Outer Harbor
GoBoston Card

51 ways to save up to 55%

On attractions, tours, cruises

CityPASS

5 top attractions in 9 days

47% savings
What to Bring on a Boston Whale Watching Cruise
Must-bring items:
Sunglasses
Sunscreen
Camera, binoculars, and perhaps an extra battery for your camera
Comfortable shoes with rubber soles
Jacket or sweater - no matter how hot the day is on land, you're going to feel some surprising cool ocean breezes once you're offshore
Optional: Water bottle and snacks (you can also buy these on board)
Insider tips about Boston whale watching trips
The water can be choppy and even rough as you leave Boston Harbor and head out into the Atlantic Ocean. If you have concerns about being seasick, consider bringing (and taking) motion sickness meds.
If even the thought of rough seas makes you queasy, opt for one of the Boston Harbor cruises that stay closer to the city, where flatter seas prevail. True, you won't see whales...but you can always head over to the New England Aquarium to see other fascinating marine life.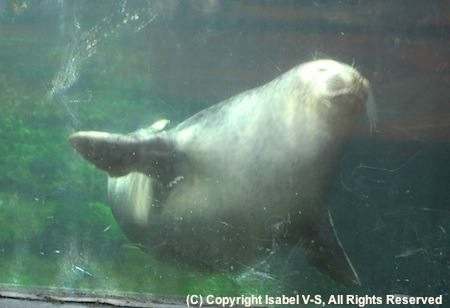 Seal in tank outside of the New England Aquarium on Boston's Downtown Waterfront
Beyond Whale Watching - More Tours
Like this Page? Please Share!
Boston Discovery Guide > See & Do > Cruises > Whale Watching