Boston Tourism and Discovery Guide > Boston Weather >
Boston Marathon Weather History
How Bad Can the Weather Be on Boston Marathon Day? Well...Pretty Bad!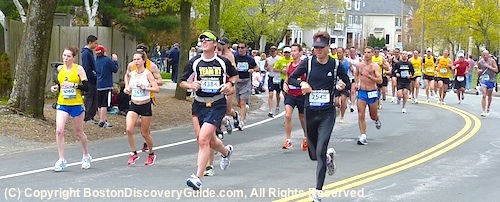 Boston Marathon runners in 2010, when the high temperature reached only 49 degrees
The answer to "How back can Boston weather be on Marathon Day?" is . . . Pretty bad.
Ideal Boston Marathon weather means a temperature of around 45-50 degrees, overcast skies, enough moisture in the air to make breathing comfortable and minimize dehydration - and a southwest breeze to act as a tailwind.
Sometimes Boston Marathon weather really does hit this ideal mark.
After all, April weather in Boston usually includes plenty of cool damp gray days, and average April temperatures hit the ideal comfort range more often than not.
But...this is a good example of why "average" can be misleading.
For 2012, weather forecasters predicted the worst type of weather for a marathon runner: hot, with temperatures up to 90 degrees and sunny, cloudless skies.
Unfortunately for the runners, they were right . . . even though the thermometer topped out at only 87°.
How often does Boston weather on Marathon Day soar to almost ninety - or above?
A great question from Jim got us wondering . . .


Is there a record of the high temperatures for each Boston Marathon? I'd like to see what the high temperature was on each day the Boston Marathon has been run.
Jim
West Chester, Ohio
Boston Marathon Weather History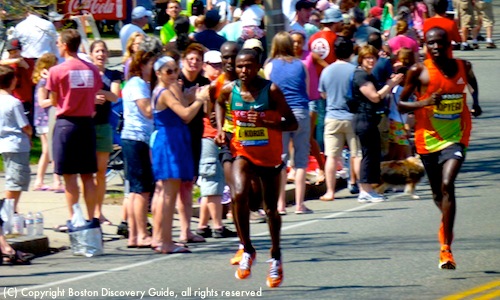 Boston Marathon runners when the temperature reached 87 degrees!

We dug deep into Boston Marathon weather history to find temperature highs to answer Jim's question, expecting not to find any days hotter than around 70 degrees.
To our surprise, we quickly discovered that while the 87° high temperature for 2012 may be atypical, it wasn't unusual and it didn't even set a Marathon Day temperature record.
Take a look at these Marathon Day high temperatures for Boston, listed in order from most recent to oldest - and be sure you're sitting down when you see the last one on the list:
2013 - 54 degrees
2012 - 87 degrees - see photos of 2012 Boston Marathon winners!
2011 - 55 degrees
2010 - 49 degrees
2009 - 47 degrees
2008 - 53 degrees
2007 - 50 degrees and torrential rain
2006 - 53 degrees
2005 - 66 degrees
2004 - 86 degrees
2003 - 59 degrees
2002 - 56 degrees
2001 - 54 degrees
2000 - 47 degrees
1999 - 68 degrees
1982 - 68 degrees
1976 - 86 degrees
1967 - Snow squalls
1905 - 100 degrees
No, the 1905 high temperature for Boston is NOT a typo - it really did soar to 100 degrees, according to the Boston Globe. Let's hope that Marathon record doesn't get broken any time soon!
Keep in mind that because the Boston Marathon is held on the third Monday of the month, it falls on a different date each year, ranging from April 15 through April 21.
So the temperatures that you see above are not necessarily the highest temperature ever recorded for that particular date - they're just the highest for that date when it also happened to be Marathon Monday.
Weather Accommodations for the Boston Marathon
Because Boston weather can occasionally rise to uncomfortable levels for the Marathon runners, the start time for the Elite Men's race (where the fastest runners compete) moved to 10am from noon in 2007.
When extremely hot weather appears likely, as in 2004 and 2012, the usual number of medical tents will be increased. Typically, about 2-4% of the racers seek non-injury medical attention, but in 2004, with a temperature high of 87°, the total rose to almost 10%, mostly for heat-related reasons.
Due to the 2012 predictions, the BAA (the Marathon's sponsor) offered deferrals to 2013 to anyone who chose not to run due to the heat. Runners had to elect the deferment BEFORE the race began . . . no opting for the deferral midway through!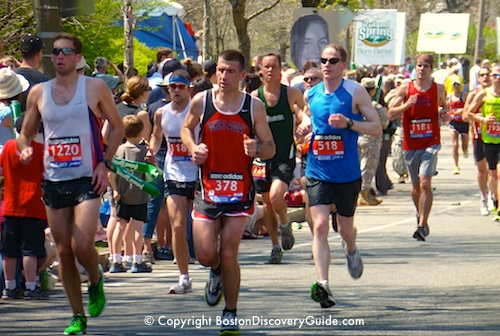 Boston Marathon runners on a hot day
Like this Page? Please Share!
More to do in Boston during April
Boston Tourism and Discovery Guide > Boston Weather > Marathon Day Weather