8 Best Boston Activities for Winter Fun
How to love the cold: Must-do winter activities in Boston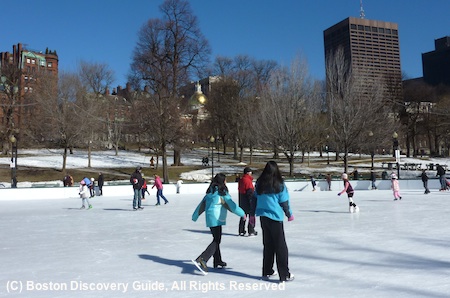 A Top Boston Activity for Winter: Ice Skating on Frog Pond
What are the best outdoor Boston activities for winter, especially if your visit coincides with snow?
Cold New England weather turns Boston into a sparkling winter wonderland, making it the perfect time to enjoy outdoor winter sports.
You can usually count on cold weather from late November, December, January, February, and early March - although we usually get warm days during that period too.
Our 8 recommendations for outdoor Boston winter fun during late fall and winter include skiing, ice skating, sledding, frostbite sailing, and more. Most make great family activities!
But if the thought of New England ski resorts, Frog Pond ice skating, and other outdoor winter activities make you shiver, don't worry.
Boston's calendar of indoor activities heats up during the winter months, with theater, Irish pubs, museums, film festivals, sports and even a couple of world-famous wine festivals giving everyone plenty of opportunities for staying warm while the winter weather rages.
Check out our top 7 indoor winter fun suggestions
Top 8 Boston Winter Fun Outdoor Activities
Skiing near Boston

Less than an hour outside of Boston, you'll find a number of ski areas for downhill skiing, cross-country skiing, snow shoeing, and snow tubing. Some even have terrain parks for snowboarders and free stylers. Go just for the day, or a long weekend. Most offer lessons and equipment rentals.
More about Massachusetts ski areas near Boston

Ice skating in Boston

If you're staying in a hotel in central Boston, head over to Boston Common for ice skating on Frog Pond - one of the best winter activities in Boston. No need to bring your own skates - just rent them at the rink. You can also head to several other ice rinks in Boston and Cambridge - most also offer lessons.
More about ice skating in Boston


Complete Guide to New England ski areas
New England turns into a skiier's paradise from late October through early May. Drive just 2 or 3 hours from Boston, and you'll find plenty of places to enjoy this favorite among Boston activities for winter. Go for the day, or stay for a weekend or longer.
Check out our complete guide to New England ski areas
Best New England ski vacation resorts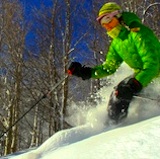 New England boasts top-notch ski resorts. Visit these resorts when you want excellent accommodations, a variety of skiing options, and plenty of other outdoor and indoor activities designed to appeal to a wide range of interests - ice skating, indoor swimming pools, sleigh rides, tubing, entertainment, and lots more.
Check out our complete guide to New England ski vacation resorts
---
"Frost-bite" sailing

"Winter" and "sailing" don't usually go together - but for frigid-weather sailing adds to the challenge for avid sailers. If you fall into this category, you may want to try this when you visit Boston during the winter. Many of the Boston sailing centers provide short-term rate options to make this affordable.
Sledding on Boston Common
If your kids (or you) just want to have fun in the snow, nothing beats sledding. Boston Common's gentle slopes and slightly steeper hills offer the perfect spot. Ask the concierge at your hotel about the closest place to buy a sled - simple plastic ones (like the one used by my daughter in the photo to the left) cost $5-$20, and will work fine.
Winter Walking Tour for Snow Days

Even during Boston's worst winter weather, walking gives you the chance to admire the outlines of trees against the white snow-covered landscape, plus get some exercise. If you happen to visit Boston during or after a snow storm, go out and enjoy the scenery. Best winter walking spots in the city: Boston Common, the Public Garden (shown in photo), and the flat terrain of Back Bay.
Running and jogging

Dedicated runners don't let a little snow stop them - but ice should, since you don't want your Boston visit to include a trip to a hospital emergency room. Best places to run in Boston in the winter include the Esplanade (shown in photo), and the relatively flat Public Garden and Back Bay neighborhood. But if you try this, do be very careful about black ice. Also see running in Boston in the summer

Return to Top - Best Boston Activities for Winter


---
How to Save on Museums and other Indoor Attractions
Need some indoor options? Spend the day at the New England Aquarium, Museum of Fine Arts, Museum of Science, and Skywalk Observatory. Get a Boston discount card for free admission and go to the front of the entrance line.
GoBoston Card

51 ways to save up to 55%

On attractions, tours, cruises

CityPASS

5 top attractions in 9 days

47% savings
---
Want more ideas about what to do in Boston in the winter?
Return to Top - Best Boston Activities for Winter


---
Like this Page? Please Share!
---
Boston Discovery Guide > Boston Attractions > Boston Activities for Winter