1-Day Itinerary for Best of Boston Sightseeing
How to See Boston's Top Attractions in 6 hours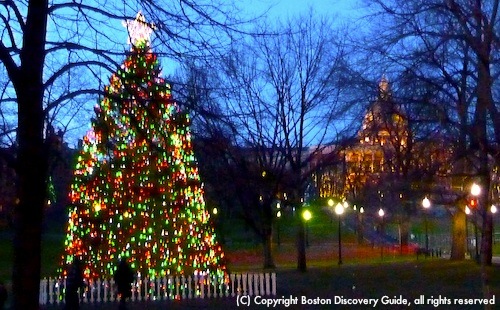 Lighted Christmas tree on Boston Common, with Massachusetts State House in the background

We are only afforded about 6 hours before our flight leaves back to the UK and want to see the best of Boston. We have to store our luggage too which is a pain, but what can you recommend for us to be the easiest and cheapest way to see and get about Boston.
Thanks,
Sarah

Dear Sarah,
I am happy to suggest a 1-day itinerary that give you a terrific city tour. You can easily do it in 6 hours.
You'll see Boston's top attractions, beautiful historic neighborhoods, and iconic historic sites.
You'll even get a short sightseeing cruise of Boston Harbor on your way to see more famous sites.
This itinerary takes advantage of savings offered by the GoBoston Discount Card. With a 1-day card, you'll save close to 40% of regular ticket prices.
As a bonus, this itinerary allows you to securely and easily store your luggage for free along the way - more about that in a moment!
How to See the Best of Boston in 6 Hours
From Logan Airport, take a water taxi to get to the downtown Boston waterfront in about 8 minutes. Be sure to tell the dispatcher you want the Rowes Wharf water taxi. Once you get off the boat, you'll see the Rowes Wharf Water Taxi office. They provide free luggage storage for their passengers in their locked storage room next to the office - so stashing your bags couldn't be easier!
Now, you're ready to begin your Boston adventure.
This 6-hour itinerary assumes this is your first visit to Boston. It gives you a great introduction to the city, and . In 6 hours, you can pack in a lot of sightseeing.
To make the best use of your time, I'm suggesting options that will keep you close to the waterfront, which includes many of the oldest and most historic parts of the city. And it also depends on having a GoBoston Discount Card, because in addition to saving you money, it will save you time by letting you bypass most lines.
Buy the card online before your trip. Not only will this also save you time in Boston, but you can often find discounts online on the GoBoston website, which makes your savings even bigger.
Once you have the GoBoston card, you get free admission to about 50 attractions (the number varies based on the time of the year.
Hop On-Hop Off Trolley
Boston's Hop On-Hop Off trolleys give you the easiest way to see the city's top historic and modern attractions.
Walk into History Tour - See 11 of Boston's most historic sites and learn about the events behind them from the costumed guides during this 90 minute walking tour. Great way to see the modern city too. Tour begins on Boston Common, an easy walk (less than 10 minutes) from the waterfront. I believe it ends at Faneuil Hall Marketplace, just across from the waterfront.
- Whale Watching Cruise - This 3-hour cruise on a high-speed catamaran whisks you out to a protected marine feeding ground where you'll see various kinds of whales, dolphins, sea birds, and other marine life. Because we had a mild winter and spring, whale sightings have been especially numerous this year. My 13 year old went on one of these cruises last week and couldn't believe how many whales they saw (that's one of her photos at the top). You'll see lots of the Boston Harbor Islands including the famous Brewer Lighthouse, and also gorgeous views of the city skyline. Departs from a wharf close to Rowes Wharf.
- New England Aquarium - With your remaining time before heading back to the airport, pop in here for an hour or so (when you see the lines, you'll be glad you have the GoBoston card, because you can go right to the front and then go in). It's one of the best aquariums in the country. Rowes Wharf is about a 4-5 minute walk away.
I'm not including any time for lunch - but you can grab snacks along the way.
The 1-day GoBoston card runs about $60 for adults and $40 for children, so you'll save about $17 (adult) compared with individual admissions with this itinerary and also you get the equally big benefit of not having to wait in lines.
A cheaper option would be to tour the Freedom Trail yourself. You can pick up a map at the visitors' center on Boston Common, and then just follow the red line to get to all the sites. Linger along the way, do some shopping, have lunch, and the 6 hours will fly by! Since you may spend more on food and possibly shopping, I can't tell you this is NO cost - but it's a different use of your money.
Still another option is to pick just one option - perhaps the Freedom Trail Walking Tour - and spend the rest of the time exploring on your own. If you decide to do that, don't get the GoBoston Card, as you won't get your money's worth if you use it just for the tour. You can normally join a tour at the Visitor's Center on Boston Common, which is where the tours start. Tickets typically run around $20 or more, depending on the tour length, etc. There's also a free tour given by Park Rangers but they're not quite as colorful.
How to Store Your Luggage for Free
As you may already know, Boston Logan Airport doesn't offer storage lockers. However, there are several other good options for storing luggage in Boston.
Due to your time constraints, hop on the Rowes Wharf water taxi from Logan Airport to downtown Boston (about an 8 minute trip) and take advantage of the free locked luggage storage area adjacent to their waterfront office that they offer to their passengers. Be sure to ask the Dispatcher at the water taxi wharf at the airport for Rowes Wharf, because as far as I'm aware, the other water taxis don't offer the luggage storage option.
As you've probably already discovered, Boston Logan Airport doesn't have storage lockers, but there are several other good options for storing luggage in Boston.
Due to your time constraints, hop on the Rowes Wharf water taxi from Logan Airport to downtown Boston (about an 8 minute trip) and take advantage of the free locked luggage storage area adjacent to their waterfront office that they offer to their passengers. Be sure to ask the Dispatcher at the water taxi wharf at the airport for Rowes Wharf, because as far as I'm aware, the other water taxis don't offer the luggage storage option.
Once your time in Boston is up, just head back to Rowes Wharf, get your luggage, and take the water taxi back to Logan Airport.
Hope this helps! Have a wonderful time in Boston, and stay longer the next time you come!
Romantic Boston Places during December
Share the Best View of Boston and Toast Your Future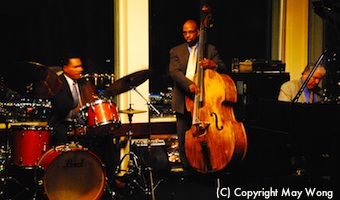 What's more magical than a skyscraper-top view of city lights, sparkling like diamonds in all directions?
Imagine a jazz trio playing softly in the background, and your favorite drink - perhaps something bubbly - raised in your hand as you toast your perfect holiday together.
To put yourself in this scene, head to Prudential Tower (800 Boylston, Back Bay neighborhood) and take the elevator up to Top of the Hub Lounge on the 52nd floor. Settle yourself at one of the little tables ($24/person minimum after 8pm - roughly the cost of one drink and a burger or salad) or at the bar (no minimum) and enjoy the romantic views, music, and just being together. There's even a dance floor. More about Top of the Hub
Photo of musicians at Top of the Hub Lounge courtesy of May Wong
Stroll around Boston's Most Romantic Neighborhood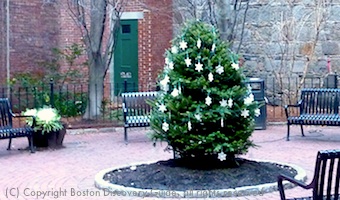 Gas lights along narrow cobblestone lanes filled with gorgeous Federal-period homes, Christmas wreaths on almost every door, and holiday lights sparkling everywhere you look - that's Beacon Hill at Christmas.
Beacon Hill is one of Boston's oldest and most historic neighborhoods, located right across from Boston Common and the Public Garden. Don't miss picturesque Acorn Street, and the boutiques and cozy bakery/cafes along Charles Street.
An especially romantic Beacon Hill spot is tiny Temple Street Park (shown at Christmas in the photo), tucked away behind the Massachusetts State House across from a Suffolk University Building on Temple St. Resident doves nesting in the stone wall will coo romantically at you.
Go See the Best Christmas Lights in Boston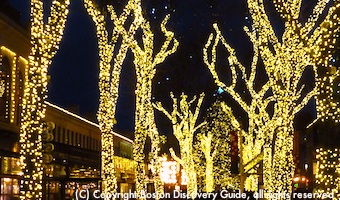 A Christmas visit provides the perfect excuse to go see holiday lights, and this year, the biggest light show in town is Blink! at Faneuil Hall Marketplace.
350,000 golden LED bulbs transform the huge trees throughout the market area into a forest of lights.
But that's not all. Between 4:30pm and 10pm, a free light/sound show featuring music from the Boston Pops Holiday Pops concert and synchronized blinking lights entertains shoppers. Romantic? Not really...but it is magical, and if you're with someone you love, you'll see it through a romantic lens.
Combine a Boston Harbor Tour with a Romantic Dinner Cruise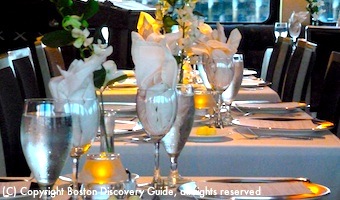 For a special romantic dinner accompanied by spectacular views, go on one of the dinner cruises offered by the Odyssey, modeled after a luxury ocean liner.
You'll be served a gourmet dinner prepared on board by the talented chef. Sip Champagne, enjoy the live music, try out the dance floor, or just relax and watch the magical nighttime views of the city skyline and Harbor Islands.
Make your reservations for a special Boston Odyssey Dinner Cruise
Read more about dinner cruises on the Odyssey
Skate around Frog Pond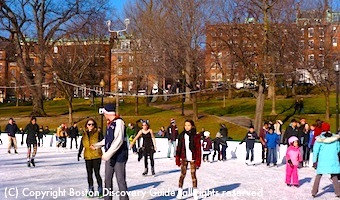 Now for some "only in Boston" kind of fun.
Head over to Boston Common's Frog Pond, rent skates, and go ice skating right in the heart of the city, with Beacon Hill's brownstone mansions in the background.
Afterwards, treat yourself to steaming cups of hot chocolate at the on-site snack bar.
More about ice skating at Frog Pond
Dine in a Romantic Boston Restaurant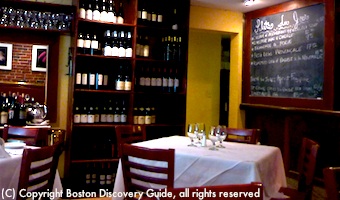 What makes a restaurant romantic?
Candlelight, wonderful wine, sumptuous food, and a cozy ambiance help...but of course dining with the person you love is what really counts.
Here are a few of my favorite romantic Boston restaurants:
Petit Robert Bistro - Classic French favorites in a romantic setting that almost feels like Paris. 468 Commonwealth Ave, Fenway neighborhood, 617-375-0699. More...
Trattoria Di Monica - Small (maybe 24 seats) bistro with brick walls, crisp white linens, and candlelight - plus mouth-watering authentic

Italian classics. 67 Prince St, North End neighborhood, 617-720-5472; monicasboston.com

Mistral - Lushly beautiful dining room, serving elegant

French Mediterranean fare. Pricey. 223 Columbus Ave, Boston's South End, 617-867-9300; mistralboston.com

Newbury Street Cafes - Stroll up and down Newbury Street in Back Bay, and check out the menus posted near the doors of the numerous cafes and restaurants, and choose the one you like best.

Want more ideas? Read our complete guide to Boston restaurants
Visit a Romantic Boston Ballpark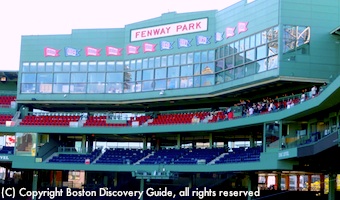 OK, maybe Fenway Park isn't exactly romantic - but if your boyfriend is a baseball fan, he'll love you for taking him on a Fenway Park tour.
The entertaining tour guides tell you all about Fenway's history, legends, and legendary players, and give you a great behind-the-scenes tour.
After the tour, go across the street to the Red Sox Souvenir Shop and buy him a t-shirt so that he'll think of you every time he wears it.
Bonus if you're not a baseball fan: You won't actually have to sit through a game trying to look not bored.
Romantic New Year's Eve Events in Boston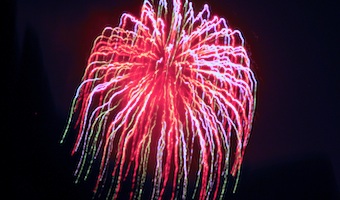 Welcome the New Year by watching fireworks over Boston Harbor at midnight.
You can also get the affordably-priced buttons to gain entrance to the gala First Night celebration, Boston's biggest New Year's Eve event featuring hundreds of shows all over the city put on by the local arts community and international performers.
As an alternative, many of the city's bars and restaurants host New Year's Eve parties, with tickets typically ranging from $50-$175.
Like this Page? Please Share!
More Things to Do in Boston
Boston Tourism and Discovery Guide > Boston Events > Romantic Boston December Things to Do