The BEST Boston Travel Guide
Discover Boston!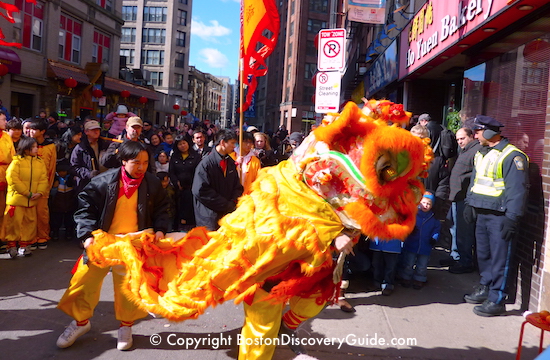 Chinese New Year celebrations, like this one in the Chinatown neighborhood, energize Boston during February and early March
Boston is a top travel destination, offering you a unique blend of historical sites and modern attractions, beautiful waterfront views and lush parks, wonderful hotels and restaurants, and more exciting events and things to do and see than you can possibly fit into one visit.
Whether you're planning your first trip or have been here dozens of times, you'll find plenty to explore and enjoy.
Welcome to BostonDiscoveryGuide.com, an independent travel and tourism guide packed with all the information you need to make the most of your Boston visit!
Top Boston Events & Activities Right Now
February and March offer lots of festive events in Boston - Valentine's Day, Chinese New Year celebrations, and the huge St Patrick's Day parade.
The city's welcoming restaurants, bistros, and cafes beckon you inside, while the country's longest running wine festival continues at the glamorous Boston Harbor Hotel.
Hotel rooms continue to be on sale during February, and still are a relative bargain throughout March. Check out inexpensive hotels, which are cheaper than ever - but also check the (relatively) low rates for Boston's luxury hotels - you're sure to find some bargains.
If you are visiting in February, do bring a warm jacket and a couple of sweaters, a thick scarf, and gloves, and be prepared for snow. A hat or earmuffs, boots, and heavy socks may also be useful. March is less predictable - so make sure you can dress in layers.
And remember ... spring is just around the corner. If you're coming for the Marathon, don't wait any longer to make hotel reservations!
Happening Soon in Boston
More to check out now:
Just announced:
The Boston Bruins will host the 2016 Winter Classic at Gillette Stadium and will play the Montreal Canadiens on January 1st.
More information about tickets, hotels, & transportation
Plan Your Boston Visit
Find the perfect Boston hotels for your budget and location preferences, top attractions to visit, entertaining city tours and sightseeing cruises . . . We offer recommendations for all of these travel essentials to make sure you enjoy the best of Boston!
Take a look at our Trip Planner and recommendations for best Guide Books.
If you're heading out of the city on a cruise ship, or coming here for a Port of Call stop, we have lots of useful information for you, too.
Save BIG - Where to Find Discounts
A Boston vacation can be more affordable than you might think - especially if you take advantage of all the ways to save.
Look for the biggest discounts on big-ticket items: flights and hotels.
Discount cards give you savings of as much as 50% savings on top attractions, tours, and day trips.
Discount tickets to theater, shows, cruises, sports, and entertainment let you save even more. Check Goldstar for discount tickets.
Boston's Top Events
Our biggest events attract millions of visitors each year, and the city sparkles with excitement during these mega-events.
Start planning your own visit to experience in person the First Night celebration on New Year's Eve, the spectacular Boston Pops Concert and July 4th Fireworks extravaganza on Independence day, the exciting Boston Marathon in April, and the breath-taking display fall foliage during autumn months.
Why You'll Love Visiting Boston
You'll find lots of reasons to love Boston:
Unique city neighborhoods filled with historic treasures, stunning architecture, and interesting things to do
Fun cruises around Boston Harbor and up the Charles River - and don't forget lots of exciting tours by foot, wheels, and pedal-power
Sports! Fenway Park, the Red Sox, the Bruins, the Celtics, the New England Patriots
A thriving cultural scene, with world-renowned concert halls and orchestras, a vibrant Theatre District, numerous museums and galleries, and some of the best comedy clubs on the East Coast
Great shopping - must-visit spots include Newbury Street boutiques in Back Bay, browsing for antiques along Beacon Hill's Charles Street, and lively Faneuil Hill Marketplace across from the waterfront
All this and more makes Boston fun to visit, whether you're coming for a vacation or business travel.
But that's just the beginning. Excellent hotels, chef-owned restaurants, and numerous things to do combined with Boston's compact, human-scale size give you the opportunity to fully enjoy yourself as you explore the city.
So if you're planning a visit, where to begin? That's where Boston Discovery Guide comes in.
You'll find all the travel information you need to plan your trip, ranging from guides to Boston's top attractions, fun events, and entertainment to our world-class museums and sports to tips about hidden treasures.
BostonDiscoveryGuide.com is an independent travel guide created by experienced world travelers who have called Boston home for 20+ years. We love Boston - and know you will too!
Keep Up with the Best in Boston
We update Boston-Discovery-Guide.com almost daily. Here's how you can stay in touch with the latest Boston tourism information:
Subscribe - You can get BDG's latest updates by subscribing to our RSS feed. Just click the orange RSS button in the "Get Latest Updates" under the navigation list on the left. Or, simply add our feed to your RSS application: http://www.boston-discovery-guide.com/Boston-tourism.xml
Boston Tourist Tips - Sign up for our free monthly newletter, Boston Tourist Tips, where you'll find the latest and greatest information each month. You can even ask a travel question here, and I'll be happy to answer.

Thanks for visiting Boston Discovery Guide. We hope you'll have a wonderful time during your visit - and enjoy this city as much as we do!

Publisher, BostonDiscoveryGuide.com
(Find out more about BDG here)
Like this Page? Please Share!