Goldstar Events and BosTix Half-price & Discount Boston Tickets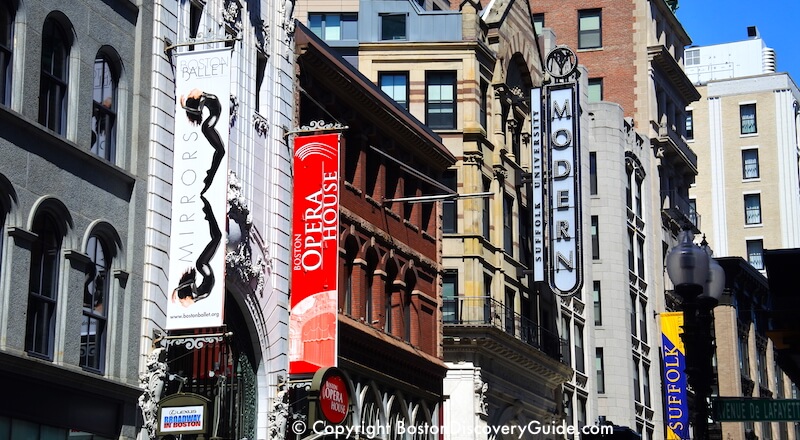 Looking for half-price and discount tickets to shows, events, tours, and cruises? Boston Discovery Guide will show you where to find them.
Goldstar Events and BosTix offer HALF PRICE tickets to Boston theater, shows, comedy, sports, tours, music, and dance events - plus occasionally even free tickets.
If you're looking for the cheapest tickets for an evening of entertainment, here's where you'll find them.
Although both both groups offer deep-discount, same day, and half-price tickets to many top Boston events, Bostix focuses primarily on theater, dance, music, and comedy shows.
In contrast, Goldstar offers half-price tickets on all of these events, as well as deep-discount tickets for sports, tours, Boston Harbor cruises, the circus, and other entertainment and attractions as well.
Goldstar Events routinely offers savings of up to 50% or more on a very wide range of theater, entertainment, sports events, tours, and cruises.
Sometimes, they offer free passes. Once you sign up for Goldstar discounts, they'll notify you instantly when free tickets are available.
In addition to half price theater tickets, comedy clubs, and other performing arts, Goldstar frequently offers tickets for Boston Harbor dinner cruises, and special performances by groups such as Cirque du Soleil.
How to benefit:
Sign up for free, and start looking at tickets, dates, and prices to see all choices
Most tickets become available several weeks before the event - but others may be added at the last minute, so it pays to sign-up for the free e-mail alerts
You do everything on line, at your convenience
Service fee: Typically $2.50 - $3.50 per ticket
Goldstar Events also offers tickets for cities beyond Boston - Chicago, D.C., Las Vegas, Los Angeles, & more
More Current Offers from Goldstar
Save BIG on half-price & discount tickets from Goldstar
- Red Sox Baseball - Fenway Park- Goldstar $16-$30; Full price $25-$46
- Jose Mateo Ballet Theatre's The Nutcracker - Emerson Culter Majestic Theatre - Goldstar $29-$40; Full price $57-$80
- Story Land Amusement Park - Glen, NH - Goldstar $27; Full price $35
- Tall Ship Harbor Tour - Boston Harbor - Goldstar $7-$19; Full price $11-$39
- Blue Man Group - Charles Playhouse - Goldstar $40-$52; Full price $66-$98
- Charles River Twilight Cruise - Charles Riverboat Company - Goldstar $Comp - $10; Full price $20
- Tipsy Chocolate Tours - Boozy walking tour in Boston's Back Bay - Goldstar $48; Full price $68
- Huzzah! Tavern Nights - Boston Tea Party Ships & Museum - Goldstar $41; Full price $55
- Thirsty Thursdays - Boston Harbor - Goldstar $8; Full price $17
- New England Revolution Soccer - Gillette Stadium - Goldstar $25-$42; Full price $40-$63
- Tipsy Chocolate Beacon Hill Tour - Beacon Hill- Goldstar $59; Full price $74
- Sh*t-Faced Shakespeare: Taming of the Shrew - The Rockwell - Goldstar $15; Full price $25
- Live Music @ City Winery - Goldstar $10-$18; Full price $20-$35

When Boston venues have extra tickets to certain performances, they sell them for half price or discounts through BosTix, a local ticket-selling program. BosTix also offers full-price tickets.
What you'll find:
Best deals: Primarily available for theater tickets (Broadway shows to experimental), comedy clubs, concerts (classical to rock), dance, and children's events. Usually up to 50% savings, plus full-price tickets.
Pick up options: You can pick up most advance-sale tickets at the venue's box office an hour before showtime. You'll need to pick up same-day tickets in person at the BosTix booth in Copley Square or Faneuil Hall Marketplace.
Service fee: Typically $3.50 - $7.50 per ticket. ArtsBoston, their parent organization, invests proceeds from these fees in the local arts community.
Bostix locations:
Copley Square, corner of Boylston and Dartmouth; nearest T station: Orange Line/Back Bay
Faneuil Hall Marketplace, near the west end entrance of Quincy Market; nearest T station: Orange Line/Haymarket