Boston Movie Theaters
Where to find the best movie theaters in Boston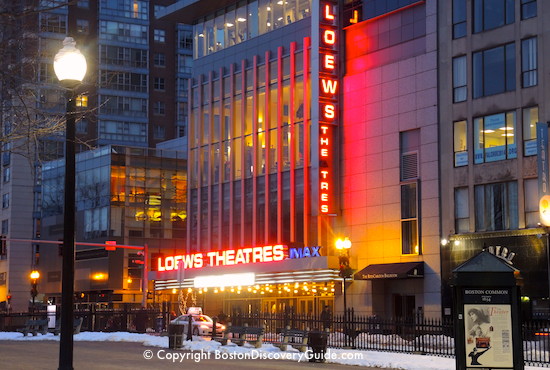 Loews Theater across from Boston Common boasts 19 screens
Boston movie theaters feature everything from first run movies to indie films, foreign language movies to art movies, and lots in between.
In addition to Boston's large number of traditional movie theaters, museums and universities provide additional venues for film buffs.
You'll even find second run movies (usually at somewhat lower tickets prices), science, nature, and avant-garde cutting edge experimental films in movie theaters in Boston.
Don't overlook movie theaters in communities near Boston such as Brookline, Cambridge, and Somerville - all easy to get to by T (Boston's subway).
Finally, be sure to check out the eclectic offerings at over a dozen Boston film festivals.
Special Fandango deals for Boston movie theaters
A lot of Boston and Cambridge movie theaters use Fandango to list movies and showtimes as well as handle on-line ticket sales (no more waiting in lines in freezing weather or pouring rain!), so I've added Fandango buttons
for your convenience where possible.
Here's the best way to save money with Fandango - a special Fandango deal: Every Friday, Get 2 for 1 movie tickets when you use your Visa Signature card.
Guide to Boston Movie Theaters by neighborhood
Quick Links: Boston | Brookline | Cambridge | Somerville | Other Venues | More
Boston Movie Theaters - Downtown Boston
AMC Loews Boston Common 19
Address: 175 Tremont Street | map
Nearest T station: Red and Green Lines/Park Street
Information: 888-262-4386; local number: 617-423-5801

This huge Boston movie theater complex features 19 screens showing mostly first run films. Bordering the east side of Boston Common next to the Ritz-Carlton Hotel and Boston's Theatre District, Loews Boston Common's convenient location is close to restaurants in all price ranges in case you want a bite before or after the show.
Check Boston Discovery Guide's Historic Downtown Boston guide for nearby restaurant and pub recommendations.
Love Movies? Go on a Boston Movie Tour
Simons IMAX Theatre - New England Aquarium
Address: 1 Central Wharf map
Nearest T station: Blue Line/Aquarium
Information: 617-973-5206
Find out what's playing and get show times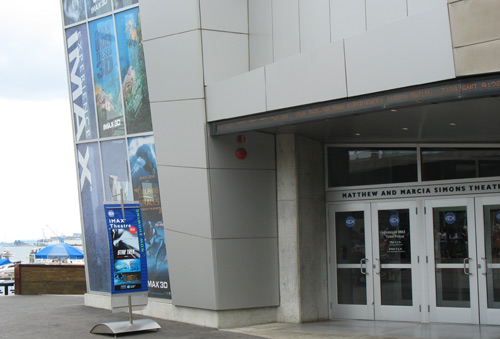 As you recline back in your seat and view the slightly curved, enormous 65' x 85' screen at the Simons IMAX, you'll almost feel like you're underwater with the sea creatures that star in most of the films that this theater features. Located next to the New England Aquarium on Boston's Downtown waterfront.

Regal Fenway Stadium 13
Address: 201 Brookline Ave, Fenway
Nearest T station: Green Line D/Fenway
Information: 617-424-6111

You'll find mostly first-run commercial movies at the 13-screen Regal Fenway Stadium theater, a favorite with students from Boston University and other nearby colleges and universities, as well as professionals living nearby in Fenway and Back Bay.
Check Boston Discovery Guide's Fenway neighborhood guide for nearby restaurant and pub recommendations.
Mugar Omni Theater - Boston Museum of Science
Address: 1 Science Park, Boston's West End
Nearest T station: Green Line/Lechmere
Information: 617-723-2500
Find out what's playing and get show times

Experience immersion theater as the world's largest film format is projected onto a five-story-tall IMAX® Dome screen and a state of the art audio system surrounds you with sound. The Mugar Omni Theater features science, nature, and exploration films. Although the theater is located in the Museum of Science, you can buy cinema tickets just for the Omni films.
Theatre 1 (formerly the Stuart Street Playhouse)
Address: 200 Stuart Street, Theatre District
Nearest T station: Green Line/Arlington
For more information: 617-457-2623; www.theatre1boston.com

Theatre 1, in the newly opened Revere Hotel in Boston's Theatre District, replaces the Stuart Street Playhouse and occupies a space that's been a movie theater since 1971.
Currently, programming consists of private events only.
Brookline Movie Theaters (next to Boston)
Coolidge Corner Theatre
Address: 290 Harvard Street, Coolidge Corner neighborhood
Nearest T station: Green Line C/Coolidge Corner
Information: 617-734-2500; website

One of the best indie movie theaters in the area. Originally built as a church in 1906 and reborn as an Art Deco movie palace in 1933, this venerable Boston-area theater almost succumbed to competition from huge suburban multiplex cinemas in the late 1980s.
After strong community support pulled it back from the brink in 1989, it became a non-for-profit theater and maintains its strong following by screening an interesting mix of foreign language, indie, art, popular, independent, local, and first-run films. A popular children's series and many movie-related events round out the offerings.
Cambridge Movie Theaters
AMC Loews Harvard Square 5 - CLOSED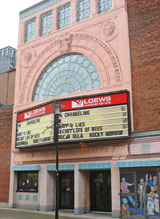 Address: 10 Church Street, Harvard Square neighborhood
Nearest T station: Red Line/Harvard
This iconic theatre just across from Harvard's Cambridge campus has been the site of legendary midnight showings of the X-rated American teen-scream cult classic, Rocky Horror Picture Show. The first live performance of the Rocky Horror Picture Show took place here, and the film attracted creatively dressed crowds here more or less weekly since 1984 - the perfect excuse for putting on black fishnet stockings. Enthusiasm always peaked around Halloween.
Alas, the property has been sold, and the theatre shut down. Will Rocky Horror Picture Show find a new Boston home? Stay tuned . . .
Brattle Theatre
Address: 40 Brattle Street, Harvard Square
Nearest T station: Red Line/Harvard
Information: 617-876-6837; website

Specializes in classic, indie, foreign, and art films, including occasional first run movies in these categories. Especially interesting are their repertory programs showcasing the work of a particular director, genre, or actor.
Occasional live music performances and special readings/book signings by authors are well-worth checking out.
Warning: you may swear that the seating hasn't been updated since 1953 when movies started being shown here - best to just think of it as part of the ambiance.
Entertainment Cinemas - Fresh Pond
Address: 168 Alewife Brook Parkway, North Cambridge neighborhood, almost on the Arlington/Belmont border
Nearest T station: Red Line/Alewife (5 minute walk to the theater)
Information: 617-876-6837



First and second run commercial films. Fresh Pond's location near the Alewife T station makes it convenient for anyone living in other parts of Cambridge, as well as Arlington, Medford, and Belmont.
Kendall Square Cinema
Address: 1 Kendall Square (between MIT and Central Square), Kendall Square neighborhood
Nearest T station: Red Line/Kendall-MIT
Information: 617-499-1966; website

The 9-screen Kendall Square Cinema wins hoards of loyal fans with its eclectic mix of foreign language, restored classics, independent, and documentary films, plus Boston premiers, film festivals, and special screenings. Another terrific indie movie theater in the Boston area.
Somerville Movie Theaters
Somerville Theatre
Address: 55 Davis Square, Davis Square neighborhood
Nearest T station: Red Line/Davis
Information: 617-625-5700



Mix of first and second run commercial movies plus art, cult, and indie films in hip Davis Square, Somerville. The Somerville Theatre also hosts interesting live productions and shows, as well as film festivals.
The Somerville Theatre is a former live theater that's been converted to a movie theater but still does double-duty as a real theater/performance/concert venue when films aren't showing. Sound interesting? It can be very interesting . . . just ask those who caught U2's latest performance here.
Unlike any other commercial movie theater in the Boston area, the Somerville Theater serves beer and wine, good eats such as Richardson ice cream, and even allows you to bring in outside food. After the show, as a bonus, you can drop by the Museum of Bad Art, located in the basement. Oh, as still another bonus, movie tickets are reasonably priced.
The theater is just steps from the T station, as well all the other cool Davis Square restaurants and bars - Redbones BBQ, Diva, Johnny D's, and much, much more. This could easily become your favorite spot to catch a flick in the Boston area.
Beyond Boston Movie Theaters - More Movie Venues
Boston Public Library
Address: 700 Boylston Street, Copley Square, Back Bay, Boston
Nearest T station: Green Line/Copley
Information: 617-536-5400; website (click on News & Events and then Upcoming Events on top menu)
The Boston Public LIbrary periodically shows movies, and they're usually family-friendly - and free.
In addition to movie listings, be sure to check out the Library's concerts, lectures, and children's activities. Sometimes movies are shown as part of a lecture.
French Library (Alliance Francaise of Boston)
Address: 53 Marlborough Street, Back Bay, Boston
Nearest T station: Green Line/Copley
Information: 617-912-0400; website (click on Calendar and Film on top menu)

If you speak (or understand) French, you'll want to see if their events schedule includes movies. Currently, they feature a Cine-Club for children every Saturday from 11:30am-2pm.
Harvard Film Archive
Address: Carpenter Center for the Visual Arts, 24 Quincy Street, Cambridge
Nearest T station: Red Line/ Harvard
Information: 617-495-4700; website (click on Calendar on top menu)

You can watch films from the Harvard Film Archive in Harvard's 200-seat Carpenter Center theater on Friday, Saturday, Sunday, and Monday nights year-round. Selections are chosen from the 14,000 film (and growing) archive, and typically cover a wide range of genres and countries.
Although Carpenter Center technically isn't a Boston movie theater, it's quickly becoming a film-viewing venue of choice as the archive grows. Cinema tickets go on sale 45 minutes before the show.
Museum of Fine Arts
Address: 465 Huntington Ave, Fenway, Boston
Nearest T station: Green Line E/Museum
Information: 617-267-9300; website (click on Events on top menu)

The MFA's almost continuous offering of films includes foreign films, classics, independent films, local films, and avant-garde experimental films. A number of annual film festivals, Boston premiers, exhibit-related films, and presentations by film producers and directors round out the ample offerings. You'll normally find lots to choose from here, and the selections are often things that you won't see elsewhere - so if you like the genre's that MFA shows, they're definitely worth checking out.
ICA Boston (Institute of Contemporary Art)
Address: 100 Northern Ave, South Boston Waterfront
Nearest T station: Red Line/South Station; take Silver Line Waterfront to Courthouse and walk approximately 1 block east (away from the city)
Information: 617-478-3103; website - click on Calendar at the top of the screen

ICA Boston typically shows a couple of films on Sundays and sometimes on Saturdays and other days as well. If you're interested in contemporary, indie, and art films, ICA Boston is a good place to check. More about ICA Boston
More for Boston Movie Theater Fans:
Boston Movies, Film Festivals, Half Price Tickets, Theaters
Like this Page? Please Share!
Boston Discovery Guide Home > Nightlife > Movie Theaters