Home >
Boston Comedy Clubs
Where you'll find Boston's top comics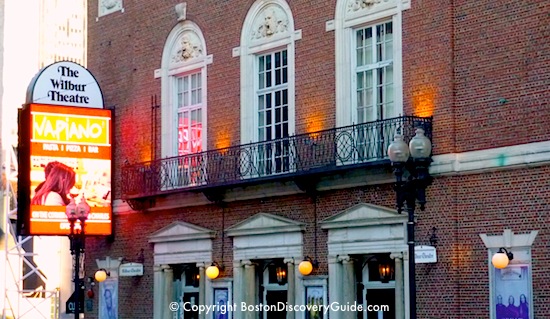 Wilbur Theatre showcases top comedy and music acts
Love to laugh? Boston comedy clubs feature top headliner comics - as well as those just starting out.
You'll find a great mixture of national, international, and local talent.
Jay Leno got his start here, as did Dane Cook, Denis Leary, Conan O'Brien, Paula Poundstone, Lenny Clarke, Janeane Garofalo, and a long list of others.
And if you have a flair for making others laugh, head to a club with an open mic. Who knows, you may be the next top attraction!
Get ready to enjoy the improv, the stand up comics, comic ensembles, and more.
Half-Price & Discount Tickets to Comedy Shows
Comedy show covers typically run much less than theater tickets - usually around $15-$30 - so a night of laughs is both fun and affordable.
Ticketed shows for big-name performers will run more - but check Goldstar for discount, half-price, and complementary tickets.

Improv Asylum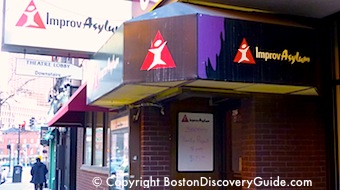 Improv Asylum in Boston's North End features improvisation and comic sketches delivered by a skilled ensemble group of funny and personable comedians.
In addition to serving drinks, the Improv offers a couple of dinner packages at nearby restaurants.
A nice feature of the Improv is that although drinks are served only to those 21 and older, you do not have to be 21 to attend a show. The material is recommended for those who are 17 and up. So if you're visiting Boston with your upper-teen children, the Improv is a terrific entertainment choice.
Address: 216 Hanover Street, North End, Boston;
Nearest T station: Orange Line/Haymarket;
For more information: 617-263-6887; www.improvasylum.com
Other useful tips: The North End is known for its many mouth-watering Italian restaurants - so even if you don't go with one of the Improv Asylum's dinner-theater packages, allow time for dinner in a neighborhood restaurant.
Dick Doherty's Comedy Den
A Boston fixture on the comedy scene since the late '80s, Dick Doherty's Comedy Den features beginning and established local comedians on weeknights, Friday, and Saturday nights. Sundays are reserved for open mic.
Tickets, drinks, and food are relatively inexpensive (Friday and Saturday tickets cost a little more), and this popular Boston comedy club attracts some well-regarded, funny headliners such as Steve Halligan, Sarah Blodgett, Joey DeVito, Peter Costello, Mark Zhang, Shawn Carter - and of course, Dick Doherty himself.
Address: 184 High Street (below Howl at the Moon) - across from Rowes Wharf; Financial District, Downtown Boston (Please note: This is a new location)
Nearest T station: Blue Line/Aquarium; Red Line/South Station
Minimum age: All shows are 18+
For more information: 800-401-2221; www.dickdoherty.com

Nick's Comedy Stop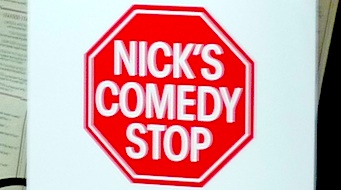 Nick's Comedy Stop, a popular favorite since the early '70s, is the longest running of the Boston comedy clubs. John Tobin and his associates, who also co-own Tommy's Comedy Lounge, do the bookings here as well.
Located near the Charles Street Theatre, its convenient Theatre District location makes it a popular destination with both locals and Boston tourists who enjoy seeing a variety of younger headliners such as Chris Tabb and Harrison Stebbins.
Address: 100 Warrenton Street; Theatre District, Downtown Boston;
Nearest T station: Green Line/Boylston;
Parking: Boston parking garages near Theatre District and Chinatown
For more information: 617-482-0930; www.nickscomedystop.com
Other useful tips: Free tickets are sometimes available at their website. Drinks are sold on site.
Laugh Boston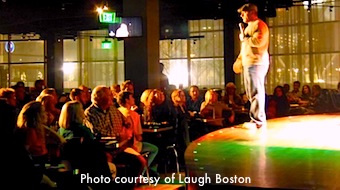 Laugh Boston, located at the Westin Boston Waterfront next to the Convention Center, brings top stand-up comedians to the South Boston Waterfront 5 nights a week.
With seating for 300, Laugh Boston is the newest hot desination in the South Boston Waterfront.
Check Goldstar for comp or discount tickets.
Wilbur Theatre
The historic 1,112-seat Wilbur Theatre hosts some of the top comedy and music events in the city.
Built in 1915, the theater has been revitalized during the past decade by former Comedy Connection owner Bill Blumenreich.
The club features stand up comics and concerts seven nights a week, and also has a liquor license.
Headliners tend to be nationally and internationally well-known comedians and musicians, plus rising local comics.
Past and present big-name Wilbur Theatre headliners include Chris Rock, Lily Tomlin, Margaret Cho, Sinbad, Damon Wayans, Amy Schumer, and Paul Nardizzi.
Address: 246 Tremont Street, Theatre District, Boston;
Nearest T station: Green Line/Boylston
Parking: Boston parking garages near Theatre District and Chinatown
For more information: 617-931-2000
Tip: Check out the nearby Theatre District restaurants
Go on a Boston Tour
More Comedy Clubs in the Boston Area
ImprovBoston
ImprovBoston has been around since the 1980s and keeps getting better and better.
The exuberant shows feature all forms of comedy, including satire, slapstick, you name it. Some, such as the popular Halloween Gorefest spectacle, return year after to year to appreciative fans.
An ensemble cast of 30+ members puts on multiple shows featuring improvisation and comic sketches 5 nights a week in ImprovBoston's 2 performance areas. Although some shows are intended for older audiences, as though noted on Improv's website, most are family-friendly. Improv recommends that audience members be 13 and older for the 10pm shows. Special family shows are designed for those with children 10 or younger.
ImprovBoston offers a beer and wine bar, along with soft drinks and snacks. You can find dozens of great restaurants and bars in the neighborhood, so be sure to include time in your planning for dinner.
ImprovBoston also offers many classes. If you're visiting the Boston area for as long as 4 weeks or more, check out their schedule on their website.
Address: 40 Prospect Street, Central Square, Cambridge
Nearest T station: Red Line/Central Square
For more information: 617-263-6887; www.improvboston.com
Other useful tips: Tickets at this popular Boston-area comedy club tend to be quite affordable, starting as low as $7 for some shows. Most of the shows are about an hour and fifteen minutes long.
Improv Jones Boston
A spin-off of a Providence group that's been around since 1992, Improv Jones Boston has been delighting local improvisational comedy fans with its family-friendly shows since 2006.
The talented troupe performs every Friday night at 8pm at the Arsenal Center for the Arts in Watertown. Shows are fun (and fine) for all ages.
Address: Arsenal Center for the Arts, 321 Arsenal Street, Watertown, MA (close to the Arsenal Mall)
MBTA: #70 bus to Watertown; alternately, if you drive, free on-site parking is available
For more information: 617-923-0100; website
Jimmy Tingle's Off-Broadway Theater
Comedian Jimmy Tingle closed his popular Somerville Theater a few years ago to perform in other venues for awhile, much to the dismay of his fans.
So you'll have to catch him in other places, including some local venues. You can check his schedule on his website. He also posts occasional blog-type entries, so you can see those there as well.
Address: 255 Elm Street, Somerville, MA
Nearest T station: Red Line/Davis Square
For more information: www.jimmytingle.com
More Recommendations for you
Like this Page? Please Share!
Related Information