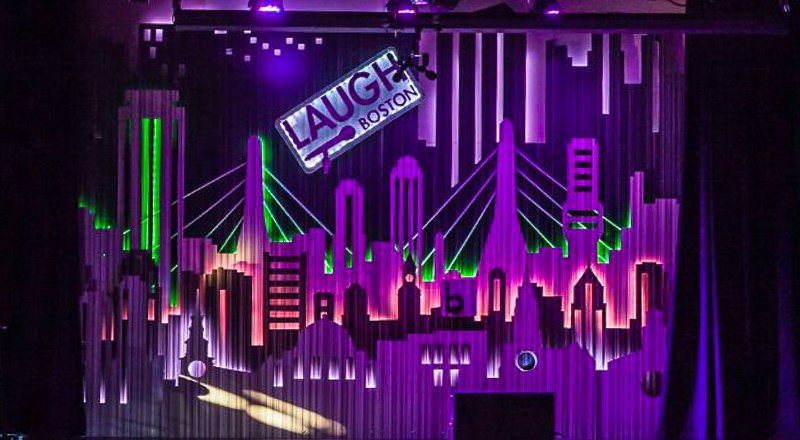 Love to laugh? Boston comedy clubs feature top headliner comics - as well as those just starting out.
Tickets for most acts are affordable, plus discounts and half-price tickets are often available.
You'll find a great mixture of national, international, and local talent in Boston's clubs and larger performance spaces.
Jay Leno got his start here, as did Dane Cook, Denis Leary, Conan O'Brien, Paula Poundstone, Lenny Clarke, Janeane Garofalo, and a long list of others.
And if you have a flair for making others laugh, head to a club with an open mic. Who knows, you may be the next top attraction!
Get ready to enjoy the improv, the stand up comics, comic ensembles, and more.
Where to See Top Comedy Acts & Shows - Schedule & Tickets
Top comedy acts appear at Boston's most popular venues: The Wilbur, Wang Theatre, Shubert Theatre, Berklee Performance Center, Paradise Rock Club.
These shows sell out quickly so don't wait to get your tickets:
TicketNetwork Discount Code - Enter TNTIX to get $10 off orders of $300+
TicketLiquidator Discount Code - Enter 17FALLTL to get $10 off orders of $350+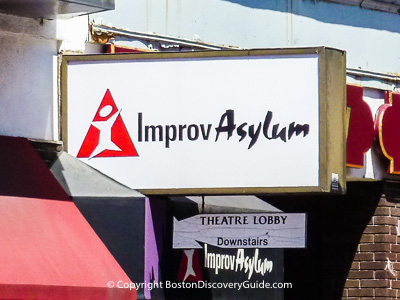 Improv Asylum in Boston's North End features improvisation and comic sketches delivered by a skilled ensemble group of funny and personable comedians.
Although the Improv serves drinks only to those 21 and older, you do not have to be 21 to attend many of the shows, although most are recommended for 17 and up. If you're visiting Boston with older teens, the Improv is a great entertainment choice.
Check Goldstar for discount and half-price tickets
216 Hanover Street, Boston's North End | Orange Line/Haymarket | (617) 263-6887 | www.improvasylum.com
Dick Doherty's Comedy Den
A Boston fixture on the comedy scene since the late '80s, Dick Doherty's Comedy Den features beginning and established local comedians on weeknights, Friday, and Saturday nights. Sundays are reserved for open mic. This is an 18+ club.
Tickets, drinks, and food are relatively inexpensive (Friday and Saturday tickets cost a little more), and this popular Boston comedy club showcases a variety well-regarded stand-up comedians as well as Dick Doherty himself. Tickets are typically about $20/person.
This is Boston's only full-service comedy club, with table seating and serving appetizers, bar food, and drinks during and after the shows.
Check Goldstar for discount and half-price tickets
184 High Street (below Howl at the Moon) - across from Rowes Wharf; Financial District, Downtown Boston | Blue Line/Aquarium; Red Line/South Station | (800) 401-2221 | www.dickdoherty.com
Nick's Comedy Stop, a popular favorite since the early '70s, is the longest running of the Boston comedy clubs.
Located near the Charles Playhouse, Comedy Stop's convenient Theatre District location makes it a popular destination with both locals and Boston tourists who enjoy seeing a variety of younger headliners. All shows are 18+
The club has a full bar, but does not serve food. No outside food or drinks are allowed. A discount is available for Abby Lane, a popular nearby Theatre District restaurant.
Check Goldstar for discount and half-price tickets
100 Warrenton Street; Theatre District | 617-482-0930 | www.nickscomedystop.com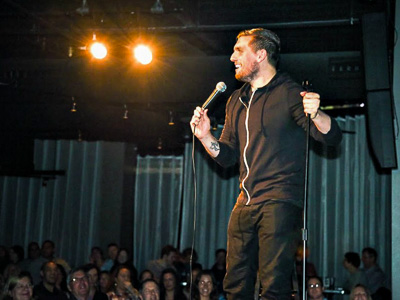 Laugh Boston, located at the Westin Boston Waterfront next to the Convention Center, brings top stand-up comedians to the South Boston Waterfront on Thursdays - Saturdays, and occasionally other evenings.
With seating for 300 plus standing room for 400 more, Laugh Boston offers a spacious and comfortable setting for the national and local acts.
The club serves drinks and light fare; no outside food or drinks allowed.
Tickets usually run about $25 ($35 for premium seating), although may be higher for some acts.
No age restrictions - but the club cautions that most of the comedy is "R" rated and some people may find it offensive.
Check Goldstar for discount and half-price tickets.
Validated parking when you park at the Westin (get your ticket stamped at the Laugh Boston Box Office), but there is often street-side metered parking along Summer and D Streets near the Westin.
Located in the lobby of Westin Waterfront Hotel at Summer and D Streets, South Boston Waterfront neighborhood | 617-482-0930 | www.laughboston.com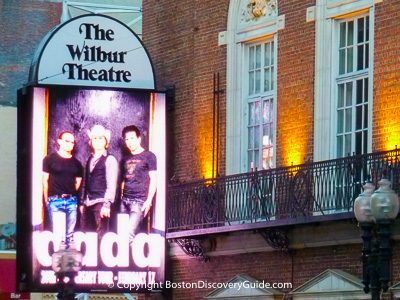 The Federal Revival-style 1,112-seat Wilbur Theatre, built in 1914 and splendidly renovated 10+ years ago, hosts top comedy and music events seven nights each week.
This is where you'll see top national stand-up comics as well as acclaimed musicians. There is a disabled lift to enable patrons to reach the disabled restroom on the building's lower level.
Because of the theater's historic status, it does not have an elevator to the mezzanine and balcony seating, which requires walking up several flights of stairs. Also, the building does not allow re-entry.
The Wilbur validates parking for the Archstone Boston Common Garage (660 Washington Street). Get your parking ticket stamped at the Wilbur's Box Office in the night of your performance to get a $5 discount when you enter the garage after 5pm and exit before 6am the next morning.
246 Tremont Street, Theatre District | 617-931-2000 | thewilbur.com
Tickets for The Wilbur Theatre:
TicketNetwork Discount Code - Enter TNTIX to get $10 off orders of $300+
TicketLiquidator Discount Code - Enter 17FALLTL to get $10 off orders of $350+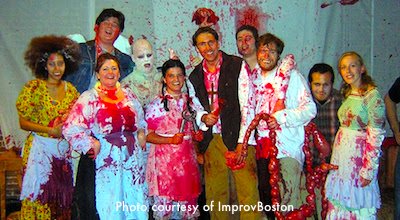 ImprovBoston has been around since the 1980s and keeps getting better and better.
The exuberant shows feature all forms of comedy, including satire, slapstick, you name it. Some, such as the popular Halloween Gorefest spectacle, return year after to year to appreciative fans.
An ensemble cast of 30+ members puts on multiple shows featuring improvisation and comic sketches 5 nights a week in ImprovBoston's 2 performance areas.
Although some shows are intended for older audiences, as though noted on Improv's website, most are family-friendly and tickets are affordably priced. Improv recommends that audience members be 13 and older for the 10pm shows. Special family shows are designed for those with children 10 or younger.
ImprovBoston offers a beer and wine bar, along with soft drinks and snacks. The club's Central Square neighborhood offers numerous dining and drinking options.
Check Goldstar for discount and half-price tickets
40 Prospect Street, Central Square, Cambridge | Red Line/Central Square | 617- 263-6887 | www.improvboston.com