Best Salem MA Hotels
Best hotels in Salem, Massachusetts
You'll find only 3 Salem hotels - but all offer appealing amenities and excellent locations in the historic downtown area, close to the famous Peabody Essex Museum, witch museums, and other popular attractions.
If you're planning an overnight visit to the "Witch Capital," you'll be pleased by what Salem hotels have to offer: a grand hotel, a beautifully furnished historic inn, and a sleek modern hotel with sweeping waterfront views.
Each one has its own personality - so choose based on what you feel sounds like fun!
Rates usually will be less than for comparable Boston city hotels, so a Salem visit provides an opportunity to explore all the interesting attractions in this historic waterfront city while helping your travel dollars go farther.
Hawthorne Hotel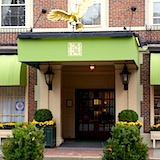 This grand hotel, built in 1925, is Salem's largest with 93 rooms and suites, all individually furnished with 18th century-style canopy beds, comfy armchairs, and stately armoires. The Hawthorne is the best Salem hotel if you want to experience the grandeur of an earlier time. It's also just a couple of blocks from the Peabody Essex Museum and various witch museums.
Alternately, you can stay in the Hawthorne's small historic Bed and Breakfast, the Suzannah Flint House, built in 1808 in Federal style and featuring 3 rooms and 1 suite, with complimentary breakfast at the Hawthorne Hotel.
In both the hotel and B&B, you'll also find free Internet access, an exercise room, and complimentary access to a local health club with 2 swimming pools.
Salem Inn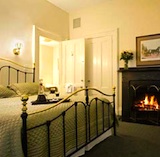 Three beautifully restored 19th century houses make up this gracious inn with 40 rooms and suites. Choose from the 1834 classic Federal sea captain's house, the lovely 1854 Italianate Revival home, or the spacious 1874 Dutch Colonial.
All sport 21st century amenities, such as free internet access, but are furnished with antiques and period pieces. Fireplaces, whirlpool baths, canopy beds, complimentary sherry, honeymoon suites, continental breakfast - you'll feel totally pampered!
Salem Waterfront Hotel & Marina
Located on historic Pickering Wharf, the Salem Waterfront Hotel is the newest Salem hotel and offers 86 spacious rooms and suites. Free internet access, luxury linens, down comforters, and complimentary coffee will add to the comfort of your stay.
You'll enjoy the waterfront views, cute boutiques along the Wharf, and the convenience of being just a short walk from the Peabody Essex Museum, witch museums, and House of the Seven Gables, as well as the train station and ferry port.
Essentials: Salem MA Hotels
What if all 3 Salem MA hotels are full?
With a total of only 223 hotel rooms and suites available among all 3 Salem MA hotels plus the Suzannah Flint House, you run the risk of finding every room booked, especially during October.
Fortunately, if you don't mind a short drive, you can find some attractive options in these 3 towns located only 2-3 miles from Salem:
Marblehead
Harbor Light Inn
This elegant inn located in the historic harbor district has Federal-style architecture, 18th century furnishings, and fireplaces in most rooms. Reviews and Reservations
Peabody
Homewood Suites Peabody
Newly renovated suites with kitchens for short or extended stays in an area near local business parks. Indoor pool, fitness center, free internet access. Reviews and Reservations
Marriott Hotel Peabody
Recently renovated Marriott in a business park area close to Peabody Center. Very nice pool with jacuzzi, and fitness center. Reviews and Reservations
Holiday Inn Hotel & Suites Peabody
Refurbished rooms and suites with kitchenettes, indoor pool, fitness center, and on-site restaurant. Reviews and Reservations
Beverly
Wylie Inn & Conference Center at Endicott College
This attractive inn located on the 10-acre Endicott College campus offers a fitness center, complimentary continental breakfast, and access to a nearby (5-10 minute walk) beach on the Atlantic Coast. Reviews and Reservations
Like this Page? Please Share!
More To Do in Salem
Boston Discovery Guide > Hotels > Salem Hotels