Prudential Center
5 Reasons to Shop in this Fashion Arcade in Boston's Elegant Back Bay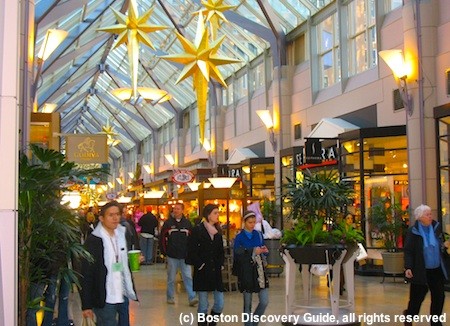 Shoppers in Prudential Shopping Center in Boston's Back Bay area
True, Prudential Center in Boston's Back Bay neighborhood offers upscale shopping anchored by Lord & Taylor and Saks Fifth Avenue.
But the excellent mix of top stores and boutiques accounts for only one reason why you'll want to explore this popular Boston shopping mall located near Copley Square and Newbury Street in Boston's second tallest building.
Find out the other 4 reasons why Pru Center makes an excellent destination for high-end shopping, great dining, and exploring Boston.
Enjoy Boston Discovery Guide's photos, find hotels nearby - and discover Prudential Center's quirky statue, dubbed "Naked Man" by my daughters . . . a piece of art that sets it apart from other Boston shopping centers!
5 Reasons Why Prudential Center is Tops
For High-end Shopping in Boston
1. All the right stores
Lord & Taylor and Saks may be Pru Center's anchors, but they're just the beginning.
In addition, 75 other stores, boutiques, and restaurants, plus a very good food court, fill out the offerings. There's even a supermarket on the street level, popular with Back Bay residents.
Prudential Center shops include Talbot's, a large well-stocked Ann Taylor, 344, Lacoste, J. Jill, Lululemon Athletica, Mango, Vineyard Vines, Vera Bradley, and Sephora.
You'll also find excellent shopping options for gifts in various price ranges, including GameStop, L'Occitane, Pandora, Teavana, Swarovski, and Gucci. Need a treat for yourself? Head over to Frette and stock up on the same luxury Italian linens featured at the Mandarin.
I especially love Pru Center's carts and kiosks, many of which feature unique handcrafted items. Each typically specializes in just one thing - artisan-crafted jewelry, gorgeous Russian art collectibles, Cross pens, exquisite hair things (so glad I have daughters!), original art.
The Shops at Prudential combined with the unique kiosks add up to my favorite spot for one-stop holiday shopping in Boston.
And if you can't find what you want here, walk through the skyway to Copley Place - or head over to Newbury Street, just one block away.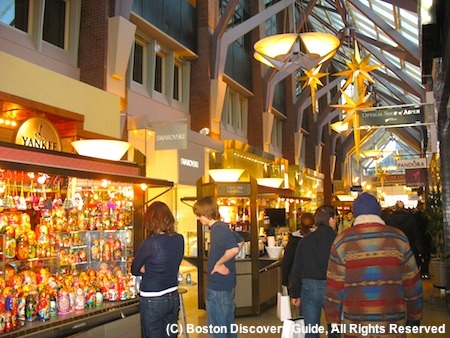 Special kiosks and carts extend the shopping options
2. Location, location, location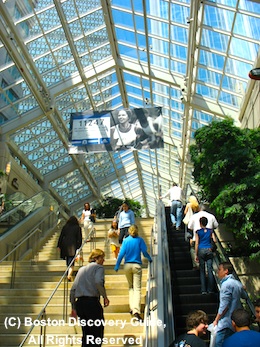 Of course Prudential Center's selection of popular and high-end retailers, unique boutiques, and excellent restaurants draws crowds of enthusiastic shoppers - but let's face it, being located right in the heart of Back Bay also helps.
You simply can't beat the convenience. With the Green Line/E Prudential subway station located next to the Huntington Ave entrance and the city's largest parking garage (3,800 spaces!) underground, getting there couldn't be easier - unless you're on foot.
Direct access from Pru Center to the Sheraton Boston Hotel (technically through the Hynes Convention Center) and the Mandarin Oriental Hotel as well as close proximity to most other Back Bay hotels means you'll never have to carry overflowing shopping bags too far if you're staying in this part of the city.
The shopping arcade occupies the floor just above street level, perched between Boylston Street and Huntington Avenue. Enter from either street and ride up the escalator under soaring skylights.
3. Dining at Prudential Center
In addition to a better-than-average food court for fast dining, Prudential Center also offers top-notch restaurants: L'Espalier, Legal Seafood, Wagamama, Cheesecake Factory, and Haru, to name just a few.
The crowning jewel, up on the 52nd floor, is famed Top of the Hub, known as a special occasion venue for romantic proposals, anniversary dinners, and celebrations with panoramic views of the city as a backdrop.
The food is also excellent.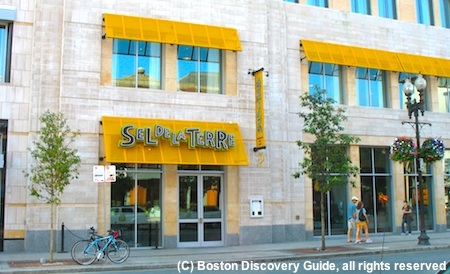 Sel de la Terre, where you'll enjoy some of the best southern French food in Boston
4. Ambiance
Considering that 51 floors of the Prudential Building tower over the shopping arcade, an amazing amount of light streams through the immense glass skylights.
Indoor gardens punctuate the long hall, and next to the shopping area - covering the roof of another part of the building complex - stretches the lush South Garden, with spectacular plantings and decorations throughout the year.
Massive skylights fills Prudential Center's "Winter Garden" with lots of sunlight
5. Views
The Shops at Prudential have something no other Boston shopping mall can boast: an elevator up to the city's highest public observation deck. (John Hancock Tower is higher, but has been closed since 9/11.) The Prudential Skywalk Observatory, on the 50th floor, features spectacular 360 degree Boston city views.
For fun sightseeing views closer to the ground, hop on a Boston Duck Tour right outside of the building.
Be sure to get a Boston Discount Card before you come so that you'll get free admission to both the Skywalk Observatory and the Duck Tour - it's the best way to save in Boston!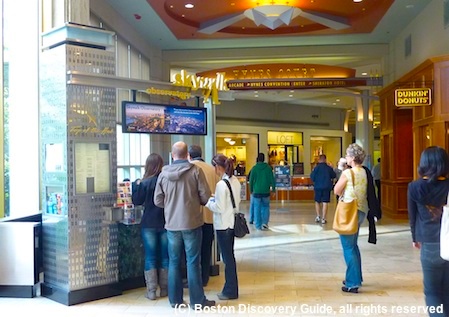 Take the elevator straight up to Top of the Hub and Prudential's Skywalk Observatory
Where to Stay: Hotels near Prudential Center
If you plan to shop a lot during your Boston visit, check out the Back Bay hotels next to Pru Center - some of Boston's best, and close to Newbury Street shopping as well!
Boston hotels closest Prudential Center include:
Sheraton Boston Hotel - Fabulous views, direct inside connection to Prudential Center, plus one of the largest indoor hotel swimming pools in New England
Mandarin Oriental - Luxurious 5-star hotel; wonderful amenities and on-site facilities; also direct access to Prudential Center
Lenox Hotel - Charming luxury hotel - ask for one of the rooms with a wood-burning fireplace
Colonnade Hotel - Another individually owned luxury hotel, across the street (Huntington Ave) from Pru Center - sleek and modern - super rooftop swimming pool
More Boston hotels with outdoor swimming pools
More Boston hotels with fireplaces
What's Quirky about Prudential Center
I feel confident in telling you that Prudential Center is the only Boston shopping mall with a statue of a naked man leaping through the air outside its entrance.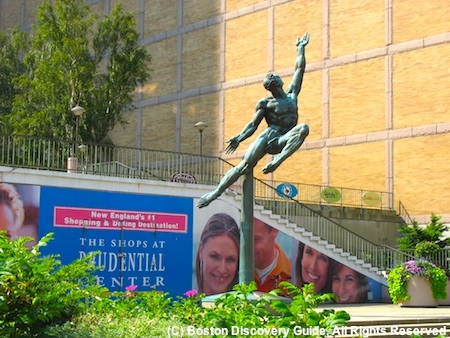 Photo of Quest Eternal by Donald DeLue
Now let me be clear - this a magnificent museum-quality statue. It's called "Quest Eternal" by Boston-born 20th century sculptor, Donald DeLue, and according to the nearby plaque, the 5-ton, much-larger-than-life-size cast bronze sculpture is "depicting man reaching for the heavens."
Perhaps it's meant to convey what one will find inside Pru Center, or suggest the aspirations of the Prudential Tower skyscraper . . . although the figure's outstretched hand seems to point more in the direction of Hynes Convention Center next door.
You'll see the statue near the Boylston Ave entrance, on a small plaza slightly above street level. Passers-by sometimes do a double-take when they notice it. As far as I'm aware, it's the only DeLue public monument in Boston, although Childs Gallery on Newbury Street usually has a number of his smaller pieces.
The Shops at Prudential - and Boston - are lucky to have this wonderful sculpture. It's just the location outside a shopping plaza that's . . . quirky.
Details and Directions
Location: 800 Boylston Street, Back Bay, Boston, MA
More information: 617-236-3100; website
Parking: Fee-based underground parking garage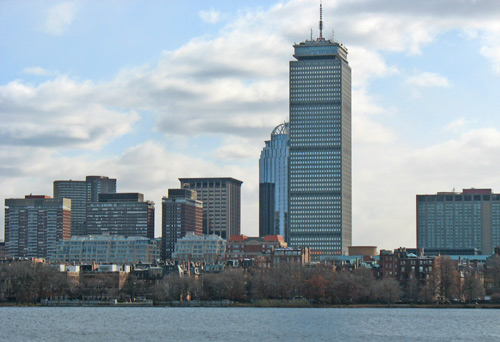 Photo of the Prudential buildings overlooking the Charles River in Boston
Like this Page? Please Share!
More Boston Shopping Malls to Consider
Boston Discovery Guide > Shopping > Malls > Prudential Center