Home >
Boston Coupons, Discounts, & Deals
Save BIG - How to Enjoy Boston for Half Price
Boston coupons, discounts, sightseeing passes, and deals can save you big money on almost every part of your vacation - attractions, restaurants, hotels, museums, sports events, tours, cruises, theater shows, sightseeing, and even day trips.
How big? Discounts start at around 10% and go up to 50% - 90% off. Use enough coupons and discounts, and you can slash the cost of your Boston vacation.
Here are my favorite discounts and coupons, plus tips for how you can use them to save BIG in Boston.


Quick Links: Boston Discounts by Category
Looking for the best way to save on hotels, attractions, or other categories? These quick links will take you straight to best deals, discounts, and coupons for each category. Find out how to cut your vacation costs with discounts, coupons, and deals.
If you need to enter a local zip code to find out what's available, use 02108 - that's Downtown Boston.
Save with these Boston Coupons, Discount Cards, and Deals
Go Boston Discount Card
Once you buy a Go Boston Card, you get free admission to about 60 of Boston's very top attractions. Savings can add up to 55%.
The New England Aquarium, whale-watching cruises, Fenway Park tours, Boston Duck cruises, the Beantown Trolley - these are just a few of the places where you can use your Go Boston card for free admission.
Read our tips about how to save with the Go Boston card
Get your Go Boston Discount Card now
Boston CityPASS Discount Card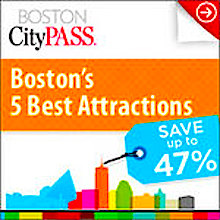 Boston CityPASS takes a different approach to giving you huge discounts on the city's top attractions.
Once you buy Boston CityPASS, you get free admission to 5 of Boston's top attractions. You have 9 days to use the card, so you can take a leisurely pace. Best of all, you can save almost 50% compared with paying admission for each attraction at the door.
Find out where you can get free admission with Boston CityPASS
More details about saving with Boston City Pass



Half-Price Boston Tickets for Theater, Shows, Sports, Cruises
Goldstar lets you enjoy Boston theater, comedy clubs, dinner cruises, concerts, sports, tours, and other entertainment for 50% off. This is where you'll find Boston's widest selection of HALF PRICE tickets.
How to benefit: As soon as you sign up, start looking at what's available. Tickets usually get listed a few weeks before the event date, so if you don't see what you want, check again later.
More about Goldstar and other half-price tickets
TripAdvisor Hotel Discounts
TripAdvisor is best known for providing hotel ratings of hotels and discounted rates from top discounters such as Expedia, but it also provides a quick way to compare prices at a glance - just click the yellow "Get Hotel Prices" in the box on the left to see it in action (enter 02108 if it asks you for a zip code).
But even better, TripAdvisor will also show you a list of hotels offering special discounts.
Some rates will strike you as sky high. So to find the biggest deals, look for "Great Value" after the hotel name.
Pssst!...click here to see TripAdvisor's Boston hotel deals
TicketLiquidator
Why pay full price for tickets?
Whether you want to go to a Boston Red Sox, Bruins, Celtics, or New England Patriots game, catch a show or comedy act in Boston's Theatre District, or enjoy one of our awesome concerts with world-famous stars like Madonna, Aerosmith, or Bruce Springsteen, you owe it to yourself to check for discounts.
TicketLiquidator specializes in discount event tickets - they usually even have them for kids' favorites like the circus.
More about where to find discounts, deals, and savings on tickets to Boston events
TicketNetwork
TicketNetwork offers another great way to save on Boston concerts, sports, shows, and other events.
Like TicketLiquidator, TicketNetwork sells tickets below or above face value. For the hottest concerts and playoff games, tickets will definitely be pricey, especially for the best seats - but for other events, you can usually score some great deals for below retail. (Read about my recent impulse purchase of a Red Sox ticket, and how much better I would have done going through TicketNetwork or TicketLIquidator.)
Find great tickets at great prices through TicketNetwork
Save 60% with these Boston Restaurant Coupons
Restaurant.com coupons give you a no-brainer way to get huge savings at participating restaurants, pubs, and even dinner cruises - up to 60% of the cost of your meal.
Here's how it works: You buy deeply discounted Boston coupons to use when you dine. For $10, you get a $25 certificate to spend at the restaurant. Or buy a $10 coupon for $4 - or a $50 coupon for $20. And shipping is free.
Many of Boston's top restaurants, pubs, and dinner cruises participate in this program. Right now, I'm seeing The Melting Pot, Riccardo's Ristorante, Sol Azteca, Davide, Turner Fisheries, Brasserie Jo, and Odyssey dinner cruises. Selections change all the time - so keep checking!
How you get these deals: Click here, enter 02108 for Boston's zip code (or enter a zip for another city), and get ready for your mouth to water as you look at the restaurant list.
Not in Boston? - Check your own location.
Expedia - Great Deals on Hotels, Flights, Cruises
Expedia offers deeply discounted flights, hotels, rental cars, and cruises. You'll often find the best savings when you choose a Vacation Package and save up to $525 on flight + hotel package deals.
Expedia also offers deeply discounted "unpublished" hotels where you select your hotel based on Boston neighborhood and number of stars. With Boston hotel rates at their highest in several years, you should check out Expedia's hotel deals and discounts.



Priceline - Bids, Deals, Deep Discounts!
Priceline is best known for its "name your own price" approach which can save you up to 60% - but did you know you can also find significant savings on specific Boston hotels, flights, and rental cars? Best deals usually show up at the last minute.
You'll get the biggest savings on their Boston Vacation Packages - flight plus hotel. They also offer a rental car option, but you won't need or want a rental car in Boston after you see how small and walkable it is, find out about the cost of parking, and experience our crazy local drivers - so go for just the flight and hotel combo.
If you're planning to go on a cruise to Bermuda, Europe, the Caribbean, or Canada out of Boston's convenient CruisePort, Priceline usually offers the best last minute cruise deals.
More about saving with Priceline on cruises from Boston to Bermuda.
Boston Hotel Discounts for College Campus Tours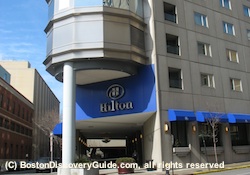 If you're planning a visit to one or more of our 60+ colleges and universities, you'll be happy to know that some Boston hotels will give you a campus visit discount on your hotel rate.
Be sure to ask for this discount when you make your reservations - after all, with college tuition bills looming in your future, every penny counts!
Find out which Boston hotels offer a campus visit discount
MBTA Tourist Pass for Boston's Subway ("T"), Ferries, More
Boston's MBTA transit authority offers a discount deal for Boston visitors: a Weekly Visitor's Pass
You can use your Visitor's Pass on the subway (the "T"), local buses, Inner Harbor ferries (Downtown Boston to Charlestown), and Zone 1A of the Commuter Rail.
Find out why MBTA Visitor Pass gives you a great deal


Like this Page? Please Share!
More Boston Savings
Home > Coupons >