Top Photo: Water taxi heading to a dock on Boston's waterfront, with a plane overhead, (c) Boston Discovery Guide
Boston Discovery Guide is a reader-supported publication. When you buy through our links, we may earn a commission at no additional cost for you. Learn more
---

Thanks for your nice words about Boston Discovery Guide!

The "official" street address for the Black Falcon Cruise Terminal (recently renamed Flynn Black Falcon Cruise Terminal) is One Black Falcon Avenue.  Good that you asked, because if you do a web search, you'll see other addresses listed, such as Summer Street and Boylston Street, but they're totally incorrect.
The easiest and fastest way to get the Cruise Terminal (you may also see it called "CruisePort") from Boston Logan Airport is by water taxi.
You'll see signs for the water taxis at the airport. Follow the signs, and let the water taxi dispatcher know that you want to go to the Cruise Terminal. It's a very short ride - less that 10 minutes - but have your camera or phone handy as you can get some terrific shots of downtown Boston.

As for hotels, the Westin Boston Waterfront hotel is the closest to the CruisePort (about half a mile, or a 10 minute walk, assuming you can manage your luggage yourself). Just a little farther (500-600 feet) are the Seaport Hotel, Renaissance Boston Waterfront, Aloft Boston Seaport, and Element Boston Seaport.
However, if you are coming directly from Logan Airport to your hotel, the Seaport Hotel is the most convenient because there is a water taxi stop across the street (tell the dispatcher you're going to the Seaport). The Seaport Hotel also has a Silver Line "T" stop right across the street. You can take the Silver Line to the Cruiseport terminal, and also to/from the airport instead of a water taxi, if you feel so inclined.
Here is a hotel map from Booking.com showing all the hotels in the vicinity of the Cruise terminal. Just enter your dates, and you can see availability and rates:
Although all of the hotels in this area offer good dining options, the waterfront along Boston Harbor is lined with some of the city's top restaurants. Find out more about them here.
You can easily reach the Freedom Trail on foot from the hotels near the CruisePort, or hop on the Silver Line to South Station, change to the Red Line, and exit at the Park Street on Boston Common where the Freedom Trail begins. The popular Freedom Trail tours with costumed guides also begins at the Common.
Hope you have a wonderful time in Boston - and a terrific cruise!

Publisher, BostonDiscoveryGuide.com
---
Transportation Solved & Luggage Stored? Best Ways to Tour Boston
Now that your luggage is stored, check out Boston tours for fun ways to see the city!
---
More Fun Ways to See Boston Without Driving or Parking
---
How to Get Around Boston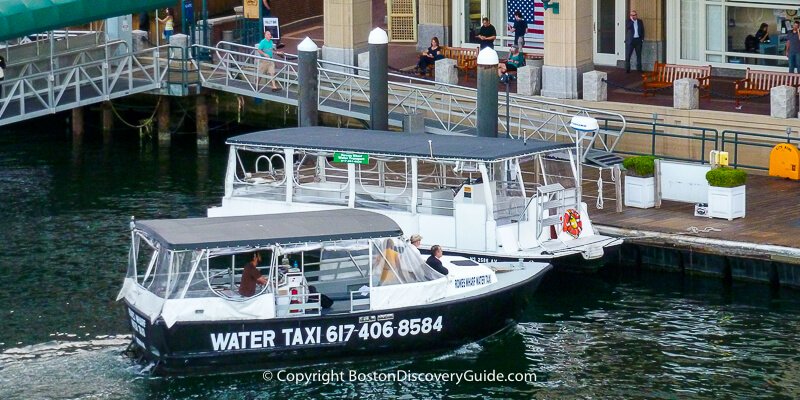 ---
---
Need a Boston Hotel or Apartment?
Use this handy map from Booking.com to find the perfect place to stay. Just enter your dates to find what's available, see the best rates, and make your reservations.