First Night Boston 2015
Boston's Biggest New Year's Eve Celebration

First Night fireworks in Boston
Photo courtesy of Bill Damon via Creative Commons license
First Night Boston welcomes 2015 with the New Year's Eve celebration that marks the beginning of each new year in Boston!
Festivities during the 11-hour event include two fireworks shows, a huge Grand Procession parade down Boylston Street, family-friendly activities, live musical performances, and spectacular ice sculptures by renowned artists.
A special Fireworks Cruise (additional tickets required) departs from Long Wharf at 11pm.
Over 1 million revelers typically turn out for Boston's signature New Year's Eve event.
Plan to be among them for First Night 2015!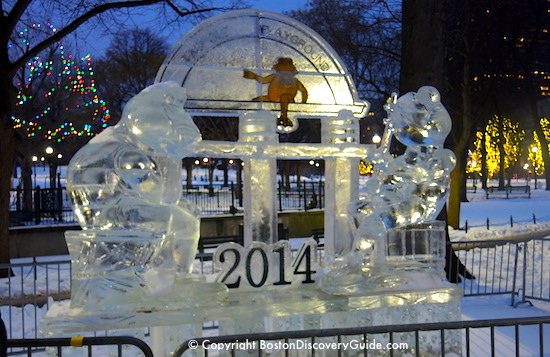 First Night ice sculpture in Boston Common depicting Tadpole Playground

First Night Boston Activities & Events
First Night 2015 will see the return of favorite events from previous years:
2 fireworks shows - Boston Family Fireworks at 7pm on Boston Common, and Midnight Harbor Fireworks
The spectacular Grand Procession with marching bands, participation from the Gay Pride Parade, art cars, costumes
An all-day Puppet Festival and other family events at the Hynes Convention Center
Ice sculptures along the Grand Procession route, around Copley Square, and elsewhere in the city
Lots of live music by great performers, including headliners Yo La Tengo (Hynes Convention Center, 9:30pm) and Patty Larkin & Dom Flemons (Berklee Performance Center, 8pm)
A special Midnight Fireworks Cruise (departs 11pm from Long Wharf and returns at 12:30am; tickets required)
First Night Boston is the oldest, largest, and most elaborate New Year's Eve event of this type in the U.S. It's fun, alcohol-free, and designed to entertain the whole family. It has inspired dozens of similar events across the country.
First Night has been part of what makes our city special since 1976, and continues to be the best Boston New Year's Eve celebration.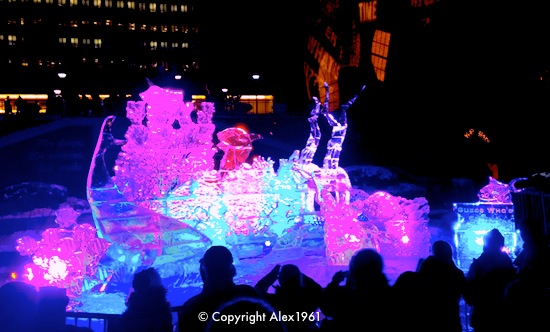 One of the fabulous First Night Boston ice sculptures in Copley Square
Photo courtesy of Alex1961 via Creative Commons license
Essentials: First Night Boston
When: New Year's Eve, December 31st, from 1pm to just past midnight
Where: Copley Square in Back Bay, Downtown, and other Central Boston neighborhoods
Cost: $10 (children under 4 admitted free); buy at Boston CVS stores and Bank of America branches starting in early December; before then, buy at www.mayorsholiday.com, which is a program of ArtsBoston
How it works: You buy a First Night Boston button for $10, wear it, and get general first come/first served admission to all indoor events and shows (you can go to all outdoor events for free without a button).
Bonuses: Some Boston businesses and museums give button holders discounts earlier in December and/or in January.
Boston hotels for New Year's Eve - 2015 discounts and special packages:
"NYE on the Wharf" special at Boston Harbor Hotel: Bottle of Moët champagne, chocolate-covered strawberries, and more!

- Boston New Year's Eve hotel discounts, special packages, and deals
Public Transportation for First Night: Although Boston's subway normally stops service between 12:30am and 1am, the MBTA provides an extended subway and commuter rail schedule for First Night until 2am. The T (subway) will be free between 8pm and 2am. More about Boston's subway service
Parking: Taking the T, Boston's subway, is best - but if you do drive, try parking garages in Fenway/Back Bay; to be closer to downtown, try garages near TD Garden and also in the Theatre District
Premium Seating for Performances and tickets for the Midnight Fireworks Cruise: Available for headliner performances and the Boston Harbor Midnight Fireworks Cruise. Tickets for each event/cruise cost $35, which also includes the $10 First Night button; purchase in advance as these tickets always sell out. Tickets for 2015 are available for Yo La Tengo, Patty Larkin & Dom Flemons, and the Midnight Fireworks Cruise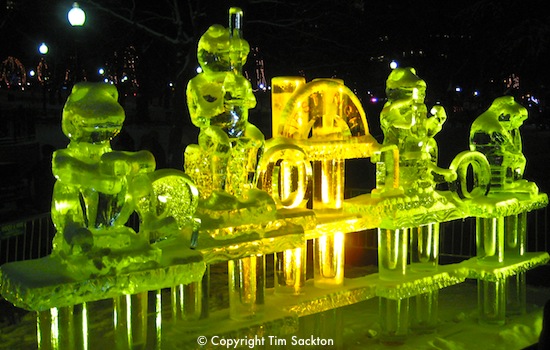 First Night Boston ice sculpture in Copley Square
Photo courtesy of Tim Sackton via Creative Commons license
First Night Ice Sculptures
Giant ice sculptures by renowned ice sculptors are a signature event of First Night and draw huge crowds of spectators.
Look for the huge sculptures along the Grand Procession route, at Copley Square, and at other locations throughout the city.
If you've never see ice sculptures taking shape before, you owe it to yourself to head over to Copley Square or Boylston Plaza (right in front of Prudential Center at 800 Boylston St) and watch these magicians at work.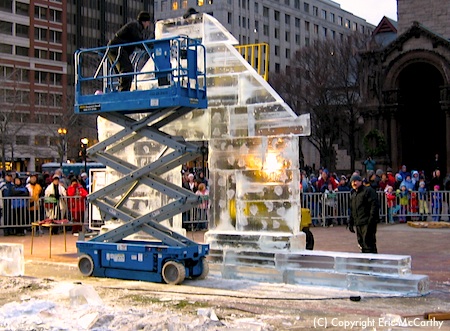 Elaborate ice sculpture carved for First Night Boston
Photo courtesy of Eric McCarthy via Creative Commons license
Each finished sculpture weighs 30-45 tons, so you can imagine the massive blocks of ice required for making them. Sculpturing chunks of ice this huge is not a dainty process - ice artists use chain saws to carve their elaborate works of art.
The best time to watch the ice artists carve the sculptures is normally in the morning of New Year's Eve, December 31st. The artists start as early as 9am - sometimes even earlier if the temperature is abnormally warm.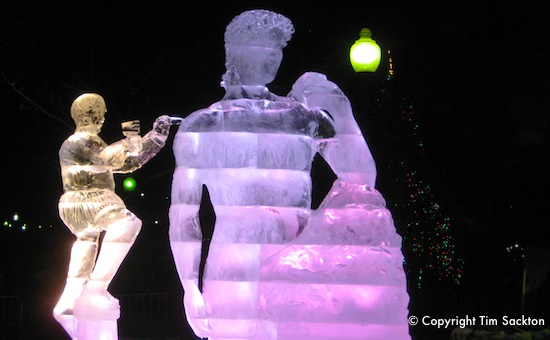 First Night Boston ice sculpture in Copley Square
Photo courtesy of Tim Sackton via Creative Commons license
This First Night ice sculpture by Donald Chapelle shows the artist David sculpting Michelangelo.
The huge ice sculptures look spectacular after dark on New Year's Eve when they're lit by brilliant colored lights, but watching them being created is almost more fascinating.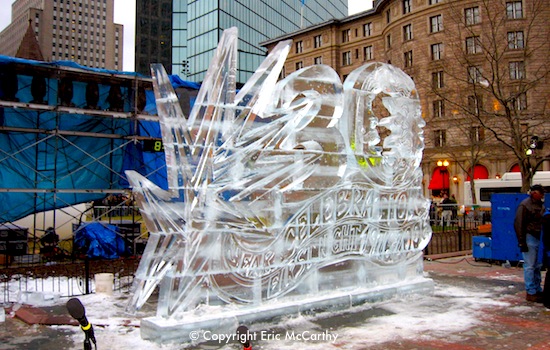 First Night Boston ice sculpture in Copley Square
Photo courtesy of Eric McCarthy via Creative Commons license
First Night Family Events and Fireworks
First Night Boston offers numerous family oriented events throughout the day, as well as early-evening fireworks on Boston Common.
The Boston Children's Museum, Old State House, and Old South Meeting House - terrific places to bring kids - offer free admission between 10am and noon (these details are from last year - we'll report any changes once more info is available in a few weeks).
Starting at 1pm, you'll find plenty of children's events throughout the afternoon hours. Puppets, acrobats, music, jugglers, story tellers, crafts, and performers provide plenty of family-friendly entertainment.
Most First Night kids' activities take place in Hynes Convention Center and Prudential Center. If you're the parent of young children, you'll appreciate the easy access to plenty of bathrooms. Plus, you can easily get here by T or park under the Pru - no need to be outside with the little ones if we get hit, as sometimes happens, with frigid temperatures.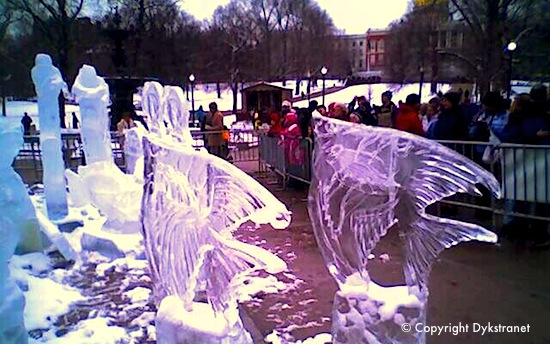 First Night Boston ice sculpture in Boston Common
Photo courtesy of Dykstranet via Creative Commons license
At 5:30pm, the Grand Procession Parade began at the Hynes Convention Center and marched down Boylston Street. Featuring a different theme each year, the hour-long procession included brass bands, huge moving sculptures, elaborate floats, puppeteers from the Back Alley Puppet Theatre and Puppeteers Cooperative, and costumed participants.
At 7pm, 12 minutes of glorious Boston Family Fireworks launch from the Common's ballfield. The best place to watch the fireworks is from the sloping hill across from the field, but you'll also get a good view from most other parts of the Common. The early hour lets families with young children celebrate the New Year - and get to bed at a reasonable hour.
New Year's Boston Evening Events and Midnight Fireworks
At just before 12am, Countdown to Midnight begins at Copley Square and Boston Common. When the clock strikes 12, another fabulous firework display over Boston Harbor welcomes the first day of the New Year.
The best place to watch the First Night Boston midnight fireworks show is anywhere along the waterfront - Downtown, South Boston Waterfront, the North End, Charlestown, even East Boston (take the T's Blue Line from the New England Aquarium). Castle Island also offers great views.
You can also watch from on board the Midnight Fireworks Cruise offered by Boston Harbor Cruises and departing from their dock at Long Wharf. Tickets are $35, and always sell out far in advance - so if you want to go on this special cruise, don't wait to book your tickets.
You'll also have great views of the fireworks views from the small plaza overlooking Faneuil Hall at Government Center, although this area can get crowded. In general, the biggest crowds of spectators generally cluster along the South Boston Waterfront and the Downtown Waterfront around the Boston Harbor Hotel (which offers some awesome New Year's Eve special packages).
Watch this short video to get a preview of what you'll see!
First Night Sponsors, Supporters, and Volunteers
Special thanks for bringing First Night Boston to all of us this year go to the many partners, sponsors, and supporters who are making this wonderful event possible:
Sponsoring Partner: The Highland Street Foundation, huge supporter of free and affordable access to the arts in Boston for the past 25+ years
Sponsors: City of Boston, Bank of America, State Street, Verizon, Gillette, Liberty Mutual, Mabel Louise Riley Foundation, Harvard Pilgrim Health Care, Blue Cross/Blue Shield of Massachusetts, Massachusetts Cultural Council, Massachusetts Convention Center Authority, Greater Boston Convention & Visitors Bureau
Supporting Partners: WBZ, Sheraton Boston Hotel, ArtsBoston, CVS, Boston Globe, Panaroma, MBTA (the "T"), Constant Contact, J.P. Licks Ice Cream, Voss Artesian Water, Berklee College of Music
In addition to supports and sponsors, volunteers make this event possible. If you'd like to volunteer, you can find more information and a sign-up form on the First Night website.
Any Questions about First Night in Boston?
Have a question about First Night Boston? Ask, and I'll do my best to answer.

First, though, check out what others have asked - I might have already answered the same question for someone else.

When asking your question, please fill out the whole form, including lines for name and location that say "optional."

After you send your question, you'll see a page that thanks you and asks you to set notification options. I highly recommend that you check the first 2 boxes so you'll be notified when I reply - otherwise, you'll have no way of knowing other than checking the website periodically. When you see my reply, please let me know if it was helpful!

Thanks for getting in touch, and enjoy your visit to Boston!

Susan

Questions from Others about First Night in Boston
Here's what others have asked:

Like this Page? Please Share!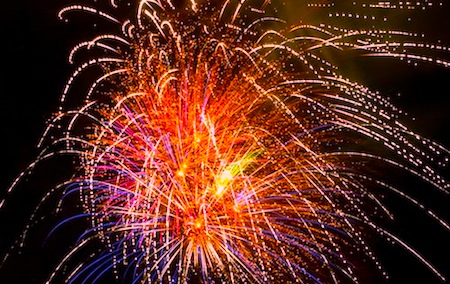 Photo courtesy courtesy of Kriswho
Find More Top Boston Events Every Month
Boston Discovery Guide makes best efforts to update event information but we cannot guarantee the information as it may change without our knowledge. Please confirm details with the event sponsor prior to attending.
Creative Commons license may be seen here
Return to top of First Night Boston article
Boston Discovery Guide > Events > First Night