Boston Swan Boats
Enjoy a ride on the Swan Boats in the Public Garden
From April through much of September, the Boston swan boats glide across the Lagoon in the Public Garden, just as they have every year since 1877.
Swan boat season in Boston begins in mid-April, and lasts through the last Sunday in mid-September.
Going for a swan boat ride is one of the favorite Boston summer activities for a lot of people, tourists and locals alike.
You'll see plenty of mallard ducks, the island from Make Way for Ducklings , and perhaps even a stately pair of beautiful real swans.
If you're visiting Boston and looking for things to do that capture the essence of the city, the swan boats should be near the top of your list.
Why are the Boston swan boats swans?
Back in the 1870s, the City of Boston granted a "boat for hire" license to Robert Paget. At that time, rowing small boats across the Public Garden's lagoon was a favorite activity of many Bostonians.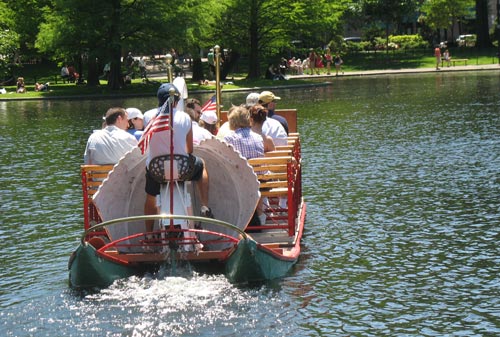 Paget, whose descendents still own and operate the Boston Swan Boats business, decided to introduce a new kind of pleasure boat based on catamarans powered by a foot-propelled paddle wheel mechanism. In effect, Swan Boats are operated somewhat like bicycles . . . except that they float in the water, lack wheels, and carry up to 20 passengers.
Inspired by Lohengrin , a popular opera by Richard Wagner in which swans pull a boat carrying a knight on a mission to rescue a beautiful maiden, Paget decided to camouflage his boat operators with the shape of a much-larger-than-life swan made from copper.
What are the Boston swan boats like today?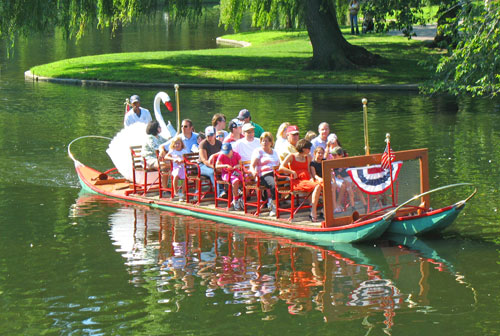 Each swan boat is constructed from 2 pontoons, 30 feet long, about 3 feet wide, and spaced about 3 feet apart with wooden flooring on top. Six wooden benches with side rails provide seating for up to 20 passengers.
The grandson of Robert Paget, also named Robert Paget, built the oldest of the current fleet of 6 boats in 1918.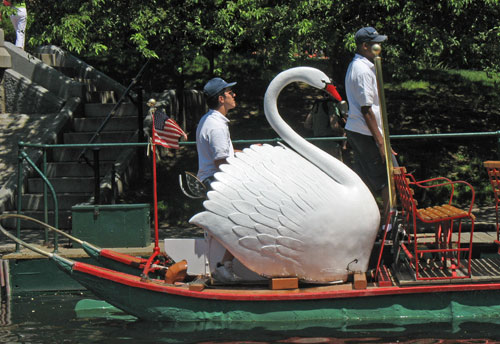 The swans, still as beautiful as ever, are now made from white fiberglass.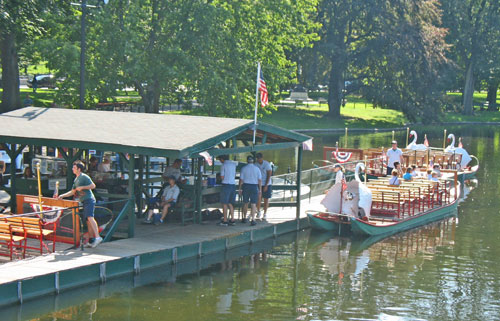 The swan boats pull up at a wooden dock outside the ticket building. Crew members carefully guide passengers on board.
A crew member, mostly hidden behind the boat's swan, pedals and steers each boat in a figure-eight pattern around the Public Garden's lagoon at a leisurely speed of about 2 miles per hour. Many of the crew members - mostly local college students - are athletes who see the pedaling as a great workout for their leg and thigh muscles.
The Boston Swan Boats are unique - they're the only swan boats of this type in the world.
What do you see when you go for a swan boat ride?
The swan boats initially head toward the southern end of the lagoon. You may notice tall Boston buildings in the distance . . . or you may focus only on green grass, rippling water, and leafy trees.
As your swan boat slowly circles the lagoon's edge and then turns north, you'll see the expanse of water stretching out ahead of you, and perhaps another boat pushing off from the dock. If you're a fan of E. B. White's The Trumpet of the Swan , you may imagine Louis, the mute swan, swimming along by the side of your boat and playing his trumpet.
You'll pass under the Public Garden's beautiful 19th century suspension bridge , and then emerge in the north part of the pond.
You'll circle the island make famous by Robert McCloskey's Make Way for Ducklings. This is the spot where Mrs. Mallard - a fictional duck supposedly modeled after an actual wild duck who decided to make her nest in a Swan Boat - brought her 8 young ducklings to live after hatching them in the nearby Charles River.
Look closely, and you may see one of Mrs. Mallard's descendents sunning herself on the duck ramp going up to the island.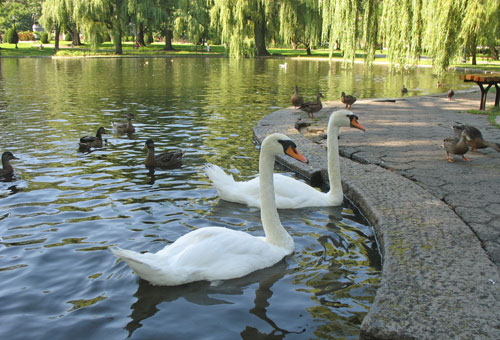 You may also see the Public Garden's two real swans, a pair that returns every spring (after spending the winter at Boston's Franklin Park Zoo) to grace the lagoon with their presence.
After about 15 minutes of peacefully floating around the pond, your Swan Boat glides back up to the dock.
Too short a ride? You can always get back in line and go for another. The tickets are so inexpensive that you can ride around for an hour and spend less than you would for lunch in a nearby restaurant.
If you have a Boston discount card, you may be able to ride on the Swan Boats for free.


Where do the swan boats go during the winter?
At the end of each summer season, the crew and Paget family members disassemble the swan boats, a process that takes roughly 4 days. Paget family members (4th and 5th generation descendents of Robert Paget) store the pieces in the basements of their houses for the winter.
When spring comes, they bring the pieces back out, reassemble them, and launch the swan boats for another season of pleasure in the Public Garden.
Details and directions to the Boston Swan Boats
Location: Public Garden, which is next to Boston Common and bordered on its other sides by Beacon Street, Arlington Street, and Boylston Street
Nearest T station: Green Line/Arlington
Open: Daily from mid-April to mid-September; April to mid-June: 10am - 4pm; mid-June to Labor Day: 10am - 5pm; after Labor Day: noon - 4pm weekdays, and 10am - 4pm weekends
Cost: Adults $2.75, Children (2 - 15 years) $1.50, Seniors $2.00
Nearest parking: Boston Common Garage (underground), entrance on Charles Street
For more information: 617-522-1966; website
GoBoston Card

51 ways to save up to 55%

On attractions, tours, cruises

CityPASS

5 top attractions in 9 days

47% savings
More fun Boston activities:
Like this Page? Please Share!
Boston Discovery Guide > Boston Attractions > Boston Swan Boats