Boston Discovery Guide > Museums >
ICA Boston
Institute of Contemporary Art Museum on the South Boston Waterfront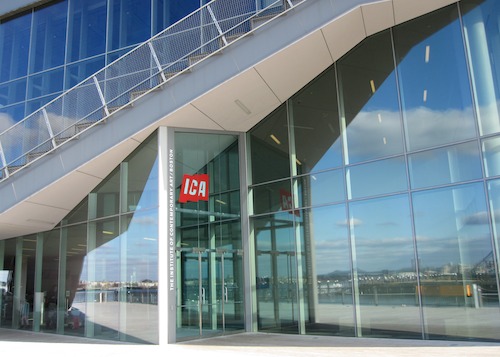 ICA Boston - Entrance on the West Side
Boston's Institute of Contemporary Art - usually just called ICA Boston - is more than another art museum.
Visit ICA Boston, and you'll discover a breath-taking space on the South Boston Waterfront filled with performances, films and videos, presentations, and galleries filled with contemporary artists' explorations of the physical and unseen world.
Although the spectacular new building has put the Institute of Contemporary Art Boston on the map as a Boston tourism attraction as well as a popular local spot, it has been a presence in the city since 1936.
ICA Boston presented the first US shows for artists such as Georges Braque and Edvard Munch, and exhibited Andy Warhol, Robert Rauschenberg, and Roy Litchensten pieces early in their careers.
What You Can Enjoy at ICA Boston
ICA continues to focus on identifying and presenting the most significant and thought-provoking contemporary art from emerging and established artists. For example, recent shows featured Anish Kapoor, Tara Donovan, and Cindy Sherman, and works on view encompass a wide spectrum of other contemporary artists.
The dramatic space provided by the new building allows ICA to blur boundaries between performance, art, film/video, presentations, and contemporary culture - sometimes with unexpected results.
In 2009, the Boston Police arrested graphic artist Shepard Fairey on two outstanding warrants related to graffiti complaints just as he was heading into ICA to appear as a guest disk jockey at a Friday night dance event to kick off his first museum show. Instead of getting to mingle with the artist, the 750 attendees learned of Fairey's arrest. The graffiti complaints alleged that he had put up his posters in public spaces.
ICA's eclectic programming draws crowds from diverse interest groups. If you're interested in contemporary dance, music, performance, or films, the ICA schedule is a good place to check. You'll also find some ICA events listed on the Boston Events monthly calendars.
Boston Insider Tip: Not sure if you like contemporary art? Visit ICA Boston for free on Thursday evenings between 5pm and 9pm. ICA also admits families (up to 2 adults with children 12 and under) free on the last Saturday of every month except December. Get free admission to Boston ICA anytime when you have a GoBoston discount card.
Essentials - ICA Boston
Admission, Discounts, Free Admission to ICA Boston: $15 general admission; free for everyone on Thursdays from 5pm - 9pm; free for families (up to 2 adults accompanied by children 12 and under) on the last Saturday of every month except December. Free anytime with a GoBoston discount card.
Location: 100 Northern Avenue, South Boston Waterfront
Stay: South Boston Waterfront Hotels
Eat: On-site Water Cafe. For other neighborhood choices, try the Barking Crab, the Daily Catch at the Courthouse, or walk east (away from the city) on Northern Ave to Legal Harborside and waterfront restaurants.
Park: You'll see plenty of reasonably priced parking lots and garages in the neighborhood.
Get there by T: Red Line/South Station - about a 6-10 minute walk, or take the Silver Line Waterfront from South Station to the Courthouse stop, and walk about 1 block east to the ICA.
More information: ICA website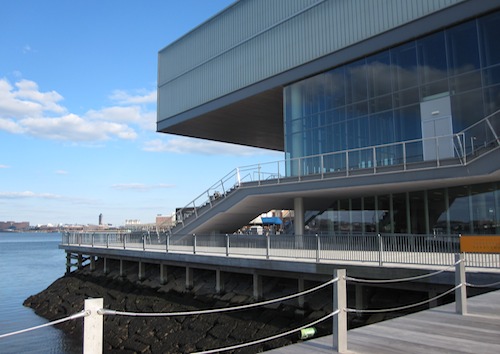 ICA - Overlooking Boston Harbor
More to see and do near ICA Boston:
Like this Page? Please Share!
Boston Discovery Guide > Museums > ICA Boston