Home > Boston Shopping > Shopping Malls >
Patriot Place
Shopping & Dining Next to Gillette Stadium
Gillette Stadium to Patriot Place - Just a 2-minute walk
If you are looking for the perfect combination of entertainment, sports, dining, and shopping, you can't do better than Patriot Place, located just 22 miles south of Boston.
Not only is Patriot Place a huge and fabulous Boston shopping mall and entertainment complex . . . it also wraps around state-of-the-art Gillette Stadium, home field for Boston's football team, the New England Patriots, as well as for the New England Revolution soccer team.
What you'll find
- Gillette Stadium
- The Hall
- restaurants and bars
- shops
where to stay
- renaissance
- other
getting there
parking
what else in the area
- wrentham outlets
-comcast center
Gillette Stadium also stages some of the biggest Boston concerts showcasing hugely popular groups expected to draw large crowds, such as U2 and Bon Jovi. You'll even find an occasional trade show here.
Located on 800 acres in Foxborough 22 miles south of Boston, Patriot Place is the dream-child of Robert Kraft, owner of the championship-winning Patriots since 1994. When Foxboro Stadium, also owned by Kraft on this same site, deteriorated too much to provide a proper home for the Patriots, Kraft first tried to find a new site.
After attempting to obtain public funding to build a new stadium in South Boston - and even, at one point, in Connecticut - Kraft finally used his own money to build the complex of his dreams on land that he already owned surrounding the old stadium.
Very smart move.
The advantage of controlling financing for the project meant that Kraft could realize his own vision for a sports-centered stadium and entertainment complex.
And what a vision it is!
Kudos to Robert Kraft for not only envisioning Patriot Place and the new Gillette Stadium, but perhaps even more important, doing such a great job in making his vision a reality.
Here's what you'll find:
Patriot Place is far, far more than a mall next to a sports complex - it's what you might call "entertainment retailing," a shoppers' version of an amusement park plus an on-site hotel and even medical facilities.
Sure, you can buy a new sweater or pair of shoes . . . but you can also purchase many different varieties of entertainment here as well. In some ways, it's like other Boston shopping malls - but on steroids!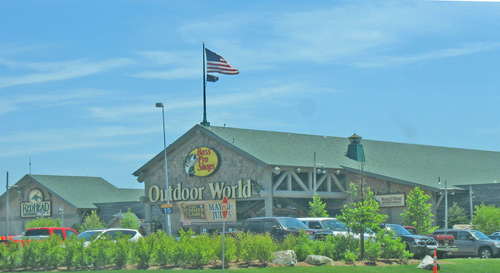 At the south end of the complex, you'll find the only Bass Pro Shops in New England.
Filling this gigantic space are a lodge-like bar complete with fireplace, a shooting gallery, all the sporting goods you can possibly imagine, stuffed animals hanging from the walls, and a spectacular tank of game fish.
If you like to hunt, fish, camp, boat, hike, or dress or decorate your home in a way that suggests that you do, you may want to spend your whole Patriot Place visit here . . . forget the rest of the mall and even Gillette Stadium! If you get hungry, there's a snack bar. If you want to contemplate nature, head to the telescope-equipped observation deck looking out over nearby wetlands. If you love Bass's outdoor gear, you'll have fantasies about moving in.
In the main mall area itself, you'll find stores with an emphasis on athletic and casual clothing, plus sports equipment. Stores like Old Navy, Reebok, Puma, Eastern Mountain Sports, and Hollister take center stage here.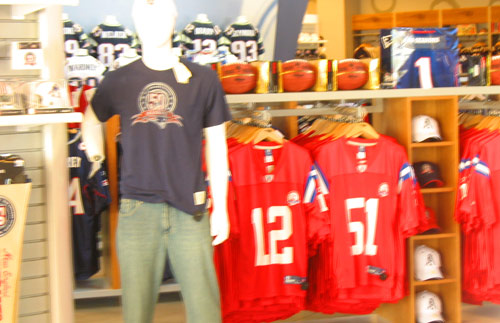 You can find all the Patriots gear you could possibly want in the Patriots Pro Shop.
In a slightly separate area between Bass Pro Shops and the main shopping mall areas, a strip of stores including Staples, Bed Bath and Beyond, and The Christmas Tree Shop provide lots of shopping opportunities for home and office.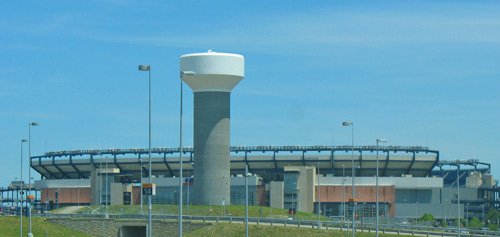 In the center of the Patriot Place shopping mall, surrounded by stores and restaurants, is Gillette Stadium itself. You see it - how could you miss it? - when you pull into the huge parking lot, but once you're among the stores, it's surprisingly hidden at many points.
Until you turn a corner and come right up to the stadium, you don't really notice it, which is part of the genius of this mall's design. If you have tickets, the stadium is a destination, and you eat and shop along the way.
But if you're not going to a game, you're not distracted (at least most of the time) by a stadium that you're not going into. Instead, you can focus on all the other entertainment possibilities.
Where to get a drink before and after a Patriots game in Gillette Stadium
Whether the Patriots win or lose, you'll find plenty of great places to get a drink near Gillette Stadium. Bar Louie, CBS Scene Restaurant and Lounge, and Tastings Wine Bar and Bistro are closest to the stadium.
In the Renaissance Boston Hotel at Patriot Place, you'll find Twenty8 Food and Spirts.
And for something really different, try the cozy Blue Fin Lounge right in the Bass Pro Shops.
Most of the other restaurants such as Davio's and Skipjacks also have robust wine, beer, and specialty drink offerings as well. You can enjoy drinks with your post-game dinner, and wait for crowds to thin out before leaving the parking lot.
Entertainment Options in Patriot Place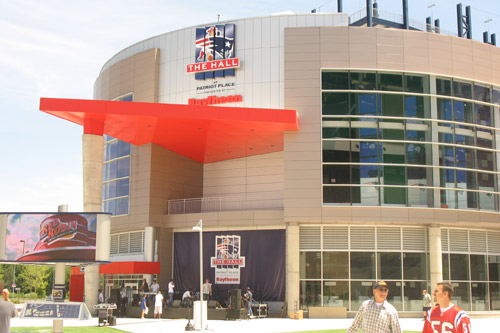 Patriot Place even has its own museum - The Hall at Patriot Place. The interactive and multimedia presentations recount the history and greatest moments of the New England Patriots as well as football in New England.
However, the entire complex has a sports theme, with lots of sports images everywhere you look. Patriot Place is certainly the most visually interesting of all Boston shopping malls.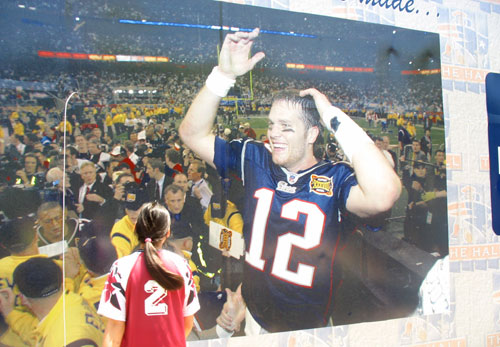 Giant murals, like this one of famed Boston Patriots quarterback Tom Brady (being viewed by one of his biggest fans), celebrate the team.
And that brings us to the north end of the Patriot Place mall - the Showcase Cinema De Lux. This plush state-of-the-art movie theater provides every comfort for watching the latest blockbuster movies. What makes it a special destination, though, is the balcony.
Up in the balcony, behind velvet ropes, you'll enjoy a lounge-like waiting area with its own bar where (for a fee) you can watch TV, much on popcorn and other snacks in a comfortable environment while you wait for your movie begins.
Seen all the movies? Go next door to Showcase Live, a 16,000 square foot world-class entertainment space featuring live music, comedy, children's theater, and special programming.
Patriot Place Restaurants
You'll find a wide range of choices - everything from Baskin Robbins, burgers, and pizza to Skipjack's Seafood Emporium (check out their fabulous Sunday brunches from 10am-2pm) to Davio's mouth-watering Northern Italian cuisine.
Happily, you'll find that the delicious choices at the casual eateries are as affordable as at mall food courts. And don't forget that the sports bars also serve very good casual food.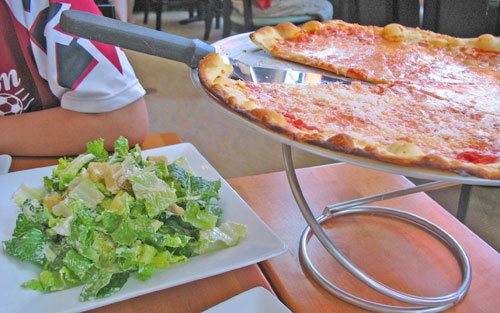 If you normally associate shopping malls with less-than-wonderful food court offerings, don't worry - you'll find delicious things to eat at Patriot Place.
For something special, try Tastings Wine Bar and Bistro. In addition to fabulous food, they offer great wines from all over the world by the glass or by the bottle. In warm weather, you can enjoy all of this on a patio looking out toward the stadium.
Hotels near Patriot Place
You can stay right next to Gillette Stadium and the shopping complex in the huge, luxurious pamper-yourself-for-the-weekend Renaissance Boston Hotel and Spa.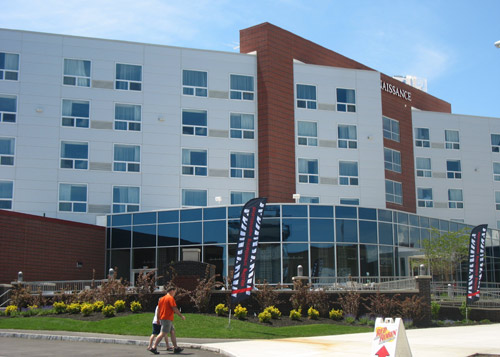 Of course, Patriots fans will enjoy staying in the Renaissance Hotel for a weekend of celebration. However, Significant Others, who may be somewhat less enthusiastic about football but who love Boston spa hotels, will also find this the perfect refuge.
However, you'll find other excellent options nearby. Although rates sometimes rise during big-event weekends, it pays to compare rates at several hotels, as you can usually find some excellent values here.
Patriot Place and Gillette Stadium Map
Here's a map showing Patriot Place and Gillette Stadium off of Route 1 in Foxborough. You'll see plenty of signs to the complex from Route 1.
Despite the size of the huge outdoor lots, parking is very convenient. The lots are also designed so that wherever you park, you're only a short distance from the shopping mall.
Details and Directions
Location: Route 1, Foxborough, MA
More information: Patriot Place website
Parking: A wide range of options are available to retail and Gillette Stadium visitors. Free outdoor parking lots are always available to retail customers, although time may be limited to 2 hours on game days. Fee-based parking is available for game attendees. Shuttle bus service from the parking lots to Gillette Stadium is available. Valet and premium "VIP" parking services are also available for a fee. Check the website for details.
If you love Patriot Place, check out:
Like this Page? Please Share!
Boston Discovery Guide > Shopping > Patriot Place