How to Get to Gillette Stadium from Boston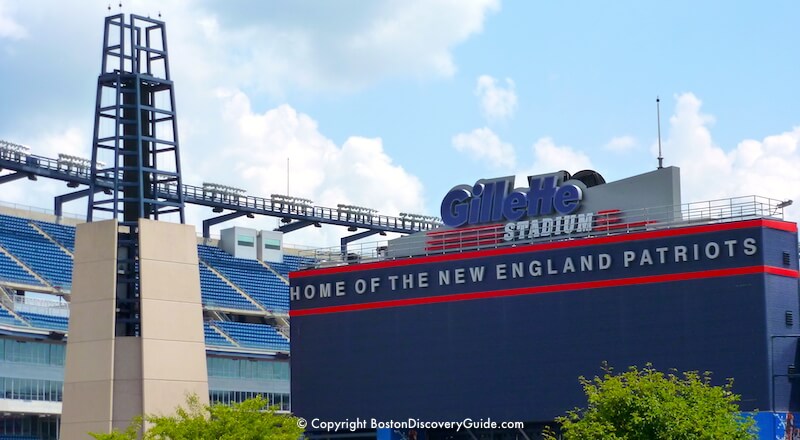 If you want to get to Gillette Stadium from Boston without driving your own car, you'll find several good options, including public transportation. However, your choices will depend on the event you plan to attend.
If you're going to a New England Patriots game, you can take the Gillette Stadium train (sometimes called the Patriot Train) directly to Patriot Place, where the stadium is located.
But for concerts, New England Revolution games, and even just shopping next door at Patriot Place, getting to Gillette Stadium requires a little more creativity.
If you've ever driven back to Boston after a game or concert and spent hours on the clogged highway, you'll understand the appeal of taking the train to Gillette Stadium.
Even though the stadium located in Foxboro Massachusetts is only 22 miles south of the city, the drive back can take forever because of how the traffic backs up. Trouble is, you're not really driving...you're just sitting in the bottlenecks around the parking lots.
So keep reading to find the best transportation options to get to Gillette Stadium from Boston - and back - based on each type of event.
Teams sporting names such as the Dragon Boat Club of Boston, MIT Transgenic Dragons, The Boat for Kids Who Don't Paddle Good, the Wellness Warriors, and MathWorks Chinese represent clubs, businesses, schools, and communities.
Although races start early in the morning, cultural activities begin at noon with the "Eye-Dotting Ceremony."
Accompanied by traditional Chinese drums, painters apply dots around the eyes of each boat's dragon as part of this ancient ritual, believed to give the dragons the power to soar.
Map Showing Where to Watch the Dragon Boat Race
Race seeding trials take place on Saturday at the MIT Pierce Boathouse dock.
Races on Sunday take place in the Charles River, with docks on the Boston side. The races start between the River and Western Avenue Bridges, near Western Ave, and end near the Weeks Footbridge. Those bridges also provide excellent spots for viewing the Dragon Boat races.
Although you can also watch the races from either side of the river, you'll probably want to be on the Cambridge side because that's where the festival takes place.
More about the Dragon Boat Festival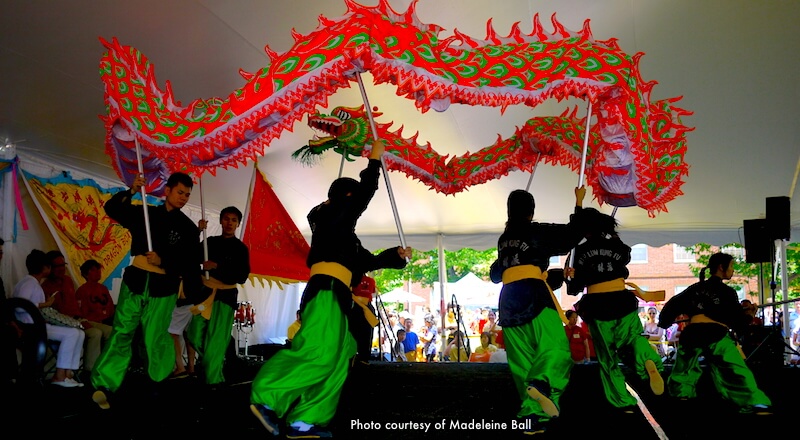 In addition to all of the performances, the festival includes activity areas for children, arts and crafts sponsored by the Greater Boston Chinese Cultural Association (GBCCA), informational booths set up by local Chinese community centers and similar organizations, and lots of wonderful food for sale by many of Boston's top Chinese and other Asian restaurants.
About 20,000 people typically attend the Boston Dragon Boat races and festival.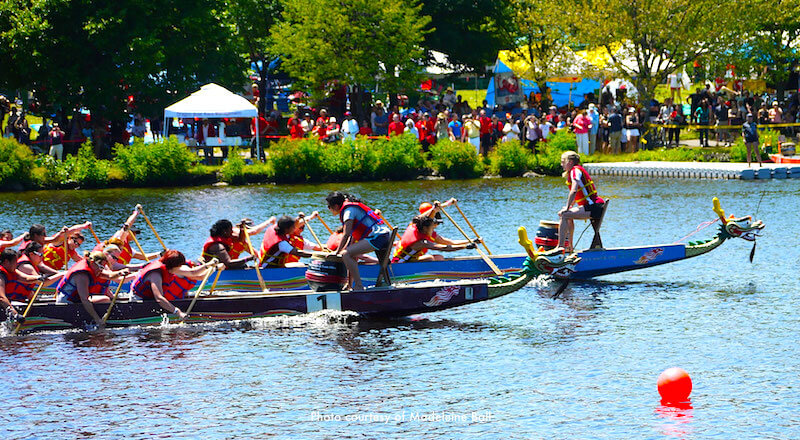 Essentials: Boston Dragon Boat Festival
Location: Charles River, between Harvard Bridge (JFK Street) and the Western Ave Bridge, with most of the Festival activities on the Cambridge side of the river
Closest T station: Red Line/Harvard Square
Date: Check Boston Events Calendar for June for details
Admission: Free
For more information: 617-259-0286 for information in Cantonese, Mandarin, and English; Dragon Boat Festival website
Hotels: These are nearby (also check the Festival website for other inexpensive options):