Home > Attractions >
New England Aquarium
Boston's Top Attraction on the Waterfront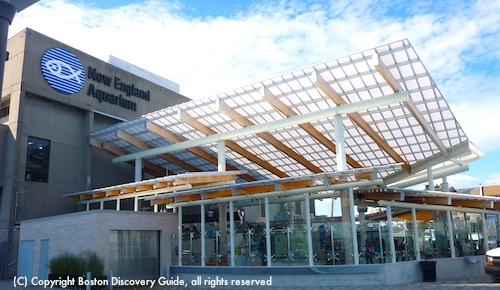 New England Aquarium on the Boston waterfront
The New England Aquarium on Boston's downtown waterfront showcases all kinds of marine life.
A huge shark tank .... Admission can be pricey - but fortunately discounts can cut the cost.
The New England Aquarium opened in 1969 to rave reviews, and no wonder.
As the first modern aquarium in the U.S., it put Boston on the map as the best place to see marine life up close.
Although many other American cities now have aquariums, Boston's New England Aquarium is still one of the very best. Especially if you combine the aquarium with a visit to the huge IMAX theater next door, you can easily spend an entire day here.

4 floors high, the Giant Ocean Tank is one of the Aquarium's biggest attractions
Once you get your tickets (or show your discount card) and enter the exhibition area, you'll become immersed in a variety of marine habitats where you can observe, close-up, a wide range of ocean creatures.
Outside, you'll find playful seals. And if this isn't enough, you can join one of the New England Aquarium's popular Boston whale watching cruises.
Visitor Tips | Hotels | Discounts | Photo Gallery | Whale Watch Cruises | Directions
Photo Gallery - New England Aquarium

What you'll want to see at the New England Aquarium
You can't miss the centerpiece - the Giant Ocean Tank right in the middle of the Aquarium. It soars 4 floors high, and contains 200,000 gallons of seawater heated to a warm tropical temperature. Inside, you'll see an enormous coral reef inhabited by Caribbean fish of every variety and color imaginable.
My kids always zoom right over to examine the fish inside the tank as soon as we enter the Aquarium.
However, a better strategy is to go all the way up to the top of the ramp that winds around the tank and then walk down looking through each of the 67 windows, slowly exploring each different habitat layer.
You'll see stingrays, sand tiger sharks, moray eels, colorful tropical reef fish, and sea turtles, all swimming freely. Over 675 fish and animals live inside the tank. Be sure to look for Myrtle, a green sea turtle who has lived in the tank since 1969 - over 40 year! If you return 40 years from now, she may still be there.
New England Aquarium discounts
To get the biggest discounts at the New England Aquarium, get a Boston discount card. Not only will the card let you enter for free, but you'll also get to go to the head of the line to enter. On a busy day, this easily saves you half an hour or more.
GoBoston Card

51 ways to save up to 55%

On attractions, tours, cruises

CityPASS

5 top attractions in 9 days

47% savings
How long should you plan to spend at the New England Aquarium? Probably anywhere between 2-3 hours and all day.
Although the Giant Ocean Tank can easily keep you occupied for an hour or more, it's actually just the beginning of the fascinating exhibits that you'll see here.
Other favorites include sea dragons, a hands-in tidal pool with hermit crabs, an Amazon rainforest, a Pacific reef community, and more. In the Gulf of Maine exhibit, for example, you'll see all of the different types of habitats that make up this body of water, which includes Boston Harbor.
Each habitat includes all of the creatures that live there, such as lobsters, fish, and even giant sea stars.
Don't forget the penguins!!!
Once you're down on the first floor again, you'll want to spend lots of time with the playful penguins. More that 70 of these adorable birds frolic in their watery playground.
Watch them for awhile, and you'll begin to recognize individual penguins. Each one has its own personality.
What can you see outside the Aquarium?
When you first go into the Aquarium, your eyes will take a moment to adjust to the dim lights that help you focus on the life inside the tanks and also feel a bit underwater yourself.
Walk outside and you'll blink for a few moments - but the adjustment is well worth the effort in order to see the seals.
Two families of harbor seals live in their outdoor tank year-round. You may be shuddering at the thought of being outside during the cold New England winter, but this is the seals' natural habitat and they actually enjoy.
Their Aquarium home contains 42,000 gallons of sea water and is deep enough for them to dive down to cool spots during the summer. Just like the Atlantic coast, their tank includes plenty of rocks where they can nap or sunbathe.
Other attractions at the New England Aquarium
Feedings, trainings, presentations
Check the daily schedule when you arrive at the Aquarium to find out about special events, such as penguin feedings, divers feeding animals in the Giant Ocean Tank, harbor seal training sessions, and talks and presentations by Aquarium biologists and trainers.
Simons IMAX Theatre
You'll also find the Simons IMAX Theatre here, one of 2 IMAX theaters in Boston.
Not surprisingly, this one specializes in marine-oriented shows. The surround-screen will make you feel like you're actually underwater.
New England Aquarium Whale Watch trips
If the marine life in the Aquarium has whetted your appetite for even more close encounters with the ocean, consider going on one of the New England Aquarium Whale Watch trips.
More Fun Ways Boston Tours
Tickets and discounts for New England Aquarium
Aquarium admission: Adults $23, Children (3-11) $16, Seniors 60+ $21
Use one of these Boston discount cards for free admission:
GoBoston Card

51 ways to save up to 55%

On attractions, tours, cruises

CityPASS

5 top attractions in 9 days

47% savings
You can also use your GoBoston card or Go Select Boston pass to also get savings on whale watching trips.
Hotels near the New England Aquarium
You can walk to the Aquarium from all of these hotels in 1 to 5 minutes.

Boston Marriott Long Wharf
Waterfront hotel directly across from Aquarium - a 1-minute walk or less! Also close to Faneuil Marketplace, TD Garden (home to the Boston Celtics and Boston Bruins), and all the fabulous North End restaurants. If you're traveling with children, you'll enjoy the playground at adjacent Christopher Columbus Park. Rates/Reviews


Marriott's Custom House
This Marriott Vacation Club Resort located in Boston's historic Custom House offers 1-bedroom suites - perfect for families, and just across the Rose Kennedy Greenway from the Aquarium. Harbor views from some rooms. The Custom House's clock tower is a famous Boston landmark. Rates/Reviews


Millennium Bostonian Hotel
Located next to Faneuil Marketplace on the historic Freedom Trail, and close to the Aquarium (about a 5-6 minute walk across the Greenway) and TD Garden. You'll find a lot of luxury touches here, including fireplaces in some rooms. No Aquarium specials - but they do offer Bruins, Celtics, and Red Sox packages. Rates/Reviews


Hotels with New England Aquarium packages
These Boston hotels, all within a 10-minute walk of the Aquarium, offer Aquarium tickets as part of special packages to save you money.
Boston Insider Tip: Keep in mind - New England Aquarium children's tickets are for ages 3-11 - so if you are traveling with teens, confirm directly with the hotel to make sure you'll be covered by these packages.
Directions to New England Aquarium
Location: Central Wharf, Boston
Closest T stations: Blue Line/Aquarium. You'll see the Aquarium in front of you on the waterfront as soon as you exit the subway station
Boston sightseeing trolleys: The hop-on hop-off
For more information: 617-292-0020
Tips on closest parking: Garages near Boston's North End
More Boston Insider Tips
You can easily spend several hours or even an entire day at the Boston Aquarium. The Aquarium is a top attraction for many Boston vacations.
If you're here for a Boston weekend getaway or even a longer vacation, the Aquarium is the perfect rainy day adventure.
Hungry? You'll find a cafe right in the Aquarium. Other options are to walk over to nearby Quincy Marketplace, especially if you want a quick bite, or to a North End restaurant for a more leisurely meal.
Not enough time for a visit? Stop by the outdoor seal habitat, just to the left of the Aquarium's entrance. Watch the seals frolic as long as you like, winter or summer. Best of all, it's free - although you will have a better view inside the Aquarium.
The largest shark and ray touch tank on the East Coast, where you can have a close encounter along the shallow edges with thee fascinating creatures.
Like this Page? Please Share!
If you're interested in the New England Aquarium, check out:
Boston Discovery Guide > Attractions > New England Aquarium