Cruises Ships Departing from Boston
Destinations, Deals, Discounts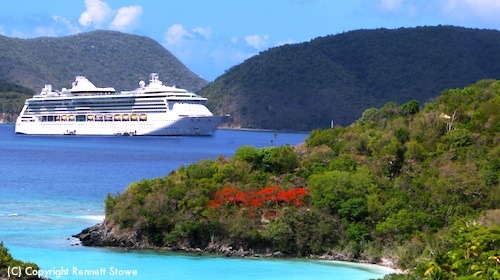 Royal Caribbean's Brilliance of the Seas - Just one of the cruise ships you can take from Boston
Photo courtesy of Rennett Stowe
Cruises departing from Boston during 2015 offer terrific choices of cruise lines and ships: Norwegian Cruise's Norwegian Dawn, Royal Caribbean's Brilliance of the Seas and Serenade of the Seas, Holland America's Maasdam and Veendam, and Seabourn's Seabourn Sojourn.
Although Bermuda cruises and fall foliage cruises up the New England and Canadian coast remain the most popular destinations from Boston's Black Falcon Cruise Terminal, there's lots more for you to choose.
Check out Holland America's fabulous "Voyage of the Vikings" cruise to Europe, plus an additional European cruise from Royal Caribbean.
And don't miss the fascinating Caribbean destinations as well as summer New England and Canada cruises.
Great destinations are only half of the equation. Cruise ships are like floating resorts, offering a huge array of entertainment and recreation, tantalizing cuisine and wine, unsurpassed views, and the experience of visiting exciting cities, enchanting villages, and other countries.
Take a look at all the trips offered from Boston - you're sure to find one (or more!) that's perfect for you!
Cruise Ships Departing from Boston

Royal Caribbean's Brilliance of the Seas - New England, Canada, Fall Foliage, Southern Caribbean
Brilliance of the Seas spends September and October based in Boston, offering weekly fall foliage cruises departing from Boston to New England and Canadian ports.
In late October, Brilliance departs on an exciting repositioning cruise to the Southern Caribbean, and then heads up to Tampa for the winter. The affordable rates for this cruise may surprise you! More about this Southern Caribbean repositioning cruise
Brilliance of the Seas and sister ship Serenade of the Seas are the largest of the cruise ships departing from Boston. Brilliance is as beautiful and sparkling as her name suggests.
You'll love the 9-deck high atrium and glass-sided elevators with ocean views, 3 pools, 3 jacuzzis, 2-deck gym, miniature golf and a putting green, rock climbing, a jogging track, a basketball court, and tons of evening entertainment options, including a casino, theater, and 16 bars, clubs, and lounges.
Finding Deals and Discounts on Cruises from Boston
Cruises already give you a great deal - the cost per day (or night) is usually MUCH less than you'd spend on a hotel . . . plus you get meals, entertainment, spectacular scenery, and the chance to visit lots of interesting places.
But cruise deals and discounts make this picture even more interesting! You'll get the best cheap cruise deals if you book early (4-6 months before departure) or late (few weeks before departure) - or if you find a Cruise special.
The best place to check for cruise deals, discounts, and specials is on Expedia's Top Deals page (click on Cruises).
They show you the best savings on each Cruise Line.
Royal Caribbean's Serenade of the Seas - Ireland, England, & Northern Europe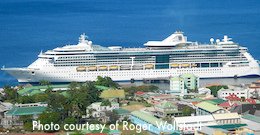 Serenade of the Seas offers a special late-spring repositioning cruise from Boston across the Atlantic with stops in Ireland, England, Amsterdam, Sweden, and Denmark.
Serenade of the Seas has 12 passenger decks and a stunning glass 9-story atrium where Cirque du Soleil type performances take place in the evenings.
With 10 restaurants and other places to eat on board, you'll have plenty of dining choices, along with boundless entertainment and recreational options - swimming pools, a casino, basketball courts, rock-climbing wall, mineature golf, indoor and outdoor theaters, 2 nightclubs, a day spa, art gallery, and more.
Photo courtesy of Roger Wollstadt via Creative Commons license
Norwegian Cruise Line's Norwegian Dawn - Bermuda, Fall Foliage, Caribbean
Norwegian Dawn offers weekly 7-day round trip Bermuda cruises from Boston from May through early September, 2015.
Throughout September, she also makes 7-day and 14-day Canada and New England fall foliage cruises combining brilliant views with fun onboard activities.
Finally, in October, Norwegian Dawn embarks on a fabulous 22-day repositioning cruise from Boston to Bermuda, back to Boston, and then on to the Caribbean with stops in famous ports such as San Juan, Willemstad, and Cozumel before heading up to New Orleans for the winter.
If you like freestyling cruises, this is the ship for you. Norwegian Dawn is designed like a high-end resort where you have total freedom of choice about dining, activities, and entertainment. You can even splurge on a luxury 3-bedroom "Garden Villa" suite.
Photo courtesy of kansasphoto via Creative Commons license
Holland America's Maasdam - New England and Canada Cruises, Fall Foliage Cruises
Between May and October, Maasdam makes 7-day and 14-day cruises departing from Boston to New England ports (such as Bar Harbor, shown in this photo) and Canada and back, including fall foliage cruises.
Maasdam's 10 decks center around a light-filled atrium displaying a soaring sculpture fashioned from almost 2,000 pieces of sparkling glass.
You'll enjoy flawless service on Maasdam, and luxury touches - fresh-squeezed orange juice, freshly made popcorn at the movies, daily tea service each afternoon, and elegant 5-course meals with extensive wine lists in the evening in the main dining room.
Plan to dress up on formal nights, and enjoy the ballroom dancing!
In addition to the usual sports and recreational activities, you can also enjoy cooking demos, tasting events, and classes in cooking, digital photography, yoga, and crafts.
Holland America's Veendam - Fall Foliage Cruises, Panama Canal & South America, Europe Voyage of the Vikings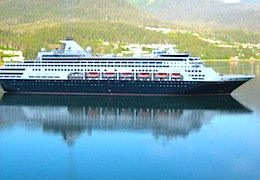 Veendam arrives in Boston in early May and makes 14-night cruises to Maine and Canada through June.
In July, she makes her 35-night Voyage of the Vikings cruise to Europe and back (you can also choose a 17-night segment).
Then in late August, she resumes trips to Canada, when become fall foliage cruises.
Finally, in late October, she embarks on a spectacular 21-night repositioning Panama Canal Tour with stops in Florida, the Grand Cayman Islands, Colombia, the western coast of Mexico, and San Diego.
Veendam carries 1,350 guests and is almost identical to sister-ship Maasdam - so you can expect excellent service, elegant surroundings, and fine dining and wine.
Seabourn's Seabourn Quest - Fall Foliage Cruises to Maine and Canadian Maritime Provinces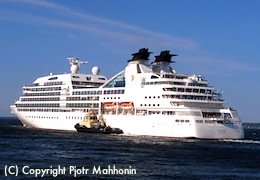 Starting in September 2015, Seabourn Quest makes fascinating 10-day fall foliage cruises up through Maine and the Canadian Maritime Provinces, ending up on Montreal. You'll see fjords and waterfalls, plus lots more!
With only 450 passengers in 225 luxury ocean view suites, the 8-deck highly-ratedSeabourn Quest can be compared with a boutique hotel - think of it as a luxury yacht with an outstanding spa, 2 swimming pools, interesting cultural presentations, non-stop terraces, attentive staff, suite-sized cabins (90% with balconies), and of course excellent dining followed by dancing.
Cruises aboard the Seabourn Quest are all-inclusive; no tips expected.
Need More Boston Cruise Information?
Like this Page? Please Share!
More Cruises from Boston
Boston Discovery Guide > Cruises from Boston > Cruise Ships Departing from Boston