Boston Fall Foliage Cruises - 2016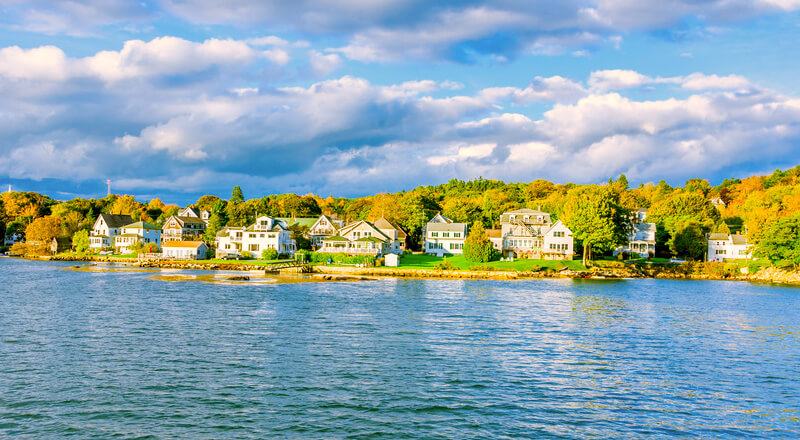 Some of us dream all year about going on a fall foliage cruise, and it's easy to understand why . . .
Imagine brilliant crimson, orange, and golden foliage splashed against the rugged New England and eastern Canadian coastlines, layered between brilliant blue sky and even bluer water.
Take a day trip featuring a coastal cruise to Cape Cod, a 3-hour picnic cruise to the Boston Harbor Islands, or venture further on a cruise lasting a few days or a week.
More cruise lines than ever are offering coastal foliage cruises from Boston: Holland America's Maasdam and Veendam, Norwegian Cruise Line's Norwegian Dawn, Royal Caribbean's Brilliance of the Seas, Seabourn's Seabourn Sojuourn, and Crystal Cruises' Crystal Symphony.
Best of all, taking one of these fall foliage cruises couldn't be easier. You can book your cruise online, board your ship at Boston's centrally-located CruisePort, and then relax as you travel up the spectacular New England and Canadian coast during the most splendid season of the entire year.
So don't just dream . . . make it happen!
Fall Foliage Cruises - Day Trip or Overnight?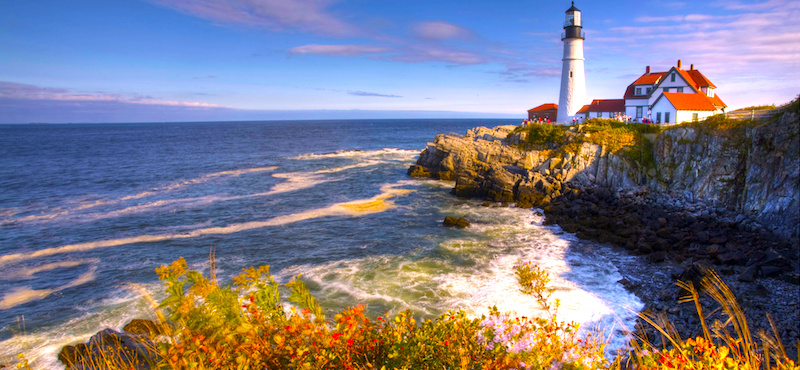 Don't have much time? Opt for a day cruise to beautiful Cape Cod or Boston's Harbor Islands.
If you have several days or longer, choose a fall foliage cruise up the coast of Eastern North America past Maine and Canada.
In addition to vibrant sceness of crimson and golden foliage, you'll see many lighthouses, quaint villages and ornate "summer cottages" along rocky coastlines, and even fjords and waterfalls.
At Ports of Call such as Portland and Bar Harbor in Maine and Saint John and Halifax in Canada, you can dine on fresh lobster, visit maritime museums, and enjoy natural beauty along scenic walking trails. In Quebec City and Montreal, you'll experience friendly French Canadian culture and dine in top restaurants.
Some cruises even take you along the St Lawrence River and Gaspé Peninsula - surely some of the most spectacular scenery in the Northeast!
Take a look at what's on offer this year:
---
Foliage Cruise Day Trips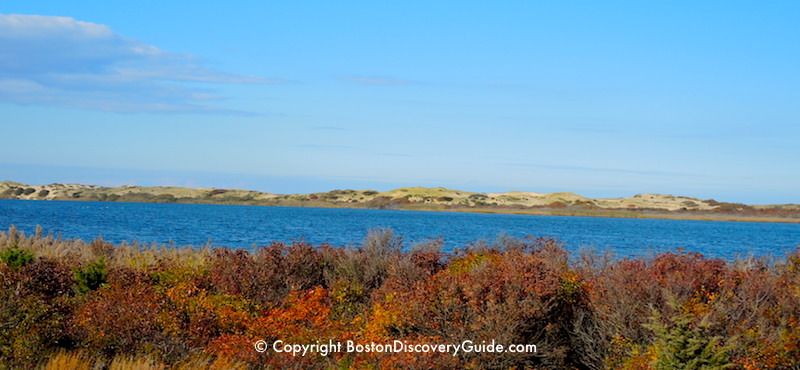 New England Coastal Tour & Cruise from Boston
Always beautiful, Cape Cod glows with gold and scarlet autumn foliage contrasting with blue water and skies.
A luxury coach whisks you to the Cape, where you'll see entrancing views of quaint Cape Cod villages, a special glass museum and grist mill, and even get to view secluded areas from the best vantage point of all: a sightseeing cruise along the shore. Perfect when you have only 1 day!
Tickets for Autumn on Cape Cod Tour
---
Boston Harbor Islands - Narrated Cruise Around the Harbor
Visiting Boston with only a few hours to spare for a cruise? No worries - opt for this wonderful daily 3-hour narrated picnic cruise around the intriguing Boston Harbor Islands during the month of September.
You'll see shipwrecks, America's oldest lighthouse, a famous fort, and more as you relax in the climate-controlled cabin or enjoy fresh air on the top deck of the ship Northern Lights.
Foliage will be taking on autumn hues as the month progresses, and should be near peak by the end of the month.
Check Goldstar for discounted Fall Foliage Tour tickets - Full price $71, Goldstar $42
---
Charles River Cruise - Fall Foliage, Cider, and Cookies along the Charles River
Check Goldstar for discounted Fall Foliage Tour tickets - Full price $71, Goldstar $42
Overnight Cruises - Holland America, Norwegian, Royal Caribbean, & More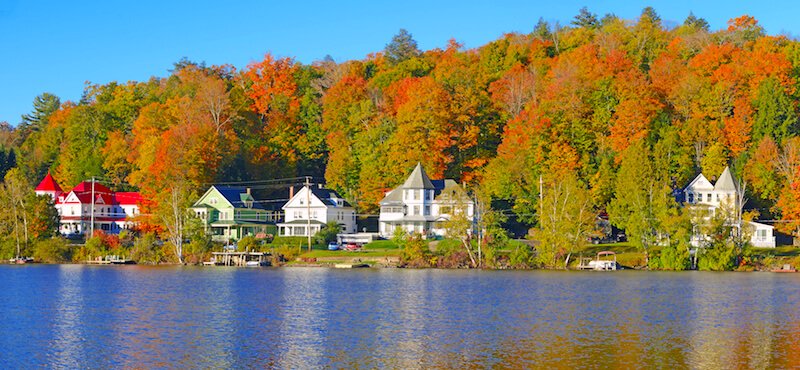 Holland America's Maasdam - 7 night & 14 Night Cruises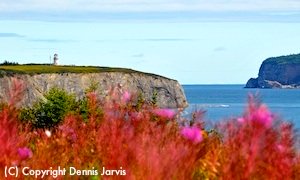 Enjoy private verandas, Maasdam's famous art collection and antiques, and all around luxury as you cruise from Boston up to Bar Harbor, Halifax, Charlottetown, Quebec City, and Montreal.
A special treat will be spectacular foliage views along the Gaspé Peninsula (shown in photo) as you cruise along the St Lawrence River.
---
---
Holland America's Veendam - 7 night & 14 Night Cruises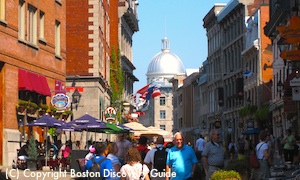 Veendam, sister ship to Maasdam, offers a similar itinerary and luxury experience.
Of course you'll see gorgeous foliage - plus wonderful shore visits let you explore beautiful Bar Harbor, stroll through Old Montreal's charming lanes (shown in photo), try your French in Quebec City, and visit boutiques in Halifax and Charlottetown.
Norwegian Cruise Line's Norwegian Dawn - 7 & 14 day cruises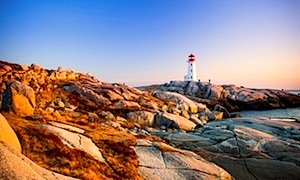 Norwegian Dawn's fall foliage cruises include special scrapbooking and craft activities plus gorgeous scenery, fun, and Norwegian Cruise Line's signature freestyling.
You'll love exploring Bar Harbor, Halifax (location of lighthouse in photo), Charlottetown, Gaspesie, La Baie, and Quebec City along the route of the cruise.
Find dates, rates, and deals for Norwegian Dawn cruises from Boston
Royal Caribbean's Brilliance of the Seas - 7 night cruises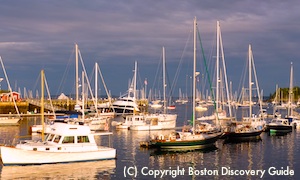 Royal Caribbean's Brilliance of the Seas cruises combine lots of on-ship fun and activities with brilliant fall foliage vistas, charming New England and villages, and sparkling Canadian ports.
Port of Call visits in Portland, Bar Harbor, Saint John, and Halifax give you the perfect mix of opportunities to explore on shore and time to relax and enjoy your voyage.
Find dates, rates, and deals for Brilliance of the Seas cruises from Boston
How to Find Deals & Specials on Fall Foliage Cruises
Fall foliage cruises departing from Boston range from very affordable to pricy depending on which cruise line you choose - but you're still getting a huge bargain compared with what you'd pay for similar accommodations and meals on land if you stayed in hotels and dined in restaurants - and that's without the fun of the cruise and the spectacular scenery!
However, you can almost always find cruise discounts and deals. The links in the above sections show you best prices and specials for each ship - and you can also check Travelocity's Cruise Deals to get the big picture.
---
Return to Top - Fall Foliage Cruises
---
Need More Boston Cruise Information?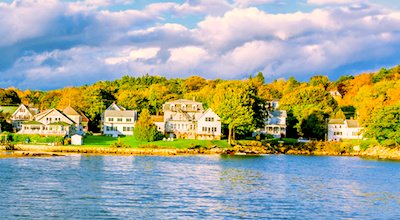 Here's more cruise information from Boston Discovery Guide:
More Tours & Cruises to See Fall Foliage in Boston . . . and Beyond