Boston Fall Foliage Cruises - 2015
Brilliant New England and Canadian cruises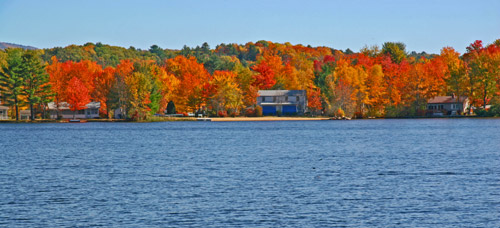 Some of us dream all year about going on a fall foliage cruise, and it's easy to understand why . . .
Imagine brilliant crimson, orange, and golden foliage splashed against the rugged New England and eastern Canadian coastlines, layered between brilliant blue sky and even bluer water.
Take a day trip featuring a coastal cruise to Cape Cod or venture further on a cruise lasting a few days or a week.
More cruise lines than ever are offering coastal foliage cruises from Boston: Holland America's Maasdam and Veendam, Norwegian Cruise Line's Norwegian Dawn, Royal Caribbean's Brilliance of the Seas, Seabourn's Seabourn Sojuourn, and Crystal Cruises' Crystal Symphony.
Best of all, taking one of these fall foliage cruises couldn't be easier. You can book your cruise online, board your ship at Boston's centrally-located CruisePort, and then relax as you travel up the spectacular New England and Canadian coast during the most splendid season of the entire year.
So don't just dream . . . make it happen!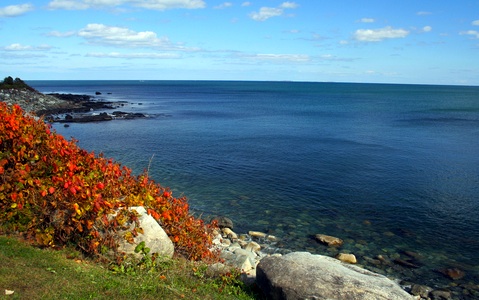 Fall Foliage Cruises - Which One Will You Choose?
All of the fall foliage cruises from Boston take you up the coast of Eastern North America. In addition to vibrant vistas of crimson and golden foliage, you'll see many lighthouses, quaint villages and ornate "summer cottages" along rocky coastlines, and even fjords and waterfalls.
At Ports of Call such as Portland and Bar Harbor in Maine and Saint John and Halifax in Canada, you can dine on the finest fresh lobster, visit maritime museums, and enjoy natural beauty along scenic walking trails. In Quebec City and Montreal, you can experience friendly French Canadian culture and dine in the best restaurants.
Several cruises even take you along the St Lawrence River and Gaspé Peninsula - surely some of the most spectacular scenery in the Northeast!
Choose any of these cruises departing from Boston, and you'll be happy!
1-Day Foliage Cruise & Tour: Cape Cod
Always beautiful, Cape Cod glows with gold autumn foliage contrasting with blue water and skies.
You'll see entrancing views of quaint Cape Cod villages, visit a special glass museum and grist mill, and even get to view secluded areas from the best vantage point of all: a sightseeing cruise along the shore. Perfect when you have only 1 day!
Tickets for Autumn on Cape Cod Tour »
Holland America's Maasdam - 7 night & 14 night cruises
Enjoy private verandas, Maasdam's famous art collection and antiques, and all around luxury as you cruise from Boston up to Bar Harbor, Halifax, Charlottetown, Quebec City, and Montreal.
A special treat will be spectacular foliage views along the Gaspé Peninsula (shown in photo) as you cruise along the St Lawrence River.
Find out more about Maasdam's fall foliage cruises
More about Maasdam accommodations and amenities
Holland America's Veendam - 7 night & 14 night cruises
Veendam, sister ship to Maasdam, offers a similar itinerary and luxury experience.
Of course you'll see gorgeous foliage - plus wonderful shore visits let you explore beautiful Bar Harbor, stroll through Old Montreal's charming lanes (shown in photo), try your French in Quebec City, and visit boutiques in Halifax and Charlottetown.
Find dates, rates, and deals for Veendam cruises
Norwegian Cruise Line's Norwegian Dawn - 7 & 14 day cruises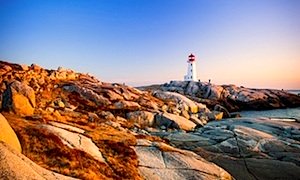 Norwegian Dawn's fall foliage cruises include special scrapbooking and craft activities plus gorgeous scenery, fun, and Norwegian Cruise Line's signature freestyling.
You'll love exploring Bar Harbor, Halifax (location of lighthouse in photo), Charlottetown, Gaspesie, La Baie, and Quebec City along the route of the cruise.
Find dates, rates, and deals for Norwegian Dawn cruises from Boston
More about Norwegian Dawn accommodations and amenities
Royal Caribbean's Brilliance of the Seas - 7 night cruises
Royal Caribbean's Brilliance of the Seas cruises combine lots of on-ship fun and activities with brilliant fall foliage vistas, charming New England and villages, and sparkling Canadian ports.
Port of Call visits in Portland, Bar Harbor, Saint John, and Halifax give you the perfect mix of opportunities to explore on shore and time to relax and enjoy your voyage.
Find dates, rates, and deals for Brilliance of the Seas cruises from Boston
Seabourn's Seabourn Sojourn - 10 day cruise to Canadian Maritimes
If you've ever longed to cruise on a luxury yacht, Seabourn Sojourn's 10-day New England and Canadian Maritimes cruise provides the perfect blend of luxurious accommodations with fascinating scenery, including scenic cruising along the Saguenay River by fjords and waterfalls.
Other highlights include Charlottetown, Quebec City, and Montreal.
Get free quotes for this cruise from independent travel agents
More about Seabourn Sojourn accommodations and amenities
Crystal Cruises' Crystal Symphony - 10 day coastal & river cruise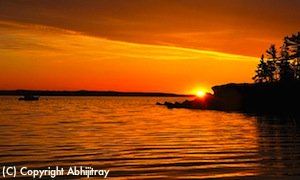 Crystal Symphony surrounds you with luxury - Frette linens, fine cuisine and wine, plush public areas for relaxing - while showing you spectacular foliage views.
You'll stop in Bar Harbor, Saint John, Quebec City, and Montreal, cross the Gulf of St Lawrence, and see some of the most gorgeous views along the Eastern North American coast.
More about Crystal Symphony accommodations and amenities
How to Find Deals & Specials on Fall Foliage Cruises
Fall foliage cruises departing from Boston range from very affordable to pricy depending on which cruise line you choose - but you're still getting a huge bargain compared with what you'd pay for similar accommodations and meals on land if you stayed in hotels and dined in restaurants - and that's without the fun of the cruise and the spectacular scenery!
However, you can almost always find cruise discounts and deals. The links in the above sections show you best prices and specials for each ship - and you can also check Travelocity's Cruise Deals
to get the big picture.
What to Pack for a Fall Foliage Cruise
If you're not from New England or eastern Canada, you may be surprised by how chilly our autumn nights - and days - can get.
You'll likely encounter outdoor daytime temperatures in the 50s and 60s during September, and as low as the 40s during October. Nighttime temperatures can be even cooler. Rain is always a possibility.
Pack clothing you can layer, including a warm sweater and scarf, comfortable walking shoes, thick socks, and even gloves and hats. Add an umbrella and a waterproof jacket - and you'll be all set!
Need More Boston Cruise Information?
More ways to enjoy Boston's fall foliage, cruises, tours
Like this Page? Please Share!
Boston Discovery Guide > Cruises from Boston > Fall Foliage Cruise