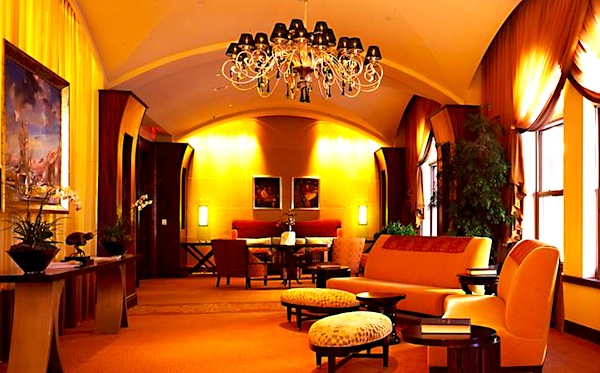 Loews Hotel Boston (formerly Back Bay Hotel and Jurys Hotel) gives you lots of style and luxury in a top location - but at attractive mid-range rates. If you're looking for a memorable experience without spending a fortune, look no farther!
Located in Boston's elegant Back Bay neighborhood, the hotel occupies an elegant 1925 Italian Renaissance Revival landmark building once used as the Boston Police Headquarters.
With the Theatre District, the Victorian-era Public Garden, and Newbury Street's famous designer boutiques and fashionable restaurants nearby, Loews Hotel Boston gives you an ideal location for enjoy the city's best attractions.
A $64 million preservation/renovation project in 2003 plus periodic updates since that time have left the hotel sparkling. Both leisure and business travelers stay here, and the hotel actively promotes its family-friendly and pet-friendly policies.
Loews Boston is part of Loews Hotels & Resorts, a collection of luxury and upscale properties.
Find best rates and read reviews
Why You'll Enjoy Loews Hotel Boston
Here are the top 3 reasons why you'll enjoy Back Bay Hotel:
- Central location: Walk across the Public Garden and Boston Common to Downtown and Beacon Hill, or enjoy Newbury Street shopping and sightseeing in Back Bay.
- Stylish comfort - Inviting rooms offer high-end features usually found in Boston luxury hotels. Plus gorgeous public spaces, like the seating area shown in the photo at the top of this page.
- The on-site Irish bar: After a long day of exploring Boston or negotiating business deals, reward yourself with a nice a pint or two at Cuffs, the hotel's Irish bar.
What else will you find at Loews Hotel?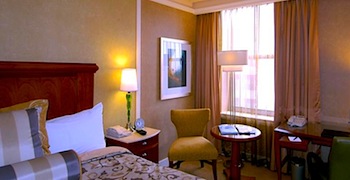 The hotel's 225 rooms and suites feature down pillows and comforters to help you enjoy a good night's sleep.
Granite and marble bathrooms feature heated towel racks (a wonderful luxury touch that you'll find in only a few Boston hotels, despite our nippy winters).
Frette bathrobes are another luxurious treat.
Rooms have high-speed wireless internet connections, flat screen TVs, and CD players.
The hotel's complementary business center is designed to meet the all needs of business travelers.
There's also a fitness center with excellent equipment.
Near the Hotel - Back Bay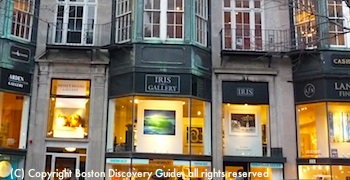 Loew Hotel Boston's location means that you're close to Newbury Street art galleries, fabulous shopping at Copley Place and Prudential Center, beautiful historic churches, and Victorian mansions.
You're also only three short blocks from the Public Gardens, where you can go for a swan boat ride on the lagoon in warm months, and Boston Common, where you can ice skate on Frog Pond in the winter. You're within easy walking distance of Downtown Boston, the Freedom Trail, Chinatown, and the Theatre District.
Going west, you can walk to Fenway Park and catch a Red Sox game, or to the Museum of Fine Arts and Symphony Hall for some culture (or "cul-cha" if you want the Bostonian pronunciation). Go south, and you'll be in the South End, where you'll find more delicious chef-owned restaurants than you can count.
And almost right at your doorstep is Bay Village, Boston's most hidden neighborhood. Walk a couple of blocks east on Stuart Street and turn left onto Arlington Street. Walk 2-3 more blocks and turn left - doesn't matter which street - and enjoy the neighborhood's wonderful Federal and Art Deco architecture, tree-lined streets, and gas lamps.
If you're not already convinced that Back Bay Hotel has one of the best locations in the city, just wait until you're hungry and want to find a restaurant. Within a few blocks, you have your pick of Back Bay restaurants and South End restaurants.
More to Know for Your Boston Visit
Home > Boston Hotels > Back Bay > Back Bay Hotel