Copley Place
Luxury Shopping in Boston's Back Bay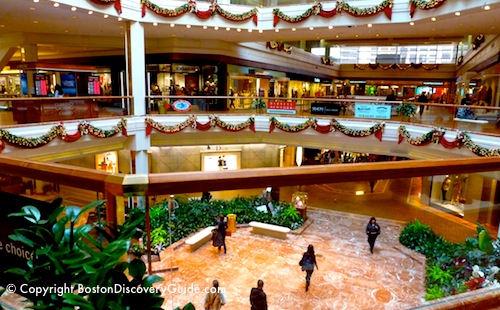 Copley Place in fashionable Back Bay offers Boston's most exclusive shopping experience.
Filled with the stores and boutiques of 75 internationally famous luxury designers, this upscale shopping area near Copley Square targets well-heeled shoppers looking for exclusivity and value.
But wait . . . is anything here affordable if you're not, say, related to royalty or a CEO?
Well, yes.
You'll actually find some affordable stores, like Gap, Banana Republic, and J. Crew, as well as "bridge" labels such as Eileen Fisher and Michael Kors.
And, if you happen to shop at Copley when some of the pricier stores are having sales, you'll find some amazing bargains.
Sharing space with Boston's Westin Hotel and the Boston Marriott Copley, a huge underground parking garage, and four office buildings, Copley Place also connects via a glass-enclosed skywalk to the even larger Prudential Center shopping complex next door.
And outside, just a few short blocks away, are the boutique-filled blocks of the Newbury Street shopping area.
Here's What You'll Find
Luxury emporium Neiman Marcus anchors Copley Place, offering a carefully edited selection from the Dallas-based retailer's designer collections.
You'll also find a huge Barney's, plus international fashion favorites like Dior, Burberry, Karen Millen, BCBG Max Azria, Jimmy Choo, Coach, Tahari, Armani, Tory Burch, Ferragamo, Bally, Thomas Pink, and others.
For a special gift, check out the father-son swimwear at Vilebrequin. If you optimistically packed only Jimmy Choos but can't navigate our cobblestone sidewalks in them (who can?), stop by The Walking Company to acquire some Mephistos, Uggs, Pikolinos, and other top brands in comfort footwear.
Home electronics fans will discover lots of temptations at Brookstone. Want to spruce up your dinner parties? Stop by Sur la Table or Williams-Sonoma.
Naturally, some world-class jewelry and gift options are located here. You'll find Tiffany, Landau, Montblanc, and others. But you can also indulge yourself at Teavana, as long as you don't get carried away and leave with a dozen of the luscious tea blends.
Copley Place restaurants
The only restaurant in Copley Place is Legal Seafoods - which, if you are going to have only one restaurant, is an excellent choice.
If you want to go farther afield for food, you'll find more choices in the food court at Prudential Center, plus dozens of excellent Back Bay restaurants within a few blocks.

Details and Directions
Location: 100 Huntington Ave, Back Bay, Boston, MA
Nearest T station: Green Line/Copley
More information: 617-369-5000; www.simon.com (search for "Copley")
Parking: Fee-based underground parking garage. You're in the heart of the most expensive area in Boston . . . so brace yourself for parking garage rates that start at $9 for less than an hour, quickly climb to $25 for up to 3 hours - and then go up from there.


Boston Discovery Guide > Shopping > Copley Place