Wenham Museum
Unique Massachusetts museum north of Boston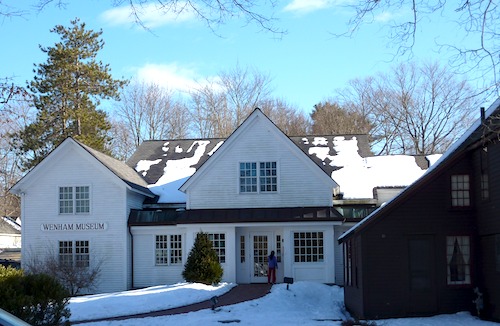 Wenham Museum, with Claflin-Richards House on the right
The Wenham Museum, located in the historic village of Wenham, MA, is just a short 40-minute drive north of Boston - but it's perhaps the best-kept secret among Boston area museums, featuring outstanding classic toy soldiers, doll collections, vintage and antique dollhouses, model trains, period clothing and textiles, and a superb 17th century house.
The Wenham Museum is one of the best Massachusetts museums for learning about how New England families lived, played, and collected throughout 3 centuries.
Best of all, its expertly-curated displays appeal equally to children and adults.
In 1921, the Wenham Village Improvement Society purchased the 1690 Claflin-Richards House in order to preserve it and acquire some exhibition space.
During the following year, Elizabeth Richards Horton, who had once lived in the house, donated her international doll collection, and the Wenham Museum began.
What you'll find in the Wenham Museum today
Today, in addition to its outstanding doll collection, the museum's core collections include:
The finest collection of William Britain lead soldiers in the world, manufactured between 1910 and 1950
An extensive collection of antique and vintage doll houses including some very fine examples of miniature furniture and furnishings, as well as some whimsical selections
A model train collection, including 9 or 10 operating model railroad layouts featuring various gauge tracks surrounded by varied terrain and amazingly detailed villages that blur the distinction between toy trains and historical dioramas
A collection of over 10,000 articles of antique and vintage clothing, accessories, house furnishings such as rugs and bed coverings, and textiles, from the Victorian period forward; every three months, a new exhibit highlights a special theme
What makes these collections particularly special is that the collectors, and in some cases, the items, have a connection with Wenham or other nearby North Shore communities. Many of the items, such as some of the dolls, miniature furniture, were made in New England.
The museum also features temporary exhibitions.
For the youngest visitors, the "Family Discovery Gallery" provides toy trains, a playhouse, blocks, musical instruments, and other hands-on activities related to the museum's collections.
In addition, the temporary exhibit area provides hands-on craft opportunities for all ages.
A very nice gift shop offers puzzles, games, dolls, and other items related to the museum's collections - perhaps just the thing to inspire a new generation of budding collectors.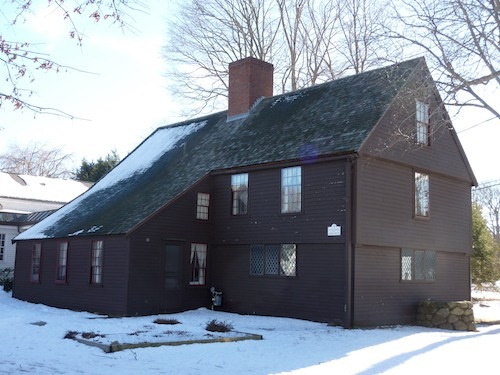 Claflin-Richards House, in Wenham, MA
Last but not least is the Claflin-Richards House, named after the first and last families to live in it between 1690 and 1920.
Like many houses of this era, additions expanded the small original core over the course of centuries. Furnishings in the original section, consisting 1 room with a large fireplace plus 2 stories above, date from the Colonial period and reflect how a typical family lived and worked at that time.
Another room is furnished as a bed chamber of about 1800, complete with tables, chairs, and other Federal-style niceties. Covering the bed is a bed rug dating from 1724, the 2nd oldest in the U.S.
A third room available to tour reflects the 1850-1890 Victorian period, with elaborate furnishings indicative of greater prosperity and the China trade, which enriched a number of families in this area north of Boston during that period.
What we liked best at the Wenham Museum
When a friend casually mentioned the Wenham Museum, I was surprised: I thought I'd been to all Boston area museums - yet I'd never even heard of this one. So my 11 year old daughter and I drove to Wenham to check it out, expecting to spend no more than an hour there.
Instead, we stayed all day, taking a break only for lunch (see my Insider's Tip for more about that!) and finally leaving right before the museum closed at 4pm.
We had expected, based on what we'd been told, a museum for young children. My daughter feared she might be a little too old for it, and I anticipated being somewhat bored.
However, even though several collections do feature items that children enjoy, the museum conveys a lot about the passion of collecting, the details of life that collections can reveal, and the shape of Wenham and New England family life, fun, and work during past centuries.
The Wenham Museum actually accomplishes the rare feat of appealing to all ages.
Even though we spent a long time at the museum, we didn't see everything because we focused on what we liked best.
Here are a few of our favorites:
Osgood Collection of classic toy soldiers
Started by William Osgood in the 1930s, this extensive collection features regiment after regiment of finely-detailed hollow cast-lead toy soldiers manufactured by the William Britain Company, then based in Great Britain between 1910 and about 1950.
Each regiment represents a specific group - British Infantry, Cape Town Highlanders, 21st Royal Lancers. You can also see American soldiers from the American Revolution through World War II.
You can trace, through the regiments, British colonialism in the American Colonies, India, and Africa. There's even a tiny Queen Elizabeth II, wearing a purple gown.
Peter Arnott HO Gauge Model Railroad
We are not usually enamored with model railroads - but the model railway on the museum's first floor created by Peter Arnott is mesmerizing. Mr. Arnott assembled and built the panoramic display - perhaps 35-40 feet in length and 4-5 feet across - between 1960 and 1990.
Tying the landscape together is a typical New England railroad, named the "Waterfield DIvision," as it might have appeared between 1930 and 1960.
But this panorama shows much, much more than just a train. Along the tracks are buildings, villages, people, animals, and other vehicles that span a 30 year period. In one corner, for example, you see a scrapyard from the period when diesel engines replaced steam engines, now reduced to scrap metal.
Dollhouses
We marveled at the large collection of dollhouses, depicting homes and furnishings from the Colonial period forward, each one seeming more perfect than the last. Some had been children's toys, while others represent serious hobbyists's efforts to recreate domestic life during various periods down to the tiniest details.
Not all are serious - one of our favorite houses, created over an 8-year period by Mrs. Mary Hinckley and donated to the museum in 1980, depicts the Second Empire style home of the Addams Family, based on the 1964-66 television show modeled on cartoons by Charles Addams published in The New Yorker starting in the late 1930s. Look around the house, and you'll see Morticia, Gomez, Wednesday, Uncle Fester, and the rest of the Addams family, living among appropriately gothic furnishings.
Another wonderful example is a special cabinet designed to hold a collection of miniature furniture and furnishings. Most of the furniture pieces are fully functional models created by Sacks and Sons, former furniture sellers based in Brookline, MA, for the purpose of showing their fine furniture.
Clothing and textiles
Sadly, we barely had time to do more that glance at these displays - but what we saw was both gorgeous and fascinating. At the time of our visit, beaded clothing and accessories were on display. My own favorites: Native American beaded bags made by Eastern Woodlands tribes - fabulous!
Tour of the Claflin-Richards House
The Wenham Museum's Claflin-Richards House is open only during tours, given about 3 times per day. The museum director led the tour that we took, and provided fascinating details about the history of the house, and the antique furnishings and objects in it.
We came away with a glimpse of how families would have lived during the periods represented by the furnished rooms. Like most Massachusetts school children, my daughter studied Colonial life during 3rd grade. Seeing the wooden churn that a young Colonial girl would have used to make butter made the period come alive for my daughter.
Insider's Tip:
Best place for lunch when you visit the Wenham Museum
After we arrived at the Wenham Museum, the hours flew by - but by 1:30, we suddenly realized we were starving.
We walked across Main Street (Route 1A) to the Wenham Tea House, opened in 1910 by the Wenham Village Improvement Society as a way to raise funds for the village. It now shares space with a gift and clothing shop.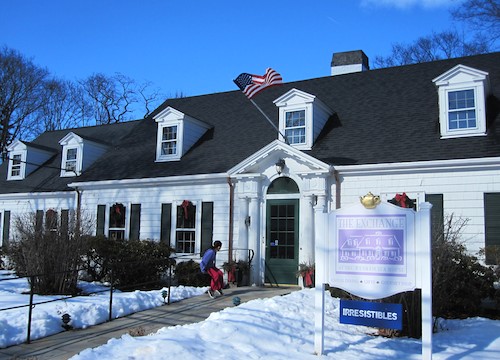 Wenham Tea House, Wenham, MA
Even at that hour, we were lucky to get a table. Looking around the small but attractive dining area, I saw lots of delicious-looking salads, slices of quiche, and bowls of soup and bisque - but after a glance at the menu and a quick discussion with the waitress, who assured me that the staff prepared all of the food on-site, I decided to pursue my continuing Quest for the Perfect Lobster Roll.
Now everyone has a slightly different opinion about Lobster Roll Perfection - needless to say, the lobster meat must be fresh, sweet, and perfectly cooked - but beyond that, you'll find lots of different opinions about additional ingredients, seasonings, and so forth.
When lobster is involved, I'm a minimalist - "perfection" consists of just chunks of lobster meat, laced together with a touch of mayonnaise and nestled in a buttered toasted bun. And that's exactly what I got at the Wenham Tea House. It was . . . the Perfect Lobster Roll. I savored every bite.
My daughter also ordered her favorite: Chicken Fingers, from the children's menu. I sampled a bite - tender and juicy, coated in a light, non-greasy batter - also delicious.
We'll be back!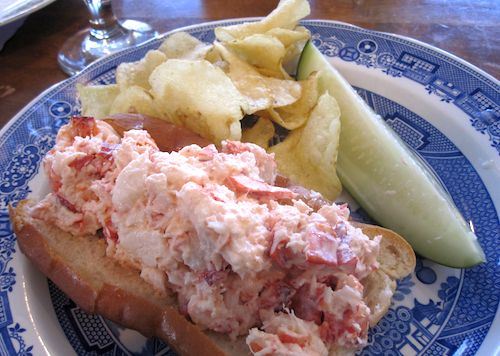 Perfect Lobster Roll at the Wenham Tea House, Wenham, MA

Essentials - Wenham Museum
Location: 132 Main Street, Wenham, MA. From Boston, take I-93 North to Route 128 North; Exit 20-A (Route 1A North - Hamilton). Follow 1A for 2.3 miles. You'll see the museum on your right, just before the Wenham Town Hall and Police Station. You're still technically on Route 1A, but it's called Main Street in Wenham.

Admission: $7 Adults, $5 Children 1-16.

Hours: Tuesday - Sunday, 10am - 4pm; closes at 1pm on Thanksgiving Eve, Christmas Eve, and New Year's Eve; closed on most major holidays but open on Martin Luther King Day, President's Day, and Veterans' Day.

Park: Free parking in front of museum and in nearby parking lots.

Eat: Directly across the street at the Wenham Tea House; serves breakfast, lunch, and tea; delicious food, and reasonably priced.
Will you enjoy the Wenham Museum as much as we did?
If you are . . .
Fascinated by any of the areas covered by the museum's collections - model trains and railroads, dolls, dollhouses, miniatures, clothing and textiles, lead soldiers, life in Wenham and other nearby communities . . .
Considering starting your own collection . . .
Studying American Colonial or New England history, or want to understand more about how American families lived, worked, and played - and of course, collected - from 1690 forward . . .
Interested in Colonial architecture and period furnishings . . .
The answer is Yes! In fact, the Wenham Museum is a must-visit!
It is unique among Boston area museums.
Boston Discovery Guide > Museums > Wenham Museum