Boston Sites for Student Tour Groups
Top Attractions for Student Tour Groups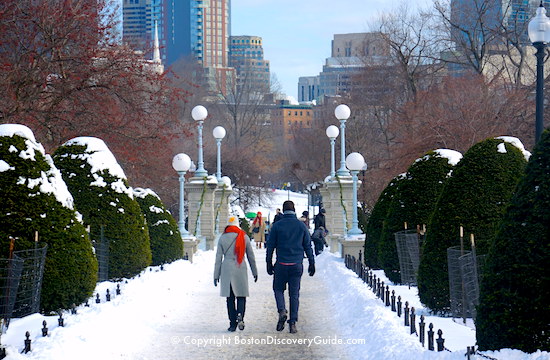 Walking across the bridge in Boston's Public Garden on a snowy day

Greetings from France!
I am planning a student exchange trip with a school in Sudbury during October. We have done this since 2007, so I am familiar with Boston - but do not know it well.
We usually walk along the Freedom Trail to Faneuil Hall with a guide, and then we continue alone to see Paul Revere's house, his statue on the horse, and the famous North End churches.
On another day, we visit Cambridge, and then take the subway to Copley Square and visit the Boston Public Library and Prudential Center. I am wondering whether we might then walk back to North Station?
Do you have any tips about other places we shouldn't miss in these locations?
Thanks for your help!
Nathalie

Dear Nathalie,
Your student visitor tour of Boston and Cambridge sounds like a lot of fun! Although you are seeing lots of key sites, I am happy to suggest a few more attractions for you and your students to enjoy.
Massachusetts State House - Freedom Trail Site
You are probably starting your Freedom Trail tour at Boston Common, right? Depending on whether you're here in early or late October, the tree foliage colors are usually gorgeous. The guides usually walk by the Massachusetts State House, but it fact, it is well worth a visit - lots of interesting art, sculpture, and historical items, plus free entrance.
Many student tour groups from here in Massachusetts visit the State House, and our local representatives and senators usually go out of their way to meet them and even take them on tours of the House and Senate chambers. Since you are here from France visiting Sudbury as part of an exchange program, you might ask your Sudbury school colleague to contact the local representative or senator to see if he/she would be available to greet you and your students.
More about what you can see in the Massachusetts State House
Old State House - Freedom Trail Site
I'm assuming your guide takes you to other Freedom Trail sites prior to reaching Faneuil Hall, such as Granary Burying Ground, Kings Chapel Burying Ground, etc.
In case you've never been inside the Old State House Museum (next to the Boston Massacre Site), it's well worth a short (perhaps 45 minutes - 1 hour) visit - really terrific exhibits about Boston's rebellion against British rule leading up to the Revolutionary War. They offer a variety of tour options for school visits, at just a few dollars per person.
More about the Old State House Museum
Student tour information: http://www.bostonhistory.org/?s=osh&p=groupvisit#studentYouth
(if this link does not work, try: http://www.bostonhistory.org and click on Old State House)
Bunker Hill & USS Constitution - Freedom Trail Sites
Beyond the North End portion of the Freedom Trail, home to Paul Revere's house, is the Charleston section, where you'll find the Bunker Hill Monument and the USS Constitution ("Old Ironsides").
The Bunker Hill Monument is actually located on nearby Breed's Hill, where most of the fighting during the famous battle on June 17, 1775 took place. You and your students can climb to the top of the 221 foot granite obelisk if you feel energetic - or just enjoy the views from the distance.
Even better, in my opinion, is the newish Battle of Bunker Hill Museum across the street from the monument, where you can see a lot of interesting displays and artifacts related to the battle and those who fought in it.
Admission to both the monument and museum are free.
You can also join the free tours of the USS Constitution given by the 50-80 active duty U.S. Navy sailors stationed on board the ship. These tours give a fascinating view of what life was like onboard this ship back in the 1800s.
More about the USS Constitution
Tour information and hours: http://www.history.navy.mil/USSconstitution
Harbor Tour - USS Constitution (water taxi or tour boat)
Cambridge - Harvard Tour MIT Tour MIT Museum Harvard Square Area 4 Pizza Tasty Burger
Copley - walk down Newbury St and Comm Ave or Marlborough to see architecture
Maybe also tour BU
Fenway Park Tour
Public Garden - Make Way for Ducklings, Swan Boats
Walk back to North Station - yes
Beacon Hill - Charles Street
Afro American Museum
West Side Museum
TD Garden - lunch at The Fours - Sports Museum - statue of Bruins star
Greenway, Chinatown
Bright sunshine, mild temperatures, nothing white on the ground - that's the ideal.
But if you visit Boston during any of the late fall, winter, and so-called "spring" months, you may find yourself here on a day or a weekend when snow blankets the city.
Sure, you could stay in your hotel room, order hot chocolate from room service, watch your favorite videos, and hope for blue skies and dry sidewalks.
But the city really sparkles when the white stuff falls. For a unique sightseeing adventure, head over to the Public Garden and follow our itinerary for snow days in Boston.
You'll see some memorable scenes in Back Bay, the Esplanade, and Charles River.
Route length: About 2.5 miles
Challenge level: Very easy; mostly flat, with only a couple of gentle slopes
Route map: At bottom of this page
Make Way for Ducklings Statues
You'll finish your walk on Boston Common where you can enjoy the snowmen, watch the sledders and ice skaters, and end your excursion with hot chocolate or a meal in one of the nearby restaurants.
Boston's Public Garden - Where to Start Your Snow Walk
This walking tour begins at the George Washington statue in Boston's Victorian-era Public Garden. Enter the park through the center entrance on Arlington Street, across from Commonwealth Avenue Mall and the Taj Hotel. Check the walking tour map at the bottom of this page to find the location.
Throughout the rest of the year, the Public Garden attracts hoards of visitors with its colorful flowers, Swan Boats gliding silently across the Lagoon, the famous Make Way for Ducklings statues, and meandering paths.
But when snow blankets everything, you may feel almost alone in the woods - in the heart of Boston.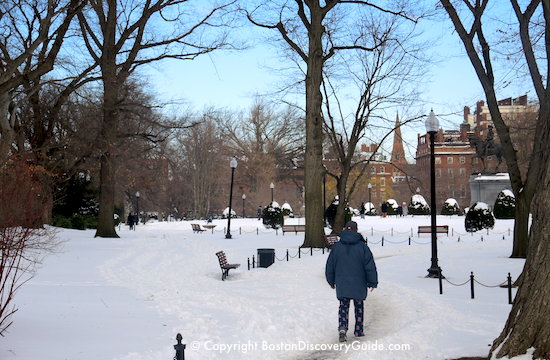 Follow the paths - if you can see them under the snow - and explore the Public Garden from this perspective.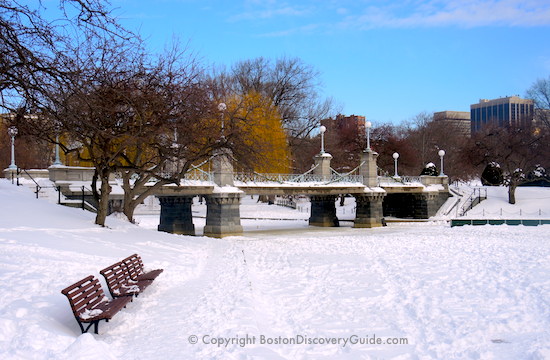 Water is drained from the shallow concrete-lined Lagoon each fall, but it quickly fills with snow. You can even walk in the Lagoon if you want.
Once you have finished walking around the park, head back to the Arlington Street gate and and turn left toward Newbury Street - just past the Taj Hotel.
Take a Short Tour of Back Bay
Snow makes the famous Victorian mansions and historic churches of Back Bay look their elegant best. Without the camouflage of tree leaves, you can admire architectural details hidden from view at other times of the year.
Cross Arlington Street at the light near the Taj Hotel, and walk up Newbury Street to Berkeley Street.
Fascinating art galleries and international designer boutiques fill this first block of Newbury Street. If you want to take a break in your walk, you'll find plenty of tempting browsing opportunities.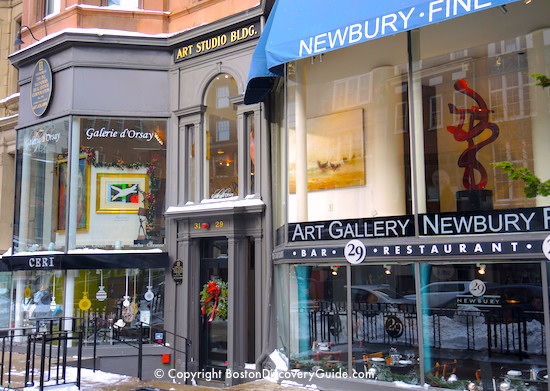 At Berkeley Street, turn right and head toward Commonwealth Avenue Mall.
You'll see plenty of huge mansions along this street as well. Trees and foliage along Berkeley add surprising splashes of color against the white snow.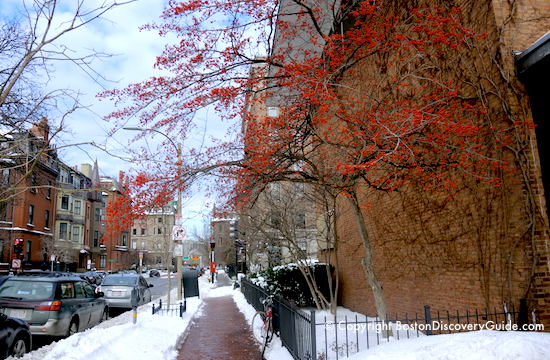 Once you reach Comm Ave Mall, the mile-long park separating the traffic lanes, make a small detour along the paths to admire a few of the many statues.
Comm Ave Mall forms one of the "links" in Frederick Law Olmsted's "Green Necklace" of parks encircling Boston. It links the formal Public Garden with the Fens, near Fenway Park and home to Boston's famous Victory Gardens and Kelleher Rose Gardens - another splendid walking route.
After you've seen enough statues, return to Berkeley Street and walk past Public Alley 428 to Marlborough Street.
Turn right onto Marlborough Street and admire the formal front gardens of the stately mansions.
At Arlington Street, turn right and continue walking past the Public Garden to Beacon Street. Cross Arlington, and then Beacon Street, and walk the short expanse of Mugar Way to the Fiedler Footbridge.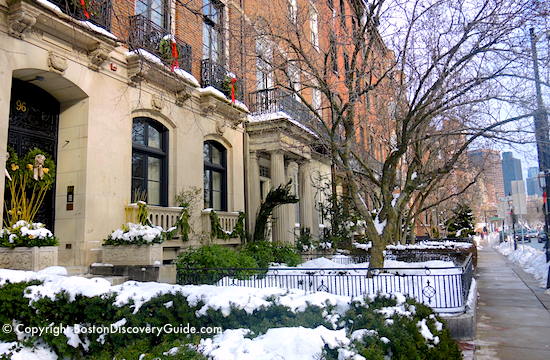 Water is drained from the shal
See the Frozen Esplanade and Charles River
As you walk up the curving ramp of the Arthur Fiedler Footbridge,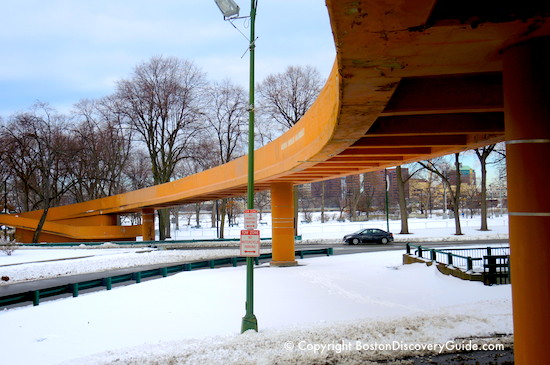 Water is drained from the shal
Water is drained from the shal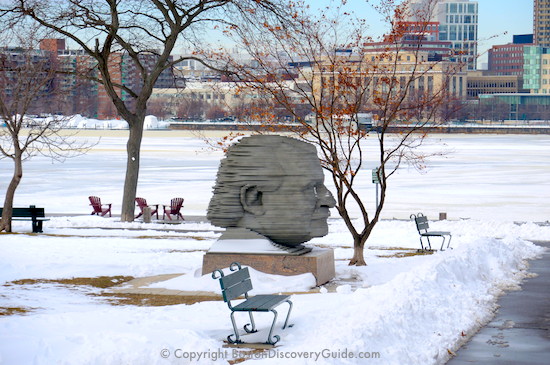 Water is drained from the shal
Water is drained from the shal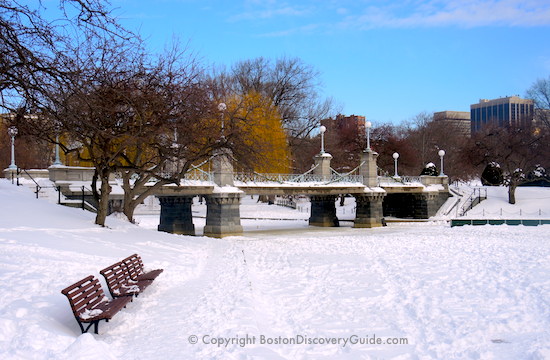 Water is drained from the shal
Join Sledders and Skaters on the Common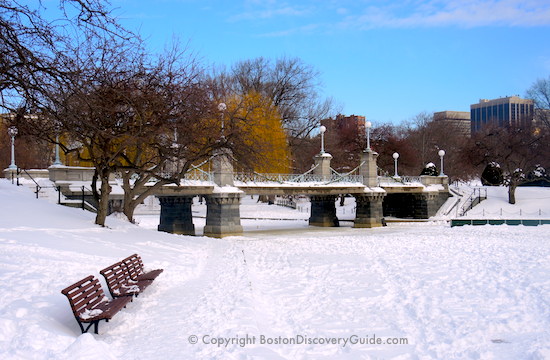 Water is drained from the shal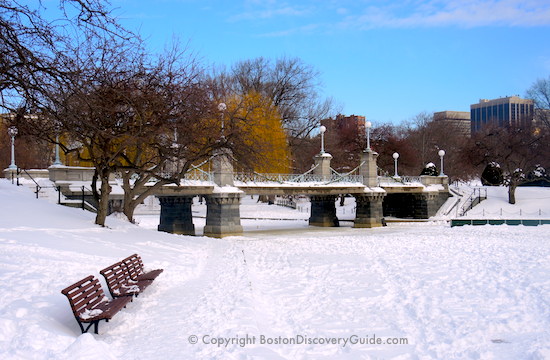 Water is drained from the shal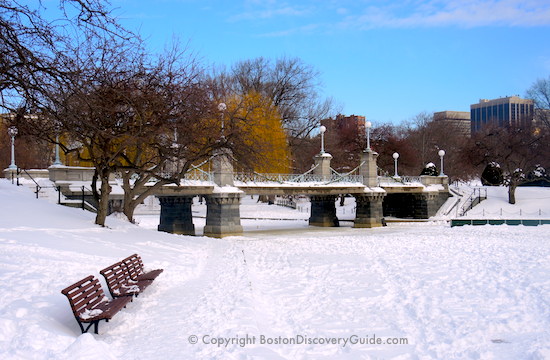 Water is drained from the shal
Reward Yourself with Something Warm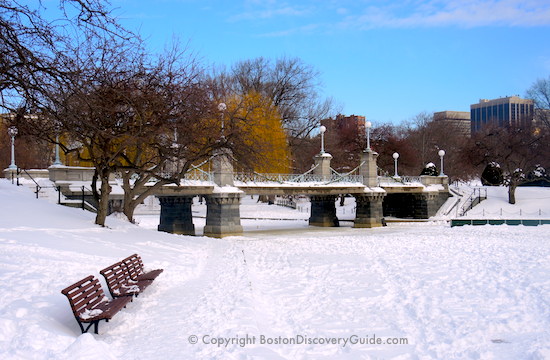 Water is drained from the shal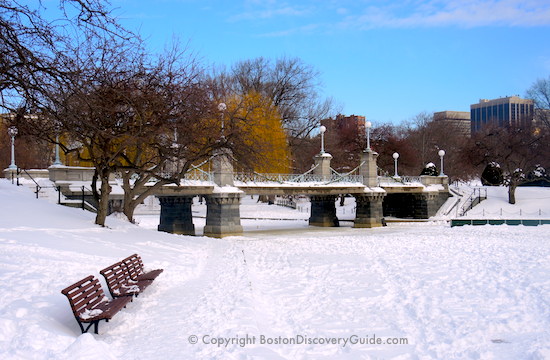 Water is drained from the shal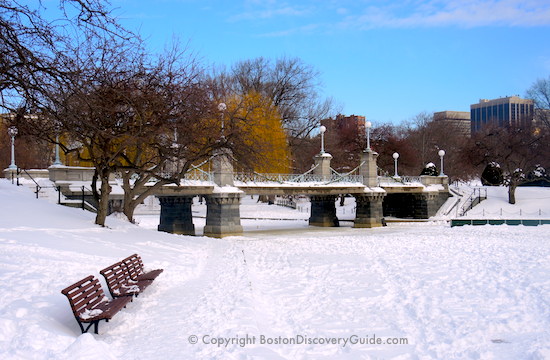 Water is drained from the shal
Map of the Boston Snow Walking Tour Route
Hotels Near this Walking Tour Route
Take advantage of low winter rates and choose one of these wonderful hotels near Chinatown and the Theatre District.
| | | | |
| --- | --- | --- | --- |
| | | | |
Essentials: How to Keep Your Feet Warm While Walking in the Snow in Boston
Snow gets cleared from Boston sidewalks fairly quickly when only a few inches fall, but when the snow is deeper - say 10 inches or more - you will probably end up walking in it. That means you will need a good pair of insulated waterproof boots, preferably with a thick sole, and warm socks. In case you have arrived in Boston without either of these items and find that you need them, the two best centrally located places to buy them are:
City Sports

- 480 Boylston St (between Berkeley and Clarendon), Back Bay, 617-267-3900 - Excellent selection of women's and men's insulated hiking, mountain-climbing, and rain boots. You'll even find Uggs - not that they are the best for snow, ice, or slush. Prices are moderate - mostly in the $85-$180 range. Also carries an excellent assortment of rugged jackets, hats, gloves, socks.

DSW

- 385 Washington St, Downtown Crossing, 617-556-0052 - Ignore all the fashionable but flimsy-in-snow styles and focus on their sturdier selections for women and men. Many choices under $100.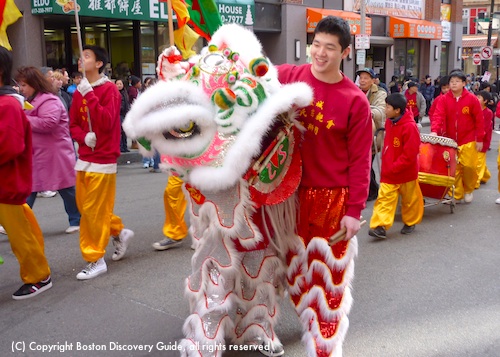 More Winter Fun in Boston
Boston Discovery Guide > Tours > Winter > Walking Tour of Boston in the Snow