Where to Buy Boston Red Sox Tickets
Cheap and Discount Tickets for Red Sox Games
Buy Boston Red Sox tickets at a discount?
"No way!" lots of people, including many Bostonians, will tell you.
It's true, every Red Sox game at Fenway Park has sold out since 2004 when the team won the World Series for the first time in almost a century. And it's also true that Boston Red Sox season ticket holders lock up many seats far in advance of the games.
However, for almost every game, including even the highly prized Red Sox-Yankees games, you can find cheap tickets, discounts, and tickets at less than face value - if you know where to look!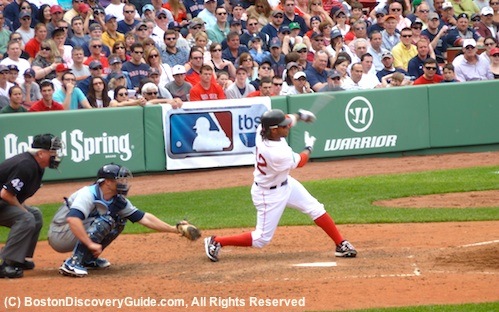 Where to Buy Cheap and Discount Boston Red Sox Game Tickets
Here are my favorite online Red Sox ticket sellers - places where you can almost always score great deals:
Where to Get Boston Red Sox Tickets
If you want to get Red Sox tickets on fairly short notice, your best bet will be a reputable ticket broker, whether you're looking for cheap tickets, discount tickets, or the best seats in Fenway Park.
Why? Lots of the best seats go to season ticket holders, and most of the rest get snapped up as soon as tickets go on sale each January. But . . . quite a few of these seats end up being sold or resold to brokers . . . and eventually to you and other fans.
Are tickets sold through brokers more expensive than those sold through the official Ticket Office? Maybe . . . Maybe not. I almost always pay less than at the Ticket Office.
Broker ticket prices, especially for below-face value Red Sox tickets, depend lots of factors:
Who the Sox are playing
The weather predicted for the game day
How many seats you're trying to get, and if they all have to be together
The location of the seats . . . and how much you care about the location
How the Sox are doing in the season

I loathe paying more than necessary for tickets so I closely compare ticket prices through brokers vs Red Sox Game Day tickets vs advance Ticket Office tickets on the Red Sox website.
In general, brokers offer more tickets in a wide price range - everything from $15 - $400+ seats. I often see better seats on broker sites than at the Ticket Office, especially close to the game date.
And - this is what's kind of surprising - brokers often have cheaper tickets. After all, the sellers can't use them, so they have an incentive to unload them.
See the photo of the ticket to the right? It's my recent Game Day Ticket to see the Sox play the Rays.
I got a fantastic seat right on the first base line on an April afternoon when perfect weather, a few free hours, and the smell of Fenway Franks made getting in line for a Game Day ticket irresistible.
But as you can see, I paid dearly for it.
TicketLiquidator listed tickets for seats in the same row, adjacent section for almost $10 less online. Yes, that was for the same game.
Oh, and I should add: my $99 ticket was the second-cheapest Game Day ticket available by the time I got up to the window. At $55, the other seat had a partially obstructed view. Of course, I did get in line only a half hour before the game, so maybe cheaper ones had already been sold.
AceTicket, however, listed bleacher tickets as low as $12 for that same game. A bonus to buying from Ace is that you can walk around the corner to their office to pick up your ticket in person - no fees!
And do you know what? You can have just as much fun at a Red Sox game with a bleacher seat as you would with a much pricier one - and at the end of the day, you'll enjoy having money left in your wallet.
So if you want to save money on Red Sox tickets, don't walk over to the Game Day ticket window on impulse half an hour before the game like I did and say, "What do you have?"
Plan ahead, and compare broker offers on line.

Which Brokers Have the Best or Cheapest Red Sox Tickets?
First things first: Never, ever buy from scalpers, those guys who sidle up to you outside the gate and mutter "tickets" - or even shout "TICKETS" loudly enough for the entire Boston police force to hear. What they're selling may not get you through the gate - and you'll have no way to get your money back.
Brokers must be licensed by the Commonweatlh of Massachusetts - but some are far better than others.
You want one that guarantees their tickets are legit, offers seats in a variety of locations at great prices, and doesn't charge you excessive fees.
These are brokers who I've found over time to consistently do all of this, and more:
Single Ticket, Game Day, and Red Sox Ticket Auctions
Do these options for getting Boston Red Sox tickets make sense? Sometimes. Here's what to consider:
Single Tickets to Red Sox Games
Although all Red Sox games do sell out since the 2004 World Series championship, a few tickets - almost always for single seats - may remain available through the Ticket Office until close to game time (when they become Game Day tickets). Getting a single ticket at the Ticket Office makes sense when:
You are going alone, or don't mind not sitting with your friends
You don't care how much you pay
You don't care where you sit
Red Sox Game Day tickets
When they make sense:
If you do want to try for Game Day tickets, line up at Gate E. Game Day ticket sales start 2 hours before the game, but you should be in line earlier to have a chance at the best tickets. If you line up at the last minute (see my story above), you may find only expensive tickets. You can buy only 1 ticket for yourself, and you must enter Fenway Park immediately after buying it. The number of tickets and seat locations vary per game.
Red Sox Ticket Auctions
When they make sense:
You enjoy bidding wars
You don't care how much you pay
You won't be disappointed if your bid doesn't win -



Or . . . you're committed to out-bidding the competition
How to Find Single, Game Day, and Auction Red Sox Tickets
Go to the Boston Red Sox website. You should see a link to single, game day, and auction tickets on the home page but if not, use the search box to find the information.
Compare: TicketLiquidator | AceTicket


What's the Best Time to Buy Red Sox Tickets?
If you are sure you want to attend a Red Sox game on a particular day and you don't care about the weather, you can usually find the biggest selection several weeks before the game.
However, if watching a game during an icy April drizzle or searing midday July heat is not your idea of fun, wait until a few days before the game and check the weather predictions.
There are obvious exceptions: If you're trying to get Boston Red Sox playoff tickets or Red Sox-Yankee tickets, or if you need a large block of seats for all your friends or family, start as early as you know your dates!


Bottom Line: Why Red Sox Tickets Matter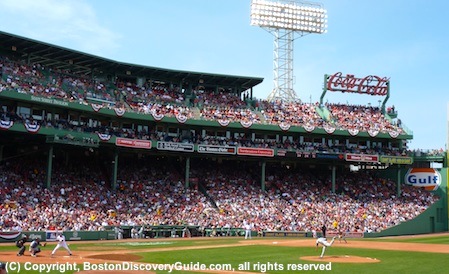 This photo sums up, for me, why getting a Red Sox ticket matters: on a warm day when the sun is shining and skies are blue, watching a game at Fenway Park is one of those mellow experiences that makes Boston Boston. There's simply no better place to be - expecially if the Sox are winning.
So I hope the information on this page helps you get a great ticket at a great price. And I have to tell you - even though I felt like I'd dropped more money than necessary on my spur-of-the-moment Game Day ticket, I enjoyed every single minute of that game!
Check the Boston Red Sox Game Schedule and pick your dates!
See more of my photos taken on the day when I got the Game Day ticket


More for Boston Red Sox Fans
Boston Red Sox Tickets > Boston Sports > Home