Home > Boston Hotels > Downtown Hotels >
Nine Zero Hotel Boston
Fun Boutique Hotel near Boston Common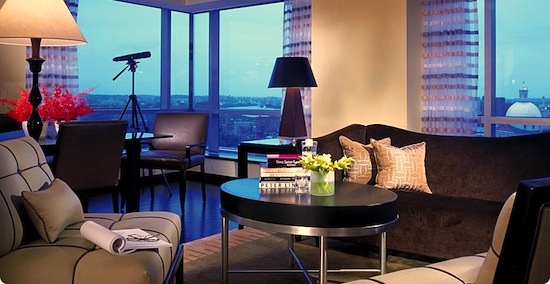 Pampered guests love the sophisticated style and great service at Nine Zero Hotel, one of the best located hotels in downtown Boston.
Nine Zero lavishes luxury extras on its all of its guests, earning loyal fans who love its convenient location and comfort.
You'll find a great blend of elegance and contemporary styling, matched with impeccable and friendly service.
Request an upper floor if you want the best views, especially of the July 4th fireworks over the river.
The Nine Zero's downtown location puts you steps away from many of the city's most popular attractions such as the Theatre District, Boston Common, and important historic sites along the Freedom Trail.
You're also next to the Financial District - so whether you're here for business or for pleasure, you get the best of both worlds.
Why You'll Enjoy the Nine Zero Hotel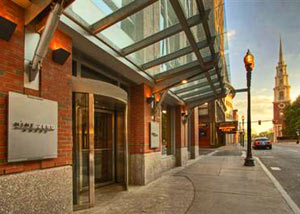 Here are the top 3 reasons why you'll have a wonderful stay in the Nine Zero Hotel Boston:
The cozy yet contemporary ambiance will make you feel right at home . . . but with in-room spa services, a great fitness room, complimentary wine hour, and complementary wireless internet service, you'll also feel very pampered - and you'll see why this is one of the best boutique hotels in Boston.
You'll love the location - almost at the edge of Boston Common, across the street from the historic Freedom Trail and the city's tranquil Granary Burying Ground. It's also close to great Beacon Hill and Downtown shopping, and an easy walk to Boston theaters, the New England Aquarium, and the beautiful Public Garden.
If you're a pet, you'll quickly spot refreshing bowls of water and special treats right inside the front door - and you'll vote Nine Zero Hotel the "most pet-friendly hotel in Boston" - especially after you take your owner for a fun romp in nearby green spaces.
What Else Will You Find Here?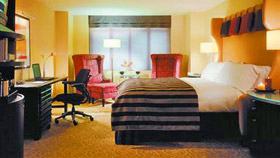 Although this boutique hotel is a Boston favorite with leisure travelers, business travelers are equally enthusiastic.
A 24-hour business center plus the hotel's convenient location to the Financial District and great restaurants make this hotel a winner.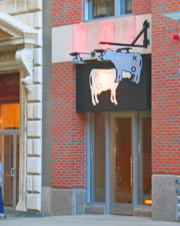 You'll also notice recycling bins, an emphasis on environmentally-friendly products, and best of all, if you drive a hybrid, a 25% parking discount. Once you discover how expensive Boston parking garages can be, you'll realize that this alone will save you significant money.
As a member of the Kimpton hotel group, Nine Zero participates in the "Earthcare" environmental program. You'll see this reflect in small and large ways that set the Nine Zero apart from other hotels in Boston, Mass.
And if you're hungry after a long day of sightseeing or business activities, you'll find KO Prime, a contemporary Boston steakhouse overseen by well-known Chef Ken Oringer (Clio, Uni, Toro, La Verdad, located right in the Nine Zero. Of course, you'll also find lots of other terrific Boston restaurants nearby.
What's Near the Nine Zero?
At Nine Zero Hotel Boston, you're right in the heart of one of Boston's most historic neighborhoods . . . and also a quick walk from many of the city's other most interesting tourist attractions and activities.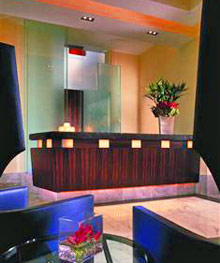 In nearby Boston Common, you can ice skate on Frog Pond in the winter, enjoy Shakespeare on the Common in the summer, or stroll over to the Public Garden for a ride on the famed Swan Boats.
You can walk along the Freedom Trail and explore 17 sites and museums . . . or linger in Faneuil Hall / Quincy Market for some great shopping.
Or explore nearby neighborhoods: Beacon Hill, Back Bay, the North End. Or catch a musical at the beautifully restored Opera House or a show at another of Boston's fabulous theaters.
You'll also find lots of restaurants in all price ranges near the Nine Zero Hotel . . . plus you're just a few blocks away from some of Boston's historic taverns and Irish pubs.
More to Know for Your Boston Visit
Home > Boston Hotels > Downtown Hotels > Nine Zero Hotel