Logan International Airport Information
Fly into Tokyo, London, Paris, Dallas, and many other cities around the world, and you'll have to spend an hour or two getting from the airport to the city - which, quite frankly, is not very convenient.
Boston's Logan Airport, by contrast, is practically downtown . . . actually, just a short distance across Boston Harbor. Hop on a water taxi, and you'll be downtown in 7-10 minutes - and enjoy some scenic views of the city skyline as you zip across the water.
Of course, you can also take a land taxi or Boston's subway (the "T") to your hotel, but they take a little longer. The least convenient option for getting into the city, unless you're very, very familiar with Boston's streets,
rentals - Boston Logan Airport
Boston car rental choices available from the ground transportation area at Logan include Hertz, Avis, National, Dollar, Budget, Alamo, and Enterprise.
Picking up a rental car at the airport can be convenient if you're heading out of Boston - but if you're heading into the city, a car can quickly become a liability.
Although Boston's compact size delights walkers, being small comes with a price. Streets tend to be narrow and winding, one-way only, blocked by double-parkers, and clogged with jay-walking pedestrians. Local driving customs including not using turn signals, ignoring red lights, and making random u-turns. Finding your way around can be more of a challenge than you might expect - you cannot rely on GPS being 100% accurate here.
And then there's the cost of city parking: Boston hotels charge up to $49/night (plus tax) to park overnight. Daytime garage rates can be almost as high. A car can become an expensive liability - especially if you end up mostly walking while you're here.
So before you automatically reserve a Boston rental car for your entire visit, consider taking a water taxi or regular taxi to your hotel and renting a car only for whatever time you need one - or using a Boston limo service and letting someone else worry about the driving.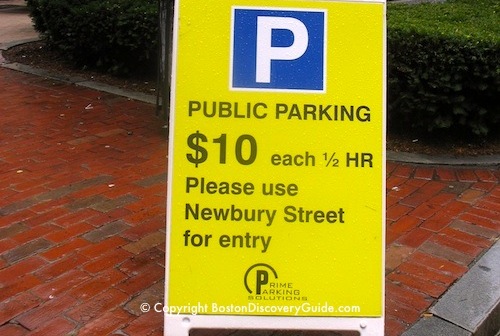 Always be sure to read the fine print . . . that's $10 for every HALF HOUR of parking!
Car rental locations in Boston and Cambridge
If you need a Boston rental car only for part of your visit, consider renting one only for the time when you'll need it. Several large plus a couple smaller rental agencies have pick-up/drop-off locations in Boston and across the river in Cambridge:
National and Alamo:

270 Atlantic Ave (near New England Aquarium on Downtown Waterfront)

Hertz:

30 Park Plaza (next to Park Plaza Hotel); Back Bay Amtrak Station; South Station; Sheraton Boston Hotel next to Prudential Center

Avis:

Government Center; Back Bay Amtrak Station; Charles Hotel in Cambridge

Budget:

Le Meredian Hotel (20 Sidney St), Cambridge

Dollar:

Holiday Inn Boston (near Mass General Hospital, Beacon Hill, Government Center)

Select:

Seaport Hotel, South Boston Waterfront
Another good option is to rent a Zipcar by the hour. If you living in one of the other North American cities or London where Zipcars are available, you may already be a fan. They are very popular in Boston, and you'll find numerous pick-up points around the city, including many hotels.
Boston Limo Service
Still another convenient and surprisingly affordable alternative to renting a car for your entire Boston visit is to use a car service, or limo service.
You can request a driver to pick you up at the airport or the Black Falcon Cruise Port and drive you to your hotel. Car services are also a great choice for sightseeing around the city or being driven back to your hotel in comfort after a Boston Red Sox game at Fenway or a concert at Symphony Hall.
Check limo.com to get quotes for the service you want. You can also specify whether you want a luxury sedan or town car - or a fancy stretch limo.
Limos are also ideal for events outside of the city, such as a New England Patriots game or concert at Gillette Stadium, a day of power shopping at Wrentham Outlets, or a visit to Plimouth Plantation on Boston's South Shore.
Another alternative to a Boston rental car
A few Boston luxury hotels provide complimentary in-town car services, ranging from plush sedans to green hybrids. Depending on what you need, this may work well for you - plus you'll get to experience Boston's best hotels. Three luxury Boston hotels in to check out:
The bottom line?
Reserve a Boston rental car for your entire stay only if you really need one! Otherwise, rent a car just for the hours or days when you actually need it, or use competitively priced limo services. If you only need in-town transport, consider a luxury hotel that throws this in for free may be your best choice.
Once you add up what you'll save on car rental fees, taxes, insurance, and parking fees, chauffeured limo services or luxury hotel car services may turn out to be the most economical choice!