Home > Boston Hotels >
Hotel Recommendations for Vacations In Boston with Kids
Where to Stay near Top Family Attractions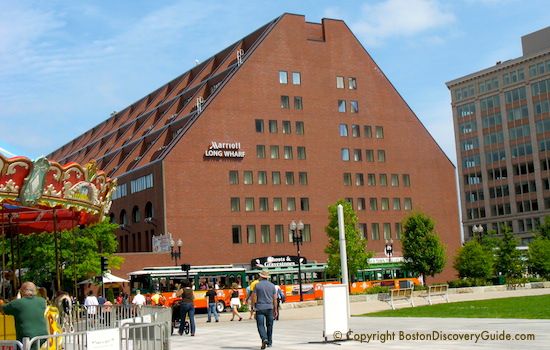 Family-friendly Marriott Long Wharf next to the carousel on the Boston's Rose Kennedy Greenway
"Can you recommend a great family-friendly Boston hotel where I and my family of kids (ages 4, 8, 12 and 16) can appreciate all the wonderful attractions? We would like to see whales, galleries, historic sites and even the Harvard campus for our teenager in particular.

This is a first Boston visit for all of us."

Thank you,
Maria
Hi Maria,
What a great question from a Boston Discovery Guide visitor. Sounds like you and your kids will have a wonderful vacation here in Boston!
I have 3 hotel recommendations for you, based on the attractions you mentioned as well as the ages of your children.
They're all in terrific neighborhoods, with parks nearby in case your younger children want to go to a playground or your older ones want to toss a frisbee.
Since you're traveling as a party of 5, I also picked hotels with rooms slightly larger than average for Boston (as in most large cities, our hotel rooms tend to be on the small side).
Finally, they're all close to public transportation and stops along the sightseeing trolley tour routes.
Have a wonderful time in Boston with your family!
Susan
Boston Marriott Long Wharf
My first recommendation for a hotel for your Boston vacation with your kids is the Boston Marriott Long Wharf. It's location right on the waterfront puts it right in the middle of some of Boston's most popular activities - whale watching cruise departures, the New England Aquarium, and only a few steps from the Rose Kennedy Greenway - a fabulous parkland where your kids can enjoy the carousel and and a huge splash fountain.
Many historic sites and the Freedom Trail are nearby. You'll also find an enclosed children's playground behind the hotel at the edge of Christopher Columbus Park - perfect for young kids from about 2 to 6 years old.
Another bonus: the Marriott has an indoor swimming pool.
The downside: rates get expensive in the summer because of the location. definitely compare rates from several booking agencies.
Hilton Boston Downtown/Faneuil Hall
The next suggestion is the Hilton Boston Downtown/Faneuil Hall, just 3-4 blocks from the Long Wharf Marriott. As its name suggests, the Hilton Boston Downtown/Faneuil Hall is a business hotel with very nice amenities - but rates sometimes drop on weekends, and its location puts you close to the waterfront, the Greenway, and Chinatown where you'll find lots of great restaurants.
The Hilton occupies a building that was Boston's first skyscraper, built almost 100 years ago, and offers spacious (for Boston) rooms.
The Hilton is one of those "hidden secret" hotels - you wouldn't necessarily think of it for leisure travel but it's an attractive option. Although I do see lots of families coming and going from here on the weekends - so perhaps it's not that much of a secret!
Check rates and reviews for the Hilton Boston Downtown/Faneuil Hall
Wyndham Hotel Boston
My 3rd hotel recommendation, the Wyndham Hotel (formerly the Holiday Inn) on Blossom Street in Boston's West End neighborhood, is very close (just on the other side of Cambridge Street) from Beacon Hill, where you can visit the Afro-American History Museum, pick up a map, and explore Beacon Hill while walking along the Black Heritage Trail.
The Wyndham has a small outdoor swimming pool on a sun deck. You can explore Beacon Hill by walking along Charles Street to Boston Common, where you can pick up the Freedom Trail, or cross over to the Public Garden for a self-guided tour to see the Make Way for Ducklings statues and ride on the Swan Boats.
From the Wyndham, an 8-10 minute walk takes you to the whale-watching departure point next to the Marriott.
Check rates for the Wyndham Boston
How to Get to Attractions near these Family-Friendly Hotels
Among the attractions that you mentioned, whale-watching tours, historic sites, and several museums are nearby.
Whale watching tours depart from Long Wharf next to the Aquarium (and the Marriott Long Wharf), adjacent Central Wharf, and nearby Rowes Wharf. You can find information about the tours here. If you're interested in also visiting the Aquarium, be sure to check out savings on the combo Whale Watch & Aquarium ticket option.
The Freedom Trail provides a terrific introduction to Boston's most important historic sites and attractions. You can take a self-guided tour just by walking along the red stripe, or go on one of the fun tours led by costumed guides. Three of the sites are actually museums - the Old South Meeting House, Paul Revere's House, and the Old State House - and another, the USS Constitution (a.k.a. "Old Ironsides") offers free tours. If you opt for a guided tour, it's easy to come back to the museums on your own, as the tours don't take you inside.
The Hop-On-Hop-Off Trolleys provide an easy way to get around, see the city's top historic attractions and wonderful museums, and hear entertaining tidbits about Boston from the informative drivers/guides. Plus, kids love the trolleys. More Trolley information and tickets.
Visiting and getting to Harvard University from the Marriott Long Wharf, the Financial District Hilton, and the Wyndham Boston Hotel
Harvard's Cambridge location across the Charles River from Boston means you can get there easily on the subway's Red Line from all three of these kid-friendly hotels. You'll get off, naturally, at Harvard Station at the edge of the Harvard campus.
The Harvard campus in Cambridge is filled with beautiful old buildings, green lawns, and even a couple of museums. The family favorite Museum of Natural History (26 Oxford Street), located just north of Harvard Yard, features huge Kronosaurus and Pterodactyl skeletons, lots of minerals and rocks, and the famous Blaschka glass flowers collection. A good way to get acquainted with the Harvard campus is to combine a Harvard walking tour with admission to the Museum.
For an official Harvard tour, sign up through their website (www.harvard.edu). Be sure to arrive about an hour early, as they suggest, in order to see an inspirational video featuring famous grads such as Tommie Lee Jones and Yo Yo Ma, who talk about what going to Harvard meant to them.
Boston Insider's Tip
Do you like corny humor? If so, ask someone local how to get to Harvard. They may tell you, "Well, first you have to study real hard . . . "
Saving money on museums and cruises
Since your plans include going to museums, the Aquarium, and maybe a whale-watching cruise, you should consider getting Boston sightseeing passes - you'll save up to 50% depending on how many destinations you visit. There is also a children's version, as kids get discounts or free admission, depending on their age and the site.
Even better, you also save a LOT of time because you can go to the head of admission lines in most places. Sometimes the wait in line at the Aquarium takes up to an hour if you need to get tickets at the door. Plus, the GoBoston card usually throws in a freebie, such as 2 days of free rides on the Beantown Trolley.
Favorite Boston Tours for Kids