The arrival of Coronavirus (COVID-19) has dramatically impacted Boston and the rest of the world in a shockingly short time. Here at Boston Discovery Guide, we've been getting lots of questions about what's open, what's closed, what's cancelled, and what is rescheduled. If you're here for a visit or planning a visit in the near future, you may be wondering if you should leave, cancel, postpone to another time, or come anyway.
Basically, almost all indoor Boston venues and events are now cancelled, suspended, or rescheduled.
The information in this article is current as of March 19, 2020.
Below are details about what we know right now about cancellations, new dates, and what to do with the tickets you've already bought plus updates on what's open.
In Boston, like so many other places around the globe right now, the situation is fluid and changes are happening daily, if not hourly. In this time of rapid change, please confirm directly with event sponsors or venues before you go.
Top photo: Victorian mansions overlooking Commonwealth Avenue Mall
LATEST UPDATES: Boston Event COVID-19 Cancellations, New Rescheduled Dates, Ticket Info, & General Status
The Governor of the Commonwealth of Massachusetts, Charlie Baker, has declared a State of Emergency and banned most gatherings of more than 25 people. He ordered all consumption at restaurants to cease by March 17- only takeout or delivery will be available through April 6.
The COVID-19 ban includes sporting events with spectators, concerts, shows, public leisure, community, civic, public leisure such as fitness centers, theaters, clubs (public and private), faith-based gatherings, conventions, fundraisers, parades, fairs, festivals, and anything similar that brings together 25 or more people in a single room or space at the same time. All elective surgeries at hospitals will be postponed, and private insurers have been ordered to allow providers to deliver services through Telehealth if you want to consult a medical professional while staying at home. These orders take effect on Tuesday, March 17 will remain in effect through April 17.
Here is an important explanation from Governor Baker's message:
"... the reason we are taking this so seriously is because it [COVID-19] is incredibly contagious. There will be more cases of COVID-19, but we also know that if we take decisive steps now and everyone plays their part by following the best medical guidance, we can slow down the spread, and our healthcare system can be better positioned to care for the people who need it."
This ban does not apply to transportation such as the commuter rails and Boston subway (but MBTA ferry service has been suspended for now), shopping centers, polling places, grocery stores, offices, factories or government buildings. It is not clear at this time if it impacts public libraries. Public spaces such as parks are open.
School & University Closures
Governor Baker has ordered all public school districts in the state to close by Tuesday and remain closed for 3 weeks through April 7.
Virtually all colleges and universities in Boston, Cambridge, and nearby areas have moved to online instruction and have required (with a minimal number of individual exceptions) their students living in dorms to vacate by mid-to-late March.
Stores, Malls, & Other Retail Temporary Closures
Shopping Malls - A number of shopping malls owned by Simon Properties will close from 7pm on March 18 through March 29. Impacted malls in the Boston area include Copley Place, The Shops at Chestnut Hill (Newton), Wrentham Village Premium Outlets, Burlington Mall, South Shore Plaza (Braintree), and Northshore Mall (Peabody).
SoWa Open Market, which usually draws sizable crowds in relatively small spaces, has temporarily closed but hopes that you will still continue to shop their local artisans online
Urban Outfitters is temporarily closing all locations worldwide but online shopping remains available
Events & Venues Cancelled, Temporarily Closed, Rescheduled
For cancelled ticketed events, contact the ticket vendor or agency (for example, Ticketmaster, Stubhub, TicketNetwork, TicketLiquidator, GetYourGuide, or the event organizer or event venue) where you bought your tickets for refunds.
For rescheduled events, most are taking a "keep your ticket" approach so that your original ticket will be valid for the new date.
Parades, Festivals, Boston Marathon, & Other Events: COVID-19 Cancellations & Postponed Dates
St Patrick's Day Parade - March 15 - Cancelled
St Patrick's Day 5K Road Race - March 15 - Cancelled
Irish Festival at Patriot Place in Foxborough - March 14 - Cancelled
Boston Flower & Garden Show - Early close at 6pm on March 13; cancelled for March 14 & 15
Irish Film Festival - March 19-22 - Postponed to November 19-22 - Keep your tickets
Comic Con Northeast, Boston - March 20-22 - Cancelled
Anime Boston - April 10-12 - Cancelled
Boston Marathon - April 20 - Postponed until September 14 (Need new hotel reservations? Make them now while good rates are still available)
Walk for Hunger - May 3 - Cancelled
Professional Sports - Suspensions & Delayed Seasons
All major league Boston sports seasons are suspended - the expectation at this time is that games will resume at some point (as with everything else related to coronavirus, this is subject to change) and your current tickets will be good for the rescheduled date - so hold onto them.
Boston Bruins - NHL put the season on hold as of March 12 - no word yet when it might resume
Boston Celtics - NBA put the season on hold as of March 11 - will reassess in 30 days
Boston Red Sox - MLB has delayed the start of the season (scheduled to begin on March 26) by at least 2 weeks
New England Revolution - MLS suspended the soccer season for 30 days, starting March 12
NCAA Women's Hockey Frozen Four - March 20, 22 - Cancelled
Meanwhile, here's some music by Fenway Park's organist for Red Sox fans to enjoy:
Museum & Other Cultural Institution Closures
Boston Children's Museum - closed through April 3
Boston Public Library - Closing at 6pm on March 16 until further notice; all online services remain available
Isabella Stewart Gardner Museum - closed for a minimum of 14 days starting March 13; all concerts, events, and public programs scheduled through April 20 will be cancelled or postponed
Museum of Fine Arts - closed for up to 30 days, starting March 13
MIT Museum - closed until further notice
New England Aquarium - closed on March 12 for at least 3 weeks - hold onto your tickets - they will be honored
Boston Museum of Science - closed on March 12 for at least 3 weeks
JFK Presidential Library & Museum - closed until further notice
Harvard Art and Museums - events are cancelled through May 19 (includes Museum of Natural History, Peabody Museum of Archeology & Ethnology, Harvard Semitic Museum, and Collection of Historical Scientific Instruments)
ICA Boston - closed until further notice; all events and programs are cancelled through April 19 - ticket holders are being contacted directly regarding refunds and exchanges
Historic Venue Closures
Freedom Trail & other historic sites - The Freedom Trail Foundation announced the end to all public programming, tours, and access until at least March 31 to the following sites: King's Chapel, Old North Church, Old South Meeting House, Old State House, USS Constitution Museum, the Museum of African American History, Paul Revere House, and the USS Constitution ship under US Navy Command. Freedom Trail Foundations tours will also be halted through at least March 31.
Theaters - COVID-19 Postponements & Cancellations
Wang Theatre and Shubert Theatre (Boch Center) - Live performances through April 30 are cancelled or postponed, including Nick Jr. Live March 14-15 ( cancelled), The Bachelor Live March 27 (postponed), Lyon Opera Ballet ( cancelled), Paul Taylor Dance April 17-19 ( cancelled), Alvin Ailey April 30-May 3 ( cancelled). Wang Theatre tours and education programs are cancelled until further notice. For rescheduled events, hold onto your tickets - they will be honored on the new date.
Emerson Paramount Theatre, Cutler Majestic Theatre, and Tufte Performance Center - most performances, films, and other events through at least April 18 are cancelled or postponed - more info
Boston Opera House - all Carmen performances by Boston Ballet at Boston Opera House for March 12-22 will be postponed until March 20-30 - hold onto your tickets; all Broadway in Boston performances of The Band's Visit for March 24-April 5 will be postponed - date TBD - hold onto your tickets; remainder of the Broadway in Boston shows are expected to go forward as scheduled
Emerson Colonial Theater - all Broadway in Boston performances of The Jersey Boys for March 18-22 will be postponed - date TBD - hold onto your tickets; other performances through March are cancelled
Concerts - COVID-19 Postponements & Cancellations
Dropkick Murphy concerts - rescheduled for September 11-13 - hold onto your tickets
Berklee College of Music - all events and performances will be cancelled starting March 14 until further notice
Boston Symphony Orchestra - all BSO performances are cancelled between March 13 and March 28; BSO is offering ticketholders several options - more info
TD Garden concerts - Billie Eilish (March 19) and Michael Bublé (March 25) concerts are being postponed - more info
Big Night Live concerts - On hold until April 1
Royale Boston - Will be closed until the mandate banning large gatherings in the Commonwealth of Massachusetts is lifted; currently trying to reschedule events - if that is possible, your ticket will be valid on the new date and you will be notified; if not, your credit card will be automatically refunded within 30 business days
House of Blues - Concerts and events through March appear to be cancelled; shows starting April 2 still appear to be scheduled
Charles Playhouse - Blue Man Group and Shear Magic performances cancelled through March 29
Brighton Music Hall - Most performances cancelled through the end of March; also some April cancellations
House of Blues - Although some concerts and events have been cancelled through about mid-March including the Dropkick Murphys concerts which will be rescheduled, others appear to still be scheduled starting about March 26. Foundation Lounge is open and Gospel Brunch is still scheduled
Paradise Rock Club - Shows through March 25 are cancelled or postponed
Middle East, Cambridge - Shows are cancelled through March
Other Venues - Closures, Cancellations, Postponements
Agganis Arena - Events through March including NCAA Women's Hockey Frozen Four and Jurassic World Live Tour are cancelled. Sesame Street Live! on April 24 is cancelled. All other events and concerts from April 15 forward appear to be "on" at this time - but stay tuned
Encore Boston Casino - closing for 2 weeks beginning March 15
Restaurants & Bars - Moving to Takeout & Pickup Only, Plus Some Temporary Closures
Takeout and pickup only at restaurants and bars - Starting on Tuesday, March 17, this will be the new norm at the city's restaurants, pubs, and sports bars
Over a dozen South Boston bars and restaurants are closed on Sunday, March 15 in a joint effort to limit the spread of COVID-19. Normally these places would be packed today for St Patrick's Day - so big shout out to them for taking this hit in the interest of the public's health
Time Out Market has announced temporary closure of all their global markets starting on March 16, including the one in Fenway
At this point, most other Boston, Cambridge, and Somerville restaurants remain open, although a handful are closing temporarily
Boston Harbor Cruises - Temporarily On Hold
Northern Lights Cruises - On hold until April 10
Whale Watching Cruises - Pushed back to April 6
MBTA Ferries - Effective March 17, all MBTA ferries are cancelled until further notice
Boston Sightseeing Tours - Temporarily On Hold
Most (BUT NOT ALL) are on hold due to the importance of social distancing. Some can be booked now - plus you can always book for the future. Here are some tours from booking platform GetYourGuide, which has initiated a no-risk cancellation policy (see below):
Coronavirus Cancellation, Refund, & Credit Policy from GetYourGuide:
GetYourGuide has proactively put in place a traveler-first cancellation policy given the uncertainty and fear travelers are feeling:
Travelers who cancel a booking more than 24 hours in advance will receive a full refund from GetYourGuide.
Travelers who cancel a booking within 24 hours of the planned start time will receive a credit redeemable for the full value of their booking.
When an attraction or event is forced to close, we will proactively reach out to customers and refund their booking.
You can find updates and new information about their cancellation policies here: https://www.getyourguide.com/magazine/2020/03/coronavirus-travel-update-2020/
What's Open & Happening in Boston Right Now Despite COVID-19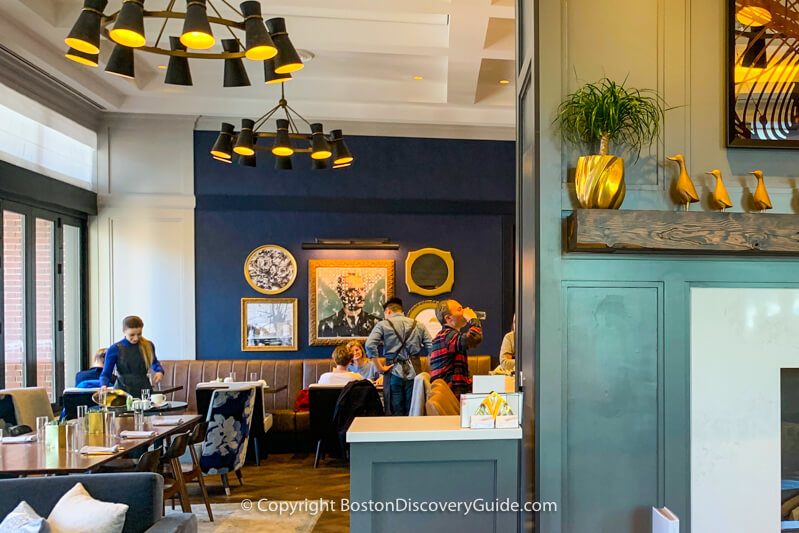 Again, the situation in Boston is very fluid right now and changes constantly - but at this moment, some good options are still operating and available. Right now, to the best of our knowledge, these places, events, and activities are still a "go" - but check with them directly for any last-minute updates!
Most restaurants remain open for takeout & pickup. There are a few closures, including Time Out Market which is closing all of their locations including the Fenway TOM starting on March 16. Many, if not most, restaurants are proactively taking extra protective measures such as constantly sanitizing, removing tables to support social distancing, and taking temperatures of staff during each shift as well as offering curbside carryout pickup; check their websites to see what precautions they have in place and don't hesitate to ask if you have questions. Peregrine's statement is an example of what you might expect
Most hotels remain open - One exception: Boston Marriott Long Wharf, which hosted the Biogen gathering linked to many of the initial coronavirus cases in Eastern Massachusetts, closed on March 12 for about 2 weeks
Local stores and markets: Most remain open, although a few have closed and directed customers to their online shopping websites. See the previous section for a few exceptions.
Public parks - Walk around, soak up sunshine, and spot the early signs of spring while still maintaining social distancing. For tips on where to go, check out our Spring Flowers and Boston Parks articles
Massachusetts State House remains open to the public (as far as we can tell) - Wander around and enjoy the art, sculpture, and architecture
Boston Tea Party Ships & Museums - Currently open, and closely monitoring the situation so this could change; they will be closed on March 16 and 17 for previously planned renovations. They plan to reevaluate daily after the 17th, and limit tours to 25 to allow for plenty of empty space. At this point, they plan to hold tours on March 24, 28, 31
More Articles about Parks & Places You Can Visit during Coronavirus COVID-19
Need a Boston Hotel?
Use this handy hotel map from Booking.com to find the perfect place to stay. Just enter your dates to find what's available, see the best rates, and make your reservations.