Home > Restaurants >
20 Cambridge Restaurants You Won't Want to Miss
Where in Eat in Cambridge, MA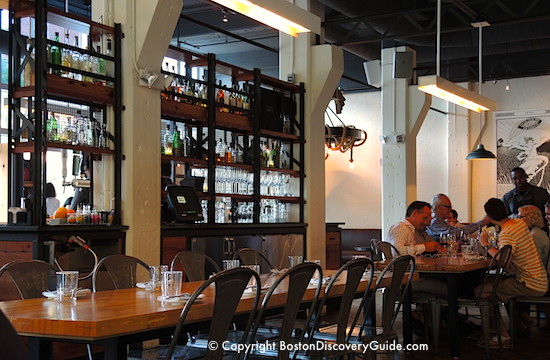 Many restaurants in Cambridge, such as West Bridge shown in this photo, offer a casual ambiance - and seriously good dining
Cambridge restaurants serve up some of the tastiest, most creative cuisine in the Boston area.
Perhaps reflecting the presence of Harvard, MIT, Tufts, and other nearby universities, most places to eat in Cambridge tend to be a bit more casual than restaurants on the Boston side of the Charles River.
But the large number well-heeled professionals working and dining in this area means chefs need to please discerning palates.
Picking only twenty top places to eat in Cambridge turned out to be tough - but you'll savor every bite at each of these choices.
Guide to Cambridge Restaurants
West Bridge
Vegetables take center stage at West Bridge - although the meat and seafood accompanying them are equally memorable.
Although the menu change frequently with the seasons, the restaurant's famous "egg in a jar" stays on by popular demand.
The dinner menu offers a few large and to-share sized portions, but the emphasis is on small plates, each a work of art visually and an explosion of flavors and textures. A 5-course prix-fixe tasting menu is also available. Desserts are as innovative and delicious as the rest of the menu - so try to save room.
There's no other restaurant quite like West Bridge in the Cambridge-Boston area. And, it is surprisingly affordable.
1 Kendall Square | Red Line/MIT | 617-945-0221 | www.westbridgerestaurant.com | Lunch (Monday thru Friday only) and Dinner
Oleana
Renowned chef/owner Ana Sortun serves up incredibly tasty Eastern Mediterranean dishes at Oleana unlike any other restaurant in the Boston/Cambridge area.
The addictive melange of Turkish, Tunesian, Greek, Persian, Moroccan and other flavors means lots of fans - so reservations are a must, and can be hard to get.
But once you sample a few of the small meze offerings or one of the larger main courses, you'll be hooked. And that's before you taste the unique house-made ice creams and other desserts.
Oleana also serves one of the best vegetarian tasting menus in the city - enhanced, as are all the veggies here, by their origins 25 miles west of the city at organic Siena Farms, owned by Chris Kurth, Ana Sortun's husband.
134 Hampshire Street, near Inman Square | Red Line/Harvard | 617-551-0505 | www.oleanarestaurant.com | Dinner
Also worth a visit: Sarma (249 Pearl Street, Somerville, MA; 617-764-4464; dinner only), Ana Sartun's newest restaurant specializing in small meze plates celebrating Turkish cuisine.
Blue Room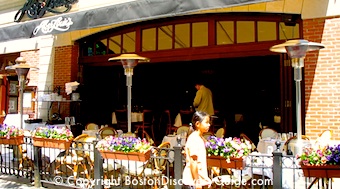 Prime steaks, huge portions, and a great wine list make award-winning Abe and Louie's one of the city's most popular steakhouses.
Choose from outdoor dining during warm weather or the comfy leather chairs and booths inside the handsome dining room featuring a barrel-vaulted gold-leaf ceiling, massive bronze chandeliers, and lots of mahogany.
Cutting back on red meat? Not to worry - have a swordfish steak, grilled shrimp, or New England lobster.
793 Boylston St | Green Line/Copley | 617-536-6300 | www.abeandlouies.com
Tasty Burger
Order one of the delicious seafood appetizers - the shellfish platter or the smoked salmon from Maine - add a salad, and you may be tempted to call it a meal - but that would be a mistake. This favorite Back Bay restaurant serves up some of the best top-quality beef in town, along with perfectly prepared fish and shellfish. Interesting salad and vegetables at this popular Back Bay restaurant keep vegetarians, as long as they ignore the plates filled with juicy steaks on the other tables. Everyone will enjoy the robust wine list.
900 Boylston Street | Green Line/Hynes Convention Center | 617-262-8900 | www.thecapitalgrille.com
Puritan & Company
161 Berkeley St | Green Line/Arlington | 617-542-2255 | www.grill23.com
Another premier Boston steakhouse, Grill 23 specializes in prime, all-natural beef - although its grilled seafood offerings are also excellent. The menu looks extensive, but actually it's simple: if you want beef or lamb, decide which cut you fancy - and it will be cooked to your specifications. Seafood choices are also simple: large boiled Maine lobsters and large swordfish steaks.
Portions at this popular Back Bay restaurant are huge - be sure to come with a hearty appetite! Grill 23's 1,000+ choice wine list also contribute to a festive evening.
Alden & Harlow
Davio's innovative Northern Italian food and carefully chosen wine list will please meat lovers, fish lovers, and pasta lovers alike. And vegetarians and vegans will love the vegetables here.
75 Arlington St, between Saint James and Stuart; Green Line/Arlington | 617-357-4810 | www.davios.com
Money-saving tip: Some of Boston's most expensive restaurants call Back Bay "home." If their dinner prices make you blanch, consider going for lunch instead. Menus may be similar to dinner, but much more affordable.
And to try top Back Bay restaurants without flattening your wallet, check out Dine Out Boston during March and August.
Japanese Food Stalls at Porter Square
You'll almost think you're in Tokyo as you explore the small food stalls in the art deco former Sears Building now owned by Leslie College in the heart of Porter Square.
Most specialize in a particular food - donburi, sushi, curry, mochi - and have only 12-18 seats.
Blue Fin and Chocho are larger and offer more extensive selections, including bulgoki. Sapporo Ramen attracts almost a cult following of fans addicted to the flavor-packed broth.
At meal times and on weekends, expect lines of waiting diners at most places.
1815 Massachusetts Ave, toward the back of the ground floor | Red Line/Porter | Cash only at some places | Most open at about 11:30am and remain open through dinner
Henrietta's Table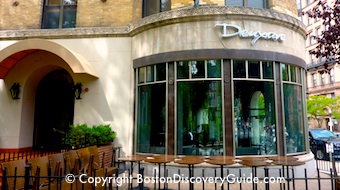 Deuxave, a stylish, light-filled spot at the corner of Mass Ave and Comm Ave uses high-quality fresh local ingredients, contemporary French preparation techniques, and flavor inspirations from around the world.
Wines also incline toward France, with a nice selection from affordable to celebratory, and 20 available by glass.
Enjoy the outdoor "terrace" (well, really the sidewalk) seating in the summer, the chic bar, and the cozy fireplace in the main dining room.
371 Commonwealth Ave | 617-517-5915 | www.deuxave.info
Return to Top - Back Bay Restaurants
Harvest
Harvest emphasizes superbly-prepared New England cuisine showcasing mostly local produce, fish, shellfish, meats, herbs, and even spices. The raw bar is excellent.
Enjoy the elegant indoor seating with white table cloths and a cozy fireplace during chillier months - but when warmer weather prevails, dine on the private outdoor terrace, complete with its own fireplace and heaters for chilly evenings.
44 Brattle Street (on the walkway), Harvard Square | Red Line/Harvard | 617-868-2255 | harvestcambridge.com | Lunch, Dinner, and Sunday Brunch
Rialto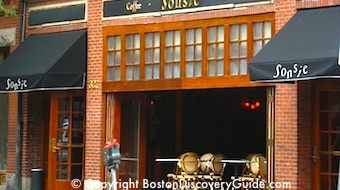 Looking for a trendy, see-and-be-seen spot in Back Bay? Sonsie is your place!
The stylish red, black, and white interior, the glamorous tres chic bar, and French windows opening onto Newbury Street project a European flavor matched by the international menu.
Sonsie feels glamorous at night, and during the day, spectacular light streams in through the large windows, giving you a "everything's right with the world" feeling.
Dinner options range from brick oven pizza . . . to herb polenta fritters with roasted artichokes and yellow tomatoes . . . to grilled duck breast with ruby plums and ginger . . . to steak au poivre. A full bar, downstairs Wine Room, a nice wine list, and music throughout the evening enhance the festive ambiance.
327 Newbury St | Green Line E/Prudential | 617-351-2500 | www.sonsieboston.com
Hungry Mother
Stephanie's sophisticated comfort food may be just what you want after a long day of sightseeing, shopping, and museum visits. Imagine lobster pot pie . . . pan roasted sea scallops with cheddar corn bread . . . a double-thick pork chop with barbeque sauce and roasted sweet potatoes. A nice wine list gives you lots of affordable options. A fireplace warms the dining room in cold months, and in the summer you can opt for sidewalk seating on Newbury Street and people-watch.
190 Newbury St | Orange Line/Back Bay | 617-236-0990 | www.stephaniesonnewbury.com
Cafe Crema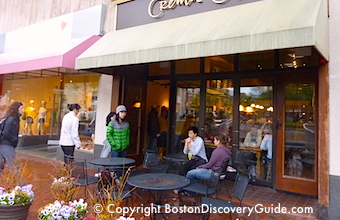 Jasper White's Summer Shack proves you don't have to leave the city in order to experience a real New England shore dinner. The food at this popular Back Bay restaurant has all the traditional clam shack favorites - boiled lobster, chowder, corn dogs, corn on the cob, grilled seafood, lobster rolls, the raw bar, bouillabaisse, fish and chips. The family-friendly atmosphere is fun, informal . . . and you can almost pretend that you're at the beach.
50 Dalton St across from Hynes Auditorium, upstairs above Kings Bowling Alley | Green Line/Hynes Convention Center | 617-867-9955 | www.summershackrestaurant.com
Craigie on Main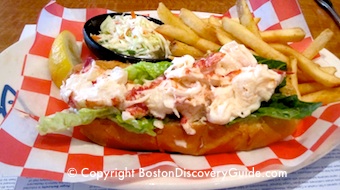 Even though Legal Sea Foods is no longer just a local seafood place, Bostonians still think of it that way. For many folks, Legal is best seafood restaurant in Boston.
You'll find a wide variety of seafood prepared in many different and delicious ways listed on its extensive menu - something for every taste. The menu even includes a small "turf" section and an excellent children's menu.
3 Back Bay restaurant locations:
Prudential Center | 800 Boylston St; Green Line E/Prudential | 617-266-6800
Copley Place, 100 Huntington Ave | Orange Line/Back Bay | 617-266-7775
26 Park Plaza, in Park Square (flagship location with an extensive wine cellar | Green Line/Arlington | 617-426-4444
Website for all locations: www.legalseafoods.com
Area 4
Via Matta features Italian regional cuisine of Piedmont, Tuscany, and Emilia-Romagna, , which relies on fresh, top-quality veggies, meats, and fish creatively prepared.
Innovative pastas. Menu changes daily at this very popular Back Bay restaurant in the Park Square area. . . tantalizing choices will cause you to want to eat too much, and return again and again. Separate bar menu. Very nice wine list.
79 Park Square | Green Line/Arlington | 617-422-0008 | www.viamattarestaurant.com
Rendezvous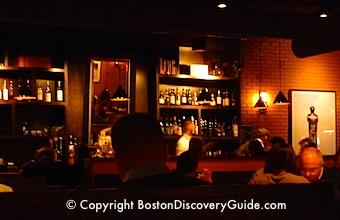 You'll find authentic Mexican food here (not Tex Mex) - and it's mouthwatering! Main course offerings include specialties like grilled shrimp with tomatillos and cilantro, stuffed squid with tomato and chipotle sauce, and chicken stuffed with nopalitos and cheese with mole poblano sauce. The carefully chosen wine list features selections from Spain and South America.
If you love real Mexican food, this Back Bay restaurant is a place you'll want to visit more than once. Great patio for warm-weather dining outdoors.
30 Gloucester St (side entrance on the alley) between Newbury and Commonwealth Ave | Green Line/Hynes Convention Center; 617-536-4341 | www.casaromero.com
Return to Top - Back Bay Restaurants


T W Food
Decor may be minimalist at TW Food, but the emphasis on innovative preparations of the best fresh local ingredients may inspire you to say you've had the best meal of your life here.
Chef/owners Tim and Bronwyn Wiechmann offer a 3-course prix-fixe option (you choose your first course, main course, and dessert from about 5 choices in each category, including vegetarian selections), a 6-course tasting menu for the entire table, with optional wine pairings, or a la carte. On Tuesdays, you can opt for a reasonably-priced 4-course meal with each course paired with wine from a featured region or country.
377 Walden St | Red Line/Harvard | 617-864-4745 | twfoodrestaurant.com | Dinner Tuesday - Sunday plus Jazz Brunch on Sunday; closed on Monday
Garden at the Cellar
Although Cambridge and Boston have plenty of gastropubs, Garden at the Cellar's focus on premium ingredients combined with sophisticated flavors and cooking techniques puts it in the "fine dining" category even though the ambiance is super-casual. New England raised grass-fed beef, Scituate lobsters, and produce straight from Lincoln's Drumlin Farms speak to Chef/Owner Brandon Arms' commitment to local sources. Come for lunch for salads, sandwiches, burgers, and the classic tomato soup with grilled cheese combo.
991 Massachusetts Ave (between Harvard and Central Square | Red Line/Central or Harvard | 617-475-0045 | www.joesamerican.com
East Coast Grill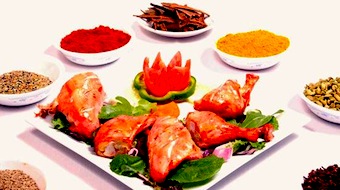 Kashmir is another popular Indian restaurant - one of Back Bay's best. Outdoor seating in warm weather.
Enjoy specials from the tandoor oven, crispy pakoras at the bar, curries, and northern Indian specialties such as barbequed goat.
279 Newbury St | Green Line/Hynes Convention Center | 617-536-1695; www.kashmirrestaurant.com
Bondir
Styled to resemble a cozy farm house with a fireplace in the waiting area, Bondir's 28 seats book up far in advance due to chef/owner Jason Bond's innovative cuisine showcasing fresh local ingredients prepared to perfection. The menu changes daily based on what's best in the market, and typically includes 5 small plates and 4 larger plates, with perhaps one vegetarian/vegan choice in each size. A tasting menu is also an option.
To whet your appetite: an example of an early-summer small plate is Gulf of Maine hake brandade with spotted butter lettuce, baby vidalia onion, garden sorel, and pig ear vinaigrette; an example of a large plate would be Massachusetts beef strip loin, roasted Adirondack red potato, Berkshire ramps, triticale berries with crême fraiche, and red wine jus. Although house-made ice creams and sorbets are offered for dessert, go for one of the special concoctions - for example, milk and honey genoise with caramelized strawberries, tarragon crème fraiche, white chocolate crémeaux, and anise seed lace cookie.
279A Broadway | 617-661-0009 | Red Line/Central Square | bondircambridge.com | Dinner only; closed on Tuesdays
More Boston Restaurant Choices to Explore
Boston Discovery Guide > Restaurants > Cambridge