Brandeis University
Intellectual flexibility and social justice
Highly rated Brandeis University first opened its doors in 1948. It is the only nonsectarian Jewish-sponsored university in the United States.
Brandeis named after the late U.S. Supreme Court Justice Louis Brandeis to reflect the ideals of academic excellence and social justice that he stood for. Although it is ranked as a national research university, its focus is on liberal arts.
What is the Brandeis University campus like?
Brandeis is located on a lovely wooded 235 acre campus about 8 miles west of Boston.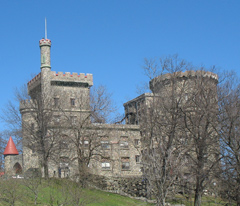 A commuter rail station at the edge of the campus provides train service into Boston.
Even though the campus is on the outskirts of bustling Waltham and only about half a mile from Route 128, the hilly campus will make you feel like you're in the country.
The beautifully-landscaped grounds boast spectacular modern buildings - well, except for one huge but stellar example of Collegiate Gothic.
What can you study at Brandeis?
In terms of academics, Brandeis prepares students for life-long learning and intellectual flexibility by offering a broad-based liberal arts approach, often with an interdisciplinary focus. Interdepartmental programs include environmental studies, literary studies, and Russian and Eastern European studies.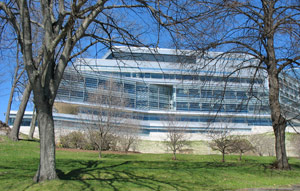 Additionally, you can choose one of the traditional 40+ majors ranging from East Asian Studies to Neuroscience to Politics.
Or, if Brandeis doesn't offer a major that meets your interests, you can design your own, such as Biological Anthropology or Communication and Media Studies.
In addition to the undergraduate College of Arts and Sciences, Brandeis also has a Graduate School of Arts and Sciences, plus 2 professional schools, the Heller School for Social Policy and Management and the International Business School. The Rabb School of Continuing Studies offers graduate courses on a part-time basis.
What else will you find here?
Brandeis University is home to the Rose Art Museum, with the best collection of modern and contemporary art in New England.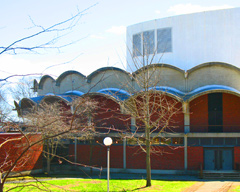 The Brandeis University Press publishes scholarly and general interest works.
A student-run campus and community radio station, WBRS, broadcasts from Brandeis's Shapiro Campus Center at 100.1 FM. In addition to music ranging from indie rock to Yiddish music, the station also broadcasts campus news.
A large number of research programs are also located at Brandeis.
Famous Brandeis University Grads
If you decide to go to here, who will your fellow alumni be? Distinguished Brandeis graduates span a number of fields. Here are just a few:
Novelist Ha Jin (Waiting)
Political activist Angela Davis (Civil rights, social justice)
Actress Debra Messing (Will and Grace)
Author Thomas Friedman (The World is Flat)
Campus Tours of Brandeis
Brandeis offers 45-minute information sessions Monday through Friday at 10:15am and 2:15pm in the Admissions office. Student-led campus tours lasting about 1 hour are conducted right before and right after these sessions. Campus tours are also available on some Saturdays.
Although you can just walk in, Brandeis prefers that you register ahead of time. You can register and find additional details about the sessions and tours in the Undergraduate Admissions section of the Brandeis website.
Details and Directions
Founded: 1948
Students: Total of 5,000, including 3,200+ undergrads
Campus type: Suburban
Dorms: Yes
Address: 415 South Street, Back Bay, Boston, MA;
Nearest public transportation: Commuter rail (Fitchburg/South Acton line into North Station), Brandeis/Roberts station
Parking: Visitor parking on campus
Organizational type: Private, nonsectarian, non-profit
For more information: 781-736-2000; website

Plan Your Visit to Boston Colleges & Universities
Home > Colleges in Boston > Brandeis University