Boston Weather in September
September Weather - The Best Month of the Year?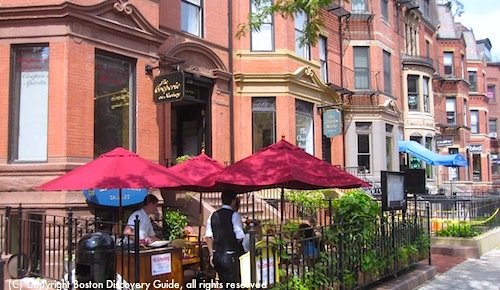 Sidewalk dining during warm September days - Back Bay's Newbury Street
Boston weather during September is usually balmy with low humidity, making this one of the very best months to visit the city.
With the heat of the summer behind us, lots of outdoors festivals, art walks, and concerts take advantage of the warm temperatures and bright blue skies. Restaurants still offer patio dining - too good to miss!
If you're planning to visit Boston in September, knowing what kind of weather to expect will help you plan what to pack and what to do - so check out the weather information on this page. The photo gallery below will show you what to expect.
Boston Weather in September - Photo Gallery
Here are some representative photos showing Boston during September. Notice how green the leave still are? During most years, colorful fall foliage doesn't really begin to appear until the end of the month. The best way to see autum color this month is on one of the popular foliage cruises to Maine and Canada.
["https://www.boston-discovery-guide.com/image-files/boston-weather-nov-10.jpg", "", "", "Marlborough Street in Back Bay, Boston, Nov 6"], ["https://www.boston-discovery-guide.com/image-files/boston-weather-nov-13.jpg", "", "", "Roses in Back Bay, Boston, Nov 6"], ["https://www.boston-discovery-guide.com/image-files/boston-weather-nov-16.jpg", "", "", "Charlestown, across the Charles River from the North End, Boston, Nov 21"], ["https://www.boston-discovery-guide.com/image-files/boston-weather-nov-19.jpg", "", "", "Chinatown gate, Boston, Nov 7"], ["https://www.boston-discovery-guide.com/image-files/boston-weather-nov-17.jpg", "", "", "Copps Burying Ground, North End, Boston, Nov 21"],
Photos showing Boston weather during September, from left to right:
1) Waterfront along Boston's North End, photographed September 18
2) Sculptures on Rose Kennedy Greenway across from InterContinental Boston Hotel, Sept 18
3) Boston Common across from Tremont Street, Sept 25
4) Some of Boston's talented street performers across from Faneuil Hall Marketplace, Sept 25
5) Sculptures along Harborwalk near Boston Harbor Hotel, Sept 18
Return to Top - Boston Weather in September

Boston September Temperatures and Conditions
Boston's weather during September is ususally more predictable than almost any other month . . . too early for cold weather or snowstorms, too late in the year for many thunderstorms, and less humidity than during August. It's a month of sunny, warm days, and crisp, cool evenings and nights.
Of course, most years do bring a fair amount of rain...slightly over 3 inches to be exact - so if you're planning a trip to Boston during September, you'll need to pack and plan activities with at least a little rain in mind.
Here are annual averages for September weather, although of course every year is unique:
Record high temperature for September: 102° F (1881)
Record low temperature for September: 34° F (1914)
Average September high temperature: 74° F
Average September low temperature: 57° F
Average precipitation for September: 3.4 inches

Be sure to check the Boston weather report before coming just in case something unusual, such as a nor'easter or a late-season hurricane is forecast.
What to Pack for Boston in September
In addition to my regular suggestions about what to pack, bring clothes that will be perfect for daytime temperatures in the 70s and somewhat chiller evenings - but also be prepared for unexpected extremes.
That means packing a couple of sweaters or light jackets that you can wear at night, and layer if necessary if the temperature really drops. A scarf or two will also be useful. And definitely bring a waterproof rain jacket and/or umbrella or rain hat - remember those 3 inches of rain that will come sometime this month!
But also bring a couple of things that you'll be comfortable in if we have a heat wave with humidity. Most local stores clear out this type of merchandise by early August, so you'll have a tough time if you try to do emergency shopping for hot-weather clothing.
Keep in mind that if you're planning to go on one of the popular fall foliage tours this month, several of them go to cooler
Best Activities for Enjoying Boston September Weather
November is the perfect month for walking around the city and enjoying the last of the fall foliage, bright red seed pods hanging from small trees, many-hued chrysanthemums and other autumn blooms, and orange pumpkins left over from Halloween. Even if the weather isn't so nice, dress warmly and go out anyway.
Check out my recommendations for things to do in Boston in November, as well as my suggestions about Boston activities for rainy days. If you're visiting with your children, take a look at the outdoor and indoor options on my best kids' activities recommendations. And on cold nights, stay warm and have fun at Boston theaters, movies, bars and clubs, and restaurants.
More Photo Gallery Scenes of Boston Weather in November
["https://www.boston-discovery-guide.com/image-files/boston-weather-nov-16.jpg", "", "", "Charlestown, across the Charles River from the North End, Boston, Nov 21"], ["https://www.boston-discovery-guide.com/image-files/boston-weather-nov-19.jpg", "", "", "Chinatown gate, Boston, Nov 7"], ["https://www.boston-discovery-guide.com/image-files/boston-weather-nov-17.jpg", "", "", "Copps Burying Ground, North End, Boston, Nov 21"],
From left to right:
1) Boston Weather in November: Marlborough Street in Back Bay, Boston, Nov
2) Roses in Back Bay, Boston, Nov 6
3) Charlestown, across the Charles River from the North End, Boston, Nov 21
4) Chinatown gate, Boston, Nov 7
5) Copps Burying Ground, North End, Boston, Nov 21
Return to Top - Boston November Weather
Boston weather in November - Best things to do