Home > Boston Hotels > Boston Vacation Rentals
Boston Vacation Rentals
Apartments, Condos, & Houseboats for
Planning to visit Boston for a couple of days or more? Boston vacation rentals can be a great alternative to a hotel.
Boston vacation rentals can help you save money, relax and have fun, and even try out a dream!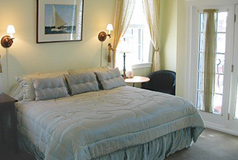 Perhaps you and your family want to visit Boston for a week and stay in a nice place with outdoor space where your children can play.
Or you're going to be in Boston to teach a 6-week course at the Kennedy School and you want a place that's more comfortable - and affordable - than a hotel.
Or you'll be here on business for 6 months but you can only find apartments with 1-year leases.
Or you dream about living on a houseboat anchored next to an exciting city - and want to live your dream, if only for a weekend.
Vacation rentals in Boston typically include apartments, condos, inns, and yes, even houseboats offering attractive weekly or monthly rates. Some offer daily rates, although a 2-day minimum stay may be requested.
Most include a fully-equipped kitchen so that you can cook meals if you want. Just like a hotel, linens are provided. You'll almost always find a nice TV, and usually high speed internet access, and perhaps a DVD player - in short, the basics of civilized living.
Others, such as houseboats, offer special amenities hard to match anywhere else.
Check Here to See the Best Boston Vacation Rental Choices
So what's the catch?
Well, it's the competition. Boston's many universities, research institutes, world-class medical centers, and businesses translate into lots of short-term visitors looking for accomodations. Competition can be fierce for short-term rentals. Demand far exceeds the supply.
So if you're interested in short-term Boston vacation rentals, the best strategy is to start looking as soon as you know your dates. When you find something that you like, you should book it right away while it is still available.
Good luck, and enjoy your stay in Boston!
More Choices for Top Boston Accommodations
Return from Boston Vacation Rentals to Boston Hotels
Return from Boston Vacation Rentals to Boston Tourism and Discovery Guide home page