Home >
Boston Travel Tips
Monthly newsletter with latest updates
Boston Travel Tips, our free monthly newsletter, gives you up-to-date information so that you'll get the most out of your visit to Boston.
Each monthly issue is full of tips about what's happening during the month, updates on any new hotels and restaurants, plus the latest additions to Boston Discovery Guide. It's a great way to keep track of what's new, and start planning what to do and see when you visit the city.
When you subscribe, you'll also . . .
Get tips about new things to do and see in Boston, seasonal activities and discounts, Boston news, and special attractions
Find out about the latest additions to Boston Discovery Guide
Get a preview of what's happening in Boston during the following month
To get Boston Travel Tips, just use this form to subscribe.
I use your e-mail address only to send the newletter - I never share it with third parties. And you can cancel your subscription at any time with just a click of your mouse (although of course I hope you won't).
After you enter your e-mail address and click Subscribe, you're all set. You'll receive a confirmation e-mail asking if you want to receive Boston Travel Tips. This is to make sure it was really you who submitted your address. After you confirm, your name will be put on our newsletter mailing list and the newletters will be sent to you automatically.
Thank you for subscribing!

Check out recent issues of Boston Travel Tips: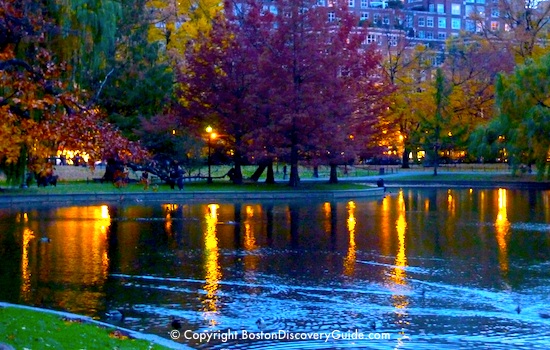 Boston's Public Garden in Autumn
Boston Discovery Guide > Boston Travel Tips