Boston's Italian Restaurants
Where to Enjoy Amazing Italian Cuisine in Boston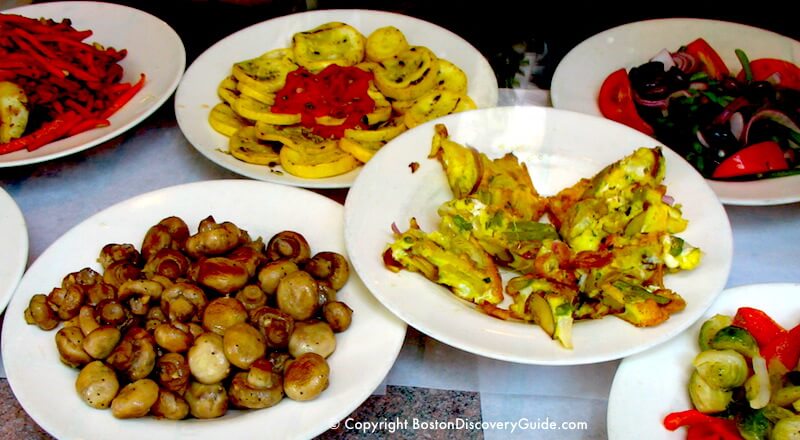 If you're visiting Boston, Italian restaurants should be at the top of your dining destination list. Why?
Simple - Italian food in Boston is fabulous, thanks to our Italian heritage and talented chefs.
Although Boston's North End is renowned for its dozens of wonderful Italian restaurants, you can find superb Italian food in every city neighborhood.
This guide highlights some of Boston's mouth-watering Italian restaurants in a variety of neighborhoods and price ranges.
And if you associate with Italian food with just spaghetti, meatballs, and red tomato sauce, you'll be surprised by the variety you'll find here.
Italian restaurants in Boston represent almost every region of Italy . . . southern Italian, northern Italian, Sicilian, Piedmontese, Tuscan, and more.
So whether you grab just a slice of the best pizza you'll find outside of Italy, opt for a special dinner with candlelight and wine, or choose something in the middle, make sure Italian food is part of your Boston experience.
We've organized our guide to Boston's best Italian restaurants by neighborhood.
Buon appetito!
Italian Restaurants in the South Boston Waterfront
Sportello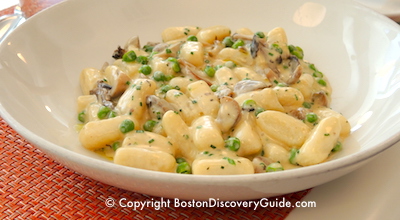 Davio's Northern Italian steakhouse blends traditional favorites with some of the best steaks, chops, and fish in the city, plus a wine list that everyone will enjoy.
If you love Italian cuisine, focus on the pastas at Sportello.
Babbo
Strega on the Waterfront
Daily Catch
Italian Restaurants in Boston's Back Bay
Davio's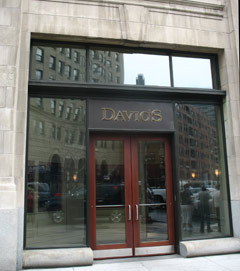 Davio's Northern Italian steakhouse blends traditional favorites with some of the best steaks, chops, and fish in the city, plus a wine list that everyone will enjoy.
If you love Italian cuisine, you'll want to focus on the pastas that sport some of the best sauces in Boston. Both vegetarians and vegans will appreciate the numerous offerings showcasing the freshest local and regional vegetables.
The lunch menu adds panini and pizza. Long known as a popular place for power lunches, Davio's also offers "Davio's To Go" behind their kitchen, tucked away in an office lobby space at 10 St. James Court.
Piattini Wine Cafe
This popular neighborhood spot on Newbury Street serves up small plates of delicious, freshly made Italian specialties. With great wines by the glass and affordable prices, you'll find a lot to enjoy here. And that's even before you try the delectable desserts.
Beacon Hill
Antonio's Cucina Italiana
This popular Boston Italian restaurant features Roman-style cooking - so you can enjoy treats such as homemade fucili carbonara, gnocchi al forno, artichokes margarita, ciopino, veal braciolitine marsala.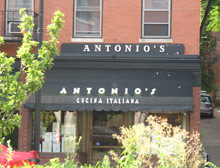 My personal favorite? Probably the classic Italian eggplant parmigiana.
The small but well-chosen wine list perfectly accompanies the food choices. Tables are also small and close together, adding to the old-world atmosphere.
Although Antonio's is quite popular with locals, its location at the edge of Beacon Hill near Massachusetts General Hospital and Government Center puts it slightly off the usual path for most tourists . . . so if you discover Antonio's Cucina Italiana, you'll enjoy a real Boston treat!
Favorites: Classic Italian eggplant parmigiana, pasta fagolio, ciopino, schrod margarita, shrimp cacciatore over linguini
288 Cambridge Street | Red Line/Charles-MGH | 617-367-3310 | www.antoniosofbeaconhill.com
Grotto
This tucked-away spot must be one of the most un-promising looking restaurants in Boston from the outside . . . but once you're inside, you'll realize you've happened upon a special place. You'll enjoy the great ambiance inside this popular Boston Italian restaurant near the State House. Exposed brick walls and atmospheric lighting enhance the perfectly cooked Italian classics and Italian-American wine list.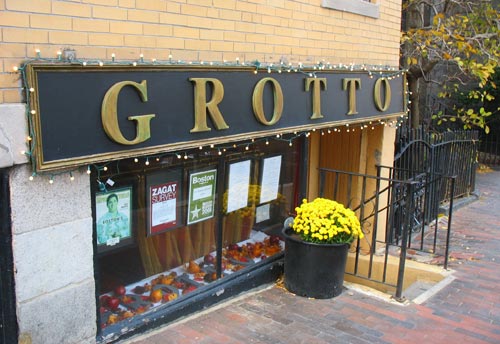 If you're exploring the downtown section of the Freedom Trail or visiting the State House or Beacon Hill, seek out Grotto. It's the perfect place to relax over a great meal after a day of sightseeing - although unless you know where Grotto is, it's easy to overlook. You'll find mostly Boston locals, as it's a bit off the usual tourist path and its exterior doesn't give much of a hint about how good it is.
During the evening, Grotto is a popular spot for romantic dinners and celebrations.
Address: 37 Bowdoin St, east side of State House, Beacon Hill
Nearest T station: Red Line/Charles-MGH
For more information: 617-227-3434
Panificio Bakery/Bistro
Panificio, a favorite Boston Italian bakery/bistro on Beacon Hill, serves freshly made food using mostly local and New England products.
Carry out your purchases and stroll over to Boston Common for a picnic, or eat in the cafe area - snag a seat at the bar by the window (great people watching on Charles street) or at one of the half-dozen or so small tables.
In addition to being a full-fledged bakery, Panificio offers breakfast items such as eggs, French toast, fruit, and muffins, and lunch choices of salads, sandwiches, and pizza, whole or by the slice.
The simple bistro-style dinner menu changes nightly, based on what's fresh in the market.
Favorites: Deep dish Sicilian pizza, French toast, any of the bakery items
144 Charles Street | Red Line/Charles-MGH | 617-227-4340 | panificioboston.com
Return to Top - Boston Italian Restaurants
Downtown - Leather District
Sorriso
Sorriso, a stylish and sophisticated Boston Italian restaurant in Downtown's trendy Leather District features brick oven pizza, rustic Italian cuisine focused on local seasonal specialties, and a full bar—making it a popular place for lunch and after work drinks followed by dinner.
But don't let "rustic" fool you - even simple-sounding menu items like Prince Edward Island mussels, fried zucchini blossoms, the dinner plate of local farm vegetables are perfectly prepared.
Ditto for some of the more innovative dishes . . . the local corn gnocchi with Maine lobster and porcini mushrooms . . . the grilled rib eye steak with almond and gorgonzola salad and truffled fried potatoes . . . the swordfish steak with caponata, raisins, capers, and pine nuts.
You'll love how Sorriso's food celebrates the best local ingredients, prepared so that you'll think about the flavors in new ways.
Address: 107 South St, Downtown-Leather District
Nearest T station: Red Line/South Station
For more information: 617-259-1560, www.sorrisoboston.com
Return to Top - Boston Italian Restaurants
Fenway
Trattoria Toscano
Trattoria Toscano is almost a "hidden secrets" restaurant, known mainly to locals, with authentic Tuscan food such as wild boar and Florentine-style tripe. Sauces are rich with red wine and deep flavorings. Must-tries include the chicken liver with crostini, and the rigatoni with a sauce made from ground sausage and mascarpone cream.
Seek out Trattoria Toscano when you have worked off a few calories in advance (easy to do if you spend an hour walking around the nearby Museum of Fine Arts or Isabella Stewart Gardner Museum, or cheering the Red Sox at Fenway) - and expect a deeply satisfying dining experience that transports you to the Italian countryside.
Address: 130 Jersey Street (near Park); Fenway
Nearest T station: Green Line E/Museum of Fine Arts
For more information: 617-247-9508
Return to Top - Boston Italian Restaurants
Boston's North End Italian Restaurants
Trattoria Il Panino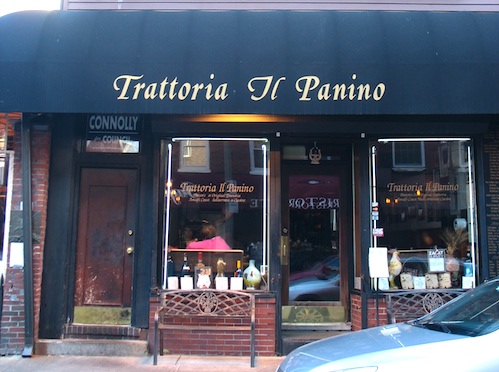 Trattorial Il Panino (11 Parmenter Street, just off Hanover in the North End) specializes in Amalfi Coast Italian cuisine. Come here to enjoy pastas, shellfish, and in the summer, glorious outdoor dining.
Nearest T station: Orange, Green Line/Haymarket
Reservations: 617-720-1336; www.trattoriailpanino.com
The Daily Catch
Locally known as "the calamari place," the Daily Catch is a small, family-run spot featuring home-style Sicilian food cooked to order and served in iron skillets.
Fresh local seafood, especially squid, is their specialty, and they are particularly famous for their black pasta tinted with ink from the squid. The fried calamari with lemon is also superb.
As testimony to Daily Catch's popularity, happy diners pack the 6 or 7 tables for lunch and dinner.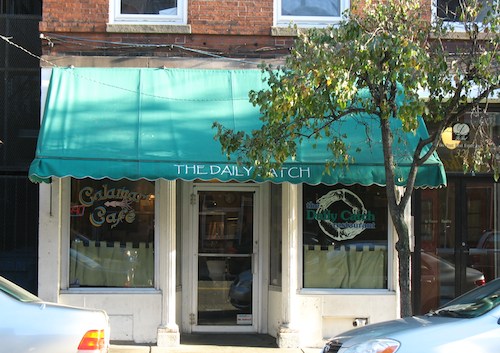 That's right ... Daily Catch has only 6 or 7 small tables. Come here when you want to relax over a leisurely meal and don't mind waiting if a table isn't immediately available.
You'll also have more fun here if you have a relaxed attitude about service - imagine you're in your great aunt's kitchen and she's serving the best home-cooking you've ever tasted ... but at her pace, not yours. If you're fine with that, you'll enjoy Daily Catch.
Boston Insider Tip: To get a table quickly at Daily Catch: go with a total of 4 or fewer people, and avoid the busiest times - typically 12 noon to 2pm and 6pm to 8pm.
323 Hanover Street | 617-523-8567 | www.dailycatch.com
La Famiglia Giorgio
La Famiglia Giorgio serves classic Southern Italian comfort food, just like your mom makes if your mom is Italian.
You'll find all the traditional favorites - lasagna, eggplant parmigiana, an antipasto that's a meal by itself, pasta e fagioli, chicken marsala, veal saltimbocca - plus fabulous pizza. And then there's the pasta, with over 20 difference choices of sauce, each one too delicious to resist.
Portions are large, prices are low . . . and a nice touch is that Giorgio's gives students and teachers a 20% discount when they show their ID.
Address: 112 Salem St; North End
Nearest T station: Orange, Green Line/Haymarket
For more information: 617-367-6711; www.lafamigliagiorgio.com
Mamma Maria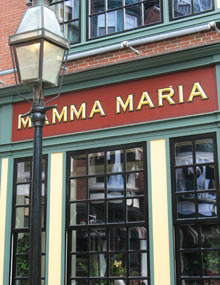 Do your Boston travel plans include enjoying a romantic dinner? Celebrating a special event? Clinching an important business deal? Impressing your pretentious oenophile brother-in-law? Or simply creating a memorable Boston evening?
If the answer to any of these questions is "yes," Mamma Maria is the perfect Boston Italian restaurant choice – and one of the best restaurants in Boston.
The delicious and innovative Northern Italian food uses the freshest local ingredients. Just to give you a brief taste, imagine roasted fennel and red pepper soup with pan-seared Nantucket Bay scallops . . . slow-roasted duckling over house-made fig and Gorgonzola ravioli . . . local Massachusetts cod with a braised medley of Maine lobster, calamari, and risotto.
And as a bonus, Mamma Maria has one of the best wine cellars in the city.
Hours: Dinner only
Address: 3 North Square (near Paul Revere's house), North End
Nearest T station: Blue Line/Aquarium
For more information: 617-523-0077; website
Return to Top - Boston Italian Restaurants
North End Italian Bakeries: Where to Find the Best Cannoli and Cappuccino in Boston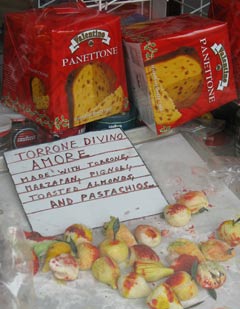 Who can resist Italian pastry?
Without a doubt, the North End has the best in Boston . . . plus, you'll find plenty of choices among the neighborhood's many wonderful Italian bakeries/cafes.
Everybody has his/her own opinion about which of these North End bakeries is the best. You'll even hear heated discussions about their merits.
But here's the "insider" tip - they're all terrific - but should try them all and decide for yourself!
You'll get to select from incredible arrays of goodies . . . cannoli (pastry tubes filled with sweet ricotta cheese) . . . aragostas ("lobster tails"—pastry filled with whipped cream) . . . sfogliatelles (flaky, slightly crispy cream-filled pastry fans that look like clam shells).
But don't worry about the names. Just pick out what you want, and point. Then order an espresso, a cappuccino, or a hot chocolate to go with it. Perfection!
Here are 3 North End bakeries to try:
Maria's Pastry
46 Cross St; 617-557-4925
Maria's Pastry serves authentic Italian cakes, pies, cannoli, breads, and pastries.
In nice weather, you can site outside or take your goodies and perhaps a cup of coffee to a table or bench on the Rose Kennedy Greenway, a few steps away.
In less pleasant weather, sit inside and enjoy the pleasant family-like atmosphere. (But exercise self-control and don't go back for seconds too many times!)
Mike's Pastry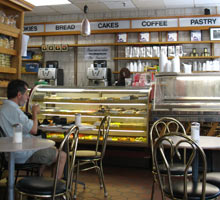 300 Hanover St; 617-742-3050; www.mikespastry.com
Lots of tourist guides mention Mike's Pastry, but don't worry that it's some sort of tourist trap - it's not!
Like other North End Italian bakeries, it's a neighborhood favorite. Although Boston visitors do stop by - who can resist the chocolate cannoli? - you're as likely to see local neighborhood residents enjoying their expresso and perhaps reading a book or answering e-mail on a laptop at the small marble-topped tables. Or stopping by for loaves of freshly baked bread and fragrant anise-scented cookies to take home.
Modern Pastry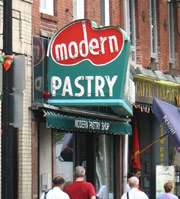 257 Hanover St; 617-523-3783; www.modernpastry.com
At times, lines snake outside the door of Modern Pastry as happy customers wait to get their specially ordered cakes and pies.
A tempting assortment of pastries for immediate consumption ensures that the few tables, like those at other North End bakeries, are almost always filled. In the on-going debate about where you'll find the best cannoli in Boston's North End, Modern Pastry usually ranks high on the list.
Where you find the best cannoli in Boston? You'll have to spend some time visiting North End bakeries and decide for yourself!
Closest subway to all: Orange and Green Lines/Haymarket. Walk across the Greenway to the North End.
Return to Top - Boston Italian Restaurants
West End
Scampo
Scampo, an attractive brick-walled restaurant inside the Liberty Hotel, features rustic Italian-inspired cuisine with an occasional touch of India and sports both a wood-fired pizza oven and a tandoor.
The nice thing about the dinner menu created by Lydia Shire, one of the city's great Boston Italian restaurant chefs, is that you can opt for a fairly simple meal—perhaps choose the white clam and bacon pizza or the spaghetti Bolognese or even a perfect risotto with fresh peas and couple your choice with an arugula salad.
Or, you can order a more substantial entree such as the cherry charred duck or poached lobster or on Friday nights, the oven-roasted suckling pig.
The carefully chosen wine lists features mainly French and California selections.
If you love casual dining, well-prepared hearty food graced with garlic and olive oil, and fabulous breads, you'll adore Scampo. And if you also love lush desserts . . . well, Scampo will be at the top of your list.
On your way out of the restaurant, be sure to walk through the Liberty Hotel's lobby and admire the amazing restoration.
Address: 215 Charles St in the Liberty Hotel, West End
Nearest T station: Red Line/Charles-MGH
For more information: 857-241-1150; www.scampoboston.com
Return to Top - Boston Italian Restaurants
Bay Village
Erbaluce
This stylish Bay Village restaurant near the Theatre District, Park Square, and the Public Garden serves up contemporary Italian food with a Piedmontese influence.
Come here for fresh fish, organic meats, and regional specialties such as wild boar and buttery bottarga (pressed cured tuna or mullet roe). Chef Charles Draghi makes his sauces with vegetable purees rather than butter or cream sauce, so you get tons of flavor without the calories.
Food, wine, and ambiance here is special - and you can enjoy a quick stroll through Bay Village's picturesque lanes with gas lights and Federal architecture before or after dinner.
Address: 69 Church St
Nearest T station: Green Line/Arlington
For more information: 617-426-6969; www.erbaluce-boston.com
Viga
Office workers love Viga, a carryout-only favorite, even though it is only open for a few hours around midday during the week and not at all on weekends.
Noon-time line outside Viga, Bay Village location
You'll understand Viga's popularity if you try their selection hot or cold sandwiches, creative wraps, pasta, freshly made salads, and pizzas, available whole or by the slice. And their freshly-made Italian calzones may be Boston's best.
3 Locations:
Bay Village: 304 Stuart St at Columbus Ave; Green Line/Arlington; 617-482-1113
Downtown Boston: Pi Alley, 275 Washington Street, (right on the Freedom Trail); Blue, Orange Lines/State; 617-742-8446; also 291 Devonshire St; Orange, Silver, Red Lines/Downtown Crossing; 617-482-1113
Return to Top - Boston Italian Restaurants
South Boston Waterfront
The Daily Catch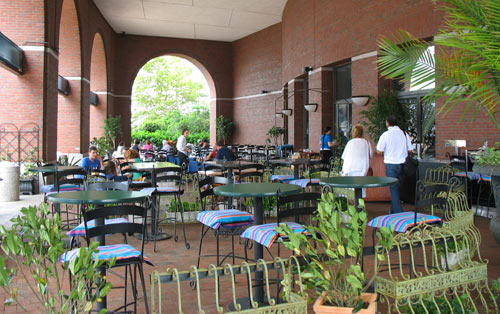 Next to the Moakley Federal Courthouse is a second location for the North End's Daily Catch - right on the South Boston waterfront overlooking Fort Point Channel and part of Boston Harbor.
To reach the restaurant from the Greenway, Financial District, or South Station area, walk across the Moakley Bridge.
In warm weather, terrace tables give you awesome waterfront and city skyline views. Daily Catch is the perfect place to come when you want a leisurely meal and the chance to relax and watch the boat traffic. This location is larger than the North End site, especially when the outdoor tables are in use.
Like the North End location, this spot also features home cooked-style Italian seafood, and like the North End location, service can sometimes be a bit unpredictable. If you're in a rush, walk farther down Northern Ave to Pace's, where you can get fast service and very good Italian food.
Insider tip for enjoying Daily Catch in the Ft. Point Channel location: arrive around 2 - 3pm on a sunny summer weekday afternoon, bring a book or your favorite companion, sit at an outside table, and savor the experience.
Address: 2 Northern Ave, in the South Boston Waterfront
Nearest T station: South Station; walk over the Moakley Bridge
For more information: 617-523-8567; www.dailycatch.com
More Boston Restaurant Choices to Explore
Boston Discovery Guide > Restaurants > Italian