Boston Food Truck Locations
Where to Find Boston's Food Trucks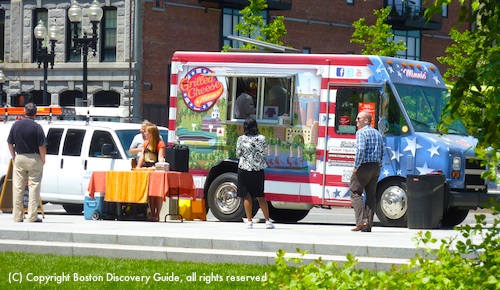 Grilled Cheese Nation food truck parked next to Boston's Greenway
You'll want to learn more about Boston food truck locations as soon as you taste the mouth-watering treats from their kitchens on wheels - because knowing where to find the trucks is your key to enjoying more of their cuisine.
Within Boston, city officials control where the food vendors can operate by designating locations and time slots for the food trucks.
Sites typically offer 3 meal shifts - breakfast (6am to 10am), lunch (10am to 3pm), and dinner (3pm to 9pm or 11pm, depending on the site).
The food trucks rotate among the officially designated spots, so you'll find plenty of variety, even if you go back to the same place every day.
Most food trucks park at their sites from Monday through Friday during spring, summer, and fall. Far fewer show up on weekends or during winter months.
You can also visit food trucks at SoWa Open Market, local food truck festivals, and other special events.
Boston Food Truck Locations and Map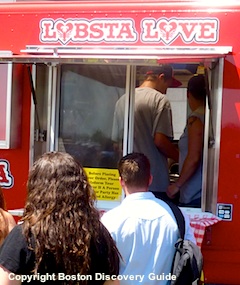 Here's a quick overview and map of Boston food truck locations near tourist attractions (you can find more about the individual food trucks and their cuisine here):
Rose Kennedy Greenway:
Cross and Hanover Streets, near the North End
Congress Street
Dewey Square near the Chinatown Gate, across from South Station
Downtown:
Financial District - Pearl at Franklin Street
Financial District - Milk Street and Kilby Street
Financial District - Batterymarch
Chinatown - Boylston Street near Washington Street, in front of the China Trade Building
Back Bay:
Copley Square North: Clarendon Street (no breakfast shift) - that's where Redbones' food truck in the photo to the right is parked - you can see the Hancock building across the street
Copley Square West: Boylston Street, next to Boston Public Library
Copley Square South: Stuart Street and Trinity Place, next to 100 Clarendon Garage and behind the Fairmont Copley Plaza Hotel
Prudential Center: On Belvidere Street, in front of the Christian Science Center's Children's Fountain
West End:
City Hall Plaza - Fisher Park
Blossom Street at Emerson Place
Fenway
Hemenway Street at Forsyth Street by Northeastern University
Longwood at Blackfan Street
Boston University:
East Campus - 602 Commonwealth Avenue (eastbound), in front of Morse Auditorium
West Campus - 835 Commonwealth Avenue (westbound), between BU Bridge and College of Fine Arts
South Boston Waterfront / Fort Point (a.k.a. "Innovation District," "Seaport")
Seaport Blvd at Thompson Place
South End
Harrison Ave and East Concord Street in front of Boston Medical Center
Peter's Park on Washington Street
Boston's Food Truck Map
Need to know how to get to the food truck locations? Use this map:
Boston Food Truck FAQs
What, Exactly, Is a Food Truck?
According to the City of Boston, a mobile food truck is a large vehicle, usually 24 feet long and 8 feet wide, with a complete commercial-size kitchen where food is prepared, cooked, and served through one or more windows in the side of the truck.
Why Can't Food Trucks Park Wherever They Please?
Have you seen our streets? Most are so narrow, especially with vehicles parked along both sides, that they barely accommodate one or two lanes of cars!
Plus, there are rules about trucks offering a particular type of food - say, lobster rolls - not parking within a certain distance of restaurants featuring the same cuisine. Seems fair - after all, we love our restaurants too!
Boston Food Trucks Schedule
By design, the food truck schedules rotate locations, so that the same truck will not usually be in the same location for two days in a row. This policy actually provides an incentive to try the cuisine at lots of different trucks.
Want to know which truck will be a specific location on a certain day? Best way to find this out is to go straight to the source: the City of Boston, which does the scheduling.
Check food truck schedules for trucks parked on City of Boston website
In addition to the city street locations, trucks also may park on private property - so look for more trucks near universities, hospitals (in particular, in the Longwood medical area), and business parking lots.
More Places to Sample Food Truck Cuisine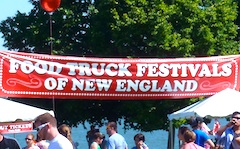 Sure, you'll find Boston's food trucks in lots of locations around the city. But what if you want MORE?
From May until the end of October, you can visit as many as a dozen food trucks at SoWa Open Market - also a great place to browse, shop, and wile away a Sunday afternoon.
Food trucks have also been showing up at special events and celebrations around the city - so look for them where large groups of people are likely to congregate. During these events, they typically park in the food truck locations described above, since those tend to be areas large enough for them to park without choking off Boston traffic.
More Fun for Foodies in Boston
Boston Discovery Guide > Restaurants > Boston's Food Truck Locations