Great news! Although the Boston Flower Show, an early-spring favorite of New England gardening enthusiasts and professionals for decades, became a Covid pandemic casualty, its void will be filled by a new and exciting lifestyle show, the Utopia Horticultural and Epicurean Festival.
Utopia Seaport, designed to appeal to avid gardeners and foodies alike, takes place from March 2 - 5 at the Flynn Cruiseport Terminal in the South Boston Waterfront neighborhood.
Look for the Massport's Cruise Terminal three floors to be filled with fantastic new experiences and entertainment, including immersive garden displays, a culinary demonstration stage, free tastings, workshops, a "Gardener's Toolbench" featuring acclaimed horticulturalists, a cafe, a food hall, a "Mainstreet Marketplace" with over 100 artisans and makers, and even a live DJ.
Don't miss this unique event, designed to let us dream about spring as we gaze upon the lush gardens and gorgeous floral displays while also savoring some of Boston's best culinary and beverage delights.
Dates & hours: March 2-5; Thursday-Saturday, 10am-8pm, Sunday 10am-6pm
Location: Flynn (Black Falcon) Cruiseport Terminal, 1 Black Falcon Ave, Boston's Seaport neighborhood
Closest T Station: Silver Line 2/ Design Center Place
Parking: ABM Marine Park Garage, 12 Drydock Ave
Check exact dates/times (& and last-minute updates) on the Boston Event Calendar for March
Top photo: Floral display at the Boston Flower and Garden Show,, (c) Boston Discovery Guide
Boston Discovery Guide is a reader-supported publication. When you buy through our links, we may earn a commission at no additional cost for you. Learn more
---
What to Expect at Utopia's Garden & Food Festival in Boston's Seaport
The Utopia Horticulture & Epicurean Festival takes place on all three floors of the spacious Black Falcon Cruise Terminal, providing lots of space for displays and participants.
Each floor gives you a different and unique experience as it presents the best of spring in Boston.
First Floor: Garden Displays & Gourmet Tastings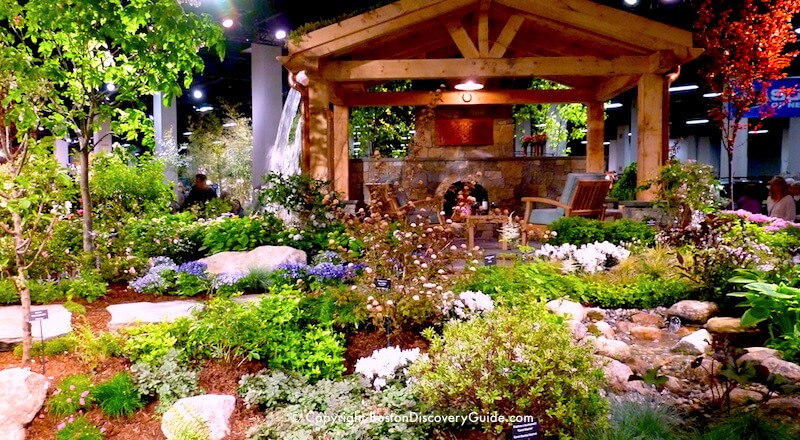 You'll feel like you stepped into spring as you wander through the tantalizing immersive garden displays presented presented by top landscape designers, such as Joseph Gray's stonework and sculpture, Paul Miskovsky's enchanting landscape designs, and Boston Cityscapes' magically transformative indoor and outdoor plant designs and installations.
Look for beautiful gardens and floral displays by the Massachusetts Horticultural Society, sponsor for many years of the former Boston Flower and Garden Show event.
Also on the first level, you'll find top chefs and mixologists on the Clarke Demonstration Stage with a veritable feast of delicious cuisine and beverage offerings for you to sample.
This floor is also the site of a variety of culinary workshops.
Second Floor: Utopia Cafe
Head to the Utopia Cafe on the Cruise Terminal's second floor for breakfast pastries, coffee, and even breakfast cocktails.
Two Boston area Black-owned plant boutiques and design studios, Wesleaf Designs and Decor and Emerald City Plant Shop, and South Boston florist ilex Designs will be on hand to provide demonstrations and workshops.
The second floor also features The Gardener's Toolbench, with horticulturists such as John Forti (The Heirloom Gardener), Molly Williams (Taming the Potted Beast), and Roger Swain (host of PBS's former Victory Garden show) presenting free programming throughout the weekend.
Third Floor: Shopping, Drinks, & Music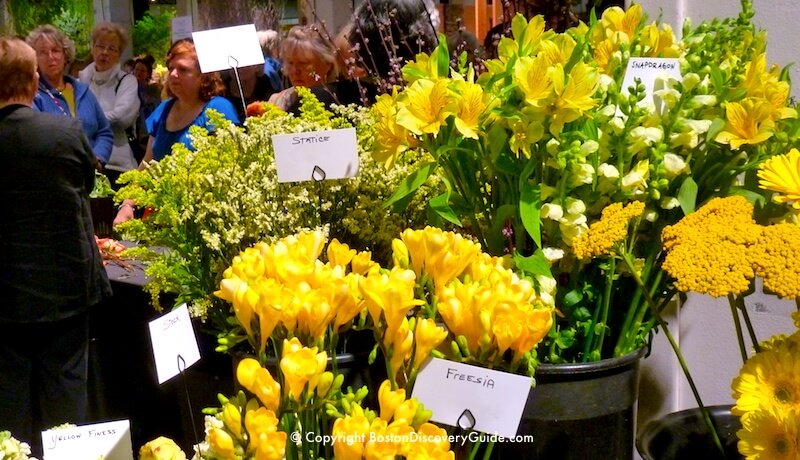 Get ready to party on CruisePort's third floor, where you can purchase Boozy Ice Cream from Creme de Liqueur, craft cocktails, wine, and beer, as well as other tasty snacks and beverages from Utopia's Food Hall. Nantucket DJ Billy Voss will be on hand to spin music from 5:30pm-7:30pm each day.
Then, indulge yourself with a few purchases at the Main Street Marketplace, where over 100 locally owned artisans and makers will offer their home decor items, house plants, kitchen essentials, and garden products for your shopping pleasure.
---
Hotels near Boston's Utopia Garden & Food Show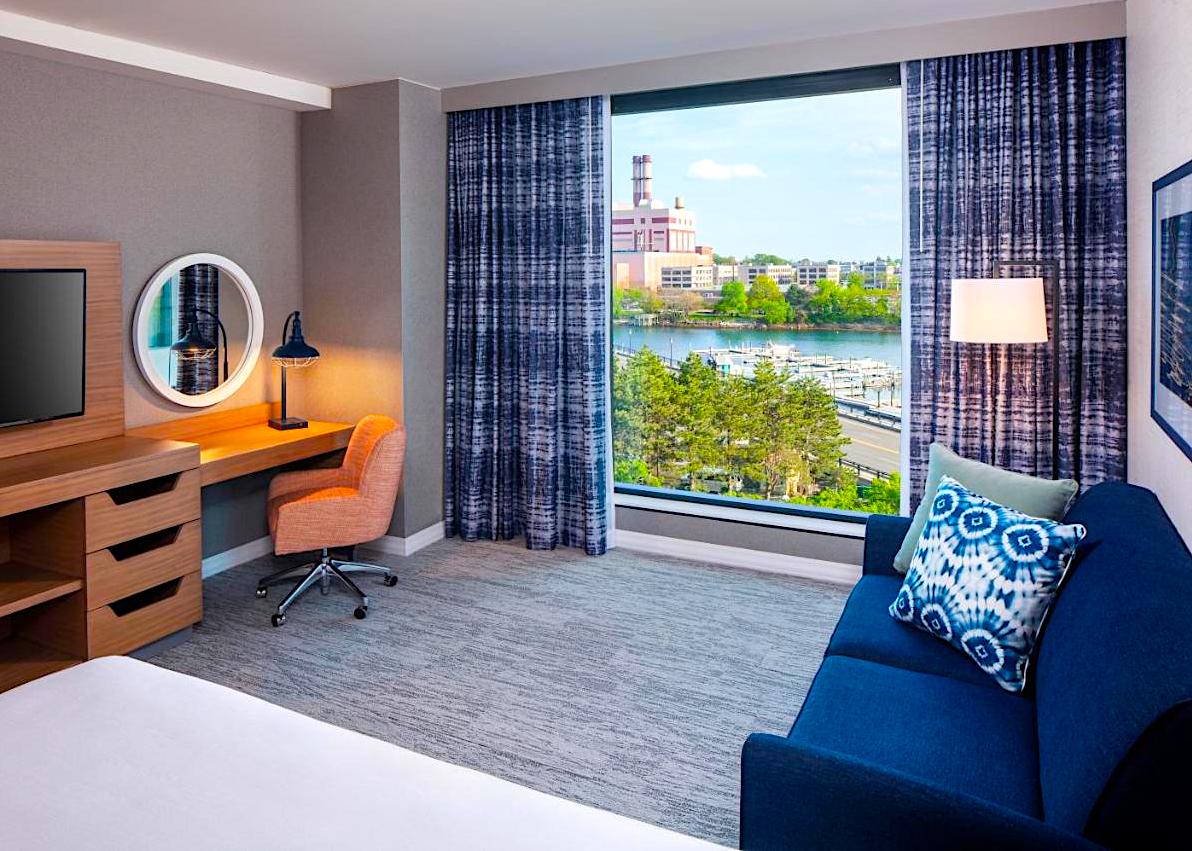 Coming to Utopia from out of town?
Treat yourself to a stay in a nearby hotel in Boston's trendy South Boston Waterfront neighborhood.
Hampton Inn Boston Seaport District is closest to the event at the Black Falcon Cruise Terminal, and is also an easy walk from popular neighborhood restaurants and shopping.
More top South Boston Waterfront hotels:
Check out more South Boston Waterfront hotels near the Boston Flower and Garden Show
---
More to Do & See in Boston
---
Essentials: Boston Flower & Garden Show
When: Usually around the middle of March; check the Boston Event Calendar for March for exact dates and times
Where: Black Falcon Cruise Terminal, South Boston Waterfront
Closest T station: Silver Line 2/ Design Center Place
Park: Hourly parking at several nearby parking garages
Tickets: Buy online
Please note: Utopia is a cashless-pay event, so bring your credit card (not cash)
Check the Event Calendar for March for exact Boston Flower Show dates and times.
---
More Articles about Flowers & Gardens in Boston
---
Need a Boston Hotel or Apartment?
Use this handy map from Booking.com to find the perfect place to stay. Just enter your dates to find what's available, see the best rates, and make your reservations.