Please note: Organizers of the super-popular Boston Flower and Garden Show have announced that the show is on hold until an appropriate space and location can be found to host it, as the Seaport World Trade Center, the show's former venue, is undergoing renovations to turn it into retail and office space only - no exhibition hall.
We will announce the new venue, dates, and times as soon as they find a space, and you can also track their updates on their website.
We are leaving up the information (below) about the show at its former location, in case you'd like to know what to expect in the future.
Meanwhile, here are more ways to welcome spring to Boston:
The huge Boston Flower and Garden Show brings spring to the city for 6 glorious days in March at the Seaport World Trade Center in Boston.
As the biggest and best Boston flower show, this mammoth event features more than 25 unique display gardens by the area's top nurseries and design firms.
In addition, you can view award-winning flower arrangements, learn from numerous presentations and demonstrations throughout the day, and explore the wide array of garden, culinary, landscaping, building, and decorative objects on sale by vendors.
Whether you crave a glimpse of spring beauty and garden design ideas, or need to find talented professionals to make your dream landscape come true, or simply want to shop, there's something here for everyone to enjoy.
Please note: We are currently unable to confirm if this event will take place (or not) in 2023.
Check exact dates/times on the Boston Event Calendar for March
Top photo: Floral display at the Boston Flower and Garden Show,, (c) Boston Discovery Guide
Boston Discovery Guide is a user-supported website. When you buy through our links, we may earn a commission. Learn more
---
Garden Show Display Gardens
Garden Party: Celebrating Friends & Family, theme for last year's show, showcases talented local and New England garden designers and features spectacular display gardens.
Look for garden designs featuring outdoor living, organics, small-space gardens, homesteading hobbies, edible ornamentals, and family-friendly spaces.
Many of the show's display gardens you'll urban hideaways where small spaces get transformed into personal oases.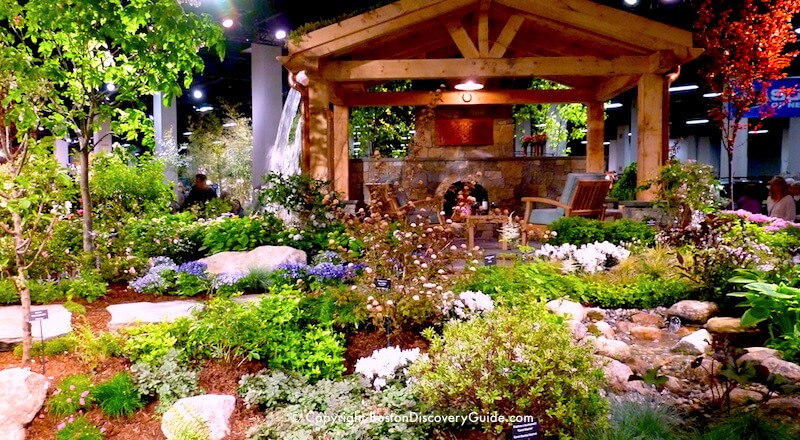 Some gardens demonstrate building materials, especially those using sustainable products. If you're planning a project to create outdoor living space, the Boston Flower and Garden Show will give you plenty of ideas.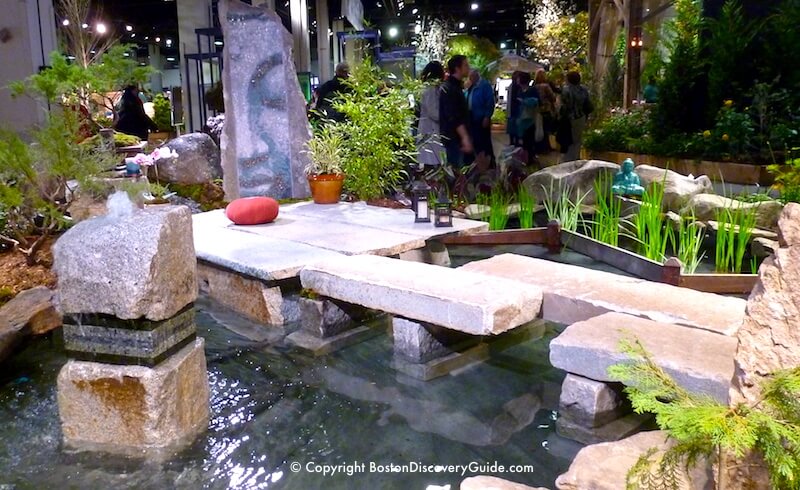 Perhaps because this is New England, many of the demonstration gardens combine rocks, water, and foliage.
Plenty of Master Gardeners will be on hand to give you tips, handy info sheets, and gardening advice.
You can also check out the stunning winners of the annual Garden Photo Contest, and check out original commissioned artworks used by Hudson Valley Seed to inspire their seed packages.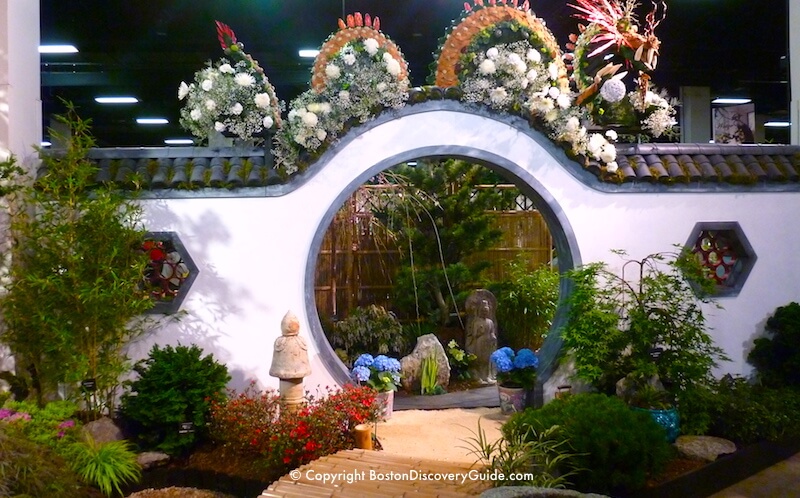 This stunning display garden features a Chinese Moon Gate garden from a previous show.
If you look closely, you'll see lots of sustainable products such as bamboo, as well as decorative rocks and plants suited to our local growing conditions.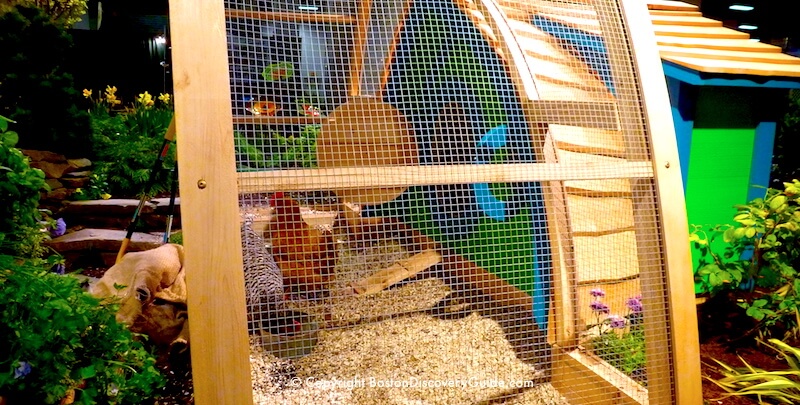 Some of the biggest attention-grabbers at the Boston Flower and Garden Show are always the display gardens featuring chickens and bees. As you can see in the above photo from a previous year, this particular garden incorporates a colorful chicken coop (that's the blue and green structure) with a small "chicken yard."
Look for similar displays this year in the Homesteading Pavillion, where you can also meet the farmers, entrepreneurs, and innovators who are transforming beekeeping, chicken raising, farmers markets, and agritourism throughout New England.
This year, also look for a special display of Space Savors, window boxes planted with edible/ornamental combinations.
---
Hotels near the Boston Flower and Garden Show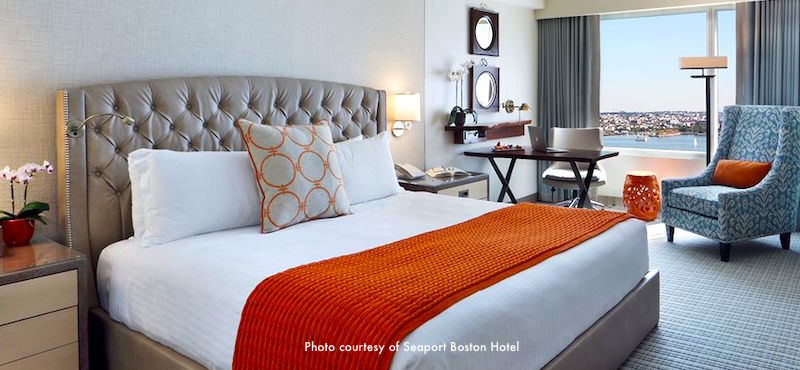 Coming to the Garden Show from out of town?
Treat yourself to a stay in a South Boston Waterfront hotel such as the luxurious Seaport Boston Hotel (you can see the view from the Seaport's Harbor-side rooms in the above photo), connected to Seaport World Trade Center by a convenient skywalk.
More top South Boston Waterfront hotels:
Check out more South Boston Waterfront hotels near the Boston Flower and Garden Show
---
More to Do & See in Boston
---
Garden Show Presentations and Demonstrations
In addition to the garden displays, the Boston Flower and Garden Show features lots of other activities, including lectures by top garden experts, demonstrations, amateur competitions, children's gardening activities, a bookstore featuring garden design and care books, and fund-raising for the Boston's Department of Parks and Recreation, which maintains many of the beautiful parks around the city.
Since garden tours in Boston neighborhoods don't take place until May and June, the Garden Show fills a gap in New England's spring gardening calendar.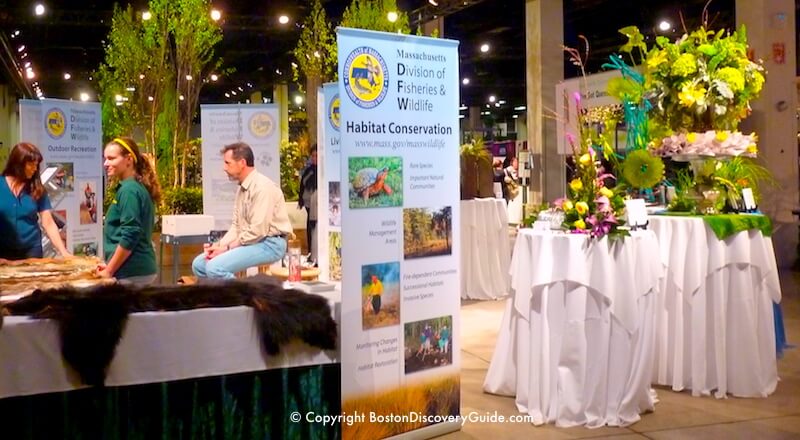 Numerous educational displays, such as the one on habitat conservation shown in the photo above, provide plenty of interesting information to consider as you plan your garden.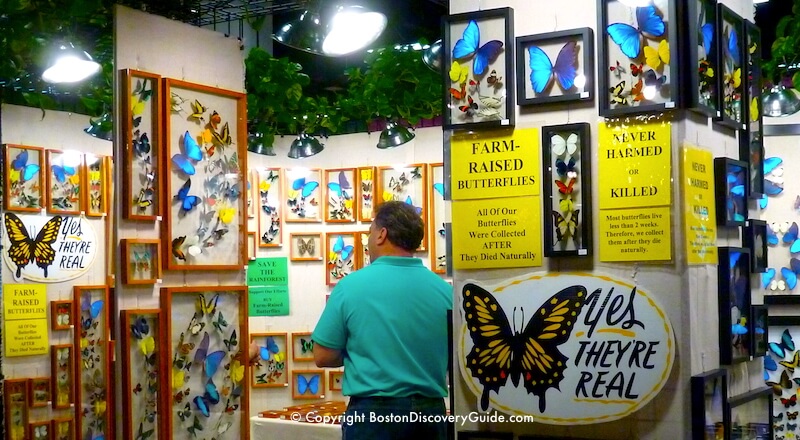 Don't miss the collections of butterflies shown above - fascinating! As the signs say, these butterflies are farm-raised, and collected only after they die from natural causes. None are killed.
The Boston Flower and Garden Show is a rebirth of the 100+ year old New England Flower Show, which folded under economic pressures but continues to maintain a role in the event.
---
Floral Design Competitions
The Boston Garden Show also features winning entries from floral design competitions. The stunning arrangements attract large crowds - and lots of photos.
The Garden Show's management encourages you to bring your camera to photograph or video the displays and arrangements, so that you'll have pictures later when you want to copy the ideas in your own garden.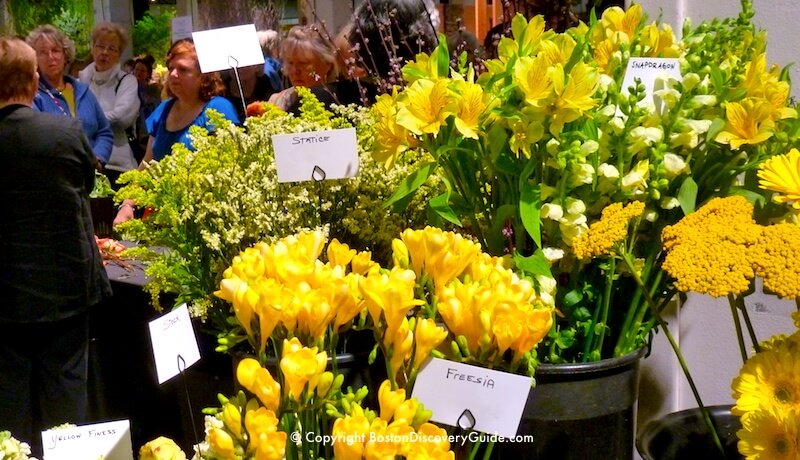 Demonstrations, such as the floral arrangement demo going on in this photo provide even more tips and ideas about how to create a "wow" effect in your own garden and home.
---
Essentials: Boston Flower & Garden Show
When: Usually around the middle of March; check the Boston Event Calendar for March for exact dates and times
Where: Seaport World Trade Center, Seaport Lane, South Boston Waterfront
Closest T station: Silver Line/World Trade Center
Water taxis to the Seaport World Trade Center: Seaport Express (Central Wharf, behind New England Aquarium, 617-593-9168), Rowes Wharf Water Taxi (Rowes Wharf, 617-406-8584); more about Boston's water taxis
Park: Hourly parking at Seaport Hotel across the street; several parking garages and lots are nearby
Tickets: $22 Adults, $19 Seniors (65+), $12 Children 6 - 17; Children 5 and younger are free; Wed-Sat after 5pm $16
---
Boston Flower and Garden Show Vendors
In addition to the display gardens, demonstrations, and presentations, dozens - maybe more than a hundred - vendors display a huge variety of specialty plants, cut flowers, and other garden-related items for sale.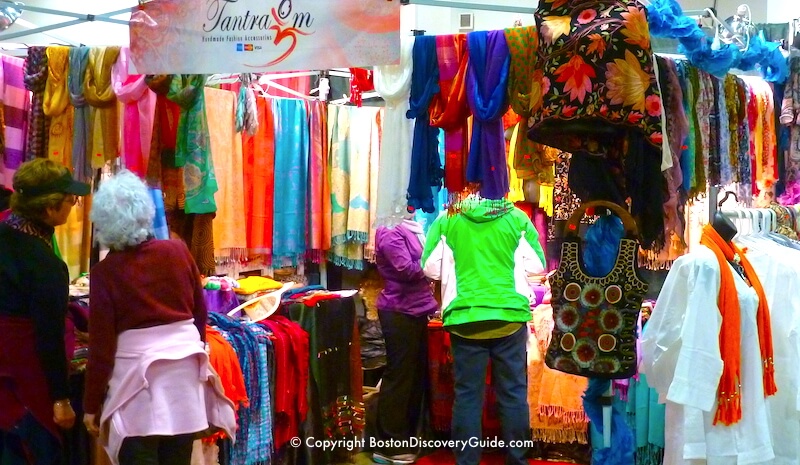 This appealing display of scarfs and other clothing rivals the flowers for color.
You'll also see plenty of other clothing vendors offering hoodies, hats, knit sweaters, hats, and more.
In addition to clothing, vendors sell candles, home decor items, outdoor lawn furniture, hammocks, and just about everything else you could want for your garden.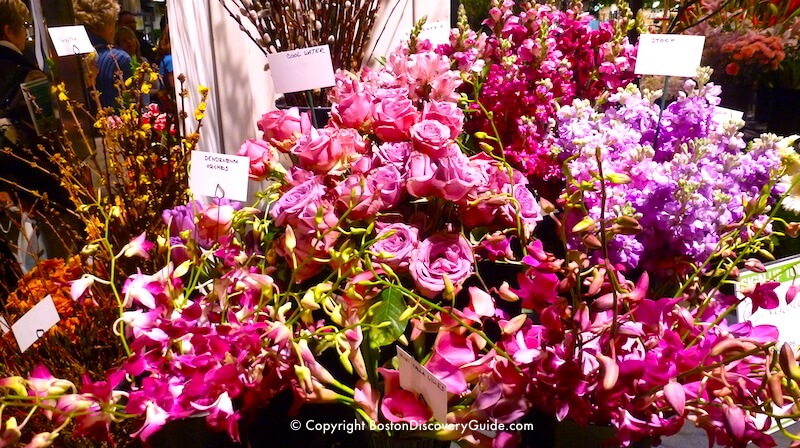 Perhaps the most popular of all items for sale are the flowers - a sure way to bring a bit of spring home with you until the real thing arrives!
Check the Event Calendar for March for exact Boston Flower Show dates and times.
---
More Articles about Flowers & Gardens in Boston
---
Need a Boston Hotel or Apartment?
Use this handy map from Booking.com to find the perfect place to stay. Just enter your dates to find what's available, see the best rates, and make your reservations.