Boston College
Top-rated Jesuit university
Don't be fooled by the name - Boston College is actually a large university with 9 schools.
Boston College - or "BC" as it's known locally - was founded back in 1863 by members of the Society of Jesus, a Roman Catholic religious order, making it one of the oldest Jesuit universities in the United States.
Although its charter positioned it as a university from the beginning, separate colleges did not begin forming until the 1920s.
Meanwhile, BC moved from its original location on Harrison Avenue in Boston's South End to its current location 6 miles west of Boston in Chestnut Hill, now one of Boston's ritziest addresses but then rural farmland.
How BC grew
Over the next few decades, BC created additional colleges until finally reaching its current total of nine:
College of Arts and Sciences
Graduate School of Arts and Sciences
Lynch School of Education
Boston College Law School
Carroll School of Management
Connell School of Nursing
Graduate School of Social Work
School of Theology and Ministry
Woods College of Advancing Studies
Students can choose among 56 majors and concentrations, and over 20 interdisciplinary programs. And select courses from over 1,400 offerings.
Undergraduates participate in BC's "Core Curriculum," a group of 15 liberal arts courses designed to promote understanding of cross-disciplinary ideas and significant forces in world culture and history.
Leadership development, community service, and sports participation are stressed. Cultural organizations include musical performance groups, dance troupes, and theater ensembles. The school's Robsham Theatre and McMullen Museum of Art host big-name performances and exhibits.
What is the campus like?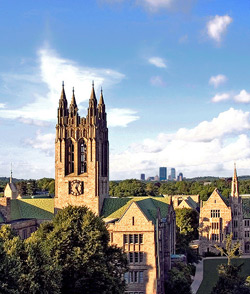 Without a doubt, Boston College has one of the most beautiful campuses in the area.
Rolling hills of the campus overlook Chestnut Hill Reservoir. Groves of trees and formal gardens dot the well-kept grounds.
What gives the campus its special appearance, though is the cathedral-like appearance of several older buildings built in a style called "Collegiate Gothic." Original plans called for 30 of them, but onely 40 were built due to the expense. However, they're considered some of the finest examples of this style in the U.S.
Newer buildings display a variety of styles - Georgian, Neoclassical, and Richardsonian Romanesque. The O'Neill Library is in International Style, designed by the Cambridge-based Architects Collaborative firm led by Walter Gropius.
Coming full circle, recently built Campenella Hall and St. Ignatius Gate Residence Hall show a return to Collegiate Gothic influence.
Why you might want to attend Boston College
Here are 5 great reasons to attend BC:
You'll get an excellent Jesuit education, focused on developing your talents and intellect while encouraging you to help others
Winning sports teams
You'll be required to participate in a sport - an experience that will pay many dividends in fitness, fun, and relationships
Gorgeous setting - with the big-city excitement of Boston just a subway ride away
Priceless social and professional networking opportunities at alumni events with Boston's political and business elite
Campus Tours
You can tour the campus from Monday through Friday throughout most of the year.
Check the BC website for details (click "Admission," and then "Undergraduate Admission").
Details and Directions
Founded: 1863
Students: 9,000 full-time undergraduates and 5,500 graduate and evening undergraduate students
Campus type: Suburban, 6 miles west of Boston. 118 acre campus in Chestnut Hill, 40 acres in Newton, 47 in Brighton, and 179 acres in outlying areas.
Dorms: Yes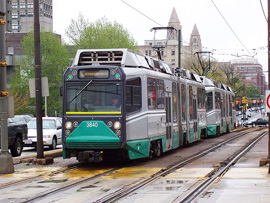 Address: 140 Commonwealth Ave, Chestnut Hill section of Newton, MA;
Nearest T station: Green Line B/Boston College (the last stop on the line). Cross Comm Ave so that you're on the south side, walk past St Ignatius Church, and follow the perimeter road to the campus entrances.
Parking: One-hour parking is available along Comm Ave. Additionally, Boston College has parking garages on Beacon Street and Comm Ave. You can park for free for 2 hours, although the Comm Ave lot is available to visitors only after 2pm each day. Parking is also free from Friday from 2pm through Monday 2am. You must park on the 3rd floor or above.
No parking: You can't park anywhere on campus on Saturdays when home football games are held.
Organizational type: Private university, Roman Catholic (Jesuit), non-profit
For more information: 617-552-1798 ; website
Other topics of possible interest: