Home > Boston and New England Recipes >
Boston Baked Beans Recipe
A favorite of Boston and New England cuisine
This totally easy Boston baked beans recipe transforms the most humble ingredients - dried navy beans, molasses, ketchup, a little sugar - into a rich-tasting, mouth-watering treat that my children call "candy baked beans." This recipe has been a favorite since Colonial times, and is one of the best Boston and New England recipes!
Although you can use a special baked beans crockpot or bean pot for cooking this dish, I use an ordinary casserole dish.
This recipe is the one that my mother and grandmother used when I was growing up, and it's also the Boston baked beans recipe that I make for my own family and friends.
Hope you enjoy it!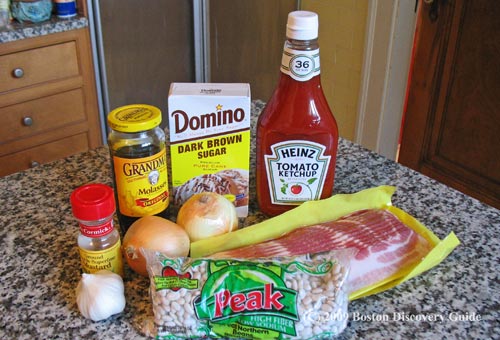 Boston Baked Beans Recipe
Prep time: 10 minutes Total cooking time: 7 - 8 hours Serves: 12
Tip: If you want a smaller amount, just divide the ingredients to get the amount that you want.
Boston Baked Beans recipe ingredients:
1 pound (about 2 cups) dried small white beans, such as Great Northern or Navy beans (larger beans such as Cannelloni do not work well)
2 onions
6 cloves of garlic
1/2 cup molasses
1/2 cup brown sugar
1/2 cup ketchup
2 tablespoons olive oil
2 teaspoons salt
2 teaspoons dried mustard
1/2 teaspoon pepper
1 teaspoon dried ginger (optional)
Dash of hot sauce or cayenne, to taste (optional)
4 slices bacon (smoked is best); alternately, use a small amount of ham chopped into small pieces - or omit completely to make vegetarian baked beans, which is what I do for parties and large gatherings when I want to have vegetarian options
Equipment needed for Boston Baked Beans recipe
Large pot
Large baking or casserole dish, with a cover (or use aluminum foil)
Steps for making Boston Baked Beans recipe
1. Rinse the beans. Fill a large pot with water and heat. When the water boils, add the beans, and turn off the burner. Let the beans soak for an hour. (Alternately, if you plan ahead, you can soak the beans overnight, which will shorten the cooking time for this recipe.)
2. Drain out the water, refill the pot with water to cover the beans by at least 3", and boil. Reduce heat to a simmer and cook the beans just until they're tender. This takes from about 1 to 2 hours, depending on the type and age of your beans. If you presoaked the beans overnight, it will be closer to an hour.
3. As the beans simmer, chop the onion and garlic into small pieces. Put them into a large baking dish.
4. Add all other ingredients in this Boston baked beans recipe except for the bacon to the baking dish. Mix. (If you use ham instead of bacon, add it now.) The mixture will be thick.
Taste the mixture. Add more salt or any of the other ingredients if you'd like. Keep in mind that it will taste much better after cooking. Also, the mixture should be a little less salty that you'd like, because the bacon will add saltiness. (Using ham? Adjust the salt to your taste.)
After you're satisfied and not planning to do more tasting, chop the bacon into small pieces and add it. Preheat the oven to 300°.
5. As soon as the beans are tender, remove them from the stove. Scoop out a cup of the cooking water and add it to the mixture in the baking dish to thin it. Pour the remaining cooking water into a bowl and set it aside.
6. Add the beans (you'll have about 6-7 cups of them) to the molasses / ketchup / sugar / onion / garlic mixture in the baking dish, and gently mix together. Be careful not to crush the beans. If necessary, add more of the reserved bean cooking water.
The resulting mixture should look slightly soupy. It will be much paler than you'd expect for baked beans. In fact, the beans never look promising at this stage - you may feel tempted to add more ketchup or molasses just to darken the mixture. But don't worry - baking will transform this dish into something glorious.
7. Cover the dish and put it into the oven to bake. Check the beans every hour to make sure that they're not getting too dry. If they are, add more of the reserved bean cooking liquid, and stir to mix in. The beans will slowly turn brown.
8. After about 3 hours, remove the cover from the baking dish. Check the liquid level again. It should still look slightly soupy. Continue baking uncovered. This will cause the liquid to begin to evaporate, so check the level of liquid (it will now be a thick sauce) every 15 - 20 minutes. Be sure that the beans don't get too dry, because they continue to absorb moisture even after they're done. Keep adding the reserved liquid as necessary. If you run out, use water.
9. After cooking for about 1 more hour (about 4 hours in total), the beans will be a rich mahogany brown. The molasses and sugar will begin to caramelize. This is when the real alchemy in this Boston baked beans recipe occurs - simple white navy beans are transformed into a rich, delectable dish full of flavor.
You can now take the Boston baked beans out of the oven to cool. If your family or friends are nearby, the intoxicating smell will lure them into the kitchen at this point and they'll tell you how hungry they are.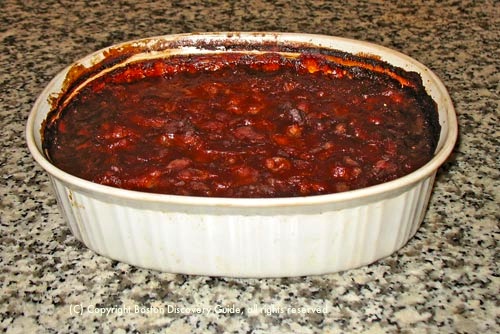 Fresh-from-the-oven Boston Baked Beans cooling on a kitchen counter
A variation for this Boston Baked Bean recipe
I sometimes chop up a couple of carrots and add them along with the onions and garlic in Step 3. The caramelization process that transforms the beans does wonders for carrots as well. Once the beans are cooked, the carrots aren't noticeable, but they do add a nice texture to the dish - and maybe even some Vitamin A .
Where Can You Try the Best Boston Baked Beans ?
Many Boston sports bars and local Irish pubs serve at least a few traditional New England dishes, including Boston baked beans. You can also taste delicious variations at restaurants such as Union Oyster House. Once you do, you'll want to make your own baked beans at home with this favorite Boston and New England recipe.
More Boston and New England recipes to check out
Boston Discovery Guide > Boston and New England Recipes > Boston Baked Beans Recipe