Home > Colleges and Universities >
Boston Architectural College
Boston Architectural Center - Colleges in Boston
Want to earn an architectural or interior design degree? Intern while you learn at Boston Architectural College.
Boston Architectural College - often just called "BAC" - is an independent professional school with an excellent reputation among Boston's designers and architects. It is also one of the best colleges in Boston for working professionals.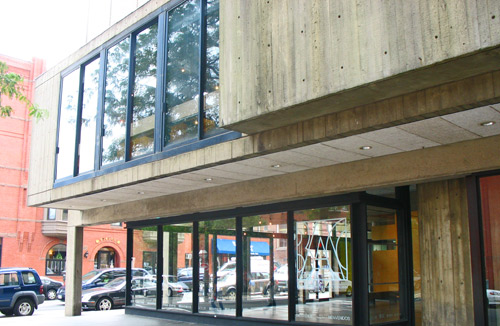 BAC's iconic 20th century building on Newbury Street in Boston's historic Back Bay
At BAC, you'll work at top design firms during the day while you take classes in the evening. You can earn Bachelor and Master degrees in architecture, interior design, landscape architecture, and design studies.
In addition, Boston Architectural College offers numerous continuing education courses and certificate programs for professionals and non-professionals in areas such as decorative arts, historic preservation, kitchen and bath design, sustainable design, and architectural rendering.
Located on Boston's famed Newbury Street in the heart of Back Bay, Boston Architectural College is easy to spot because it occupies one of the very few modern buildings in this gracious neighborhood filled with Victorian brownstone and red brick mansions.
Boston Architectural Club grows into a Boston college
BAC began back in 1889 when a group of prominent Boston architects started getting together for professional and social reasons. They called themselves "the Boston Architectural Club."
The Club embraced the philosophy of the Ecole des Beaux-Arts in New York, and offered an extensive public educational program featuring drawing, design, history, and structure.
After reorganizing in 1944, the club transformed itself into the Boston Architectural Center. In the 1970s, the Center enhanced its educational offerings, a process that continues even now.
Finally, the Center began offering degrees In 2006 and changed its name to Boston Architectural College.
Why is Boston Architectural College unique?
A unique and exciting aspect of BAC is that you attend classes during the evening while working (and receiving credits) in approved, paid, supervised positions in design firms during the day.
This learning model combines theory with practical experience - and keeps tuition relatively affordable.
While you work, you'll make lots of professional contacts in your chosen field. And because you're also getting professional experience, you'll qualify to take required professional licensing exams immediately after graduating.
But what if you're passionate about having a design career, but have little or no design background? Not a problem - you can choose the optional academic-only first year program which allows you to spend all of your time taking required basic drawing and drafting courses.
Perhaps the most important factor that sets BAC apart from other design schools is that all faculty members are practicing professionals. True to the college's roots, BAC is still a place where architects and design professionals meet.
Short-term learning opportunities at BAC for visitors
If you love design and are visiting Boston for a few weeks or longer, you should check out the continuing ed and certificate programs at Boston Architectural College.
You'll find interesting options in a number of different areas.
For example, BAC's Kitchen and Bath Design Certificate program is the only National Kitchen and Bath Association accredited program in the Boston area.
Whether you're launching a new career or enhancing your existing credentials, you'll enjoy the opportunity to take classes related to all aspects of kitchen and bath design. Classes begin in March, June, and September, giving you lots of flexibility about when you start.
Boston Architectural College also offers certificate programs in Decorative Arts, Historic Preservation, Design Computing, Advanced Rendering, Sustainable Design, and Planting Design.
What you can see at Boston Architectural College
Like many colleges in Boston, BAC exhibits student and faculty work in public spaces for visitors to enjoy. BAC's exhibition spaces in their lobby/gallery space at 320 Newbury Street is easily accessble.
To find out what's currently on display, go to their website, click "About the BAC" and then click "Calendar."
Or just drop in. The BAC's main building is easy to spot - it's one of the very few 20th century spaces on Newbury Street.
Campus Tours
BAC offers information sessions and tours of the school on the first Monday evening of each month (holidays may cause some variation). Afterwards, you'll have the opportunity to speak with representatives from the faculty and various administrative offices, and perhaps a student.
Keep in mind that Boston Architectural College is an urban non-residential college located in Back Bay - so what you'll see will be classrooms, labs, and display space.
You can find details about the tours in the "Admissions" section of the BAC website.
Details and Directions
Founded: 1889 (although as a club, not a college)
Students: About 1,300
Campus type: City
Dorms: No, although the college is committed to helping students find nearby housing
Address: 320 Newbury Street, Back Bay, Boston, MA;
Nearest T station: Green Line/Hynes
Parking: Although metered parking can sometimes be found along Newbury and nearby streets, taking the T is best. Garages can also be found on Dalton and Newbury Streets.
Organizational type: Private, secular, non-profit
For more information: 617-262-5000 ; website
Boston Discovery Guide > Colleges and Universities > Boston Architectural College