Bloglets
Ice Skating at Boston's Frog Pond and Free Public Skating - Sunday, November 21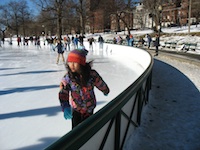 Enjoy ice skating performances by some of Boston's top skaters, and then take a spin on the ice yourself at the opening ceremony of ice skating season at Frog Pond in Boston Common.
The temporary rink, complete with its own zamboni, goes up in mid-November and remains until mid-March, when the Boston weather cooperates. Our unseasonably warm fall delayed the opening this year.
The ceremony begins at 5:30, followed by FREE public skating. If you're visiting Boston and didn't pack your skates, don't worry - rent a pair inexpensively right at the Pavilion. More details on the Boston Event Calendar for November 2010.
Thanksgiving Dinner in Boston - Make dinner reservations NOW!
Boston restaurants go all out for Thanksgiving dinner, preparing lavish spreads of traditional and contemporary favorites for this special American holiday.
Get a flavor of Boston Thanksgiving menus at some of the city's top restaurants - and you may decide to make reservations rather than turkey this year.
If you're visiting Boston, this is a special way to celebrate this most American of all holidays. Thanksgiving is this Thursday, November 25 - so you don't have much longer to decide where to make your reservations.
Boston Bruins play the Hurricanes at TD Garden on Friday
Leave Black Friday shopping to your Significant Other while you catch the Boston Bruins taking on the Hurricanes at the Garden on Friday, Nov 26.
The Bruins have had a sizzling season so far and this game should bring a lot of excitement to the ice. Work off those extra Thanksgiving calories by jumping around and cheering your favorite Boston team!ur reservations.
You don't love turkey? Have a wonderful Thanksgiving meal in Boston's Chinatown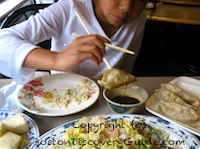 Not every one is a turkey fan . . . but that's no reason to miss having a wonderful Thanksgiving dinner on Thursday.
Boston's Chinatown is the perfect Thanksgiving destination when you want a splendid meal with no gobblers in sight. And because most diners do want a more traditional Thanksgiving dinner, you shouldn't have any trouble getting a table without reservations. More information about Thanksgiving dinner in Boston's Chinatown.
Black Friday Shopping Bargains in Boston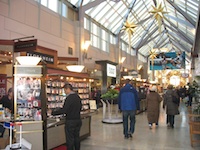 Get ready to find some of the biggest shopping bargains of the year on Black Friday, Nov 26.
Boston stores enjoy their biggest crowds of the year as shoppers scramble to snag heavily discounted specials, get a few steps ahead with the holiday shopping, and enjoy the Christmas decorations now that the turkey leftovers are in the fridge.
Where to find the biggest bargains? Seek out Boston's "big box" stores - Best Buy, KMart, Sears, Gap, even Crate and Barrel (15% off almost everything) - as well as shopping malls, and even the boutiques along Newbury Street and in other neighborhoods. Some of the biggest discounts this year appear to be on electronics - but read the fine print in the ads as the number of items available at the heralded price may be limited.
More about Black Friday Shopping in Boston
Boston Hotels offer New Year's Eve Special Packages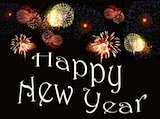 Celebrating New Year's Eve in Boston? Be sure to check out the New Year's Eve "special packages" offered by many Boston hotels.
Typical special deals for New Year's Eve might include complementary room or suite upgrades, champagne, a lavish New Year brunch, First Night buttons for 2, valet parking, and late checkout.
Look for details on specific hotel offers on New Year's Eve Boston hotel specials.
Go Patriots - the Super Bowl is in sight!
With today's 34-3 win against the Buffalo Bills, the New England Patriots clinched the AFC East title again - and even better, the home-field advantage in the AFC Playoffs!
Even though the Patriots are snowed in right now in Rochester, as a huge blizzard blankets New England, they'll soon be home to Gillette Stadium for their Jan 2nd game against the Miami Dolphins. Check the Patriots schedule
Martin Luther King Day in Boston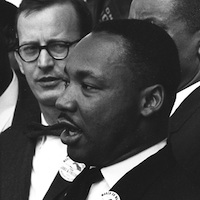 Find out about Boston ceremonies to honor civil rights leader Dr. Martin Luther King Jr.
Martin Luther King Day is on Monday, January 17, 2011, and is a National U.S. Holiday.






Boston Home Show at Suffolk Downs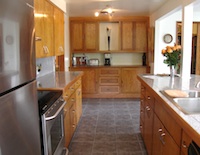 For 3 days only - January 28 - 30 - the Boston Home Show brings together hundreds of top products and services all in one spot.
If you're even just beginning to think about remodeling, this show is a perfect place to begin zeroing in on what you love. You can talk to vendors, contractors, and experts - and best of all, see tons of products that you might never discover on your own. More info.
Patriots play the Jets at Gillette Stadium
Get ready for the New England Patriots' most exciting game of the season - so far - when they play the New York Jets at Gillette Stadium on Sunday, January 16 at 4:30.
If you're visiting Boston this weekend, expect to see a lot of fans wearing red, white, and blue. Or better yet, get tickets and head to Gillette Stadium to cheer the Pats on to the Superbowl! More about the New England Patriots game on Sunday
A Taste of Boston Cream Pie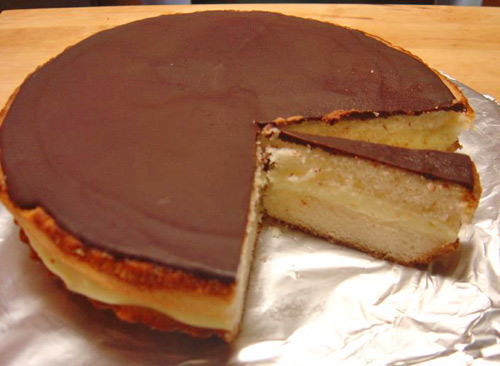 Stop by the Omni Parker House lobby in Downtown Boston from 4pm until about 7pm on Friday, January 21, for a sample of their restaurant's famous Boston Cream Pie, first served here more than 150 years ago and a Boston favorite ever sense.
Why? Boston is National Pie Day, and Parker House is making a donation to a local Boys & Girls club for each slice ordered in the restaurant - so here's your chance to enjoy this famous treat and help support a good cause More about Boston Cream Pie at Omni Parker House
Don't wait - Make Valentine's Day reservations now!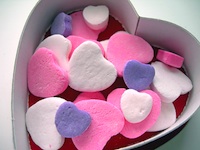 Valentine's Day is only 3 weeks away - and now is the time to make sure you get the reservations you want. Boston restaurants and hotels rev up for this special occasion - and you'll find lots of choices from affordable to splurge.
Valentine's Day special packages at Boston hotels can be an especially good deal, especially combined with low winter rates - look for champagne, chocolate-covered strawberries and more romantic touches for the perfect evening. More about Valentine's Day hotel packages and romantic restaurants in Boston
Forget about the snow at the Boston Wine Festival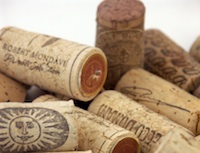 Want to escape, if only for an evening, from the piles of snow covering the city? The Boston Wine Festival at Meritage in the Boston Harbor Hotel pairs the best wines from around the world with Chef Daniel Bruce's gourmet cuisine for an unforgettable experience.
This is your chance to try new wines, enjoy a wonderful dinner, and forget the piles of snow outside. More about the Boston Wine Festival
Boston Hotels with Fireplaces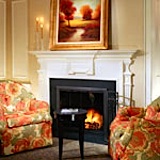 Visiting Boston this week? Boston hotels with fireplaces will keep you cozy while the snow piles up outside. Not surprisingly, these are also some of Boston's top luxury hotels, with every amenity to pamper you.
If you've checked the Boston weather, you know that 2 more storms are on their way this week, so enjoy a fireplace in your room while you watch snowflakes fall outside your window. Best of all, low winter rates are still in effect. More about Boston hotels with fireplaces
3-course tasting dinner from Top Boston Chef
Here's a super "Deal of the Day" for Boston - James Beard Award-winner Chef Michael Schlow is offering a Living Social "deal" at all 3 of his Boston restaurants - a 3-course seasonal tasting dinner for a $50 coupon.
You can choose among his superb French cuisine at Radius, tantalizing Tuscan fare at Via Matta, or his brand-new Tico restaurant in Back Bay, where you can sample Central-American and Mexican-influenced dishes.
Or get coupons for all. Whatever you choose, it's a great way to enjoy a special dinner from one of Boston's top chefs. The catch? You have to buy the coupons today or tomorrow. More details
Chinese New Year in Boston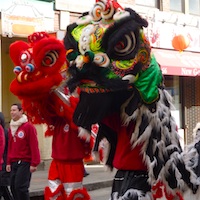 The biggest Chinese New Year celebration in Boston takes place on Sunday, February 13 when local martial arts groups perform Lion Dances throughout Chinatown to welcome the Year of the Rabbit.
Festivities kick off with a grand parade, and then each Lion Dance group winds through the streets, with 4 or 5 performances underway at once in different parts of the neighborhood. Colorful "lions" and loud drums, gongs, cymbals, and firecrackers add to the excitement.
More about Chinese New Year in Boston
Free Bus Trips to NYC

World Wide Bus, which started offering Boston-New York City service last fall, is GIVING AWAY round trip tickets (limit 2/person) for Feb 14-17 between Boston and NYC as part of a Valentine's Day promotion. There will be about 3 round trips daily, and WWB plans to give away all tickets, first come, first served, starting on Tuesday, Feb 9.
If you're coming to Boston, check out Valentine's Day Specials in Boston hotels. If you're going to NYC, here are suggestions for must-see New York tourist attractions.
Unlike the other Boston NYC bus services, World Wide Bus leaves from Alewife T station in Cambridge and Riverside T Station in Boston, and drops off/picks up passengers near Penn Station in NY. They offer free WiFi and electrical connections. Ticket give-away is on their website.
St Patrick's Day Events in Boston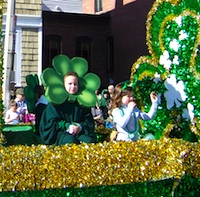 Boston's St Patrick's Day Parade draws visitors from across the country, and is Boston's biggest parade of the year - but it's only the beginning of the St Patrick's Day events in the city.
As the most Irish of all American cities, with almost a quarter of its citizens tracing at least some of their roots back to Ireland, Boston pulls out all stops to honor the patron saint of the emerald isle. An Irish film festival, Irish musicians in most of the city's Irish pubs (reportedly, we have more than 100), and the Irish Heritage Trail are just part of what makes Boston a fun place to be on St Patrick's Day. More about St Patrick's Day events in Boston
Newbury Street Shopping
Newbury Street shopping ranks as one of the top 10 Boston attractions, and for good reason. Dozens of high-end international designer boutiques, local collections of cool fashion by emerging and soon-to-be famous local designers, and consignment shops with barely worn but greatly discounted garments with famous labels compete for space in the Victorian brownstones on trendy Newbury Street.
Insider tip: You'll also find plenty of bargains meccas - H&M and Zara, and one street over on Boylston, Marshalls and Filene's Basement. Find out more about why Newbury Street shopping is a top Boston attraction
Ice Skating on Frog Pond - Great Winter Activity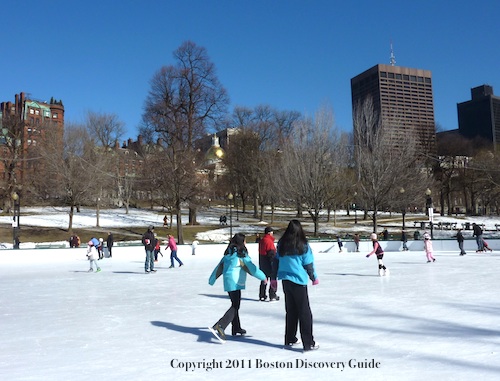 Ice skating at the Frog Pond rink on Boston Common has been perfect for the past few days - blue skies with plenty of sunshine, no wind, and relatively few skaters - surprising, considering that this is school vacation week across Massachusetts and other New England skates.
We stopped by on the spur of the moment yesterday - rented skates and hit the ice for an hour - then had lunch in Chinatown. Find out more about best Boston activities for winter.
Running of the Brides Tomorrow, March 11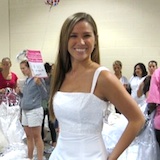 Don't miss Running of the Brides, Boston's huge deep-discount sale of designer wedding gowns sponsored by Filene's Basement.
Essential details: Held at Hynes Convention Center, tomorrow March 11, from 8am to 8pm. Line up early to get first pick when the doors open - or come later once the frenzy dies down. With thousands of gorgeous wedding dresses available, there's the perfect gown for every bride! And with the money you save, you can have a terrific honeymoon.
Opening Day at Fenway Today, April 8

The Boston Red Sox square off today against arch rival New York Yankees in their first home game of the 2011 season at Fenway Park. Boston Red Sox schedule and ticket information.
Whether you're coming to the game today, planning to watch it from one of the nearby sports bars, or planning a future Fenway visit, you may find our new Fenway neighborhood guide useful - use it to find all the restaurants, hotels, Lansdowne Street and other sports bars and nightspots nearby.
25% or more savings on Red Sox Tix

ScoreBig is showing savings of as much as 25% on Red Sox tickets for the May 9 (Monday) game against the Minnesota Twins at Fenway Park. ScoreBig offers a bidding system where you check out what others have recently paid for similar tickets, make your offer, and then instantly find out if it's accepted - a great way to get discounts - plus they don't add on shipping and "convenience" fees. More about ScoreBig
Hidden Garden Tour + Beacon Hill Deals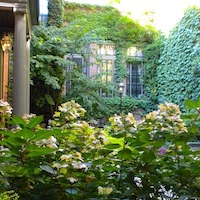 Beacon Hill's Hidden Gardens tour takes place on Thursday, May 19, rain or shine. This is your chance to visit the beautiful and fascinating gardens in this special Boston neighborhood - and to enjoy special deals from local merchants. Show your tour ticket on Thursday (5/19) to get: a free scoop of gelato with a $10 purchase at Beacon Hill Chocolates (91 Charles St), $25 off a purchase of $150+ at Sara Campbell (73 Charles St), 10% off full-priced clothing at The Red Wagon children's clothing shop (69 Charles St), a 20% discount on cash or check purchases and a 15% discount on credit card purchases at Boston Antiques Company (119 Charles St), and $10 off your purchase of $100+ at Linens on the Hill (52 Charles St). More about the Hidden Gardens tour.
Bruins Playoff TICKETS
Tickets are still available for the Boston Bruins playoff game vs Tampa Bay Lightning on Friday, May 27, 8pm, at TD Garden. Prices are not cheap - but are also not in totally ridiculous territory - especially considering that some of the seats look REALLY GOOD, and this is is shaping up to be the most exciting game of the playoffs. Check out the tickets


Boston Restaurant Week Starts Early
Imagine our delight when we dropped by Casablanca, a long-time favorite restaurant near Harvard, for lunch today and discovered they offering their Restaurant Week menu early. Dessert options proved too tempting (check out our photo of cream puffs filled with chocolate chip ice cream and drizzled with caramel sauce) on the 3-course menu proved too tempting for us, but you can also opt for 2 courses. Other restaurants are also offering their Restaurant Week menu this week. Check out participating restaurants in Restaurant Week Boston
Boston Labor Day Events - Red Sox, Deutsche Bank PGA Tour, Mass Brewers Fest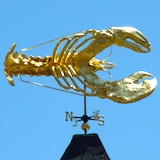 Labor Day Weekend in Boston is crammed with fun things to do - the Boston Red Sox play the Rangers at Fenway Park, Deutsche Bank PGA Golf Tournament, Odyssey Cruise Line's Wine Lovers Boston Harbor Tour, Mass Brewers Fest, and top-rated Irish music at the Black Rose. With many Boston locals away at the Cape, the Vineyard, or Nantucket, tickets are MUCH easier to get than usual - and special half-price deals, discount coupons, and lower rates at hotels add up to a bargain weekend in Boston.
More about Boston Labor Day Weekend Events
Tickets for Boston Concerts for September - Dropkick Murphys, Celtic Thunder, Steely Dan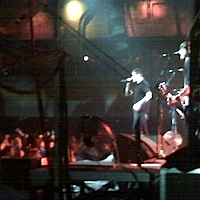 The Boston Concert Calendar for September 2011 is packed with dozens of concerts - you can hear a different performer or group every night of the week!
The Dropkick Murphys perform at Fenway Park, Roger Daltrey at Agganis Arena, and Celtic Thunder and Steely Dan on different nights at Citi Performing Arts Center - and this is just the beginning. Check out line-ups at House of Blues, Paradise Rock Club, Orpheum Theatre, Bank of America Pavillion, and more, and get tickets for great seats!
Labor Day Shopping, Sales, Discounts in Boston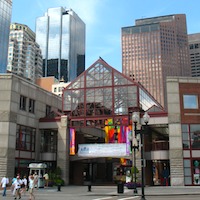 Labor Day shopping, sales, and discounts are underway in Boston stores and shopping malls this weekend - we're heading out ourselves later today for a few back to school clothes. With the American economy stil shaky, look for deep discounts on already marked down summer items, and even sales on new fall fashions. My suggestions about where to shop in Boston on this Labor Day weekend:

Prudential Center in Back Bay - Saks, Lord & Taylor, Ann Taylor, Vineyard Vines, Vera Bradley, Frette, GameStop, Swarovski, Sophora
Quincy Market / Faneuil Hall Marketplace - Orvis, Boston Pewter Company, L'Attitude, Coach, Local Collection, Boston Campus Gear, all the pushcart vendors
Newbury Street - Look for expensive designer boutiques mixed in with H&M, Zara, Nike; check out discounters one street over on Boylston
Natick Mall - The largest shopping mall in Boston and New England - Nordstroms, Macys, Gap, and every other store you can imagine
Wrentham Premium Outlets - Sure to be packed this weekend, but great prices!
Berklee BeanTown Jazz Festival 2011
The Berklee BeanTown Jazz Festival for 2011 stretches across almost 2 weeks in September, and gets bigger and more popular every year. Berklee School of Music brings together everyone in the jazz world, from students to faculty to superstars in dozens - maybe hundreds - of free and ticketed events, mostly in the Fenway, Back Bay, and South End neighborhoods. Don't miss the massive extravaganza on Saturday, Sept 24 - but also listen for casual performances, like the one in the photo that I caught last year while walking along Boylston Street. More about the Berklee BeanTown Jazz Festival 2011
New England Patriots Home Game at Gillette
The New England Patriots kick off their first home game against the San Diego Chargers on September 18 at Gillette Stadium in Foxborough, just south of Boston.
After a spectacular regular season last year (better to forget the disappointing 21-28 loss during playoffs with the NY Jets), Team Captain Tom Brady will be leading the Patriots in the charge toward another Super Bowl. Check New England Patriots schedule and ticket information, plus how to save on Patriots tickets
South Boston Waterfront Restaurants: Legal Harborside, Menton, Strega, Yankee Seafood,
With the opening of Legal Harborside, Jerry Remy's Sports Bar, Temazcai Tequila Cantina, and Del Frisco's Steak House at Liberty Wharf this summer, the South Boston Waterfront has suddenly become THE hot dining destination. Also in the neighborhood are Barbara Lynch's Mention (maybe the best restaurant in Boston!), Sportello, Drink,
Boston Hotels with Fireplaces
The feeling of fall has arrived in Boston, along with slightly cooler weather. Fall foliage should begin its annual display of crimson, gold, and bronze in the coming weeks. Nothing is more romantic and cozy than the warm glow of a fireplace - so If you're planning a visit to Boston in the coming months, you may want to check out the hotels that offer guest rooms with this wonderful luxury. There's only one catch, though - you may enjoy your room so much that you won't want to go out and explore the city!
Find out which Boston hotels have guest rooms with fireplaces
Fall Foliage Cruises from Boston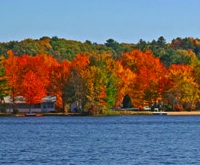 There's nothing more spectacular than fall foliage in New England - crimson, gold, and bronze leaves so vivid against the blue sky that you wish the beauty of autumn could last forever. And there's no better way to experience it than on a fall foliage cruise from Boston, winding along the New England and Canadian coastline past picturesque villages, small islands, and gorgeous views at every point along the way. Taking a fall foliage cruise from Boston is easy - they depart every week, and you can select the number of days and destinations that best fit your needs. This year, there's even a special scrapbooking and crafting fall foliage cruise on Holland America. More about fall foliages cruises from Boston
Free Boston Museum Day - Saturday, September 24, 2011
Several Boston and Cambridge museums will be offering free admission on Saturday, September 24 as part of Smithsonian Magazine's Free Museum Day event - so mark your calendars and drop by an old favorite or perhaps a museum you've never been to.
For example, in Cambridge, right on the Harvard campus, you can stop by the Peabody Museum to see the famous glass flowers, or if you're in Boston's Beacon Hill/West End, spend an hour exploring historic Otis House.
Lots of museums outside of Boston are also offering free admission on Saturday - a couple of personal favorites include the Wenham Museum north of the city, and the Museum of Russian Icons to the West - great excuses to search for hits of fall color also! More about free museum admission
Columbus Day in Boston - Top Things to Do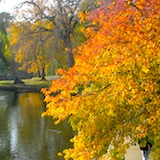 Gorgeous foliage, festivals, big sales, and Parents Weekend at local colleges bring lots of visitors to Boston on Columbus Day weekend. Here are a few of the top events - have fun!
Boston Bruins and New England Patriots games - Sat., Sun., and Monday!
Huge Cranberry Festival - Saturday and Sunday
Theater and Comedy Clubs - Look for half-price tickets throughout the weekend
Columbus Day Parade - In Downtown Boston this year!
Celebration in Christopher Columbus Park - Family fun plus best hotels nearby
More Boston Columbus Day Kids Activities
New England Patriots Win Again
The New England Patriots just racked up another victory, this time against the Oakland Raiders, 31-19. A 97-yard run by newcomer Stevan Ridley, who also scored his first touchdown, got the team off to a roaring start. Even a final touchdown by the Raiders late in the game couldn't stop the Patriots' momentum.
The next home game at Gillette Stadium is next Sunday, October 9 - so get your tickets now. Superbowl, here we come!
Check New England Patriots schedule and ticket information, plus how to save on Patriots tickets
How to Plan Your Boston Travel

Planning a trip to Boston? Use BostonDiscoveryGuide.com's vacation planning tools and information to make planning a great trip simple. You'll find a map showing all of Boston's central neighborhoods and a list of all the attractions you can find in each area. Use BDG's hotel guide to check out all the best Boston hotels for your budget and location preferences in each neighborhood, and wonderful nearby restaurants. You can also find details about all the top attractions, and how to get a Boston Discount Card to get free admission to attractions, tours, and cruises. Check out vacation planning info on BostonDiscoveryGuide.com
Gorgeous Golden Fall Foliage in Charlestown
Bright sunshine and blue skies meant perfect weather for photographing Boston's changing fall foliage this afternoon. I happened to be in Charlestown, a Boston neighborhood about a 5 minute walk from Downtown, where Freedom Trail sites including the Bunker Hill Monument and the USS Constitution are located.
As you can see in my photos, mostly taken around or near Monument Square where the Bunker HIll Freedom Trail site is located, lots of golden foliage is beginning to appear - although plenty of trees are still green, so 2011 is shaping up to being a long fall foliage season. See the fall foliage photos that I took in Charlestown this afternoon
Free Fenway Arts and Cultural Festival on Monday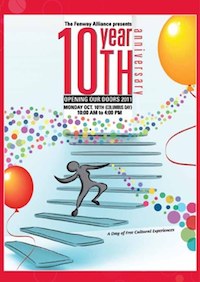 Opening Our Doors," Boston's biggest - and it is HUGE - arts and cultural celebration takes place on Columbus Day Weekend on Monday, October 10, 10am - 4pm in the Fenway neighborhood, home to Boston's most famous art museums and symphony orchestras. Best of all, it's FREE. Visit the Museum of Fine Arts and Isabella Stewart Gardner Museum, enjoy some of the numerous concerts and performances, try the workshops, tour the Diablo Glass school, visit the Boston Symphony Orchestra's "petting zoo" - and that's just a small taste of what you'll find to do. More information about Opening Our Doors
Columbus Day in Boston - Top Events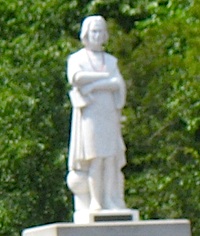 A Columbus Day Parade in the North End, festivals, and big sales bring lots of visitors to Boston on Columbus Day weekend.
Here are top events - have fun!
Columbus Day Parade - In Boston's North End this year!
Boston Bruins and New England Patriots games - Sat., Sun., and Monday!
Huge Cranberry Festival - Saturday and Sunday
Theater and Comedy Clubs - Look for half-price tickets throughout the weekend
Celebration in Christopher Columbus Park - Family fun plus best hotels nearby
More Boston Columbus Day Kids Activities
New Columbus Day Parade Photo Gallery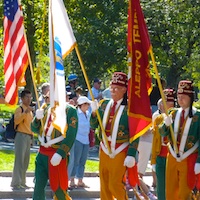 Check out our new Boston Columbus Day photo gallery with pictures from yesterday's Columbus Day Parade through the North End. Perfect weather, an enthusiastic crowd of watchers, and a huge number of marching bands, floats, performers, and even vintage autos made this one of Boston's best parades of the year.
Don't forget that more Columbus Day events are going on today! In particular, check details for the massive Arts and Culture Open House going on in Fenway - all events are free, including entrance to MFA and the Isabella Stewart Gardner Museum. More Boston Columbus Day Events
Peter Pan at Boston's City Hall Plaza- Get Discount Tickets Now!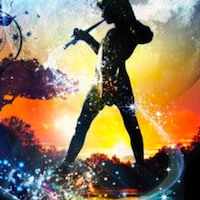 J.M. Barrie's Peter Pan is coming to Boston in one of the most exciting productions yet - a multi-media performance with live actors and musicians, computer-generated images, puppets, recorded music, and more special effects than you can imagine! A unique 360 degree experience puts you right in the middle of the action in a huge white tent put up just for these performances in the middle of City Hall Plaza, starting on October 18.
Best of all, Goldstar is offering half-price tickets to some performances - but these tickets will go fast! More about how to get Peter Pan Tickets
Boston's Best-Kept Hotel Secrets - "Hidden" Bargain Hotels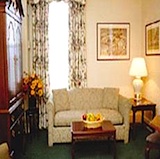 Boston's "hidden" bargain hotels aren't really hidden, of course - they're right in the middle of the best central Boston neighborhoods, often surrounded by much-pricier luxury hotels near all the top tourist attractions, restaurants, and boutiques.
You wouldn't expect to find cheap hotels rates in these areas, which is why they're "hidden" - they're overshadowed by their more expensive neighbors. But once you know where they are, you'll be in on Boston's best-kept hotel secrets: affordable hotel rates right in the city! Where to find Boston's bargain hotels
Boston Movie Tours - Get a Discount Code

Looking for a fascinating way to explore Boston and learn about the city? Boston Movie Tours take you to see sites featured in famous films and TV shows such as The Departed, Blown Away, Good Will Hunting, Cheers, and Boston Legal, while the actor-guides entertain you with tales about how the famous Boston scenes were created and filmed. You can choose a 3 hour bus tour through several neighborhoods or a 1.5 hour walking tour through Boston's historic Beacon Hill. Find out more about Boston Movie Tours, and get a discount code for your tickets
Boston Latino International Film Festival

Look for 4 exciting days packed with films, receptions, and special events at the 10th Annual Boston Latino International Film Festival on November 17-20.
Films are shown at several screening venues, including the David Rockefeller Center for Latin American Studies at Harvard University in Cambridge (1730 Cambridge Street). This very special 10th year celebration of BLIFF will feature 60 movies from 17 countries along with the participation of 15 well-known local, national, and international directors. Please visit our site for more information: http://www.bliff.org/index.html
More information about Boston Latino International Film Festival
Boston Fall Foliage Photo Gallery - New Beacon Hill Photos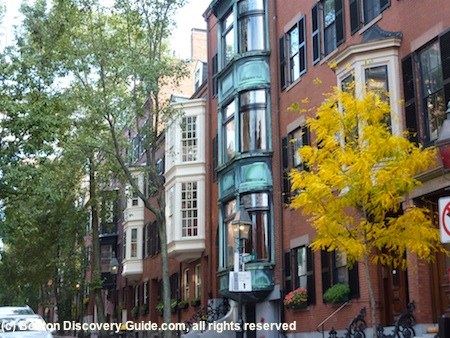 I spent a couple of hours this afternoon strolling around Beacon Hill, Boston's oldest neighborhood and the best historically preserved, in search of fall foliage colors. Leaves have been very slow this year to change color, but Beacon Hill has plenty of trees with brilliant yellow leaves scattered around the neighborhood. You can see some of the highlights - and plan your own walking tour of Beacon Hill - in Boston Discovery Guide's latest fall foliage photo gallery.
Head of the Charles Regatta - Top Boston Event in October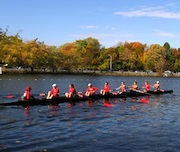 If you're visiting Boston this weekend (October 22 and 23), put watching the Head of the Charles Regatta on your "must do" list. This popular Boston event during October attracts as many as 300,000 spectators along both sides of the Charles River. Viewing is FREE - just pick your spot. The 8,000+ athletes include lots of college, high school, and club rowers from the Boston/Cambridge area, as well as elite rowers from around the world.
More about the Head of the Charles Regatta

Boston Walking Tours in October

Discover gorgeous fall foliage, interesting neighborhoods, and aspects of the city you might otherwise never see by going on a Boston walking tour during October.
A few suggestions: a Fenway Park tour, a delicious Boston Chocolates Tour (available for different neighborhoods such as Back Bay and the South End, and yes, chocolate sampling happens along the way), and Boston Movie Mile tours around Beacon Hill.
More about Boston Walking Tours

Tribute to Boston's Anti-Slavery Movement of the 19th Century at the West End Museum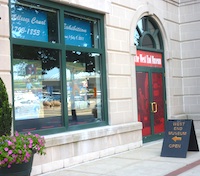 The Boston Mob Riot of 1835 brought tensions between abolitionists and pro-slavery forces to a violent boiling point in Downtown Boston almost 200 years ago. Boston's West End Museum brings this turbulent time to life in their Oct. 21 presentation about the near-lynching of famous anti-slavery activist William Lloyd Garrison. Plus, it's an good excuse for visiting this interesting neighborhood museum dedicated to preserving the culture of the now-obliterated Old West End. Free event, with movie, presentation, music, and refreshments. More event details
Half-Price Tickets Available for Top Boston Halloween Events
Halloween is in less than 2 weeks - and half-price tickets for the TOP Boston Halloween events are becoming available - check out half-price tickets for the Haunted Halloween Ghost Ship Party Cruise, ImprovAsylum's gore-drenched "Human Comedy AND Centipedes" show, some of the fun pub crawls (costumes welcome), and several shows, including Slasher (the Comedy). More about half-price tickets for Boston Halloween events
Open Casting Call for Aspiring Boston MasterChefs
Are you the best cook you know? Bring your homemade culinary creation to wow Gordon Ramsay and other judges at an open casting call for the third season of Fox's MasterChef competition series on Saturday, November 5 at Le Cordon Bleu (215 First Street) in Cambridge.
Casting calls are being held in a number of cities across the US - so this is YOUR chance to put Boston cuisine on the map! More about MasterChef open casting call in Boston
Boston Fall Foliage 2011 Photo Gallery Updates - Back Bay and Fenway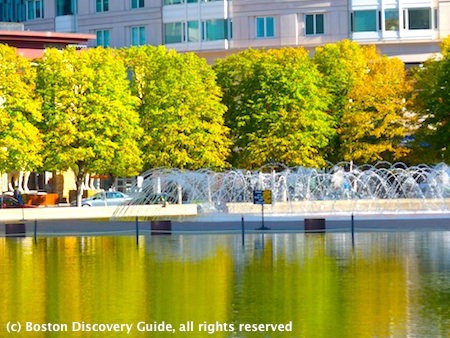 Boston foliage is finally turning gorgeous shades of gold and crimson, as you can see in the Fall Foliage Photo Gallery this week.
I took these photos yesterday in Boston's Back Bay / Fenway neighborhoods near Symphony Hall and Prudential Center. My favorite? The golden trees and their mirror images in the reflecting pool at the Christian Science complex. See the fall foliage photos in Back Bay and Fenway
Boston's Hampshire House Hosts Dining in the Dark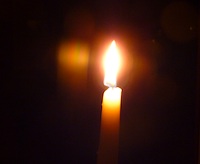 Dining in the Dark, a special dinner event hosted on October 29th at Hampshire House (above Cheers) in the Thayer Mansion in Boston's Beacon Hill, starts with a question: What happens if you can't see anything around you?
You'll find out as soon as you enter into the fantasy world of Dining in the Dark, part theater, part musical event, and part unique dining experience in this storied setting across from the Public Garden. More about Dining in the Dark.
Boston Restaurants Serving Thanksgiving Dinner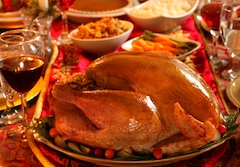 Wondering where to go in Boston for Thanksgiving Dinner? Check out Boston Discovery Guide's list of restaurants serving Thanksgiving dinner. Hampshire House, Legal Seafood, L'Espalier, Avila, Deuxave, Top of the Hub, and the Beehive are just a few of the places where you'll find special Thanksgiving meals ranging from traditional to innovative. More about the best places to eat Thanksgiving Dinner in Boston
Boston Halloween Costume Parties and Contests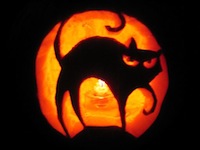 Tons of fun Halloween parties, contests, and entertainment for adults AND kids will be going in in Boston this weekend and Monday. If you're looking for something ghoulish to do in costume or not, here are a few top picks:
- Pru Boo - The biggest Halloween party in town for toddlers - 12 year olds. Trick or treating, pumpkin decorating, entertainers, and magic! More...
- Ghosts and Gravestones Tour - Journey to the dark side of Boston on this special trolley tour as costumed guides entertain you with macabre tales about the city's haunted past. More...
- Half-price tickets to Halloween events - Haunted pub crawls, cruises, Halloween shows including this year's "GoreFest" - mostly 21+ More...
Boston Event Cancellations due to Freak October 29 Snowstorm!
If you're planning to attend a Boston event tonight, October 29 - make sure it's still scheduled!
Event cancellations are beginning, due to concerns about the nor'easter currently dumping rain on the city and turning to snow later this evening - predicted to be a record-breaker for Boston in October!
Look ahead to next month - Boston events during November



Boston Veterans Day Parade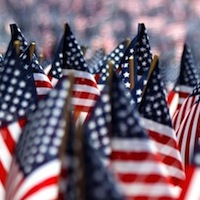 Boston's Veterans Day Parade honors military veterans and features marching bands, veterans groups, military units, militias - and almost always some additional excitement as rival veterans groups spar over who gets to march in the parade. Parade watchers get to pay tribute to our veterans, enjoy music from the bands, and observe democracy in action as particpants exercise their right to free speech!
More about Boston's Veterans Day Parade - and other Veterans Day events



Thanksgiving cruise in Boston Harbor - and other top Thanksgiving Weekend events
Done with turkey? Loathe the frenzy of Black Friday shopping? This Spirit of Boston Black Friday dinner cruise is for YOU! Enjoy a wonderful buffet dinner (NOT cooked by you! And NO turkey leftovers!), dancing under the stars, and top entertainers. Best of all, just enjoy the chance to relax! Whatever the weather outside, this luxury cruise ship is warm and welcoming inside, and you'll be sure to have a wonderful evening. More about this cruise - and other fun things to do on Thanksgiving Weekend in Boston
Free and Almost-Free Boston Events - November 5-7
- North Bennet Street School Open House - North End Boston - November 5 - Have you ever dreamed about making your own furniture, crafting your own violin, or binding your own books? Boston's North Bennet Street School is where to go, and this Saturday, you can visit all their studios, talk to professors, and stop by their gallery and shop.
- Free Jazz concert at Jordan Hall - Hear this exciting group from Venezuela at 9pm, Nov 5
- Joan Didion in Harvard Square - Conversation about her latest memoir, Blue Nights - Nov 7 at 7pm
More about these Boston events
Boston November Event: French Food and Wine Festival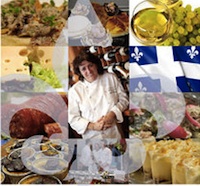 Each year, Boston's French Food and Wine Festival celebrates a different regional cuisine, and this year the spotlight is on the wonderful foods and wines of Quebec, our neighbor to the north. You'll get to watch seafood cooking demonstrations by a top Quebec chef, and sample food and wine from Boston's best French restaurants such as L'Espalier, Robert Bistro, and Eastern Standard in this not-to-be-missed event on November 9 in the South Boston Waterfront. More about Boston's French Food and Wine Festival
Black Nativity 2011 Schedule - Boston December Event
The National Center of Afro-American Artists annual Boston presentation of Black Nativity will take place on December 8-10 at Roxbury Community College. Featuring music, dance, and gospel-style Christmas favorites with a large cast of dancers, singers, musicians, and actors, the production brings to life poet Langston Hughes' retelling of the Nativity story. More about Black Nativity
Holiday Decorations Going Up in Boston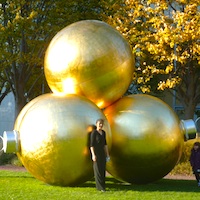 Something magical begins to happen in Boston in November . . . in what I think of as almost-hidden mini-events, holiday decorations begin to go up across the city - no doubt designed to inspire us all to shop more, but festive just the same. Crews rolled these huge golden Christmas ornaments into place in Prudential's South Garden yesterday, transforming it into a rather surrealistic sculpture garden over the course of an hour. Faneuil Hall Marketplace puts up it's gorgeous holiday tree next weekend. Sure, it's kind of early - Thanksgiving isn't for almost 2 more weeks, and as you can see in this photo, fall foliage is just now peaking in Boston - but seeing all of these decorations appear around the city is lots of fun. More about where to spot holiday decorations in Boston
Live Jazz on Saturday
The West End Museum will host a live Jazz concert by the RepaKata Band on Saturday, November 19, 7pm - 9:30pm - $7 donation at the door. Not sure where the West End Museum is? It's one of Boston's newest museums, celebrating and memorializing the Old West End, obliterated by redevelopment during the 1950s. It's between Beacon Hill and TD Garden, at 150 Staniford Street (entrance is around the corner on Causeway Street). More about the jazz concert and other November events in Boston
Christmas in Boston
Christmas in Boston means decorations everywhere, huge decorated Christmas trees in Boston Common, Faneuil Marketplace, and Downtown Crossing shining with lights by 4pm, and lots of special music concerts and productions - Boston Holiday Pops, The Nutcracker, Black Nativity, The Messiah, Radio City Rockettes, and so much more! Find out what you can do on Christmas Eve, Christmas Day, where you can listen to Christmas carolers, and why this season is so special - More about Christmas in Boston
Christmas in Boston Hotel Specials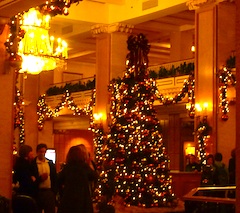 Boston hotels with Christmas specials offer some of the best values for the year, along with the chance to stay in some of the most beautifully decorated spaces in Boston. Look for gorgeous trees in the lobby and other public areas, glowing lights, and lots of fun during Christmas in Boston. Of course, you'll feel even more cheerful when you see the special holiday package rates and amenities. Find out more about special savings at the Boston Harbor Hotel, Midtown Hotel, and more Christmas in Boston specials.
Boston New Year's Sales
Newbury Street Shopping has never been better. We just got back from running errands that turned into some bargain shopping up and down Newbury Street, where big SALE signs decorate almost every boutique window - most for 50% off, and more. Lots of other shoppers were out, either snapping up deals in the shops or just enjoying the sunshine. We stopped for a quick lunch at Stephanie's on Newbury (190 Newbury Street) - gorgeous holiday decorations still in place. Stephanie's plush, super-comfortable upholstered banquette seating always makes the perfect background for the chef's comfort-food type cuisine. More Back Bay restaurants
Christmas in Boston
Christmas in Boston means decorations everywhere, huge decorated Christmas trees in Boston Common, Faneuil Marketplace, and Downtown Crossing shining with lights by 4pm, and lots of special music concerts and productions - Boston Holiday Pops, The Nutcracker, Black Nativity, The Messiah, Radio City Rockettes, and so much more! Find out what you can do on Christmas Eve, Christmas Day, where you can listen to Christmas carolers, and why this season is so special - More about Christmas in Boston
Boston Celtic Music Festival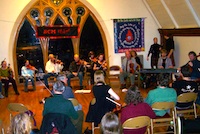 On January 6 and 7, the New Year gets off to a rolicking start when Boston's Celtic Music Festivalcelebrates ancient and modern Celtic music traditions from Europe, Ireland, and North America. Over 100 musicians provide music, dance, a parade, and concerts at several venues in Harvard Square and Cambridge - the perfect way to bring lots of warmth to the coldest month of the year. More about the Celtic Music Festival
Go Boston Card - HUGE 20% discount - Buy now, use anytime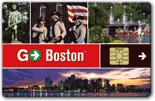 Best sale of the season - you can get 20% off adult and child Go Boston Cards for 1-7 days. Since these cards already save you up to 55% on more than 70 of Boston's top attractions, this extra 20% discount on the card means you'll save even more. Best of all, buy the card between now and 2/28/12 when the sale ends, and use it any time this year. If you're planning a visit to Boston, this is a no-brainer way to save. 5% savings also available on GoCity Cards and Explorer Passes for other cities. More about 20% savings on GoBoston Cards
Boston Bridal Bootcamp - Free Planning Events at the Boston Marriott Long Wharf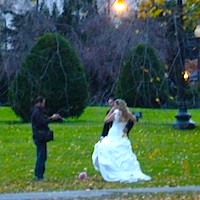 If you're planning your wedding, or even thinking abou it, you'll want to sign up for these free wedding planning seminars at the waterfront Boston Marriott Long Wharf Hotel. The hotel's certified wedding planners are bringing together some of the top experts and vendors in Boston to give you all sorts of "insider" tips about how to make sure the big day is a total success - and memorable for all the right reasons! You'll get to sample goodies from the hotel's Waterview restaurant, tour their spectacular harbor-view ballroom, plus you can even win a free weekend getaway at the hotel. More about this fun wedding planning event
Where to Ski near Boston - Guide to New England Ski Areas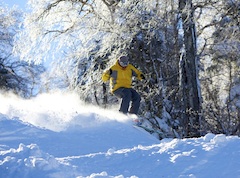 Plenty of snowfall over the past few days in Vermont and Maine means great skiing. Use our complete guide to New England ski areas and resorts to find all the best places to ski near Boston and throughout New England. Check out the great photos, plus distances and drive time from Boston. Complete Guide to New England Ski Areas near Boston




New England Patriots at the Super Bowl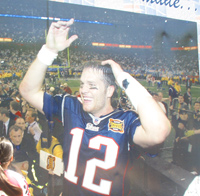 For the 5th time since 2002, the New England Patriots will be heading to the Super Bowl, this time to play against the Giants - so get ready for an intense, exciting game! Even though the game, scheduled for Sunday, February 5 at 6pm, is being played in Indianapolis, plenty of celebrating will be happening in Boston. Find the 5 best places to watch the Super Bowl in Boston and cheer the Pats to victory.



St Patrick's Day - Parade and Other Top Events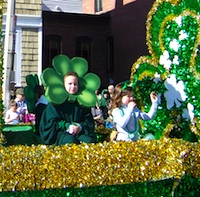 The biggest Boston event on St Patrick's Day is the huge parade that winds through South Boston, the most Irish neighborhood in the city. But there's plenty more going on to celebrate this favorite holiday - performances by the Dropkick Murphys and Celtic Woman, a 5k run, Irish festivals, films, pub events - and that's just the beginning. Find out more about all of the St Patrick's Day events going on in Boston this year.




Irish Step Dancers and Irish Music at Faneuil Hall Marketplace in Boston for St Patrick's Day
For a fun, feisty, and family-friendly St Patrick's Day event, head over to Boston's Faneuil Hall Marketplace and enjoy the non-stop free performances of Irish Step Dancing, Irish Bagpipe Music, and rousing Irish Band music on Saturday, March 17. In addition to the performance, you'll find lots of other Irish-themed events, celebrations, and specials going on. For example, stop by Cheers and dine on their special Irish foods and perhaps enjoy a bit of Guinness as well. Don't forget to wear green! Find out more about St Patrick's Day events in Boston



Special Deals for March at Top Boston Luxury Hotels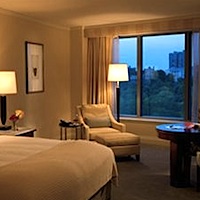 Boston's best luxury hotels have been doing well since last year, when the recession at the top end of the city's hotel market recovered. So if you want to experience a luxurious stay without paying what will surely be very high rates this summer, now is the time to benefit from lower winter rates and special deals.
Find out which of Boston's top luxury hotels are offering special deals for March
Explore offerings at other luxury hotels in Boston


Dropkick Murphys Perform their St Patrick's Day Concerts at House of Blues Boston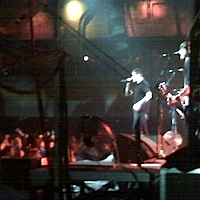 One of the best ways to celebrate St Patrick's Day in Boston is to get tickets to the rolicking Dropkick Murphys's annual concert at House of Blues as they come back and celebrate their roots as Boston's favorite Celtic-American punk rock band with "I'm Shipping Up to Boston," "Tessie," and "Famous for Nothing." They, of course, are famous for their appearances with the Red Sox and Aerosmith. With performances on March 15 and 16, don't miss this chance to see them live!
More about St Patrick's Day Events in Boston
Boston Restaurant Week Specials and Deals
Celebrate spring as Restaurant Week in Boston and Cambridge gets off to a great start with over 200 participants! With 2- and 3-course lunch menus for only $15.12 and $20.12, and 3-course dinner menus on offer for $33.12, you can dine happily at Boston's best restaurants without flattening your wallet. Check out what's on offer at Radius, Union Oyster House, Summer Shack, and all the other top restaurants participating in Restaurant Week Boston
Last Week for Boston Restaurant Week - Don't Miss It!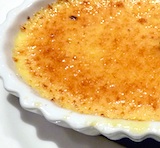 Boston Restaurant Week wraps up on March 30th - so you have only a few more days to take advantage of this opportunity to enjoy lunch or dinner at some of Boston's best restaurants for bargain prices. My weekend choices included one of my favorite Boston French restaurants, Sel de la Terre (774 Boylston Street, next to Mandarin Oriental Hotel in Back Bay) - yummy 3-course lunch, including the lush creme brulee that you can see in the photo. Find out more about participating restaurants in Boston's Restaurant Week
Red Sox Opening Day at Fenway Park

The Boston Red Sox square off on April 13 against the Tampa Bay Rayes in their first home game of the new season at Fenway Park. If you're visiting Boston, attending a Red Sox game is enormous fun and gives you a real flavor of the city's culture. Fenway Park celebrates its 100th anniversary the year, so look for lots of special events and celebrations.
More about the Red Sox Opening Game
More about Fenway Park
Aerosmith Concert at TD Garden
With Aerosmith and Coldplay at TD Garden in July, Bruce Springsteen and the E Street Band at Gillette Stadium in August, and Madonna at the Garden in September, the Boston summer concert season promises tons of excitement! But that's just the beginning: look for Steve Winwood, Yanni, Crosby Stills & Nash, Yanni, the Beach Boys, Neil Diamond and more big stars providing top concerts in Boston all summer long!
Get the Boston Concerts Schedule and Ticket Information
Best Whale Watching Spring Season in Boston - Ever?
Boston's freakishly warm winter and warmer than usual spring means whale watching this month is setting records for being the best early spring season in anyone's memory. Naturalists on board each whale watching tour have been reporting fascinating scenes of marine life with whales, seals, birds, plankton, and everything else MUCH more abundant that usual. Go see for yourself - it's easy, because the 3-4 hour tours leave from the Downtown waterfront. More about Boston Whale Watching cruises


Patriots Day Schedule - Saturday April 7
Even though the huge Patriots' Day Re-enactments and Ceremonies don't take place until next weekend, a number of smaller and very interesting Patriots' Day Events are scheduled for this weekend near Boston. The Lincoln Minutemen will do a dramatic reading at the Paul Revere Capture site in Lincoln near Hanscom Air Force Base to recount the events leading up the the capture of one of the best known Sons of Liberty. With more events such as a battle and a pole capping in Concord and Bedford, you'll have the chance to see fascinating scenes based on real events in the fight for American freedom. More about Patriots Day events on April 7


Independent Film Festival Boston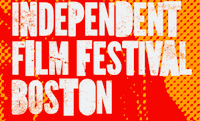 The Independent Film Festival Boston (April 25 - May 2) brings together top independent film makers from around the world who work outside of the Hollywood system - Boston film fans consider this one of the best dozen+ film festivals of the year. With a lineup featuring more than 130 screenings, look for films by Ira Glass, Denis Leary, Guy Madding, actors/performers Paul Simon, Mia Farrow, Chrisopher Walken - and of course, much more! More about the Independent Film Festival Boston




Boston Bruins in NHL Stanley Cup Playoffs - April 12
The Boston Bruins, defending Stanley Cup Champions, have done it again! With first place in the NHL's Northeast Division after the regular season, they will take on the Washington Capitals in Game 1 of the Stanley Cup Playoffs on Thursday night in TD Garden.
Will they win the cup again? Come to Thursday night's game to cheer them on to the next round! More schedule and ticket information



Best Places to Watch the Boston Marathon
Whether you crave the excitement of being right at the finish line or watching from some less-crowded spot, the Boston Marathon's 26 mile length provides plenty of opportunities to see and cheer the Boston Marathon runners. With a million or more visitors and fans turning out for the event and Red Sox fans from a home game at Fenway Park pouring out into the streets just as the first wave of the runners go by, you'll want to be careful when picking your location for watching the big race on April 16.
Use this mile-by-mile description of the Boston Marathon route to find the best places to watch.




Fun Boston Tours for this Weekend

With gorgeous weather predicted for this weekend, here are Boston Discovery Guide's top picks for fun tours of the city:
Boston Movie Tours: Pick the walking tour of Beacon Hill or the comfortable bus tour of several historic neighborhoods and see all the iconic sights showcased in movies filmed in Boston. Fun way to interesting tidbits about Boston and its most colorful characters. Use our 10% Discount Coupon Code for savings!
Boston Cruises: As one of North America's great waterfront cities, Boston looks as good from water as from land - and you'll see the city from its most interesting perspective! Choose a historic cruise around Boston Harbor or up the Charles River, a whale-watching tour to the east of the city, or a hair-raising cruise on our own speed demon of the seas, Codzilla. Find out which cruises are included with Boston Discount Cards.




Half-Price Tix for Disney on Ice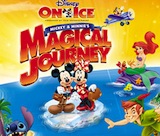 Everyone loves Mickey and Minnie in Disney on Ice - and you'll love this chance to snag tickets as low as half price for this dazzing family-friendly performance featuring all the favorites; The Little Mermaid, the Lion King, Peter Pan, and Lilo and Stitch. Deep-discount tickets are available for two performances next week at DCU Center in Worcester, 45 minutes west of Boston through Goldstar Events, one of my favorite ticket discounters (free sign-up). Get your Disney on Ice Tickets
Patriots Day Schedule - Saturday April 14
Boston's Patriots' Day Re-enactments and Ceremonies get off to a roaring start on Saturday, April 14 with a series of exciting events beginning as early as 9:30 at Hartwell Tavern and the Captain William Smith House.
Don't miss the Bloody Angle Tactical demonstration at Minute Man National Historical Park. At 1pm, you can visit with Paul Revere in his own house in the North End, while more battle demonstrations take place throughout the afternoon. More about Patriots Day event schedule on April 14


Go Boston Card - The Easiest Way to SAVE BIG in Boston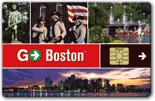 The hands-down easiest way to save money on a Boston vacation is to get a Go Boston Card, especially when you use Boston Discovery Guide's coupon code to save an extra 6% during April. Once you have the card, you get free access to Boston's top attractions - museums, cruises, tours, and lots more. Plus you get to go to the front of the line at most attractions - so you save time too! I always hate to see anyone pay full price when discounts are available - and with the Go Boston Card, you can save up to 55%. More about savings with GoBoston Cards
Riverdance at Boston Opera House

Don't miss the chance to see the touring Irish phenonemon Riverdance when they perform at the Boston Opera House today and tomorrow only (April 14 and 15). Known throughout the world for their sizzling dance and singing performances, Riverdance gives a memorable show that will keep you smiling all week. Great family show. Goldstar Events is even listing a few heavily discounted tickets. More about Riverdance and where to find discounted tickets



Patriots Day Schedule - Sunday April 15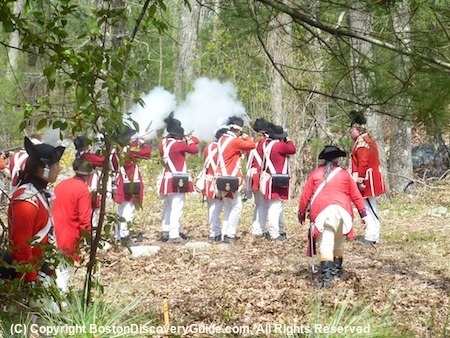 Caught the exciting Parker's Revenge Bloody Angle Reenactment today at Minute Man National Historical Park, showing how the Minute Men ambushed British troops in revenge for killing and wounding Lexington Minutemen on Lexington Green in the "shot heard 'round the world."
You can see lots more exciting reenactments and other events tomorrow, including a fife and drum concert in Lincoln, Patriots Day parade in Arlington, and tomorrow evening, lantern lighting in Old North Church to reenact how Paul Revere's friend, Robert Sexton, hung lanterns in the belfry to signal what Revere had learned about the path the Redbacks would take from Boston Common to Concord on the following day: "One if by land, two if by sea." See the Patriots Day event schedule for Sunday, April 15 - and check out our photos of Parker's Revenge, taken today


Boston Marathon Weather - Will xxx Be the Hottest Race?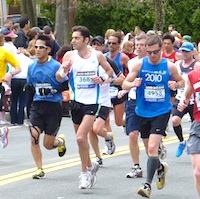 If you've heard any Boston weather forecasts during the past few days, you already know that forecasters are predicting record temperatures for April 16 in Boston - heat reaching as much as 90 degrees, making very difficult conditions for the Boston Marathon runners.
A question from a BostonDiscoveryGuide.com visitor about high temperatures on Marathon Day inspired us to dig deep into Boston weather archives to find out how hot can Marathon Day get? What we found surprised us! More about Boston Marathon weather in other years - and how hot it can get!


Patriots Day Schedule - Monday April 16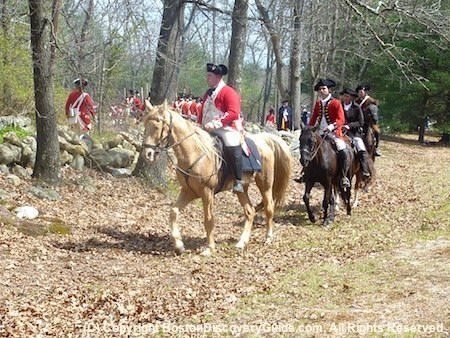 Monday is Patriots' Day (also Boston Marathon day), when the biggest reenactments, parades, and other ceremonies take place in Boston and communities to the west of the city. Not to be missed is the exciting reenactment of Paul Revere's Ride starting in Boston, the Battle on Lexington Green, and the huge parades in Lexington and Concord. But there's lots, lots more. Check the Patriots Day event schedule for Monday, April 16 - and check out our new photos of Parker's Revenge, taken yesterday


Red Sox Schedule and Tickets at Fenway Park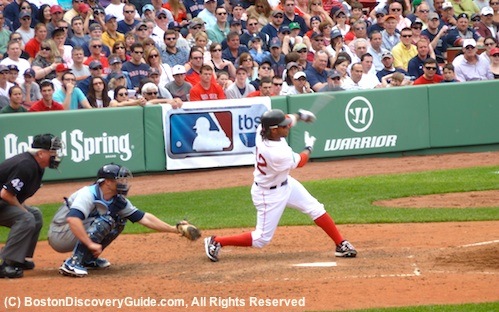 The Red Sox return to Boston on Monday, April 30th to play the Oakland Athletics, followed by a 3-game series against the Baltimore Orioles. Nothing is more fun than heading over to Fenway Park cheering for the Sox! Check schedule details for the Sox here.
Remember, tickets for a Red Sox game can be more affordable than you might expect. Check out my tips about Red Sox tickets discount coupons, special deals, and other ways to save.

Best Mother's Day Event: Boston's Duckling Day Parade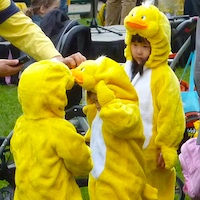 If you have children between perhaps 18 months and 5 years old and are looking for the perfect way to celebrate Mother's Day, the annual Duckling Day Parade will be the perfect event for you.
About 1,000 children plus their proud parents march in this parade celebrating Boston's Make Way for Ducklings in the place where it actually (well, in the book at least) took place - Boston Common and the Public Garden. There's plenty of entertainment, before and after the parade - and I can guarantee you'll get some adorable photos! More about the Duckling Day Parade.
Theatre Marathon - Boston's Fastest Theater Event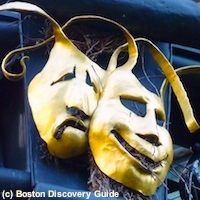 Not to be outdone by the Boston Marathon in April, the Boston Theatre Marathon on May 19 and 20 picks up the pace with a challenging course of non-stop readings. In the biggest event, 50 new plays get read aloud during a 10 hour stretch that's part theatre, part celebration, and part sheer endurance. Do you have what it takes to stay the course? True theater fans flock to this event where you'll see the best of Boston and New England theater at a speed that will leave you breathless. More about the Boston Theatre Marathon in May
Mother's Day Brunch in Boston - Don't Forget Reservations!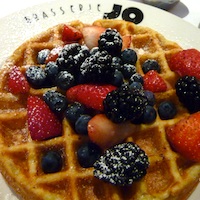 With Mother's Day not much more than a week away - May 13th this year - it's time to get serious about making reservations at your - no, that would be your Mom's favorite restaurant for brunch or dinner. And if you're visiting Boston for the weekend, be sure to do this because Mother's Day is the perfect time to try one of Boston's best restaurants. Many offer special prix-fixe menus for this occasion, while others add Mother's Day Specials to their regular menu. Find some suggestions for restaurants offering special Mother's Day menus or selections
Hidden Garden Tour + Beacon Hill Deals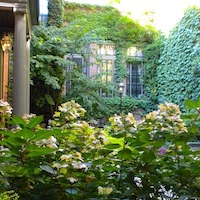 Beacon Hill's Hidden Gardens tour takes place on Thursday, May 19, rain or shine. This is your chance to visit the beautiful and fascinating gardens in this special Boston neighborhood - and to enjoy special deals from local merchants. Show your tour ticket on Thursday (5/19) to get: a free scoop of gelato with a $10 purchase at Beacon Hill Chocolates (91 Charles St), $25 off a purchase of $150+ at Sara Campbell (73 Charles St), 10% off full-priced clothing at The Red Wagon children's clothing shop (69 Charles St), a 20% discount on cash or check purchases and a 15% discount on credit card purchases at Boston Antiques Company (119 Charles St), and $10 off your purchase of $100+ at Linens on the Hill (52 Charles St). More about the Hidden Gardens tour.
Cirque du Soleil Totem Discount Tickets
Goldstar Events is listing deep-discount (up to 40% savings) tickets available for a few performances of Cirque du Soleil's Totem, the sizzling entertainment spectacular coming to the South Boston Waterfront on June 10th. Totem brings together mythologies, legands, and symbolism to tell the story of the evolution of humankind. Look for Cirque du Soleil's signature tent on the South Boston Waterfront! Perfect family show. More about discount tickets
50% off French Fondue Dinner In Boston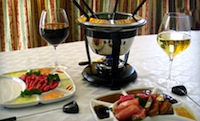 Just noticed a great Groupon at The Wine Cellar restaurant in Boston - 50% off a 3-course prix-fixe dinner for 2, or off a fondue or raclette dinner for 2 from the fondue prix-fixe menu. You'll have until Oct to use the Groupon - so if you're traveling to Boston this summer, perfect! The Wine Cellar oozes with charm...brick walls, a hand-painted mural, iron lanterns on the tables - and not surprisingly given their name, you'll find plenty to enjoy on their wine list. Interested? Groupon shows this as "limited quantity available" - so you should move fast! Get the deal (enter 02115 for the zip if necessary - look for the deal in the right-hand column)
Take a Free Ferry to the Boston Harbor Islands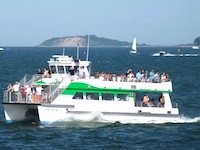 Welcome summer by getting FREE ferry tickets to Georges Island or Spectacle Island on Tuesday, June 19. Both are part of the Boston Harbor Islands, as close as a 15 minute ferry ride from Downtown Boston.
Once you get there, you can hike, watch birds, swim, explore, picnic - the choices are all yours!
Find out about where and when to get your free tickets.

Hoover your mouse over the photos to get a better view

="ce