Home > Boston Hotels > Hotels near Fenway Park >
The Inn at Longwood Medical
Convenient hotel near Fenway Park
Looking for
hotels near Fenway Park
or
Boston University?
Top-rated Best Western Boston Hotel provides comfortable Boston accommodations in a convenient location near Fenway attractions, colleges, universities, and restaurants.
When you stay at the Best Western Hotel Boston, you're also very close to Boston's famed Longwood Medical Center area as well as Harvard Medical School in the Fenway neighborhood.
Brigham and Women's Hospital, Beth Israel Deaconess Medical Center, Joslin Diabetes Center, Children's Hospital, and Dana Farber Cancer Institute are all nearby. New England Baptist Hospital, south of Huntington Ave, is within a reasonable distance.
Harvard Medical School, Harvard Dental School, the Harvard School of Public Health, Massachusetts College of Pharmacy and Health Sciences, and the Forsyth School of Dental Hygiene are also close.
However, even if you're not in Boston to visit any of these world-class medical institutions, you'll find a number of good reasons to stay at the Best Western Hotel Boston.
More about The Inn at Longwood Medical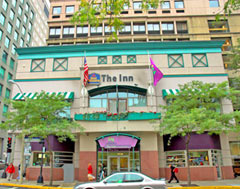 This attractive hotel offers all of the usual comforts. Rooms are comfortable and many are a decent size, considering that you're in a city where hotel rooms tend to be small.
The hotel's rooms and suites provide high-speed internet access and in-room coffee makers. There's a small fitness center where you can work out, and you can also use a nearby health club for a small fee.
Next door is the Longwood Grille restaurant, plus an affordable and fairly good food court at the adjacent Longwood Galleria. You'll also find lots of reasonably priced Fenway restaurants, bistros, and shops in the neighborhood.
A parking garage next door is handy if you bring your car. If you don't, no problem - a subway stop on the T's Green Line is very close to the hotel so you can easily get to other parts of the city.
What Else is Nearby?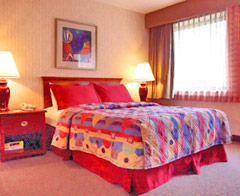 The Best Western Hotel Boston is also close and convenient to Fenway's colleges and universities. Closest are the "Fenway Colleges" - Simmons College, Emmanuel College, and Wheelock College.
The Best Western is also near Boston University, Northeastern University, the Massachusetts College of Art and Design, and Wentworth Institute of Technology.
The Museum of Fine Arts and the Isabella Stewart Gardner Museum are just a short walk away, as are some of Boston's premier performance venues, Symphony Hall, Jordan Hall, and the Huntington Theatre.
And of course, you can easily walk from the Best Western Boston Hotel to Fenway Park to watch the Red Sox play, and then stop by some of the best Boston bars near Fenway afterward for a post-game celebration.
Looking for more suggestions?
Home > Boston Hotels > Hotels near Fenway Park > Best Western Hotel