Prudential Skywalk & Other Boston Observatories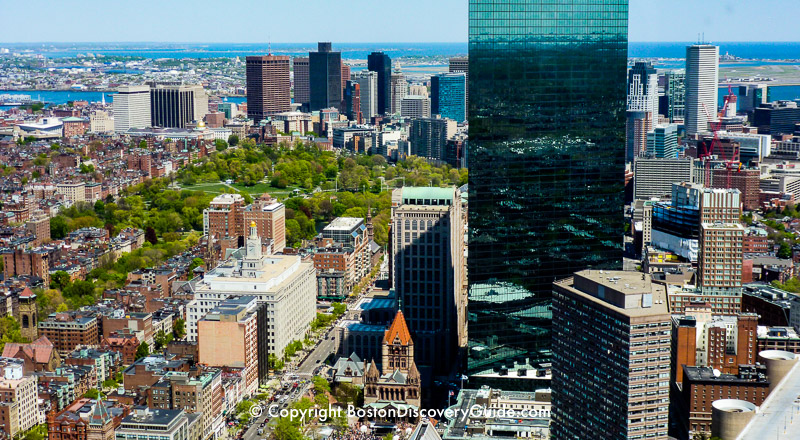 Prudential Tower's Skywalk, Boston's premier observatory, gives you a panoramic view of Boston's famous attractions, landmarks, and iconic neighborhoods from almost 750 feet above the ground. UPDATE: The Skywalk Observatory and Top of the Hub restaurant on the 52nd floor will close on April 18, 2020 after 54 years. Prudential's plans appear to include renovating the space, with future usage to be determined.
So if you want to experience the fantastic views from this venue, go now!
Located in Prudential Center, the city's second-tallest building, the Observatory occupies the 50th floor.
Without a doubt, observing and photographing the city from the Skywalk is one of Boston's top visitor activities.
But did you know that even though Prudential Skywalk is New England's only true public observatory, Boston has several other observation sites?
Here's a quick overview of the four popular up-in-the-sky Boston observation venues you may want to explore.
1. Prudential Skywalk - What To Expect from 50 Floors Up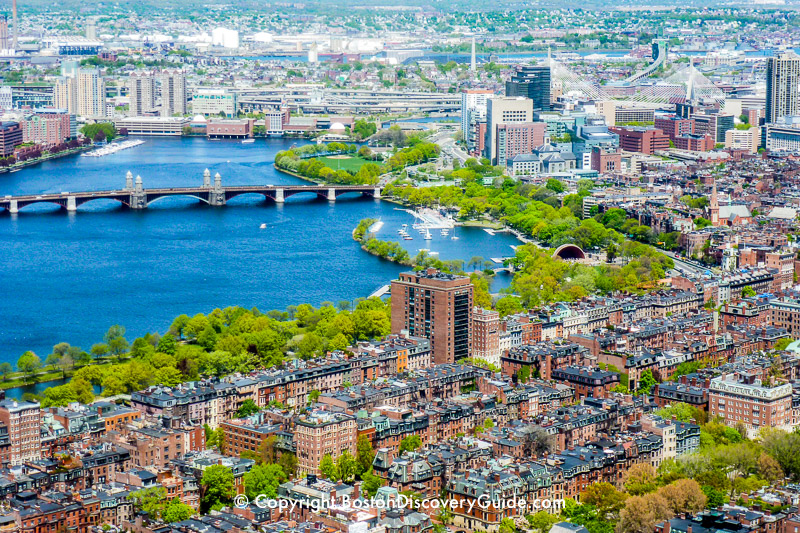 The Prudential Center Skywalk is Boston's best known observatory. Soaring 749 feet high, Pru Center is the 2nd tallest skyscraper in the city. Although the 790 foot high John Hancock Tower is taller, its observation deck has been closed since September 11, 2001.
Located in Boston's fashionable Back Bay neighborhood, Prudential Center features a popular high-end shopping mall on its "ground" floor - actually 1 floor up from street level.
You can purchase Skywalk Observatory tickets there every day between 10am - 6pm. At other hours, tickets are available at the Skywalk's entrance.
If you want to save money, another option is to visit the Skywalk Observatory for free by purchasing a Boston CityPASS card or a GoBoston card. Both give you free admission to lots of other top Boston attractions as well.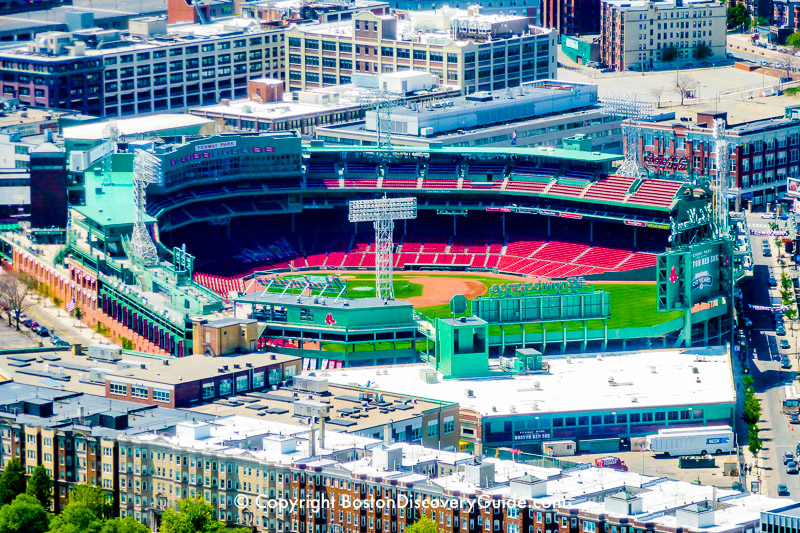 Before you come, be sure to call - 617-859-0648 - to confirm that Prudential Skywalk is open. At times, it is closed to the public due to private events.
From the Arcade area, take the "Skywalk" elevator up to the 50th floor. If there is a line and if you're using a Go Boston or Boston CityPASS discount card, just give your ticket booklet to the Skywalk employee handing out audio tours at the front desk to skip the line.
The panoramic views are spectacular.
Don't worry about not knowing where all the different Boston sites and attractions are located. You can use headphones to listen to a free audio tour about sights as well as Boston history and culture as you walk around. In addition, you'll see signs, displays, and telescopes to enhance your Boston sightseeing experience.
Naturally, a visit to the Prudential Skywalk is best on a clear day. It's also the perfect way to begin your visit to Boston . . . or if you already live here, to this gorgeous city from a new perspective.


Skywalk Observatory Photo Tips
Especially if you're visiting Boston during the summer months - especially July and August - keep in mind that the city can be steamy. The sky gets hazy . . . especially in the afternoon. Although the close views from the Observatory are still wonderful (you can look almost straight down at Boylston street, or a bit to the west toward Fenway, or other directions to see Back Bay, Beacon Hill, and the South End), distant views won't be as crisp.
To avoid the haze effect, try to arrive in late afternoon and catch the sunset views. Or opt instead for jazz in Top of the Hub's lounge on the 52nd floor, and enjoy the city's night lights.
During other times of the year, seasonal effects - thunder and lightening storms in the spring, occasional fog in the fall, snow in the winter - may give you the best photo opportunities of all.
Directions & Details for Visiting Prudential Skywalk Observatory
Location: 800 Boylston Street ( you can also enter from Huntington Avenue), Back Bay neighborhood, Boston
Tickets: Buy at entrance - or get free admission (and skip the ticket line) with a Boston discount pass
Nearest T station: Green Line-E/Prudential Center; Orange Line/Back Bay
Parking: Fee-based underground parking garage (city's largest) beneath Pru Center
Important visitor tip: Call before coming to confirm the Skywalk will be open to the public when you plan to visit
More Fun Ways to See Boston
2. Top of the Hub: Another Place at the Pru for Viewing the City
Let's say you just want to enjoy spectacular views but you don't want to listen to an audiotape pointing out various Boston sights nor do you want to peer through telescopes.
Let's also say that the idea of a specialty cocktail, or even a glass of nice wine or a beer sounds really, really appealing. Or maybe even an elegant lunch or dinner.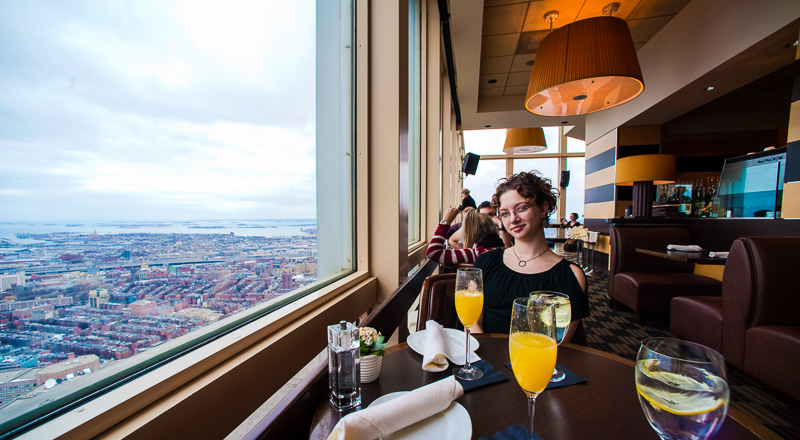 Go up 2 more floors to the Prudential Center's famed Top of the Hub Restaurant and Lounge, and this is exactly what you'll find - with no entrance fee. That's right . . . for roughly the same cost as the Prudential Skywalk admission fee (well, perhaps more if you order a pricier martini or single malt Scotch), you can enjoy a drink along with one of the best views in Boston.
If you opt for a meal in the acclaimed restaurant, reservations are almost always necessary, especially if you want a window table with unobstructed Boston skyline views. Although Top of the Hub is one of Boston's pricier restaurants at dinner, the prix-fixe lunch at around $20 is a relative bargain.
If you prefer to just have a drink and perhaps a bite in the Lounge, you can sit either at the bar or at a table in the lounge area. Jazz ensembles perform in the Lounge every evening, starting around 8pm - 9pm.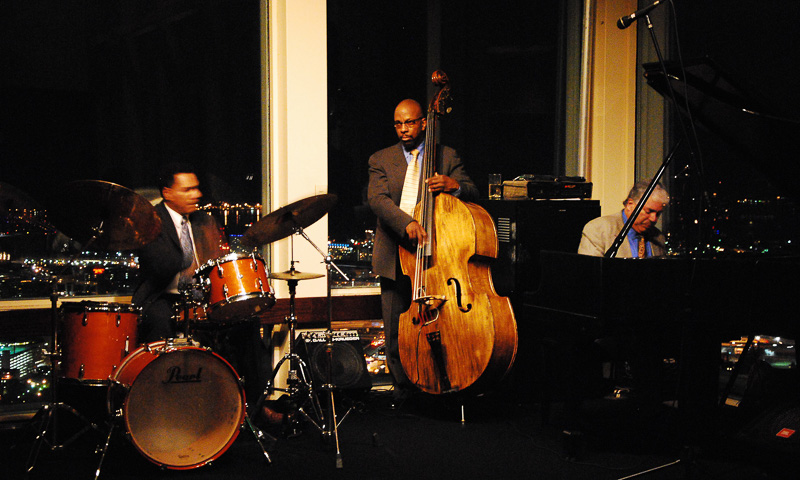 Directions & Details for Visiting Prudential Skywalk Observatory
Location: Same as for Prudential Skywalk above
Cost: No entrance fee; just the cost of whatever you eat or drink, plus tax and tip. After 8pm (or 8:30 - 9pm on some nights), jazz ensembles perform in the Lounge and a minimum charge (currently $24) applies if you sit at the lounge tables rather than at the bar. Reservations for the restaurant are strongly advised.

More about Top of the Hub
3. Independence Wharf Observation Deck - Interesting Views in a Historic Location
You can find a much less-well-known free observation deck at 470 Atlantic Avenue on the 14th floor of the parking garage next to the InterContinental Hotel on the Downtown Waterfront.
What makes this site particularly interesting is its location next to Griffin's Wharf where many historians believe the Boston Tea Party occurred.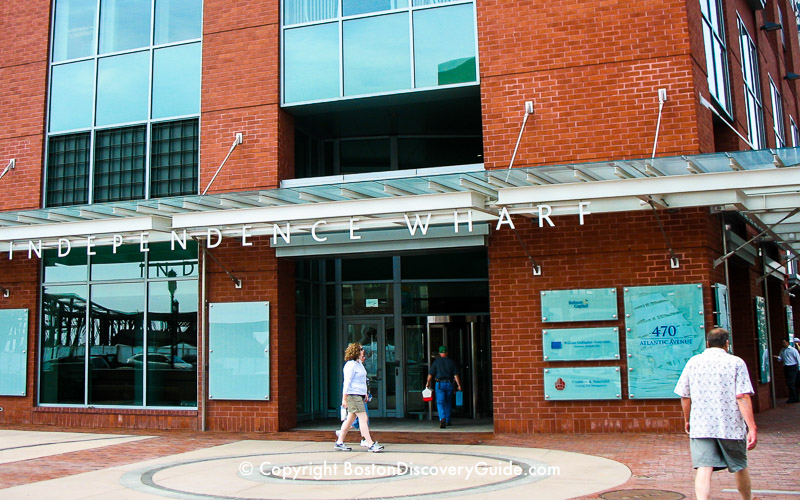 Go into the lobby (where you'll also find public restrooms in case you need them). If you have a few moments to spare, watch the video presentation about the site's history.
After you sign in show your ID to the security guard in the lobby, take the elevator to the 14th floor, where you'll find an outdoor observation deck with binoculars as well as an inside viewing area. Encountering other visitors here is rare - this observation deck must be one of Boston's best kept secrets!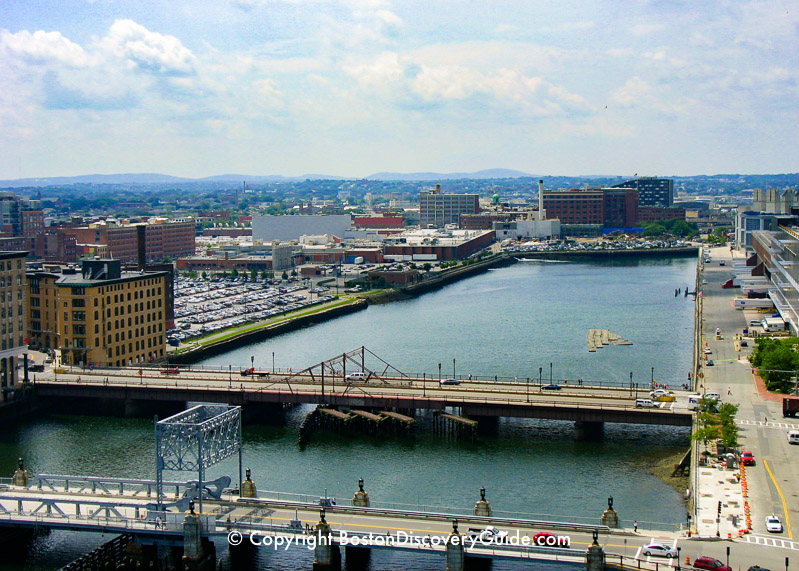 Views from 14 floors high are not as dramatic as from the 50th or 52nd floors at Pru Center, but you'll still have fairly sweeping views of Boston Harbor, Logan Airport, the surrounding city and coastline, the Harbor Islands, and on clear days, the Blue Hills Reservation to the south.
Perhaps most interesting, you can also see the Port of Boston, including the Black Falcon terminal where the large cruise ships dock.
Directions & Details for Visiting Independence Wharf Observation Deck
Location: 470 Atlantic Ave, Downtown Boston Waterfront, next to the InterContinental Hotel
Cost: Free

Nearest T Station: Red Line/South Station

Interested in staying at the InterContinental? Reviews & Rates
4. Custom House Clock Tower Observation Deck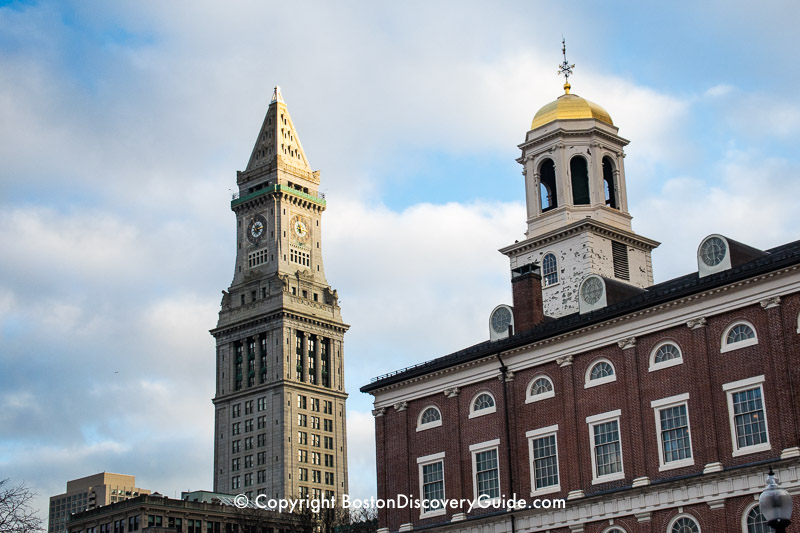 Atop the Greek Revival Custom House, built in 1849 and overlooking Boston Harbor, is one of Boston's best-kept secrets: an observation deck offering 360 degree views in the clock tower on the 26th floor.
Access is limited to 2pm, Monday through Thursday, as the building is now the Marriott Custom House, a luxury vacation club resort, and a small entrance fee (donated to charity) is charged, but the deck is open to the public as well as Marriott guests.
You'll get some lovely views of the waterfront, the North End, and the Harbor beyond it - well worth the slight hassle scheduling around the limited hours.
Call before going - 617-310-6300 - as the deck is sometimes closed for weather-related and other reasons.
Address: 3 McKinley Square, Boston's downtown Financial District
More about Marriott's Custom House Resort: Reviews & Rates