Top Boston Events for September 2020 include open art studios, outdoor markets, Harbor cruises, and two huge bicycle events. The city buzzes with energy as college and university students return.
This year, the Boston Marathon (rescheduled from April due to coronavirus) will bring an extra level of excitement to the city when the legendary race takes place on September 14.
Headliner concerts for September include Justin Bieber, My Chemical Romance, and Rascal Flatts.
Labor Day Weekend events plus the final days of Boston Harbor Hotel's Blues Barge Jazz Concerts and Summer in the City movies on the waterfront get September off to an exciting start.
Cirque du Soleil's U.S. premier of Under the Same Sky dazzles through September 27.
New England Patriots fans rejoice as the team kicks off the first regular season game at Gillette Stadium. Red Sox fans contemplate the playoffs - will this be another World Series win?
Toward the end of the month, you may begin to start seeing glimpses of fall foliage color - every year is different!
Top photo: Mellow September afternoon in Boston's historic Beacon Hill neighborhood
---
Labor Day Boston Events - 2020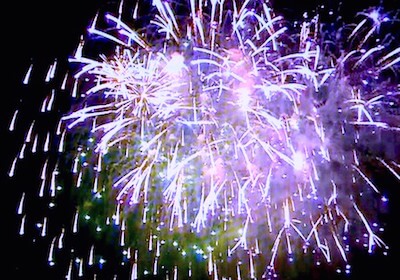 Labor Day takes place on Monday, September 2.
Wondering what to do in Boston on Labor Day Weekend?
Most Boston locals head to the Cape, the Islands (Nantucket and the Vineyard), or the mountains - so if you're planning a Labor Day, you'll find it easier than usual to make reservations easily in local restaurants, get affordable tickets for a Red Sox game, see a show, cruise around Boston Harbor, go shopping for Labor Day sales - and even find some Boston hotel bargains.
Check out Labor Day Weekent events from Thursday, August 29 through Monday, September 2:
- Fireworks over the Harbor - August 29, 9pm over Boston Harbor

Book a fireworks cruise to get great views:
- Northern Lights - Watch the fireworks from the open top deck or the climate-controlled seated cabin on this elegant 1920s-style yacht - Book now
- Adirondack III - A beautiful and spacious 80' schooner, designed for comfortable sailing; with sails down, you'll have ideal views of the fireworks - Book now
More about Boston Labor Day Events

---
The Boston Marathon - 2020 - CANCELLED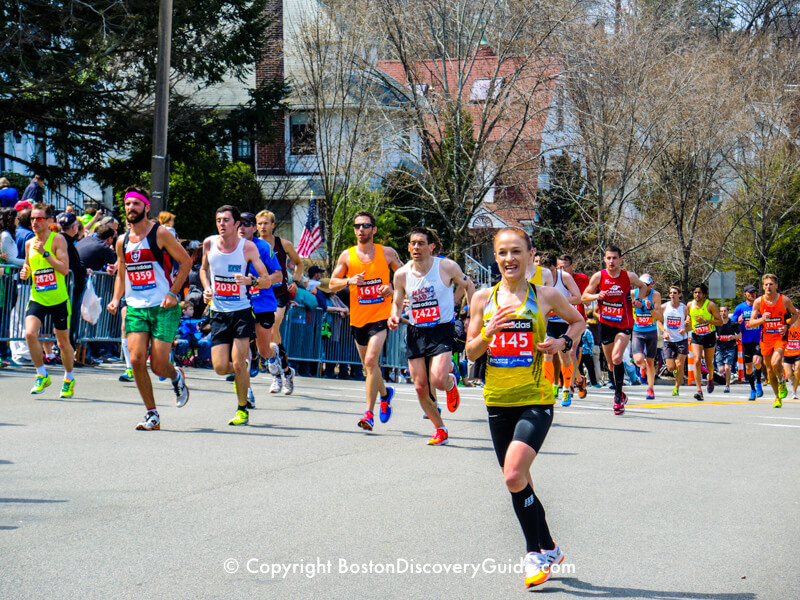 Boston Marathon runners not far from Heartbreak Hill
PLEASE NOTE: The Boston Marathon was been rescheduled for September 14, 2020 - but is now CANCELLED as an in-person event - but the 124th Boston Marathon will continue as a virtual event.
Registered participants for the 2020 Marathon will have a chance to participate in a virtual marathon to be run at any time during what would have been the 2020 Marathon week, September 7-14. A series of other virtual events and acdtivities will be offered throughout the week - stay tuned for details as they unfold.
The Boston Marathon - one of the city's biggest events of the year, and also known as the "Patriots Day Race" - features about 36,000 elite runners from around the world competing in a route made difficult by rolling terrain and features such as "Heartbreak Hill."
Although the winners complete the course in just over 2 hours, many participants are still running hours later. You can watch from anywhere along the route.
Normally, if you attend the traditional Boston Red Sox home game at Fenway Park scheduled for Marathon Day, you'll be part of the crowd streaming into Kenmore Square just as the runners arrive at the finish line on Boylston Street. This year, the Red Sox play the Tampa Bay Rays at Fenway on Sunday, September 13.
More about the Boston Marathon
When: Monday, September 14 - start times range from 9:17am to 11:15am
Where: 26 mile, 385 yard course between Hopkinton and Boston
Cost to watch: Free

Hotels close to the Boston Marathon route
Best places to watch along the Marathon route
---
September 2020 Boston Red Sox Schedule - Home Games at Fenway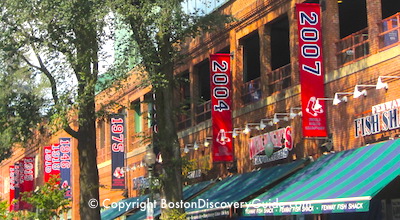 Location: Fenway Park
Nearest T stations: Green Line B or C/Kenmore; Commuter Rail Worcester Line/Yawkey
Indulge your passion for baseball by going to see the Boston Red Sox at Fenway Park:
Get Tickets:
Enter DISCOVERY 10 to save 10% on TicketLiquidator & TicketNetwork tickets
Find more Red Sox tickets for September
Find Red Sox schedule for each month: April - May - June - July - August - September - October
---
Hotels near Fenway Park
If you're coming to a Red Sox game, spend the night or the weekend at one of the nearby hotels, such as the luxurious Hotel Commonwealth: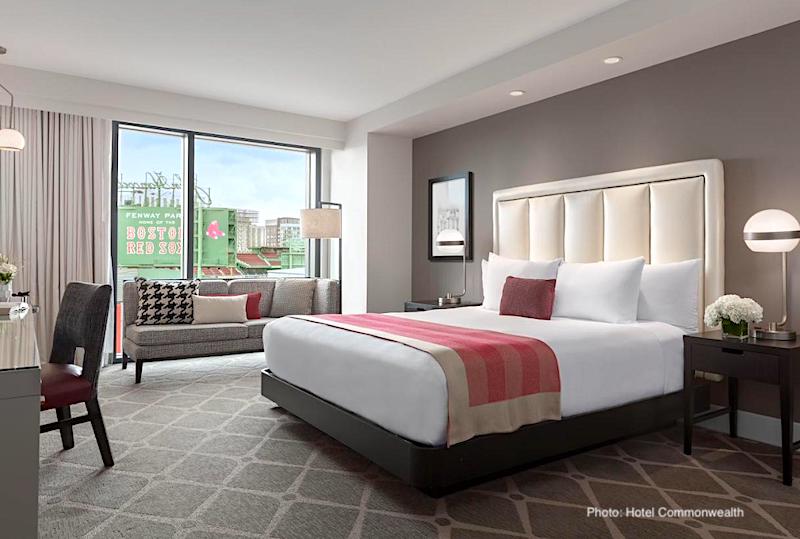 More top hotels near Fenway Park:
Check out more hotels near Fenway Park
Park: Garages & lots near Fenway Park
Celebrate: Best sports bars near Fenway Park
Boston Theater & Shows for September 2020

Schedule & Tickets:
Enter DISCOVERY 10 to save 10% on TicketLiquidator & TicketNetwork tickets
---
Top Hotels near Boston's Theatre District
Enjoy your Boston performance or show experience to the fullest when you stay in one of the nearby Theatre District hotels, such as the hip and glamorous Revere Hotel: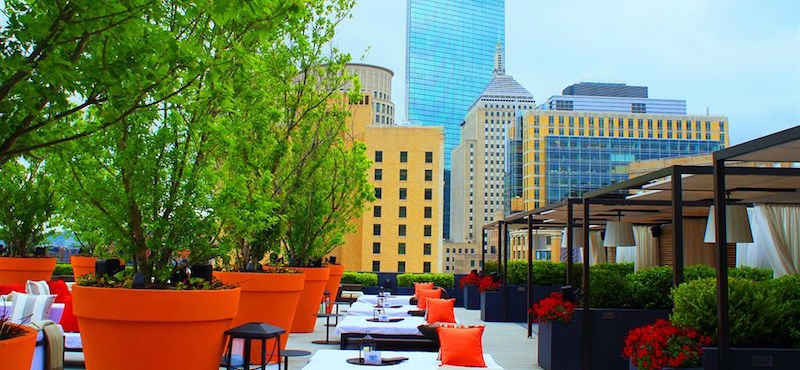 More top Theatre District hotels:
Check out more hotels in Boston's Theatre District
---
Boston Harbor Cruises - September 2020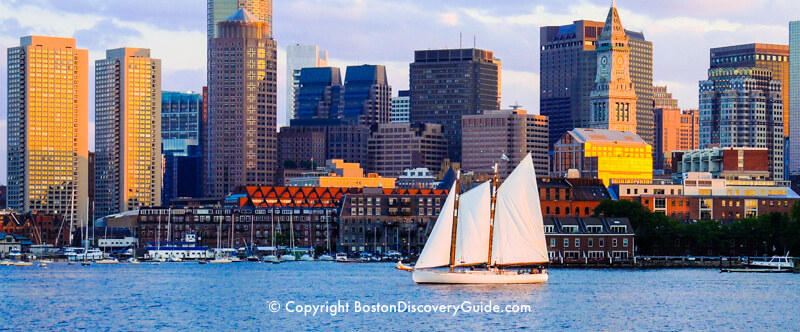 Tour Boston by boat - the best way to see the city!   Check out these fun sightseeing, music, and entertainment Boston Harbor cruises on the Yacht Northern Lights and Schooner Adirondack III:
Fall Foliage Cruises (through November 6)
Popular Cruises on the Northern Lights:
Holiday Cruises
Gift Card
---
Fall Foliage Boston Harbor Cruise on the Northern Lights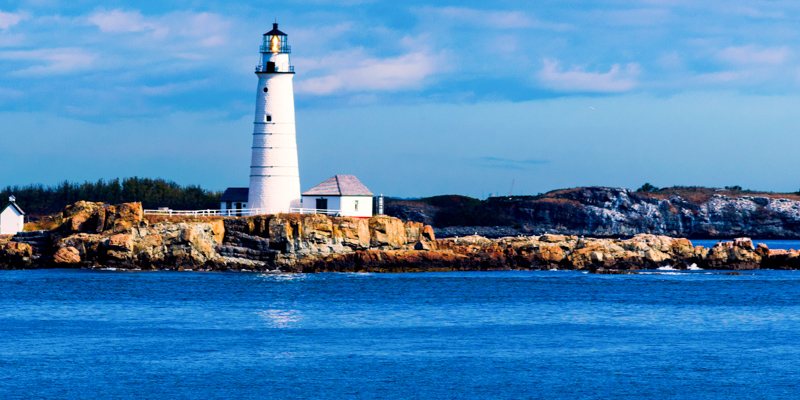 This scenic 2-hour afternoon sightseeing cruise around Boston Harbor during October shows you colorful fall foliage as you cruise aroung the Boston Harbor Islands.
You'll see Long Island Head Light, Boston Light (America's oldest light house), Fort Warren on Georges Islands, Fort Independence, and the brightly colored foliage on Peadock's Island and Thompson's Island.
A gourmet picnic lunch and non-alcoholic cold drinks to enjoy on board are included in the price of your ticket, and you can purchase beer, wine, cocktails, and hot beverages. Sit back, relax, and enjoy the gorgeous sights!
Find out more and get tickets for the Fall Foliage Boston Harbor Cruise on the Northern Lights
---
New England Coastal Tour from Boston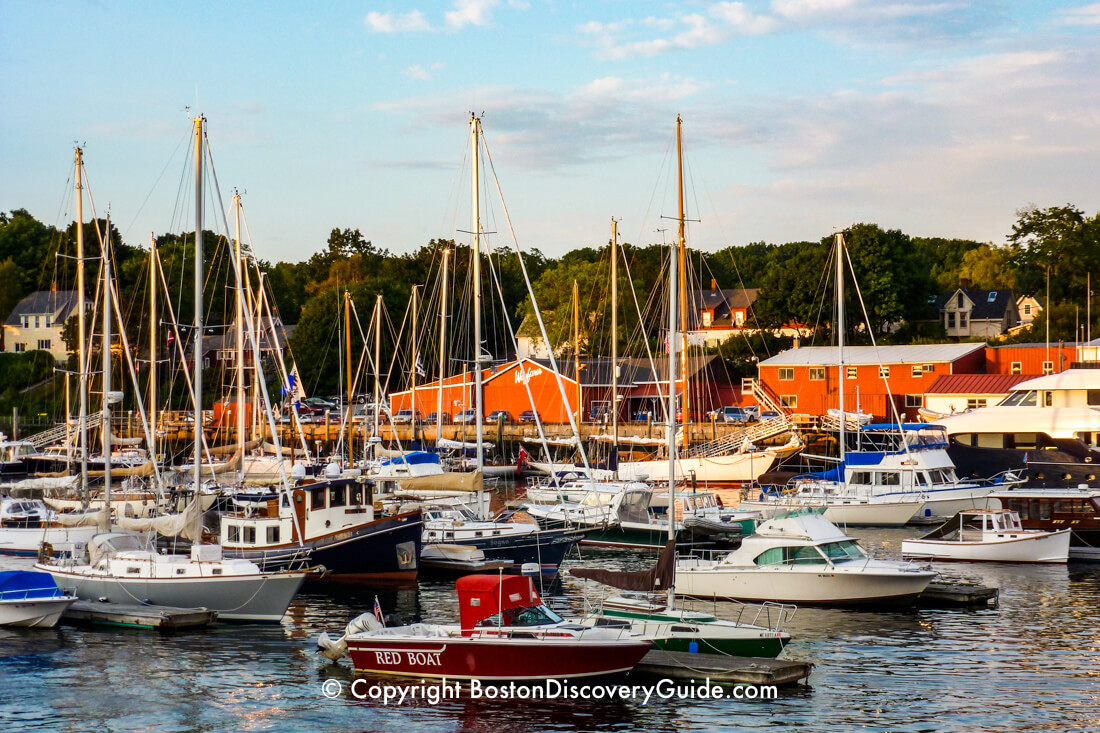 This New England Coastal All-Day Tour gives you spectacular views of the beautiful New England coastline along Massachusetts, New Hampshire, and Maine. Toward the end of September, you'll probably begin to see brilliant foliage as you go north.
You'll get to visit historic Nubble Lighthouse in York, Maine, enjoy lunch, shopping, and leisure time in quaint Kennebunkport, admire the well-preserved 18th and 19th century architecture in quaint Kenebunk Village, visit Hampton Beach (after Labor Day, you may just drive by Hampton Beach and visit Stonewall Kitchen instead), and see all the charming villages along the rocky coastline as you cruise along in a luxury climate-controlled coach.
Pickup and dropoff from select Boston hotels is included.
---
More Fun Boston Tours & Cruises
---
Boston Marathon Registration for April 2021 Race
Registration for the Boston Marathon begins on Monday, September 9 at 10am ET for the race to be held in April, 2020. It takes place on a rolling basis over the course of 2 weeks, with runners with times 20 minutes or more below the Marathon qualifying times for their age/gender going first.
Registration is not guaranteed, even if you meet the qualifying standard for your bracket, as the number of people who want to run always exceeds the race's capacity, which is usually about 27,000 competitors. You can find more details at www.baa.org.
Hotels fill up early for Marathon weekend, and rates increase the longer you wait to make reservations - so check out Boston Marathon hotels now!
---
Visit Martha's Vineyard for the Day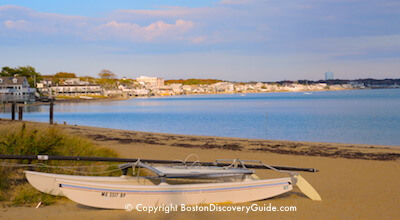 Experience another world when you visit Martha's Vineyard, a small island south of Cape Cod with beautiful beaches and scenery, quaint cottages (and huge mansions), and chic clothing boutiques and art galleries.
After pickup from downtown hotels, a comfortable coach ride to Cape Cod, and a short ferry ride to the Vineyard, you'll have the day to explore all the local sights including the iconic lighthouse, cliffs, and whaling captains' homes.
- Find out more about the trip to Martha's Vineyard & book your trip!
---
Fall Foliage Tours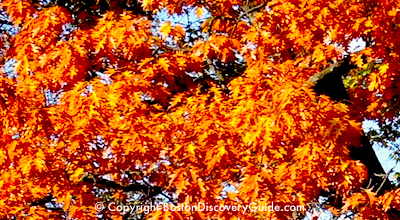 Leaves may still be green in Boston in September, so if you want to see gorgeous foliage, you need to go outside of the city where you'll start to see lots of spectacular colors by mid-month.
Luxury 1-day fall foliage tours take you to the best viewing locations in New Hampshire, Maine, and even the Cape (although you'll see more color in the Cape in October). Sit back and relax while someone else drives and you get to enjoy all the scenery!
- Find out about fall foliage sightseeing tours departing from Boston
---
Fall Foliage Tours & Cruises in Boston . . . and Beyond
---
Boston Hotel Map
Enter your dates to see available hotels and rates:
---
Boston Concerts & Shows - September 2020
Top September Concerts in Boston
Schedules & Tickets:
Enter DISCOVERY 10 to save 10% on TicketLiquidator & TicketNetwork tickets
---
Boston Bruins Preseason Games - 2020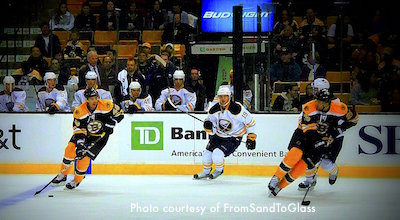 Location: TD Garden
Nearest T stop: North Station
Parking: Boston garages near North Station / TD Garden
The Boston Bruins launch their 2020 season with two preseason games at the Garden in September. Come join the excitement on the ice!
Find more Bruins ticket prices and best seats
---
New England Patriots at Gillette Stadium - September 2020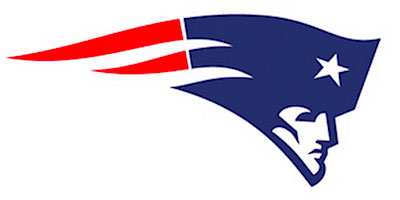 Two New England Patriots home games take place at Gillette Stadium during September, plus one pre-season game at Gillette in early September - so don't miss this chance to welcome the Pats back for the new season!
Get your tickets now, and get ready to join in the fun!
Enter DISCOVERY 10 to save 10% on TicketLiquidator & TicketNetwork tickets
Where: Gillette Stadium
Getting there: The Patriot Train - plus more ways to get to Gillette from Boston
Where to stay: Hotels near Gillette Stadium
Tickets: Check for great prices, great seats, and sometimes discounts
---
Cirque du Soleil's Under the Same Sky - 2020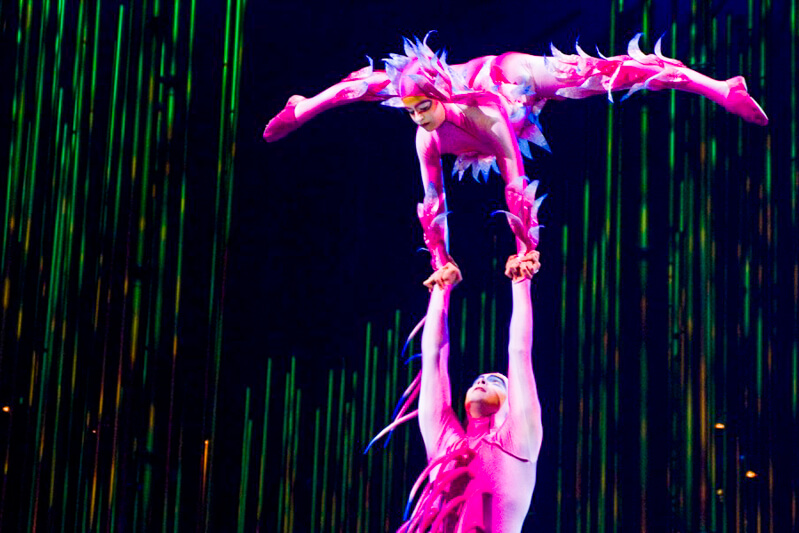 Cirque du Soleil's U.S. premier of Under the Same Sky entertains Boston through September 27 for dazzling performances under the Big Top at Suffolk Downs.
With its unique blend of acrobats and dancers, gorgeous costumes, original music, and stunning choreography, Under the Same Sky will create a fantasy world in front of your eyes.
Enter DISCOVERY 10 to save 10% on TicketLiquidator & TicketNetwork tickets
More about Cirque du Soleil in Boston
---
Revels RiverSing
The free annual Revels RiverSing welcomes fall with a family-friendly Autumn Equinox celebrationat their new riverfront location at Herter Park Amphitheater in Allston on Saturday, September 21, 5pm-7:30pm (rain or shine).
Family activities begin at 5pm. Singing begins at 6pm.
This free theatrical event features over 100 performers of music and song, along with poetry readings, acrobats, circus performers, puppets, and a folk band. Best of all, you get to join in!
Even though the holiday season still seems far away, don't forget to also put Christmas Revels, a beloved Boston tradition, on your calendar for December.
Location: 1175 Soldiers Field Road, in Boston's Allston neighborhood
Getting there by T: Take the 70 bus from Central Square or 86 bus from Harvard Square; get off at Western Avenue and Everett Street, walk north one block on Everett Street, cross Soldiers Field Road to Herter Park
Admission: Free
Parking: Free in the large adjacent parking lot
---
Fun Ways to See Boston in September
Not Sure about Boston Neighborhood Locations?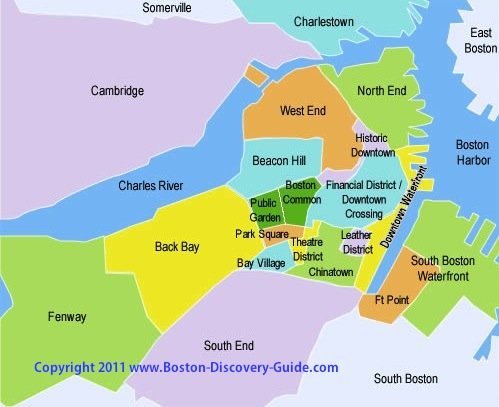 This neighborhood map should help you get oriented. You can find a list of top attractions in each neighborhood here.
Need a more details? See our recommendations for free and low-cost Boston maps.
---
Art Festival at Revere Beach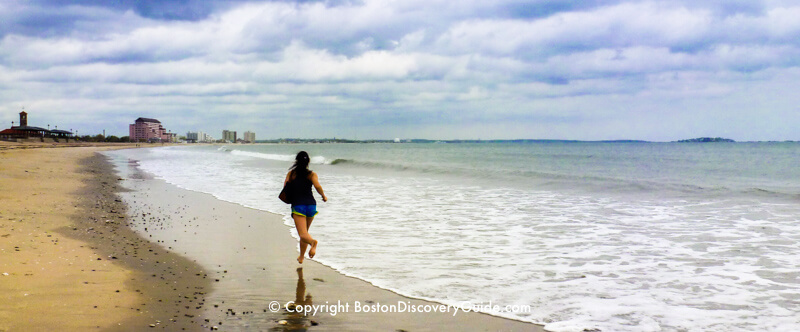 Need an excuse to squeeze in one more beach day? Stop by the Revere Beach Art Festival where local artists and Revere High School students display their work near the Markey Pedestrian Bridge, which connects the Wonderland T station with the beach. Watch as artists create masterpieces before your eyes for the festival's live art competition, and then stop by Kelly's for a fried clam platter.
When: Saturday, September 14
Where: Revere Beach
Nearest T station: Blue Line/Wonderland - the beach is just 2 blocks away
Cost: Free
Find out more about Revere Beach and other Boston beaches
---
"Allston Christmas"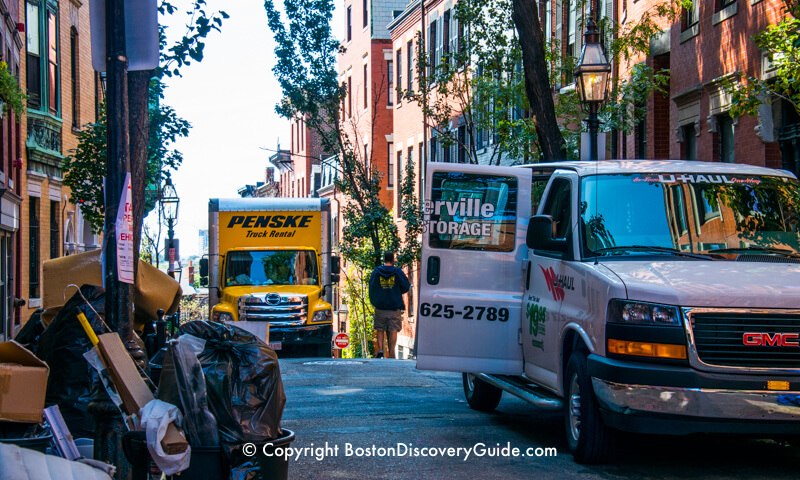 What exactly is "Allston Christmas"? When the Boston area's roughly 250,000 college students return to campus in September, a significant number move into apartments, just as others move out at the end of August and dump unwanted furniture including queen-sized beds and massive couches, household items, and clothes on the sidewalks and into the streets, up for grabs.
Allston along with Brighton, Longwood, Mission Hill, Beacon Hill, Cambridge, and parts of Brookline and Somerville are the most-impacted Boston neighborhoods due to their large number of student residents. With countless UHauls blocking the streets and gridlocking traffic for a couple of days before and after September 1, you may want to avoid these areas if you're visiting the city during this period - unless you want to try your luck at finding the perfect mirror or nice pair of lamps among the debris.
---
South End Open Studios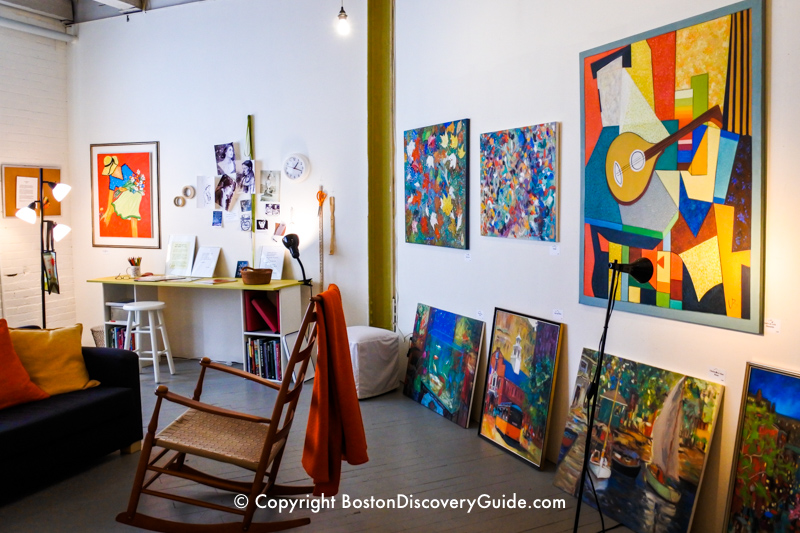 When: September 19-20, 11am-6pm
Where: Boston's South End; Information booths at Tremont and Milford Streets, Albany and Plimpton; and Harrison and Waltham
Nearest T station: Orange Line/Back Bay
South End Open Studios provide a glimpse into more than 200 studios and galleries of some of the city's top artists - and a chance to buy directly from the creators of the pieces on display.
What to look for: Everything from fine arts to hand-built bicycles, from home decor to installation art. Be sure to check out the in-studio demonstrations involving photography, quilts, and letterpress printing.
Getting around: Pick up a free printed guide with maps at the information tables at Boston Center for the Arts (551 Tremont Street) and on the sidewalk in front of 560 Harrison Ave, and plot your route among the galleries (look for the free shuttle if you get tired of walking).
This is the biggest art event in the South End, with all the major studios and art buildings will be open. See even more on Sunday at SoWa Open Market.
---
2 Easy Ways to Save BIG in Boston on Tours, Cruises, Admissions
Best way to save in Boston. Save up to 50% when you take a Boston Harbor cruise or Duck Boat tour, visit Plimouth Plantation, the New England Aquarium, Museum of Science, Museum of Fine Arts, Fenway Park Tour, and more. Compare to find out which one is best for you.
---
Hub on Wheels Citywide Ride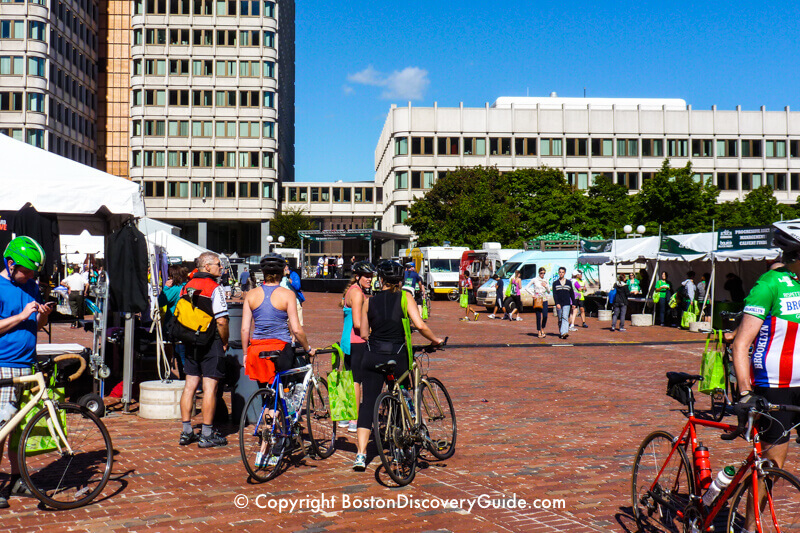 Bikers take over Boston during TD Hub on Wheels on Sunday, September 13.
Experience biking along a car-free (!) Storrow Drive and journey through Boston's Emerald Necklace of parkland and neighborhoods (most streets in these areas will not be closed) along a 40-mile loop, or do the family-friendly 10-mile loop. Both courses start and end at City Hall Plaza in Downtown Boston.
If you want to participate, bring your bike to City Hall Plaza for Hub on Wheels on Sunday.
Here's the Hub on Wheels schedule:
6:45-7:45am - Register and pick up your bib. Registration fee is $55 (free for youth 10-17 on the 10-mile loop); part of fee supports Boston Children's Hospital
8am - Proceed down Court Street and turn left onto Congress Street to get into the Start Line queue
10:30am - 2pm - Finish Line Festival at City Hall Plaza with music, vendors, beer garden, food, and more
More information: http://tdhubonwheels.com/
More about touring Boston by bike
---
Need a Boston Hotel or Apartment?
Use this handy map from Booking.com to find the perfect place to stay. Just enter your dates to find what's available, see the best rates, and make your reservations.
---
Berklee Summer in the City Continues in September: Free Concerts in Boston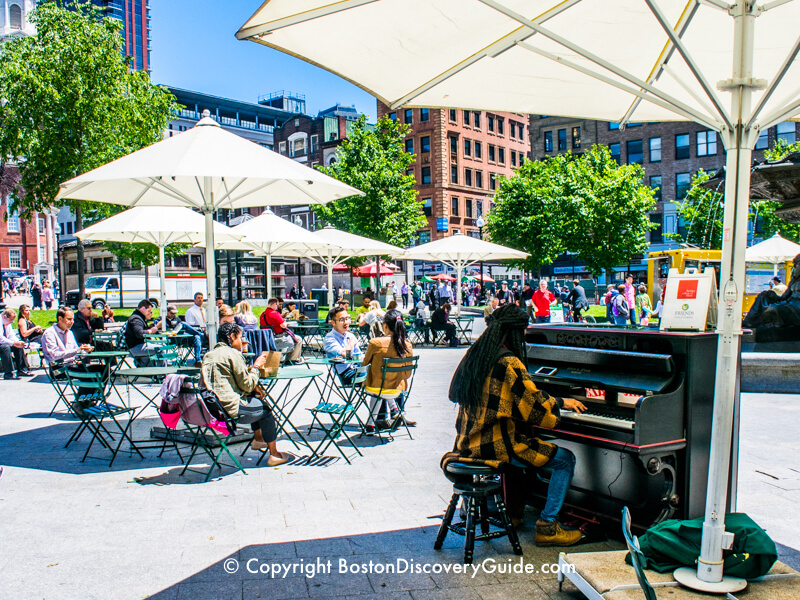 Berklee College of Music students, faculty, and alumni continue their popular Berklee Summer in the City free concert series through early October this year . Music ranges from jazz to classical, Latin to funk, folk to world, and are free.
Locations include Atlantic Wharf, the Boston Public Library, Brewer Fountain Plaza on Boston Common, the Charlestown Navy Yard, Chin Park and City Winery on the Greenway, selected Boston Harbor Cruises, the Arnold Arboretum, Christopher Columbus Park on the waterfront, Downtown Boston, the Longwood Medical Campus, multiple locations in Cambridge, Dorchester Heights, Institute of Contemporary Art, Prudential Center, Fenway locations, and more - so check the schedule at https://www.berklee.edu/events/summer
If you're a fan of the Berklee BeanTown Jazz Festival (RIP), please note that organizers announced that the popular free fall event played its last notes last year. Renovations adjacent to the festival grounds have thwarted the event organizers' ability to program the festival in the way they needed.
---
Classics on the Common @ Frog Pond Movie Nights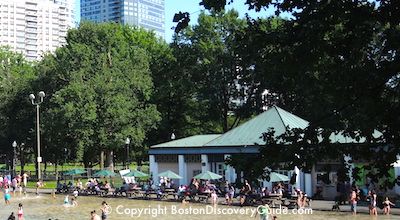 Bring a blanket or a lawn chair, and enjoy the warm September Friday evening watching a classic film at Frog Pond on Boston Common. The movie starts at dusk (7pm).
Schedule:
September 21 - Black Panther

Please note: The film will be cancelled in the case of bad weather. The Carousel will remain open until the film starts (carousel admission: $3). Popcorn and other refreshments will be available for purchase at the Pavilion.
Location: Frog Pond, Boston Common
Cost: Free
Park: Boston Common Parking Garage
Dine: Check out restaurants in nearby Chinatown and the Theatre District
---
More Fun Ways to See Boston in September
---
The Boston Cup - Classic Car Show on Boston Common
Get ready to drool when you see a vintage and a new Bugatti among the 100 exceptional cars on display at The Boston Cup classic car show on Boston Common. The show takes place on September 29, 9am - 2pm near the Parkman Bandstand.
Tickets are not cheap - $50 and $100, depending on the type of access you want - but the City gets reimbursed about $25,000 per year for this private use of the "People's Park."
Don't want to spring for a ticket? You can still get a look at the cars as they leave the Common around 2pm.
More about The Boston Cup: http://thebostoncup.com
You'll enjoy Boston Common to the fullest when you stay nearby - the hip and glamorous W Hotel, for example, is just 1 block away: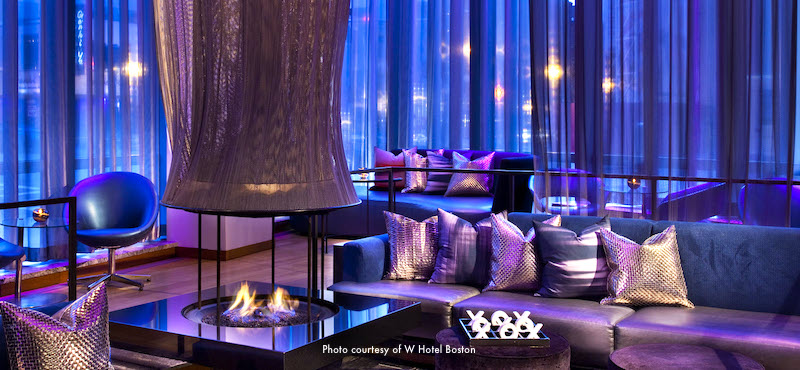 More top hotels near Boston Common:
Check out historic hotels near Boston Common
---
Lantern Festival in Chinatown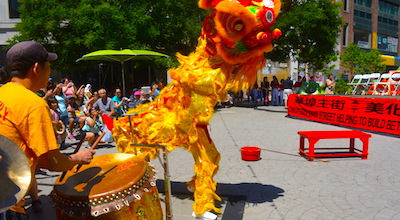 The Chinatown Lantern Festival takes place this year on Saturday, September 5, 10am-6pm in Boston's lively Chinatown.
You'll enjoy a day of festivities, games, and special mooncakes to celebrate the traditional Chinese Mid-Autumn Festival.
Many of the activities take place in the Chinatown park on the Rose Kennedy Greenway, but you'll find lots going on throughout the neighborhood.
And while you're there, take advantage of the opportunity to enjoy a meal in one of Chinatown's best restaurants.
---
Local Boston Food Festival on the Greenway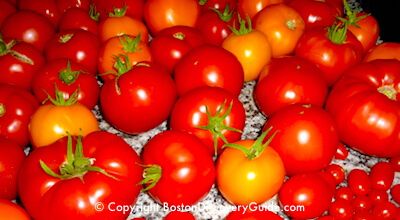 The free admission Local Food Festival, taking place on Sunday, September 13 from 11am - 5pm on the Rose Kennedy Greenway from the North End to South Station gives you the chance to sample the best fresh food from local farms and fishermen, plus local wines, beers, cider, and mead.
With lots of music and art by local talent, chefs to prepare the food samples (mostly around $5 or less) from locally sourced food, a seafood throwdown competition, family activities, and exhibits about sustainably grown and produced food, you can have lots of fun enjoying some local flavors at this free festival!
---
Boston Latino International Film Festival

When: September 27 - 30
Where: Tsai Auditorium, at Harvard University in Cambridge (1730 Cambridge Street), and the John O'Bryant African-American Institute at Northeastern University (West Village F, Room 20, Leon St, Boston) (locations to be confirmed for 2020)
Tickets: Available through festival website
More information: Website
Look for 4 exciting days of feature, documentary, and short films focused on issues of importance and interest to the Latino community in the US, Latin America, and Spain, plus receptions and other special events.
---
North End Feasts and Festivals
Boston's North End Italian Feasts and Festivals take place throughout the summer and early, as they have for 100 years or more - almost as long as Italians have lived in this neighborhood.
September schedule:
Santa Rosalia di Palermo - September 8, North Square, procession at 1pm (procession only; no feast)
CANCELLED for 2020: San Gennaro Feast - September 19, 20, 21 - Hanover & Battery Streets near Commercial Street - look for big-name entertainment and plenty of great food!
Nearest T station: Commuter Rail or Orange & Green Lines/North Station
Cost: Free to attend; expect to spend some money on food and perhaps donations
Hotels in Boston's North End
https://www.booking.com/hotel/us/bricco-suites.en-us.html?aid=364168
---
Boston Film Festival
Actors, filmmakers, and film enthusiasts look forward to the annual Boston Film Festival for a chance to view the stellar line up and world premiers.
The line up includes an exciting array of diverse features, documentaries, and shorts from emerging artists to world-famous award winners. Question and answer sessions, discussions, and evening receptions hosted by top restaurants provide plenty of opportunities to chat with directors and network.
When: September 20-23
Where: Multiple locations in Downtown Boston
Cost: To be announced
Closest T station: Green Line/Arlington
More information: 617-523-8388; www.bostonfilmfestival.org.
---
Free Drop-In Summer Yoga on Boston Common
Instructors will lead free drop-in vinyasa flow classes focused on releasing stress and expanding energy and welcome participants of all levels.
When: Every Thursday, 6-7:15 - through September 26 (no class on July 4th)
Where: Near the Carousel at Boston Common
Nearest T station: Green Line/Park
Cost: Free
Bring: Your own mat, blocks, towels, and belt
Boston hotel where you'll find a yoga mat in your room: Nine Zero (and conveniently, it's just steps away from the Common)

---
Looking Ahead to Fall Events in Boston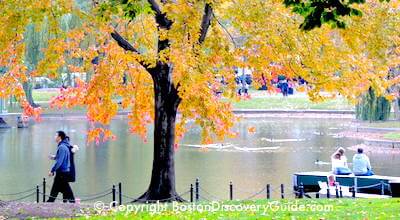 ---
---
More Fun Ways to See Boston
---
More to Do in Boston in September
---
Need a Boston Hotel or Apartment?
Use this handy map from Booking.com to find the perfect place to stay. Just enter your dates to find what's available, see the best rates, and make your reservations.