Looking for More Vacation Ideas?
Paris, Ireland, Italy, Bermuda . . . How to Use Boston As Your Base for International Travel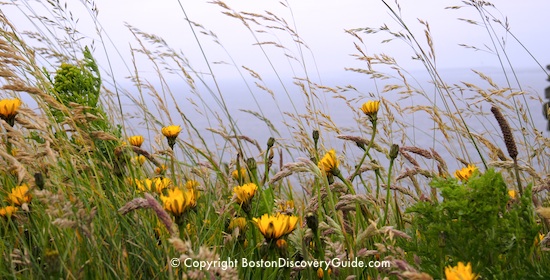 Flowers along the edge of Ireland's Cliffs of Moher . . . Just a 6-hour flight from Boston!
Looking for other vacation suggestions beyond Boston and New England?
Boston provides the perfect base for international travel.
Our location on the far edge of the American East Coast means getting to Europe is almost easier than California.
Non-stop flights from Logan International Airport whisk you to Bermuda, Paris, Dublin, Madrid and plenty of other cities in just a few hours.
Add a second non-stop, and suddenly more remote places like Tuscany, Cyprus, Peru, and South Africa are easier to get to that you might think.
The trick is to find a non-stop flight from Boston to a European city or other gateway city (L.A., for example, if you're heading to Asia; Miami or Houston for South America) with non-stop connections to your destination.
On this page, we share some of our
favorite destinations
as well as a few
"wish-list" vacation locations
for you to check out for travel ideas.
So ... take at look at our suggestions and check Priceline flights to see what kind of deals you can get.
Vacation Suggestions Requiring only 1 Non-Stop Flight from Boston
Ireland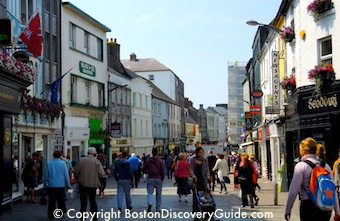 Stunningly beautiful scenery, lively cities, great music, hospitable pubs, and the nicest people imaginable make Ireland a top vacation choice.
From Boston, a 6-hour flight will take you to Shannon in the west, where you can hike along the rugged coastline, listen to traditional music in the pubs, and see the country's most spectacular scenery every where you go.
Or fly into Dublin in the east of Ireland, enjoy the lively nightlife and wonderful restaurants, explore historic homes and stately gardens, and bask on the beaches south of the city.
With so much to see and do, you'll find yourself returning again and again!
Bermuda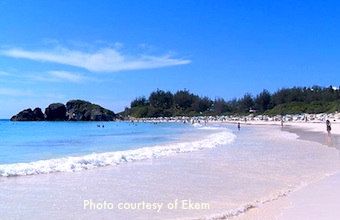 Sparkling turquoise water, pink sand beaches, and non-stop fun make Bermuda one of the most popular vacation destinations from Boston.
Flights to Bermuda whisk you from Boston to beaches in 2 hours - but even more popular are the affordable weekly cruises to Bermuda from May into November.
Find out more about this fun way to go to Bermuda from Boston
Want to go farther? Check out Caribbean cruises from Boston
Paris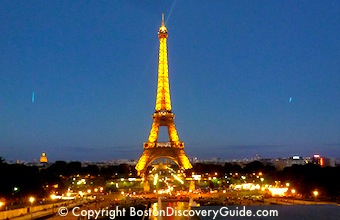 Paris...is there any more beautiful city in the world? You'll hear it called "The City of Light" and "The City of Love" - but it's also packed with incomparable museums, wonderful restaurants and bistros on every block, bakeries filled with mouth-watering croissants, and stunning architecture.
Shop the semi-annual sales in January and July, take a cruise down the Seine, hear the magnificent organ in Notre Dame, go to Sainte Chapelle to see the incredible stained glass, and visit nearby attractions such as Versailles. Get a Paris museum pass and immerse yourself in culture. Or simply walk around the city with your camera.
A 6.5 hour overnight flight gets you to Paris from Boston...it's such an easy trip that like me, you may make it again and again.
Madrid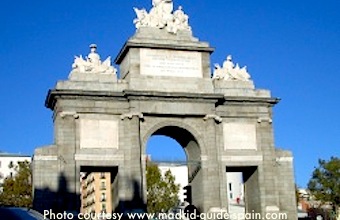 Wondering where to go when Boston's winter weather turns gray and grim?
That's easy! Head east to sunny Madrid.
"Madrid attractions are as varied and numerous as the city's history would suggest. From the world famous art galleries to the equally important architecture and museums it is all here waiting to be discovered."
Find out more about Madrid, Spain
Take 2 Non-Stops from Boston to Reach These So-Worth-It Destinations
Maremma, Tuscany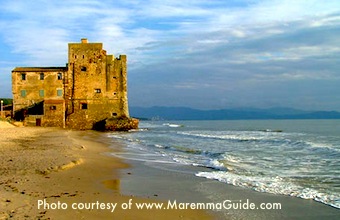 Tuscany has become a well-loved tourist destination for many Americans visiting Italy.
But if you want to explore this beautiful part of the world without feeling like you're back in the U.S., head to Maremma, one of the least-discovered areas.
"It is not difficult to understand why people fall in love with this part of Tuscany and Lazio. For some, it is the natural beauty of the undiscovered wildernesses and national parks. This is the wildest part of Tuscany."
Find out more in about visiting Maremma

Lake Garda, Italy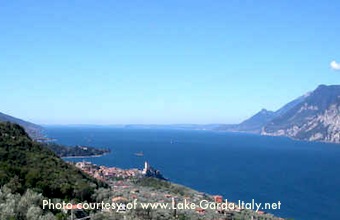 Nestled among mountains and ancient fortified towns dating back to Roman times in Northern Italy, Lake Garda boasts many miles of stunning coastlines, dotted by resort villages and hotels.
A vacation here gives you the chance to relax, to immerse yourself in exploring medieval castles and fishing villages, to try the many water sports, and to visit local vineyards.
"Lake Garda, Italy's greatest lake is one of the most beautiful places and offers splendid natural scenery with breathtaking views. You can enjoy your visit to this real corner of Paradise."
Find out more about Lake Garda Italy from someone who grew up here - and plan your own holiday in Paradise (information in English and Italian)
To get to Lake Garda, fly from Boston to London, and then take a non-stop flight from London to nearby Verona, less than 10 miles and just a short train ride to the lake.


Cyprus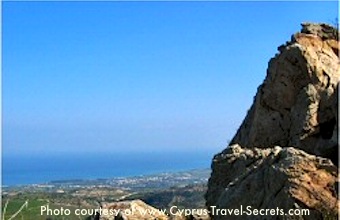 Cyprus is the third largest island in the Mediterranean. Fans of Greek mythology know it as the mythical birthplace of Aphrodite and Adonis.
But for tourists, Cyprus offers plenty of brilliant sunshine, breathtaking beaches, stunning mountain ranges, plenty of outdoor activities, and wonderful food and drink.
Cyprus has long been a popular vacation spot for Europeans, but for Americans, it feels slightly off the beaten path. All the more reason to put it on your must-see list of places to visit!
Getting there from Boston is easy - just take a non-stop to London or Zurich, and then another non-stop flight to Cyprus.
Find out more about visiting Cyprus
Aqaba, Jordan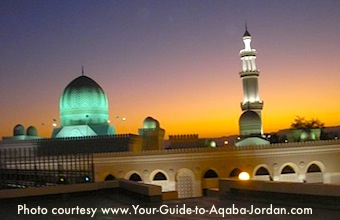 Guide to Aqaba Jordan provides practical first hand information about the fascinating ancient yet ultra-modern city of Aqaba and nearby areas, written from the perspective of a recent but enthusiastic resident:
"New hotels, roads, parks and fountains have appeared since I first visited this oasis town in 2001. I have lived here for 4 years now and I can assure you that Aqaba keeps on growing and changing."
Her descriptions of Aqaba's beautiful beaches, archeological treasures, friendly people, interesting places to visit, and fun vacation suggestions give you detailed information for planning a great trip to Aqaba.
Find out more about visiting Jordan
Peru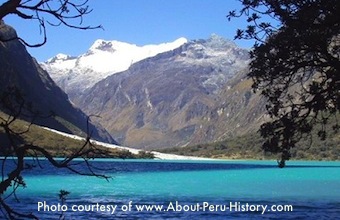 Although Peru, located on the central west coast of South America may seem impossibly far from Boston, it is actually way more accessible than you might imagine.
Take a nonstop flight from Boston to Houston (4 hours), connect with a nonstop flight to Lima (6 hours), and you're there.
Your efforts will be rewarded.
As the site of the earliest civilization in the Americas, Peru offers a vibrant modern culture and stunning scenery.
Peru's most famous attraction is Machu Picchu, a UNESCO World Heritage Site and one of the New Seven Wonders of the World. Visitors come from all over the world to marvel at his mysterious Incan site.
For inspiration in planning your trip, start by finding out about Peru history, the Inca empire, and the Spanish Conquistadores, as well as modern life.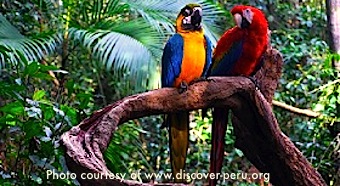 Another terrific vacation planning resource is Discover Peru, the official website of the Peru Cultural Society located right here in Boston.
You'll find wide-ranging information about the country's rich history, geography, ancient Inca Civilization, and Machu Picchu ruins, along with travel information about major cities. And remember, Peru is in the Southern Hemisphere, making it a perfect escape from Boston's long cold winters.
Cape Town, South Africa
Written by a German mom/teacher/world traveler now living in Cape Town,
Expat Cape Town
contains loads of useful and interesting travel planning information about all aspects of this beautiful South African city by the sea:
"The Cape Town beaches are without any doubt among the top beaches of the world. The rare combination of the stunning mountain scenery and a turquoise blue ocean in a mediterranean climate is something very special."
As you read about the beaches, the city, the wildlife, local attractions, and children's activities, you'll be entranced by the warmth and beauty of this hospitable South African city and will find many great ideals for family vacations here.
Is Cape Town a long trip from Boston? Yes - but it's still only two non-stop flights: Boston to London, and London to Capetown.
Related information
Cruises from Boston - Thanks to Boston's convenient CruisePort right in the city, you can easily hop on a ship and explore Bermuda, the Caribbean, Europe, and more.
Like this Page? Please Share!
Boston Discovery Guide Home > Getaways > More Vacation Suggestions