Boston Discovery Guide Home > Boston Events
DRAFT - Things to Do in Boston in September 2015
Top 10 Boston Activities
Duck Boat Float in Boston's Huge Columbus Day Parade through the North End
Most of our recommendations for fun things to do in Boston in September focus on the best places to enjoy the (usually) gorgeous weather and even some fall foliage toward the end of the month.
But just in case, you'll also find a couple of indoor suggestions.
Now, lots of exciting Boston events take place during September - Labor Day celebrations, film festivals, Theatre District performances - you can find a long list of events here.
- If you're planning a Boston vacation or visit during October, you've picked one of the most perfect times of the year to be here.
The huge Columbus Day Parade, art festivals and open studios, the world-famous Head of the Charles Regatta, interesting walking tours, and New England Patriots football games give you plenty of great excuses to be outside.
And don't forget Halloween events in Boston and nearby Salem all month!
Need more suggestions about what to do in Boston in October? Check the October Events Calendar.
Top Things to do in Boston in October

During Great Weather (or Rainy Days)

1. Watch Boston's Columbus Day Parade
Taking place in Boston's North End neighborhood in odd-numbered years (2011, 2013) and East Boston during even-numbered years (2012, 2014), the Columbus Day Parade celebrates the city's Italian heritage, the armed forces and their contributions to American freedom, and implicitly, the voyages and explorations made by Christopher Columbus.
This 2-hour parade attracts more people from the neighborhood than tourists, and chatting with all the neighbors and other groups while watching the bands, military units and honorary militias, floats, performers, clowns, and even antique cars march by adds to the fun.
My favorite part: dinner in one of the fabulous North End or East Boston Italian restaurants after the parade:
North End - you'll find dozens of great choices along and near Hanover and Salem Streets - basically, you'll be happy with whatever you choose if you like Italian cuisine; if not, head to Neptune Oyster (63 Salem St)
East Boston - I usually head to Santarpio's Pizza (113 Chelsea St or Belle Isle Seafood (1267 Saratoga St); lots of good Central American restaurants along Bennington St too.
More about the Columbus Day Parade
Complete list of Columbus Day Events in Boston


2. Explore Boston by Bike
Another fun thing to do, speaking of Boston's North End, is to join a bike tour led by Urban Aventours (109 Atlantic Ave, just across from Christopher Columbus Park). Tours depart several times daily, and you can select from a bunch of interesting options, including fall foliage tours, Boston city tours, and Freedom Trail tours. More about Boston Bike Tours
For DIY options, you can rent a bike for a full or half day from Urban Aventours. If you want just an hour or two of biking time, try one of our green and silver Hubway bikes, with pick-up stations scattered throughout the city. More about Boston's Hubway bike sharing system
Return to Top - Things to Do in Boston in October
3. Watch the Head of the Charles Regatta
Sculls (racing boats) filled with rowers ply the Charles River almost year-round - truly a quintessential Boston sight. Over 8,000 local and elite rowers from around the world gather for the huge Head of the Charles Regatta in late October. Whether you watch the races intently or just enjoy the views of rowers flanked by beautiful fall foliage along the river banks, you'll want to catch at least a glimpse of the races. Find a great viewing spot from either the Cambridge or Boston side of the river or one of the bridges, and enjoy the races!
More about the Head of the Charles Regatta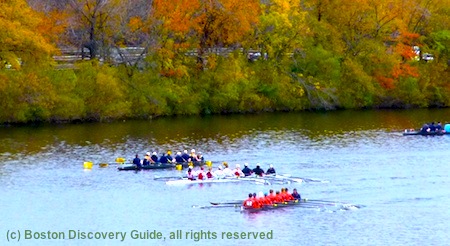 Head of the Charles Regatta crew teams, photographed from the BU Bridge
4. Join a Walking Tour
Combine walking around and viewing Boston's fall foliage with seeing interesting parts of the city from an "insider" perspective by taking a walking tour. Here are 3 excellent choices:
Boston Movie Mile Tour - Fascinating walking tour through Beacon Hill, where you'll see 30+ sites featured in movies and TV shows, and hear the fascinating behind-the-scenes details from the tour guides, all of whom are actors. A 3-hour bus tour option is a great choice for rainy days.
Fenway Park Tour - This popular tour takes you right out on the field, up into the Green Monster, and behind the stands at Fenway Park. Lots of fascinating Red Sox lore.
Boston Chocolate Tour - Offered for several neighborhoods including Beacon Hill, Back Bay, the South End, and Cambridge's Harvard Square. Plenty of chances to sample chocolates along the way. Definitely Boston's sweetest tour!
More Boston Tours to Consider:

Return to Top - Things to Do in Boston in October
5. Indulge in Sports
For Boston sports fans, October offers Bruins, Celtics, and Patriots games . . . although due to the current lockup, the Bruins schedule is looking iffy for 2012. With TD Garden and Fenway Park right in the middle of the city, getting to a game couldn't be easier. Even though Gillette Stadium requires a little more time to reach, you can easily get there and back on the special "Patriot Train" departing from North Station.
Return to Top - Things to Do in Boston in October
6. Visit Open Studios
The Fort Point Arts Community, located next to the Fort Point Channel, dividing Downtown Boston from the South Boston Waterfront, has flourished since the first artist pioneers arrived in the mid-sevents to convert abandoned factories to art studios and galleries. More than 300 artists now live and work there, and on one special weekend in October and another in May, open their studios to the public in one of the city's biggest art events.
The Fort Point Open Studios provide a wonderful opportunity to explore the many diverse studios, talk with the artists, and immerse yourself in this world of art. It's also a great excuse to explore more of the rapidly developing South Boston Waterfront.
Get dates and times for the Open Studios from the October Events Calendar
Find out more about the South Boston Waterfront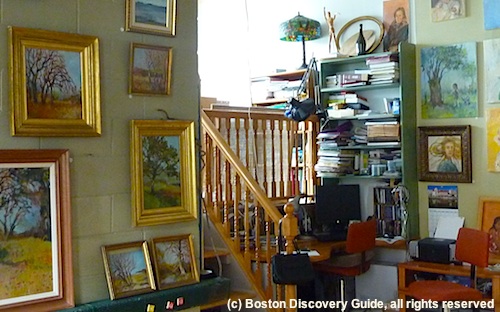 I visited this artist's studio during the Fort Point Art Walk during a previous Art Walk
Return to Top - Things to Do in Boston in October
7. Photograph Boston's gorgeous fall foliage
By early October, Boston's many trees begin to show tinges of gold and crimson and by the end of the month, breathtaking fall foliage can be seen throughout the city - making this the easiest time of the year to take stunning photos, one of the most rewarding things to do in Boston in October.
If you have to pick just one spot for your foliage viewing/photographing, my vote would be to head to the Lagoon in Boston's Public Garden. With giant weeping willow trees and bright-colored maples of many species reflecting in the water, you can take stunning photos from many different perspectives.
Be sure to check the views from the middle of the suspension bridge - or stand on the shore and make it the focal point of your photos. As an added benefit, Boston's famed swans will still be in residence for most of the month.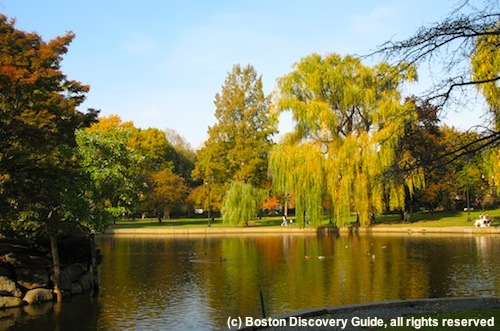 Fall Foliage surround the Lagoon in Boston's Public Garden, photographed near the end of October
8. Enjoy a Concert
With all the Boston and Cambridge college students back in town, you'll find plenty of concerts to choose from every night. Check Boston Discovery Guide's October Events in Boston Calendar for suggestions.
Return to Top - Things to Do in Boston in October
9. Bask in the Warmth of the Sun
Boston November weather generally feels much cooler - so take advantage of October's relatively warm, sunny days. Some suggestions:
Patio dining at Boston restaurants - You can still comfortably dine outdoors this month - especially if you're wearing a sweater. Although you'll find plenty of spots around the city, the Historic Downtown Boston neighborhood has some of the best, especially around the Faneuil Hall Marketplace area.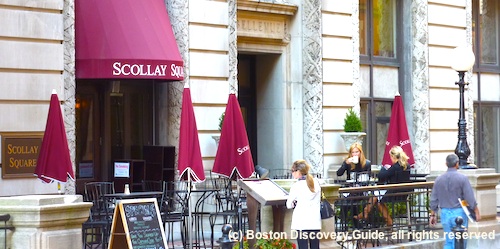 Scollay Square Restaurant's Patio Dining in Beacon Hill / Historic Downtown Boston

Picnic on the Rose Kennedy Greenway. Need something to eat? From the upper end of the Greenway, walk across to the North End and buy picnic fixings from one of the small markets or Italian delis on Cross Street (just across from the Greenway). On the lower end, walk through the Chinatown Gate to Essex Street, where you'll find several Chinese bakeries.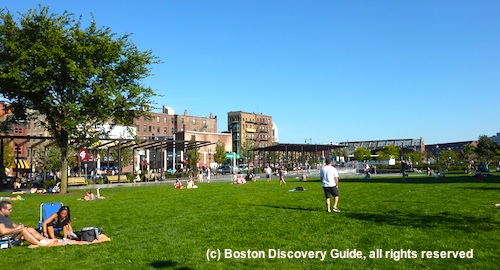 Picnic on Rose Kennedy Greenway, near the North End and Faneuil Hall Marketplace
Explore a neighborhood - Beacon Hill, across from Boston Common and the Public Garden offers plenty of breathtaking 18th and 19th century architecture. Conduct your own DYI walking tour - start with boutique-lined Charles Street, and then walk up any of the side streets - Mt Vernon, Pickney, Revere - to explore this meticulously preserved historic neighborhood.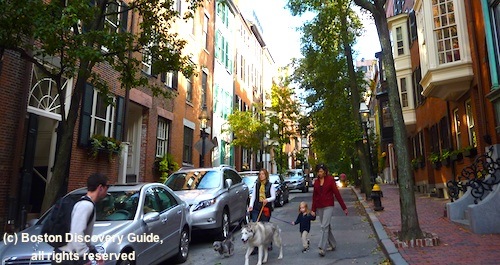 Quiet side street in Boston's Beacon Hill
Return to Top - Things to Do in Boston in October

10. Celebrate Halloween!
With its many historic graveyards, ghost stories, and grisly murders (think Jack the Ripper), not to speak of millions of pumpkins from the surrounding New England countryside, Boston revels in Halloween, with celebrations and special events going on all month. If you're visiting, not-to-be-missed events are the famous Ghosts and Gravestones tours, ImprovBoston's very funny and totally outrageous GoreFest production (be sure you read the description before going, because you really won't enjoy it if you're squeamish; I also don't recommend it for children), and if you have time, a day trip to Salem, the witch capital of the world.
More about these Boston Halloween events
Check Out Top Boston Events Each Month!
Like this Page? Please Share!
More Boston Halloween Events
Boston Discovery Guide Home > Boston Events > Things to Do in October